The Sweetest Honey Blonde Hair Color Ideas & Formulas
Sweet and sun-kissed, honey blonde hair is trending just in time for summer. As the seasons change, expect an influx of requests for this rich and radiant shade of blonde. It sees golden tones mix with amber browns for a burst of sun-dappled, dreamy warmth. And, best of all, it suits everyone – adding brightness to brunettes or depth to a lighter blonde color.
Getting this luminous look on lockdown requires just the right balance of warm-toned blondes, plus a care regimen that prevents the color from turning brassy. Here, we break down eight techniques that can be used to create the look, plus five color formulas you can try on your clients in the salon.
Honey blonde hues, coming through...
What is Honey Blonde Hair?
Honey blonde is a rich, warm color. On the blonde shade spectrum, it falls somewhere between a caramel shade and a buttery hue, but it can also be worked as a bronde (brown blonde). Just think, quite simply, of the color of honey, and you've got this trend in one. It's glossy, gleaming, glowy and golden. No wonder we're obsessed.
How to Create Honey Blonde Hair Color
To craft those gorgeous honey blonde hair colors, you need a pre-lightener, a glow-boosting toner, and the perfect pro techniques to make your client's hue look ultra-natural. Keep these tips in mind for every honey blonde masterpiece you create... 
1. Pick the Technique First
When your client comes in for a consultation, make sure you talk about techniques. How you sweep on their honey blonde shade makes a big difference to the finished look and feel. Do they want balayage with a shadow root? Bright blonde highlights? Subtle honey babylights? Ask them to bring in photos so you can make sure you're picking the right painting technique for their hair goals.
2. Apply the Perfect Pre-Lightener
Unless your client's existing blonde base is very light, you'll need to kick off their salon appointment with a lightening session. Wella Professionals offers a range of pre-lighteners to give you full control over the level of lift and placement. Here's how to pick the right one:
For highlights and all-over lightening, try: BlondorPlex. This easy-to-use, vegan powder gives you up to nine levels of lift, and even comes packed with our bond-strengthening WellaPlex ingredient to support strands as the color lifts.
For freehand techniques such as balayage, try: Blondor Freelights. Specially formulated for painterly sweeping, it stays exactly where you want it (no smudging!) during open-air development. You can also add WellaPlex No1 Bond Maker to the formula to boost hair strength.
For on-scalp lightening, try: Blondor Soft Blonde Cream. It's especially good for face-framing highlights and all-over color, givingyou gentle blonde results with up to seven levels of lift.
For lifting and toning in one, try: Koleston Perfect Special Blonde shades. Look for hues with a number 12 before the stroke (like 12/07) if you're going for a single-process, no-bleach blonde with a gentle, controlled, clean lift. 
3. Choose the Honey Hair Hues
Once locks have been lifted to the correct level, it's time to tone with a honey hair color. You'll find a range of golden hues in the Wella Professionals portfolio, so you're truly spoilt for choice. Here are some of our favorites:
From the permanent Koleston Perfect collection, try: 9/03 for rich radiance, 9/7 for a golden honey tone or 9/73 for a honey with a touch of brown. Bonus: like BlondorPlex, these shades are vegan, making them a perfect pairing.
From the demi-permanent Color Touch collection, try: 8/3, 8/0 or 9/3 for bright honey hues with intense vibrancy, shine and up to 70% gray coverage. 
From the demi-permanent Shinefinity Color Glaze collection, try: 08/38 Honey Latte, a zero-damage, zero-lift blonde hair shade that can be used to tone pre-lightened locks or subtly shift your client's natural blonde base color.
8 Techniques for Honey Blonde Hair Color
There are so many ways to add a mix of honey shades to your client's 'do, from foilyage to twilighting to blonde highlights. Let's look at the top techniques for a soft, smooth and oh-so-sweet finish.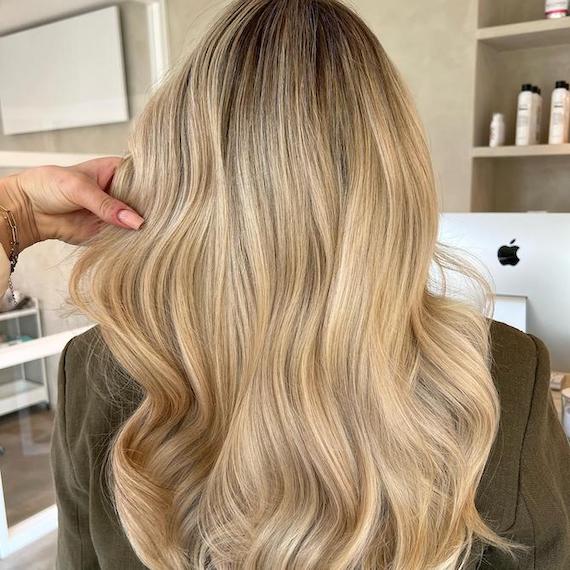 1
1. Classic Honey Blonde Babylights
Image Credit: @atelieroflisa
These aren't just caramel honey highlights; these are caramel honey babylights, which means that thin, micro-fine slices have been lightened to create the most natural-looking glow. The goal for this technique is to mimic the effects of the sun on childhood locks, so you need the color to appear believably brighter with soft and seamless blends. Pack the highlights close together to get au naturel lightening, and consider applying them to slightly damp hair for a subtler finish. Also known as a wet balayage or 'wetlights', painting lightener through towel-dried tresses is one clever way to give your client a dreamy, diffused blonde. Complete the look by toning with Shinefinity 09/13 + 09/81+ 08/38.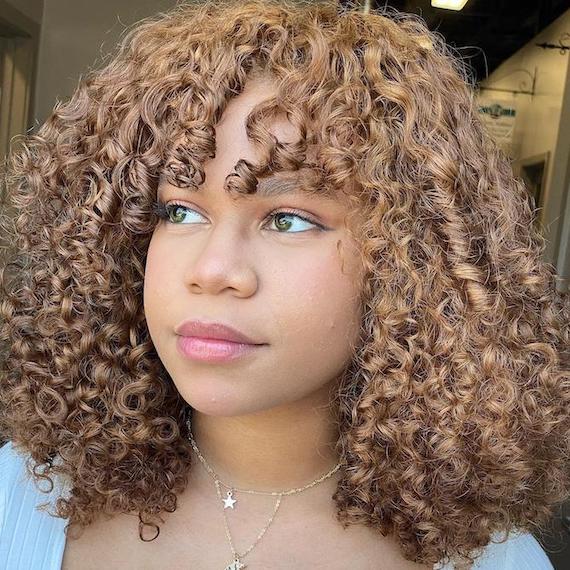 2
2. Deep Honey Blonde Chunky Highlights
Image Credit: @rosicurls
Chunky highlights are trending. So, if babylights aren't your client's vibe, go for weighty honey blonde slices that pack in plenty of texture and dimension. We love this technique for coily or curly hair highlights, as they enhance the beautiful shape of each ringlet, giving your client's dark base color a honey blonde boost of vibrancy. Paint wide sections of hair with BlondorPlex, keeping the ribbons close together, then wrap them up in foils to enhance the lift. Follow with a honey-hued toner that's carefully chosen to suit your client's skin tone. Psst... Honey bronde (brown blonde) hues pair perfectly with this trend.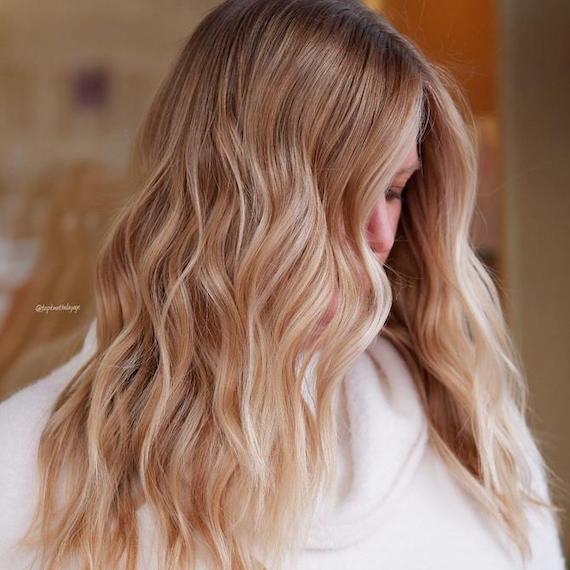 3
3. Warm Honey Balayage
Image Credit: @topknotbalayage
Let's have a quick blonde balayage refresher: the beloved technique sees highlights freehand painted through mid-lengths and ends of hair, adding a boost of flattering brightness and dimension. You can create a balayage in any color your client craves, but a soft honey blonde may be our favorite shade for this style of sweeping. Consider teaming a balayage with face-framing highlights; an easy add-on that frames your client's facial features and enhances their skin tone.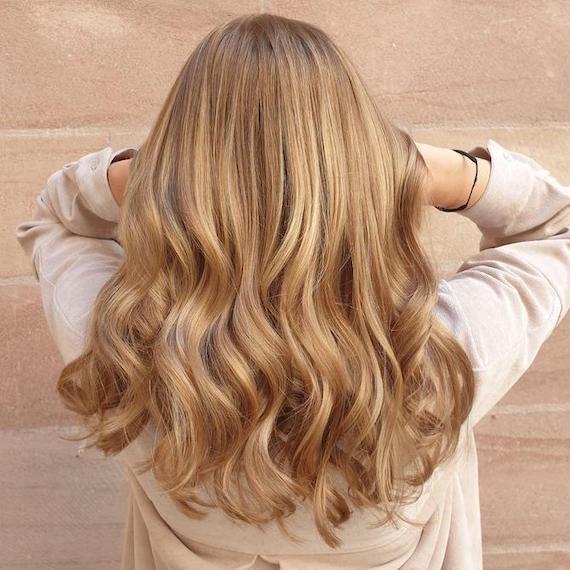 4
4. Honey Blonde Foilyage
Image Credit: @pablofriseure
Foilyage follows the same freehand painting process as a traditional balayage except, instead of leaving 'lights to develop in the open air, you wrap them up in foils to increase the intensity of the lift. By toning the highlights in warm blonde shades – like Koleston Perfect 9/03 or Color Touch 8/3 – you reveal a honey blonde foilyage with the most beautiful contrasts. Give your client's warm honey hue added dimension by scattering a few subtle lowlights through the lengths. Reach for toffee or amber brown tones to strike the perfect balance of richness and radiance.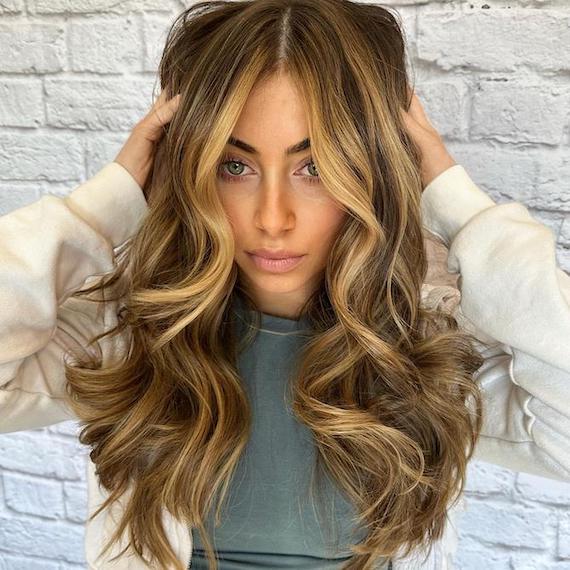 5
5. Honey Bronde Twilighting
Image Credit: @beautybychristinaturner
Twilighting is one of the newest highlighting techniques on the block, which sees golden ribbons applied to brown hair or black hair for a soft, moonlit effect. It won't give your client a full head of honey hair, but it will add delicate, deep accents of the warm shade. Apply to dark hair in thin slices, aiming for a lift one to three shades lighter than the dark brown base. Try recreating these subtle hints of honey bronde using Illumina Color 8/69 + 7/43 + 8/37.  You can melt the light and dark shades together beautifully by painting the twilights with a freehand technique.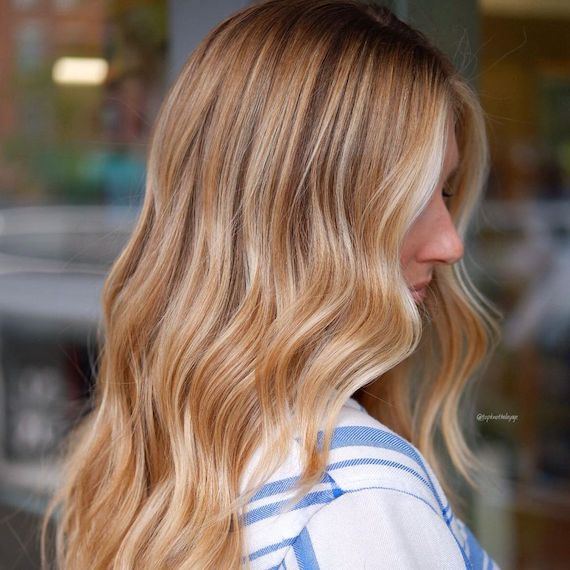 6
6. Honey Highlights with a Dark Root Shadow
Image Credit: @topknotbalayage
Honey blonde hair teams perfectly with a soft and subtle darker root shadow. Opt for dark blonde or light brown shades through the crown to create a gentle contrast that makes the lengths stand out. You can do this with a range of color products, choosing from demi-permanent Color Touch, semi-permanent Color Fresh or permanent Illumina Color. If your client wants a full-bodied gray root touch-up, Koleston Perfect is your go-to, combining high-precision color technology with up to 100% coverage.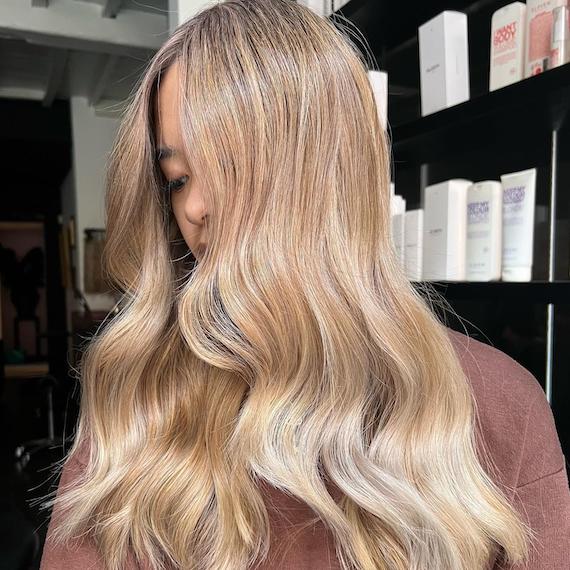 7
7. Light Brown to Honey Blonde Ombre
Image Credit: @thebow.houseofhair
If your client wants a multi-tonal blonde, ombre is one of the best techniques to try. It sees color segue from dark roots to lighter ends in one even, eye-catching melt. And best of all, it allows you to pull in both warm tones and cool tones of blonde to suit your client's complexion, as seen in this light brown to honey to stone blonde ombre-meets-balayage look. Team with a shadow root for extra depth and dimension, and your client will walk out the salon door with one of the most covetable manes around.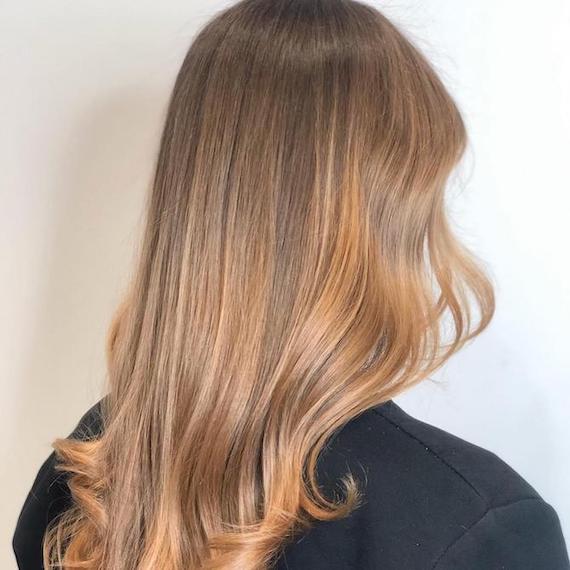 8
8. Light Honey Blonde Sombre
Image Credit: @salvobinetti
Like a honey blonde ombre, sombre hair sees color seamlessly graduate from dark roots to light honey ends. However, the shades shift only one or two shades brighter from root to tip, resulting in a subtler finish. Here, you're looking at a flawless demonstration of the hair trend, with light brown roots melting down into soft honey waves that shimmer under the light. Sombre looks thrive on shine and warmth, so try enhancing a subtle honey ombre with a Shinefinity Color Glaze in 08/38.
How to Maintain Honey Blonde Tones
Before your honey blonde client leaves their hair appointment, make sure you share tips and hair product suggestions to help them maintain their shade at home. These three steps are essential...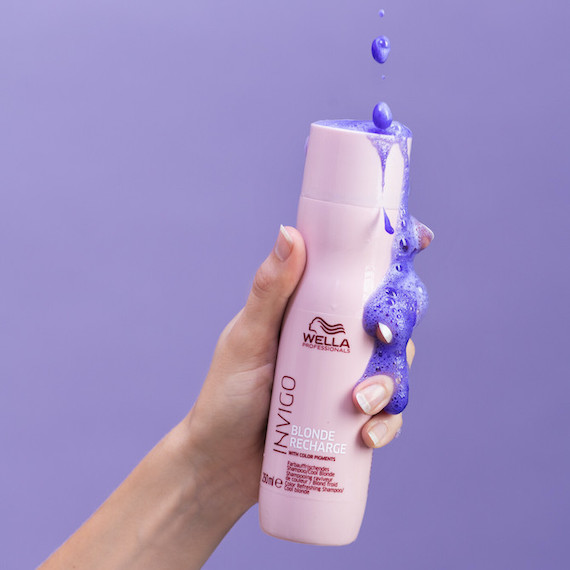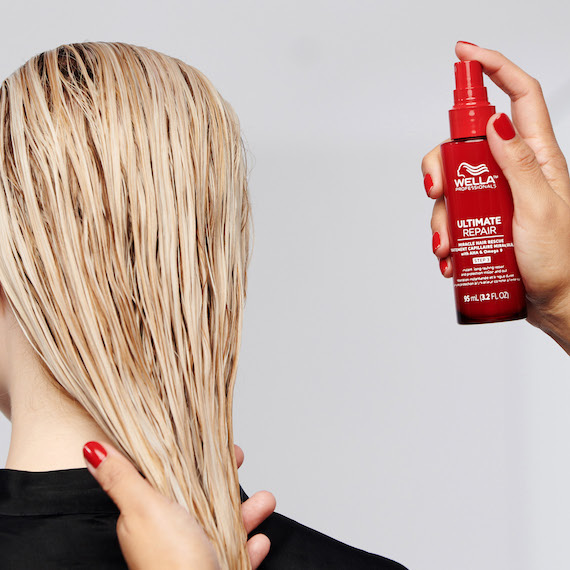 1. Nix Yellow and Orange Tones at Home
Your client wants honey hair – not yellow hair – so remind them how important it is to add a purple shampoo to their kit, which will allow them to neutralize overly warm undertones as and when they show up. Our pick is INVIGO Blonde Recharge Cool Blonde Color Refreshing Shampoo, which can be massaged into damp hair and left on for three minutes to cool down brassiness. This isn't for every wash; they should use it only when locks look too warm, and reach for their regular shampoo the rest of the time. 
If they prefer a color-depositing conditioner, your client could also use the Color Fresh Mask, which comes in two hues to suit honey blonde hair: Golden Gloss (for lighter blondes) or Caramel Glaze (for bronde tones). All they have to do is apply it to clean, damp hair, comb it through with a wide-toothed comb, leave it on for 10 minutes, then rinse out to reveal their refreshed color.
2. Book in for a Clear Shinefinity Color Glaze
To make their hair and even their complexion glow, suggest your client enhances their shade of honey with a Shinefinity Color Glaze. You can give their locks a quick boost by mixing 00/00 Crystal Clear in a 1:1 ratio with the Brush & Bowl or Bottle Activator, then applying the mixture from root to tip for speedy radiance. Or, if their color needs some quick refreshing, add in a little 08/38 with Crystal Clear for a honey-toned, shiny shade that develops in up to 20 minutes.
3. Care for their Sweet Shade with a Supercharged Treatment
What if we told you that you could repair hair with a supercharged spray? You can; Ultimate Repair Miracle Hair Rescue transforms even the most damaged locks in just 90 seconds. (Yes, really!) With ultra-fast absorption, it harnesses AHA (alpha hydroxy acid) to rebuild bonds from the inside, and Omega-9 (a nourishing fatty acid) to replenish the outer layer of strands. It's also suitable for all hair types – from straight hair to wavy, curly and coily hair – making it a must in every hair colorist's kit, and a go-to for clients too. Show your client how to use it in the salon: all you have to do is mist it over damp locks and leave it to absorb for 90 seconds before styling as usual. Then they can take home their own bottle for a DIY Miracle Rescue that lasts for four washes.
Now you have all the inspiration you need to create shiny honey blonde hair tones, grab the tint brush and work up your next masterpiece. Don't forget to share your looks by tagging us on Instagram @WellaHairUSA.