How to Repair and Care for Damaged Hair
Is it time for a hair intervention? If you're dealing with dull, dry, damaged hair, it's important to switch up your hair care routine – and fast – before hair strands become even more sensitized. It takes more than a cut to turn back the clock on over-processed hair, but the good news is, newly advanced care technology makes it easier than ever to repair your stressed-out locks.
Below, we reveal the at-home and in-salon innovations that breathe new life into stressed-out strands, from a bond-strengthening ritual that can be added to any salon appointment, to a treatment that replenishes locks in just 90 seconds...
But, First – How Can You Tell If You Have Damaged Tresses?
There are a few telltale signs of hair damage, from locks that look persistently dry and dull to strands that snap off through the lengths, leaving you with breakage and split ends. 9 out of 10 women do something to damage their tresses every single day, and you might just be one of them. So, what are the signs of damage to look out for?
1. Hair Breakage
If your strands snap easily through the lengths (not from the root) and you're constantly battling split ends, this is a big sign of damage that needs to be remedied as soon as possible. Breakage can also enhance the appearance of frizzy hair, due to wispy tips and flyaways. If the hair shaft is looking frizzier than usual, breakage may be messing up your style. 
2. Hair Thinning
Breakage can also lead to hair thinning through the lengths, so look out for hair that appears to be fuller at the root, but gradually gets thinner as you reach the ends. This can happen when the lengths have been exposed to hot tools or chemical treatments without the proper at-home care, such as heat protection sprays or nourishing hair masks. 
3. Dry and Dull Hair
When locks are calling for a moisture boost, this is another sign that damage may be at play. Dry, brittle hair is also prone to dullness, and can even cause your hair color to appear overly warm and brassy. This dryness can stem from daily wear and tear, or even changing temperatures, with extreme cold and strong UV rays breaking down hair's protective barrier. 
4. Excessive Tangling
When your hair is dry and damaged, it tends to tangle up easily. This is because the frazzled hair cuticles are raised, making it easier for them to snag on each other and lead to knots. The more damaged your hair is, the more likely it will become tangled. So, if it's trickier than usual to run a comb through your tresses, your hair may need a dose of hydration. 
How to Boost Hair Health & Repair Hair Damage
1. Reach For a Rich Yet Gentle Shampoo
The foundation of healthy hair is choosing the right shampoo for your hair type. When locks are damaged, that means picking one that repairs from the inside out to leave your strands soft, smooth and beautifully hydrated. The Ultimate Repair Shampoo does just that, with a sumptuously creamy formula that pampers fine, thick, straight, wavy and curly hair back to its most lustrous. It removes harmful impurities – including metals, product build-up, oils, dirt and pollution – and kick-starts the hair bond rebuilding process, no matter what type of damage you're dealing with. Massage it into wet hair and rinse thoroughly for a nourishing cleanse. The satiny lather and silky results make for a truly luxurious hair washing experience. 
2. Treat Dry Hair to a Deep Conditioner
The Ultimate Repair Shampoo should be followed by the Ultimate Repair Conditioner, a creamy deep conditioning treatment that detangles, strengthens and repairs your hair. It's packed with AHA (alpha hydroxy acid) to penetrate the hair fiber and rebuild bonds from the inside, and omega-9 (a nourishing fatty acid) to replenish the outer hair cuticles and recreate a protective hair barrier. 
After squeezing out excess water, apply it to the mid-lengths and ends of clean, damp hair, then evenly distribute with a wide-toothed comb. Allow it to absorb for between 30 seconds to three minutes to give hair time to reap the rewards, then rinse out thoroughly. It delivers rich moisture after just one use, which lasts up to four washes*.
3. Use a Supercharged Leave-In Treatment
Leave-in conditioners and hair treatments have longer to act on damaged locks, making them a must for tresses craving intensive repair. And the Ultimate Repair Miracle Hair Rescue Treatment takes leave-ins to a whole new level, transforming the condition of your hair in just 90 seconds. (Yes, you read that right.) The supercharged treatment creates hair that's 12 times smoother for easier styling, with 99% less breakage and more shine after each use. Straight hair appears sleeker, while curly or wavy hair looks more defined. This special hair treatment was made to nourish all hair types.
Apply 5-15 pumps (depending on your hair type) to clean, damp hair and distribute with a wide-tooth comb, before leaving the fast-working serum to act for 90 seconds. Then, you can style your locks as you usually would – whether that means letting hair dry naturally, or grabbing your hairdryer and blow-drying locks to perfection. 
4. Ask For WellaPlex at Hair Coloring Sessions
Having damaged hair doesn't mean highlights and color are off limits. However, it does mean your hair stylist should add a little extra care to your lifting and toning formulas. So, ask them about WellaPlex; our bond-strengthening program which is mixed right into your lightener or color, so it can support your hair structure while your dream shade develops. (Side note: your colorist can also use BlondorPlex, which is a lightener with WellaPlex already mixed in.) Designed to keep hair strong during every color service, it's perfect for balayage, an all-over shade transformation, and every technique in between.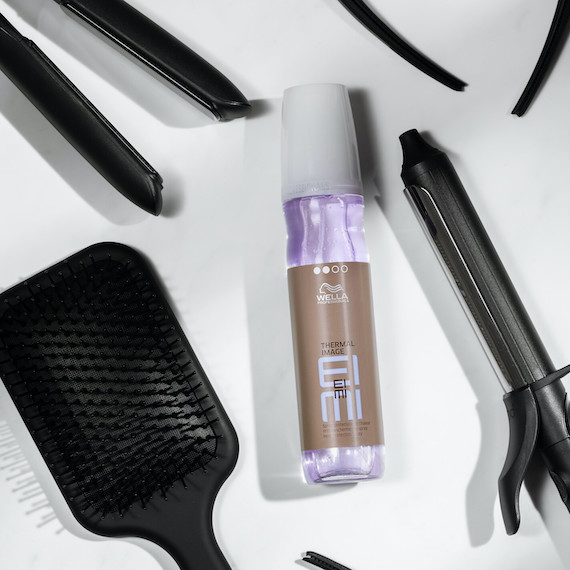 5. Protect Your Hair From Heat Damage
If there's one styling essential everyone needs in their kit, it's a heat protectant spray. Trust us: you don't want to be blow-drying, curling, or using other heat tools like hair straighteners on your locks without one. Try EIMI Thermal Image, which features a bi-phase formula you shake up and spritz. One half is a weightless protective liquid, while the other half is a shine-boosting hair serum. Mixed together, they are able to shield the hair shaft from up to 220°C thermal damage while heat styling. This is a must-try hair product for straight locks, waves, curls and coils, safeguarding strands from future damage to maintain a healthy mane.
Pro tip: You may also want to adjust your drying technique when styling damaged hair strands. After washing, let hair air-dry 50% of the way before you pick up your hair dryer, so you won't be blasting it with excessive heat for too long. You can also reduce exposure to high temperatures by turning down your hair dryer's heat setting. These simple changes can make all the difference to the condition of brittle strands.
6. Layer Ultimate Repair With Your Favorite Styling Products
Once you've completed your Ultimate Repair ritual, you'll have the perfect canvas for any style you crave, whether you love sea-breezy waves or a super-smooth, sleek finish. The great thing about the Miracle Hair Rescue Treatment is that not only does it last on your hair for four washes, but its lightweight feel means you can use it alone or layer it with other nourishing hair care products and stylers. 
These are just some of the go-to products you can layer with the Miracle Hair Rescue Treatment: 
For beachy waves, try: EIMI Ocean Spritz, which encourages surfer-inspired texture with grip and guts, all while protecting locks from dehydration. You can mist it into slightly damp hair and scrunch or braid for dreamy waves. It's also suitable for spraying through dry hair to amp up hair texture. Blow-dry into strands for a chunky, piece-y look. 
For a super-smooth finish, try: our favorite hair oil, Oil Reflections Luminous Smoothing Oil, which is packed with nourishing ingredients and essential nutrients to give you smoother, glossier hair. The macadamia seed and avocado oils inside are excellent hair moisturizers for all hair types. Focus the oil through the mid-lengths and ends for the smoothest styles. Dull hair will be a thing of the past.
For boosting volume, try: INVIGO Volume Boost Bodifying Foam, which amps up hair thickness and bids farewell to bad hair days. As a rule of thumb, it's best to work into clean, damp hair from roots to ends, then blow-dry while wrapping locks around a round brush. Lift from the root to lend extra height and volume, then curve at the ends for added bounce.
For defining the shape of curls, try: NutriCurls Curlixir Balm. It gives locks soft hold, definition and bounce. Consider it the remedy to frizzy days, as it reveals the beautiful shape of curls on both fine or coarse hair types. Apply it evenly to locks while they're damp and blow-dry with a diffuser, or work into dry hair in between washes. 
We hope you found this article helpful for defying the signs of hair damage. For more tips on enhancing your dedicated hair care routine to protect hair from damage, check out our full collection of hair care articles.
* Instrumental test versusnon conditioning shampoo.