Rose Gold Hair: The Trend That Keeps Coming Back
Rose gold hair is trending. From pink lemonade tints to a rosé wine wash, the key to rose gold hair is getting the right balance of dusty pink hues, a touch of apricot and a shine-boosting metallic shimmer. Done correctly, this look can suit everyone, whether their base color is light blonde, medium brown or dark brunette. Just follow our tips to creating a rose gold shade that makes complexions glow…
Who Suits Rose Gold Hair?
You want your clients to walk away feeling confident in their new color, so it's always a good idea to assess if a shade change will really suit their features. In the case of rose gold hair, anyone can pull the color off, but the warmth means it looks particularly flattering on those with a warm or olive undertone. Neutral skin tones will also look radiant in rose gold, while cooler skin tones may prefer a brighter shade of pink hair, like blush or bubblegum.
How to Get Rose Gold Hair
1. On Blonde Hair
Pale blonde hair is the perfect canvas for rose gold hair. If your client craves an all-over wash, their light base color means the task of pre-lightening can be kept to a minimum. You also have greater control over the color intensity, giving you the option to create a soft, pinky tint or dial up to a heavy metal hue.
To achieve rose gold on lighter hair, try a semi-permanent enhancer, like Color Fresh CREATE. By mixing Nudist Pink and Uber Gold with Tomorrow Clear, you can customise the shade to perfection, like these Passionistas did…
2. On Brown Hair
Think rose gold tones won't work on light brown hair? Think again. Rose brown hair is gaining traction right now, and it's essentially the pinky-caramel blend all brown-haired girls have been looking for. For the most Instagrammable finish, think sun-kissed with rose brown color placement, opting for freehand balayage techniques over a root-to-tip approach.
If rose brown is the goal, use Blondor to pre-lighten the rosy sections first, then opt for a formula that gets your hair brimming with shine, such as permanent hair color Illumina Color. This innovative portfolio of shades puts the focus on light-reflective locks, which is ideal when you want that hint of pink to stand out against deeper, warmer roots.
3. On Dark Brown Hair
Getting a rose gold look on dark brunette or black hair can be a challenge. It requires a salon visit (or two) for the lightening process, another one for the hair to be colored, then follow-up appointments to tone and refresh that rosy shade. It's worth it for the final effect, but for clients hoping to avoid all-over lightening, suggest strands of rose gold color that make just as much of an impact. Then, create the rose gold ribbons using permanent hair color, Koleston Perfect. You want to use a hair-kind blend, and this one results in less damage color after color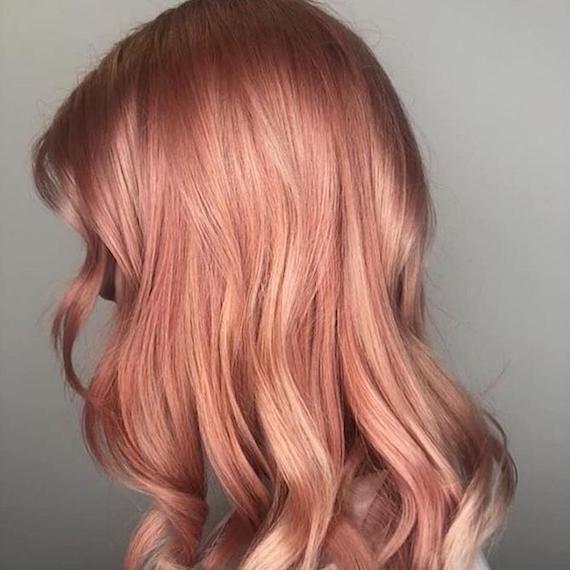 1
True Rose Gold Hair
Image Credit: @wellanordic and @sandraiselin
This shade, by Sandra Iselin, is the definition of rose gold hair. There's plenty of pink, with warm, gilded tones peeking through for a glimmering metallic effect. To get the look, she turned to Koleston Perfect - which leaves hair brimming with healthy shine – then lightly tonged the mid-lengths for a light-reflective finish.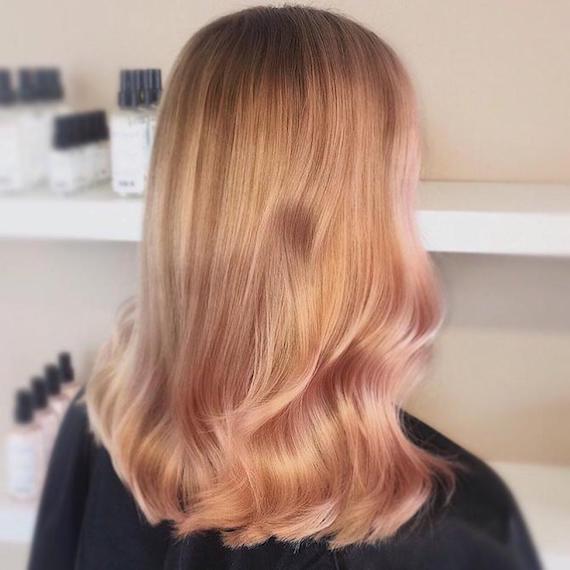 2
Rose Gold Highlights
Image Credit: @wellanordic and @beautybyspanowsky
For those not quite ready to commit to an all-over wash of rose gold, try pinky highlights, which look particularly shimmery when swept through light blonde locks. This trend works best on warm blonde hair, as the colors work in perfect harmony. Focus the 'lights around the face-framing layers and mid-lengths to ends to create a soft, spotlight effect.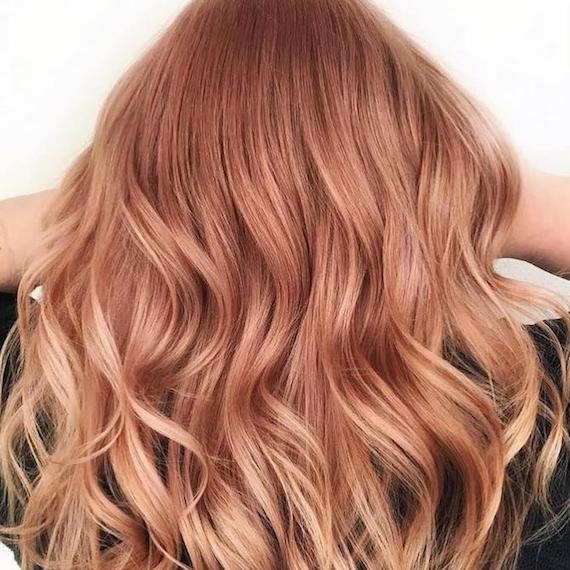 3
Rose Gold Balayage
Image Credit: @wellanordic and @feliciatisajsvensson.wella
Rose gold hues and balayage are a match made in pinky-toned heaven. Just look at Wella Educator Felicia Tisaj Svensson's flawless creation for proof. She painted roots in a dusky rose hue then freehand painted a lighter shade from the mid-lengths down, resulting in the glistening, glowy mane Insta dreams are made of.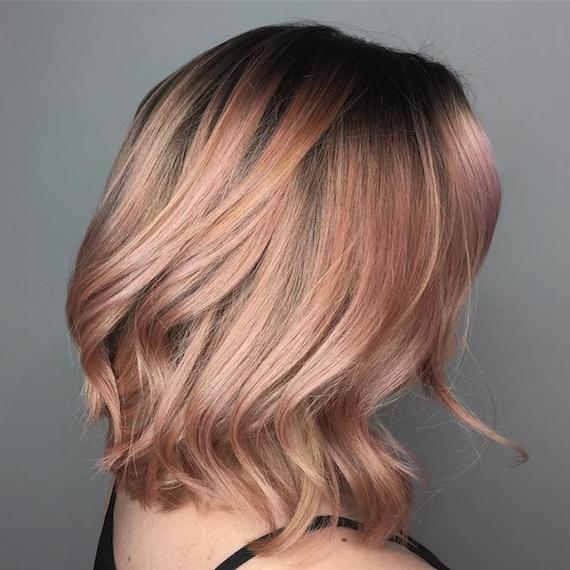 4
Raspberry Rose
Image Credit: @fergalwella
Less is more, so get ready to mix up plenty of subtle rose gold hues this season. We love Wella Passionista Fergal Doyle's take, which sees the softest rosy tint light up his client's dark blonde base. Hair was brightened first using our light-reflective Illumina Color, then a gloss was applied to ensure a seamless blend with not a single brassy tone in sight.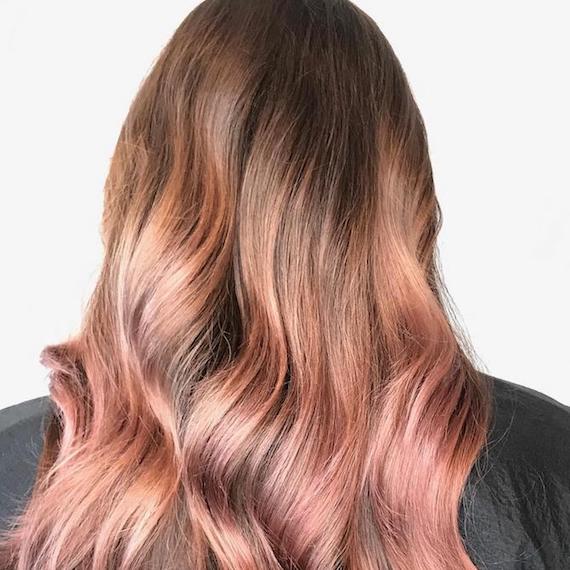 5
Dream Dip Dye
Image Credit: @salonjadetr
You know the score with ombré hair. This beyond-covetable technique gives you an even root-to-tip graduation from darker roots to lighter ends. In this case, the lighter ends feature a shimmering rose gold sheen, created using demi-permanent color Instamatic by Color Touch in Pink Dream.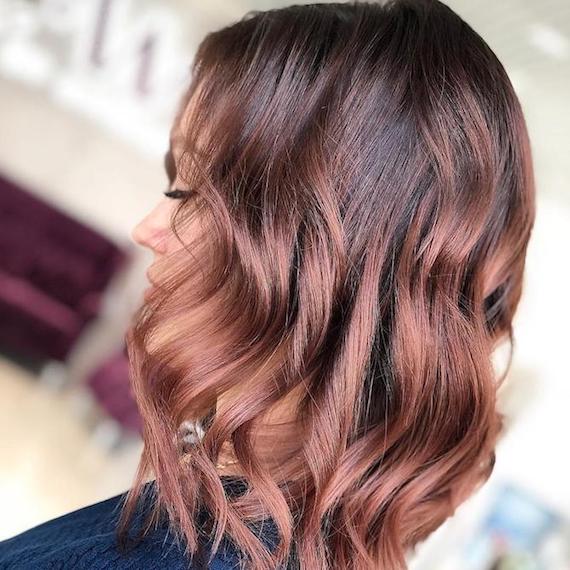 6
Rose Brown Hair
Image Credit: @wellanordic and @_litvinova_julia
Good news for brunettes; rose brown hair is here to add a dose of luminous pink to locks. Just make sure you use plenty of pre-lightener first, to ensure that rosy hue really shines through. Our favorite way to work this look is with loose waves and plenty of gloss, so make sure you've got EIMI Glam Mist in your kit.
Rose Gold Hair Formulas
From playful pink lemonade tints to a chic rosé wine wash… it's no wonder the world is obsessed with rose gold hair. But what's the key to perfecting the look for your clients? It's all about striking the right balance between dusky pink hues, a touch of apricot and a shine-boosting metallic shimmer.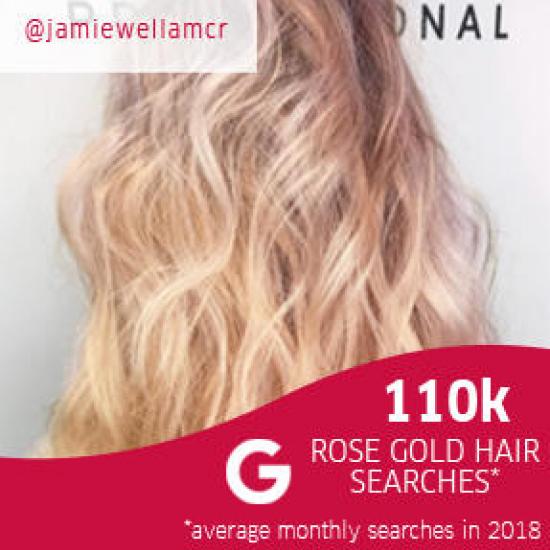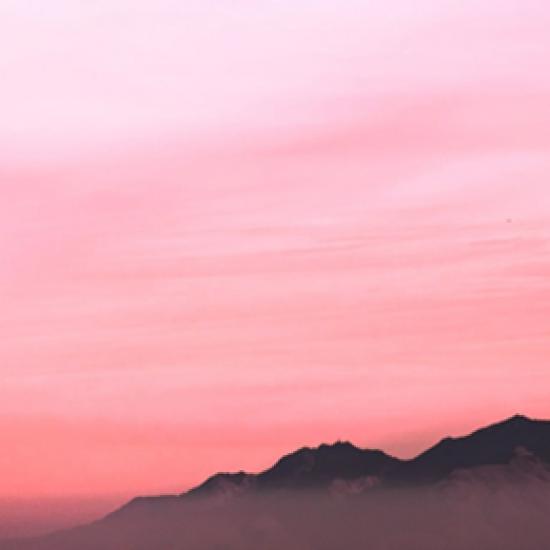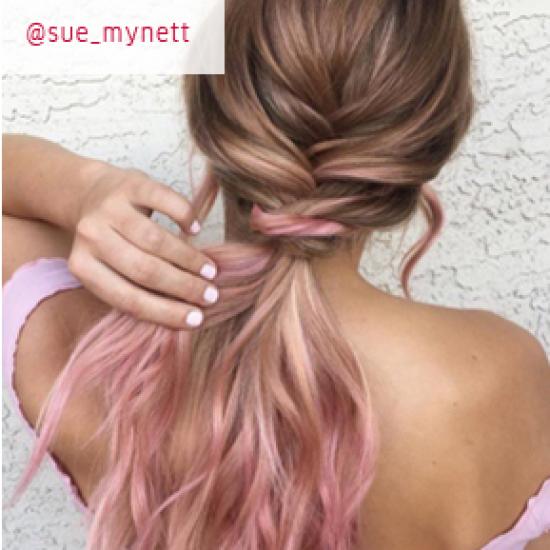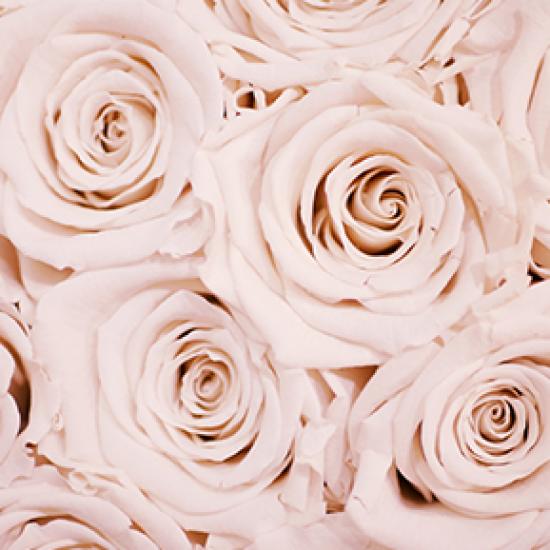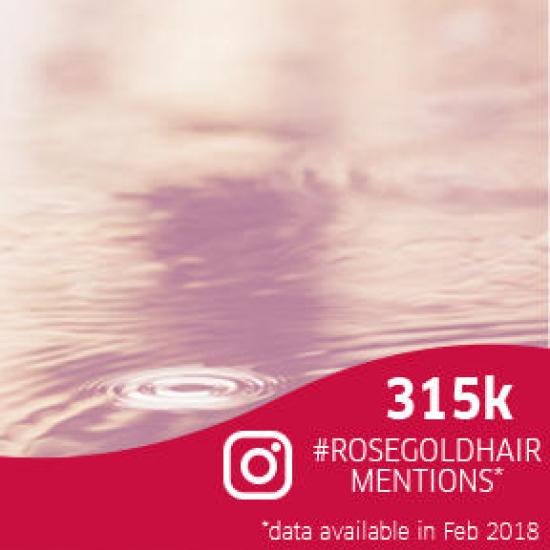 Champagne Pink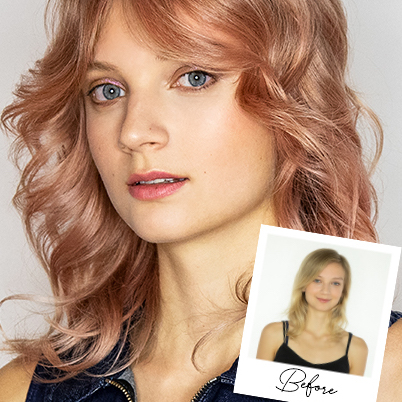 Formula:
Babylights: Blondor, 6% + Wellaplex
Tone: 10/69 + Pastel Color: Color Fresh Create 70g Tomorrow Clear + 30g Nudist Pink
Pure Pink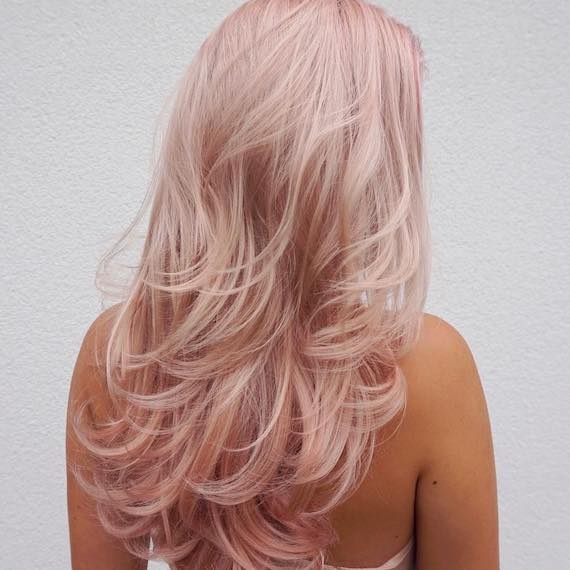 Formula:
Roots: Illumina Color 10/1 + 10/69 + 12% 40 vol
Lengths and tone: 10/0 + Koleston Perfect 0/65 5:1 + 1.9% 6 vol
Pink Bronde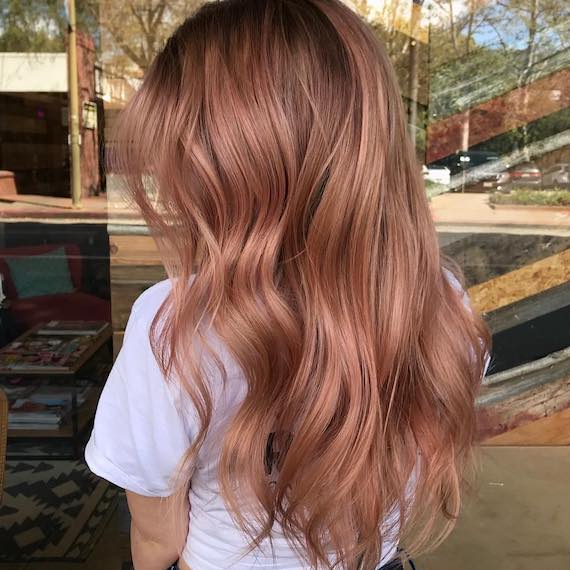 Formula:
Balayage: Freelights + 12% developer, then tone with equal parts Koleston Perfect 9/38 + 10/31 with Pastel developer
Lengths: Color Fresh Create Nu-Dist Pink from scalp to ends
Strawberry Highlights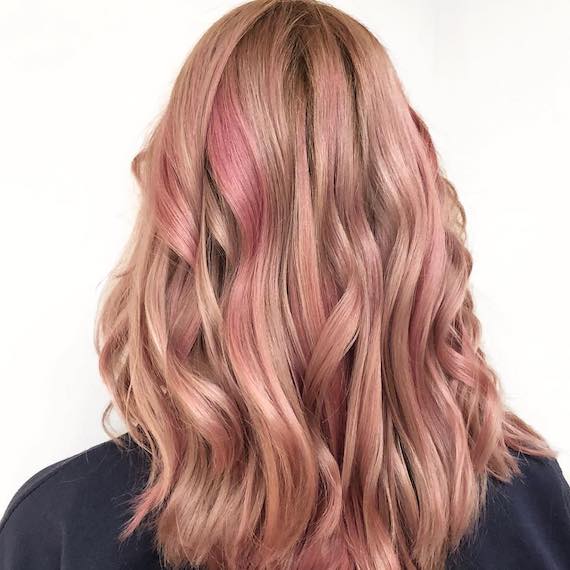 Formula:
Babylights: Use Blondor + 6% Welloxon Perfect on roots & Blondor + 4% Welloxon Perfect for ends
Pre-tone: Color Touch 9/97 + 9/16 + 10/0 & 1.9% Color Touch emulsion
Lengths: Equal parts of two Color Fresh Create formulas:
1) 3g Nu-Dist Pink + 30g Tomorrow Clear 
2) 3g Nu-Dist Pink + 30g High Magenta + 20g Tomorrow Clear
ROSE BLONDE LUXELIGHTS
Formula:
Freelights Powder + Freelights Developer
A 30g Freelights Powder + 45g 9%
Color Touch + Color Touch Emulsion
B 20g 8/35 + 40g 1.9% C 20g 9/75 + 40g 1.9%
Watch the step-by-step tutorial here..
Does Rose Gold Hair Last?
The lasting power of rose gold hair depends on the locks you're working with, but generally pink and rose gold hues fade to a softer, subtler pastel. This is especially true when you use Color Fresh CREATE to perfect the trend, as it pastelizes true to tone, ensuring color never looks dull.
However, there are a few tricks clients can try to keep rose gold looking luminous. The easiest? Ensuring their post-color haircare routine is flawless. Recommend they lather up using INVIGO Color Brilliance Color Protection Shampoo, and use INVIGO Color Brilliance Conditioner as a weekly treat.
They can also top up their shade by booking up for a Pure Glossing Treatment in between longer appointments. It's an easy, speedy hair gloss that brightens, blends and eliminates every last trace of brassiness.