5 Stone Blonde Hair Formulas for a Boost of Dimension
Icy tones meet hints of ash in the stone blonde hair color trend; a shade that feels cool and cozy all at once, bringing richness to platinum looks. For clients who have long loved almost-white blondes, but are leaning into more natural hues, a stone blonde is the perfect transition shade that will help them soften their style.
But how do you create a stone blonde in the salon? Whether you're brightening locks or toning them down, here's everything you need to know about creating the trend for your clients…
So, What is Stone Blonde Hair
Before we break down how you mix up stone blonde shades, it's important you know what the trend is about. In short: it's cool-toned, it's almost platinum, and it sees beige and ash blonde tones scattered through the hair. While most platinum and ice blondes tend to appear singular in tone, lifted to the lightest blonde, stone blonde still sits on a level 8, 9 or 10, but with multi dimensions to break up the brightness. Just like a sea-washed pebble you might pick up on a beach, stone blonde has unique flecks of cool colors, such as grays and beiges, that shimmer under the light. And now, with this trend, your blonde hair can show off that shimmer too.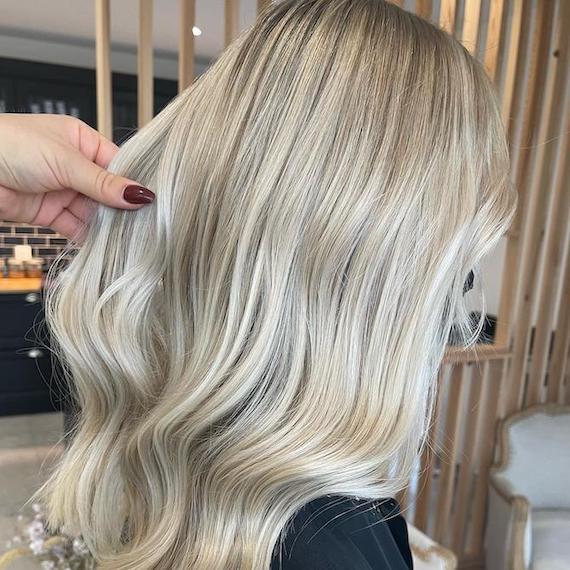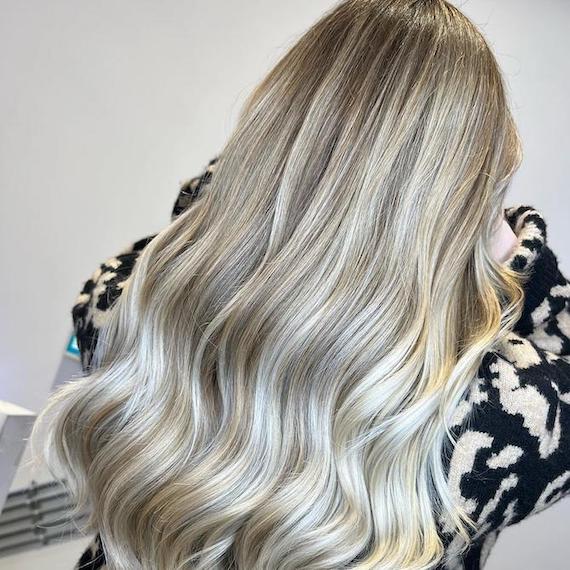 How to Create Stone Blonde Hair
1. Need Depth? Add Lowlights or a Root Shadow
Best created on hair that already has a little depth; stone blonde shades work well with an existing brunette, medium to dark blonde, or natural gray base color. However, if your client's root needs darkening, or they have light blonde hair that would suit lowlights to boost dimension, start by applying these accents in their chosen color – gray, brown or a deep blonde. Use Color Touch for intense vibrancy and shine, Color Fresh for damage-free refreshing or transforming, or Koleston Perfect for rich, healthy-looking color that can also give you up to 100% gray coverage.
2. Pre-Lighten Hair with a Highlighting, Balayage or Ombre Technique
We recommend applying this look with an ombre, highlighting or balayage technique, so enhance the base by stroking a pre-lightener through locks to lift hair to a level 9 or 10 (depending on your client's desired brightness). Use bond strengthening BlondorPlex if you're lightening the hair with foils, or Blondor Freelights if you're creating freehand strokes that require precision. Allow the hair lightener to lift to the correct underlying tone, then wash it out with ColorMotion+ Color Protection Shampoo.
3. Apply Your Client's Perfect Stone Blonde Toner
While you're still at the sink, tone your client's hair with a cool blonde formula. Some of our favorite stone blondes include Color Touch 9/01 and 9/16, Color Fresh 10/81, and Koleston Perfect 9/97, 9/16 and 9/8.
4. Rinse the Color Out and Neutralize to Finish
Finish by washing your client's hair with the ColorMotion+ Shampoo again, followed by INVIGO Color Service Post Color Treatment to neutralize the color. Then, their stone blonde is ready for drying and styling as desired.
5 Stone Blonde Hair Formulas
1. Stone Blonde Balayage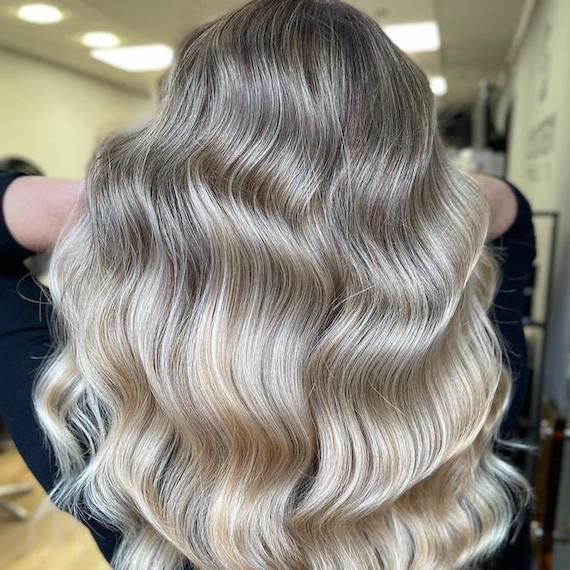 Image Credit: @loickdambrine_hair
This stone blonde balayage is positively brimming with dimension, thanks to all those ashy gray tones through the root area, which contrast against the brightness of the mid-lengths and ends. Try recreating the look by sweeping on strokes of BlondorPlex to lighten, then toning with a demi-permanent Color Touch blend of 10/6 + 8/81 + 10/73.
2. Deep Rooted Stone Blonde Hair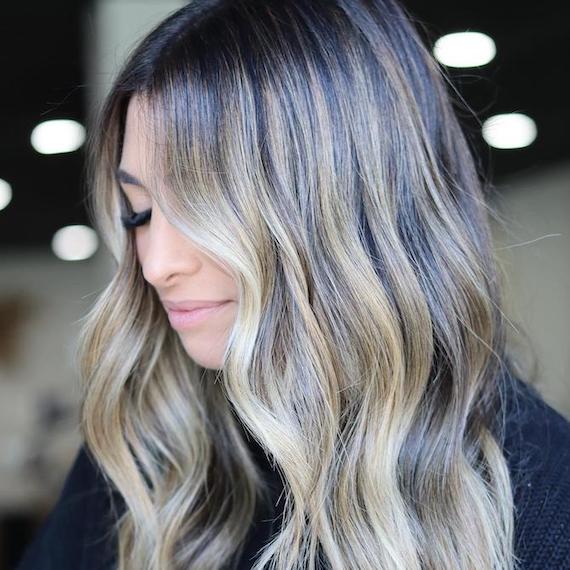 Image Credit: @luckyaugusthair.co
Rooted blondes are big right now and, with this look, it's easy to see why. We love the long root drag, paired with the ashy, stony blonde swathed throughout. Ideal for brunettes who want to try stone blonde hair but still maintain some of their depth; try painting strands with Blondor Freelights, then tone with Color Touch 9/16 + 9/97 + 9/0.
3. Creamy Stone Blonde Hair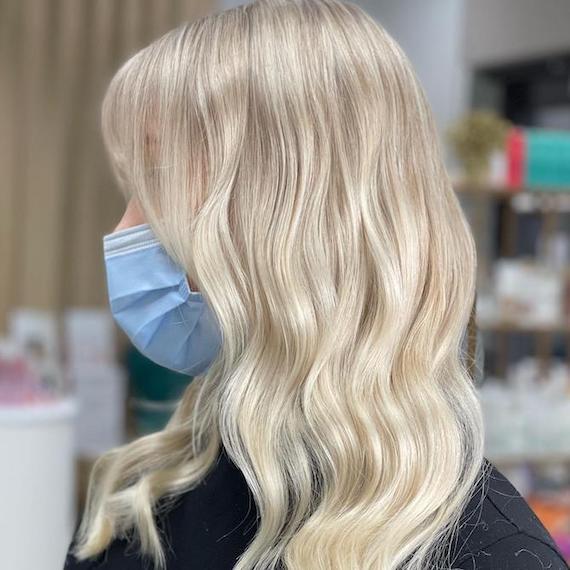 Image Credit: @hairby.petra
By dialling down the level of gray or brunette tones, and bumping up the blonde, you can achieve a creamy stone hue that's just a few lowlights shy of going platinum. Still cool, but with a richness, this highlighted mane sees roots to mid-lengths swathed in Color Touch 7/71 + 8/3 + 8/81 + 1.9%, followed by 10/6 + 8/38 + 1.9% through the lengths.
4. Stone Blonde Ombre Hair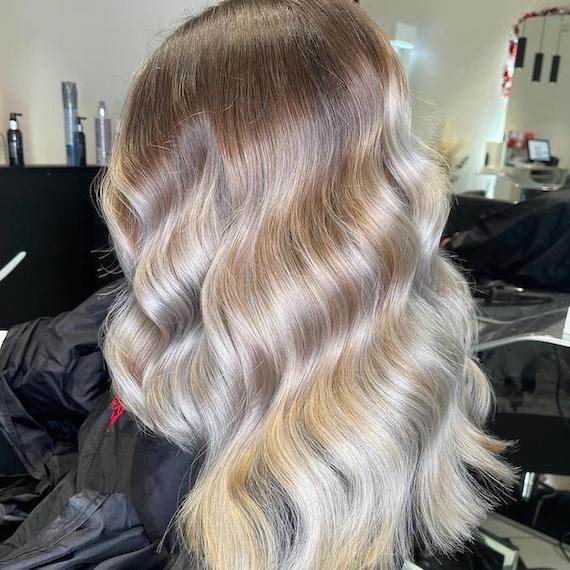 Image Credit: @byalexmk
With so much shine, it could only be Illumina Color glistening through this ombre creation. The permanent product enhances the natural light reflections in the hair, creating a beautifully luminous glow. To nail the gradient, the mid-lengths and ends were first pre-lightened with BlondorPlex, while a 5/0 + 5/81 + 6/16 + 4% root shadow was applied. Then, the middle section of hair was toned using 7/81 + 8/69 + 1.9%, while ends were treated to a bright blend of 9/60 + 10/69 + 1.9%. Flawless.
5. Stone Blonde Money Piece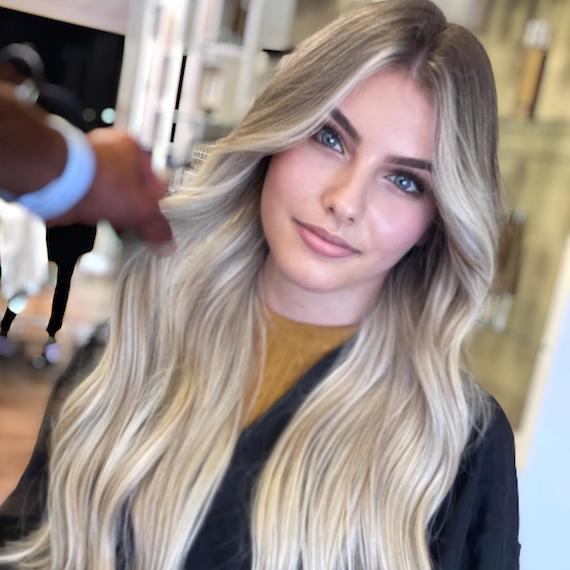 Image Credit: @maicon.scaglioni
The brightness of stone blonde makes it the perfect shade for a popping money piece. Add a root shadow through the crown, then sweep your face-framing highlights from root to tip so they stand out. This front section needs to be bolder than any other sweep of blonde through your client's hair, so apply lightener here first, then start painting the rest of the hair. This way, the money piece has longer to lift and develop than the remaining highlights. Finish by toning the blonde lengths with Illumina Color 10/ + 10/69 + 10/93.
How to Maintain Stone Blonde Hair
Purple shampoo is a must for maintaining cool-toned blondes like this stony shade. In one wash, it tones hair with a touch of violet, which neutralizes any yellow, brassy tones that may show up between salon appointments. Our go-to is INVIGO Cool Blonde Color Refreshing Shampoo. Recommend your clients use it if their stone blonde starts to look overly warm and leave it on for three to five minutes to bring some brightness back.
But that's not the only shampoo your stone blonde clients need. The ColorMotion+ Color Protection Shampoo should be used for everyday washing to shield strands from shade fade and enhance luminosity. Meanwhile, the ColorMotion+ Moisturizing Color Reflection Conditioner will hydrate hair for healthy radiance, so their multi-tonal masterpiece shimmers with every hair swish. Show them the EIMI Thermal Image heat protection spray too and advise them to mist from root to tip every time they use heated tools. Their stone blonde will stay fresher for longer.