The Secret to Cool, Clean Platinum Blonde Highlights
When you hear 'platinum hair', what's the first thing you think of? For us, it's usually a single-tone head of the purest ice blonde. No lows, no dimension; just the highest lift, from root to tip. But, what about platinum blonde highlights? Proving platinum doesn't have to be worn as an all-over shade, these luminous lights can be swept through even a dark brown base for an instant, icy glow. 
Giving your blonde clients all of the lift they crave, with a multi-tonal finish, platinum highlights lend this famously high-maintenance color a more wearable edge (especially if you're painting it freehand). Here, we reveal everything you need to know about creating those platinum blonde ribbons, including eight must-try formulas used by fellow pros…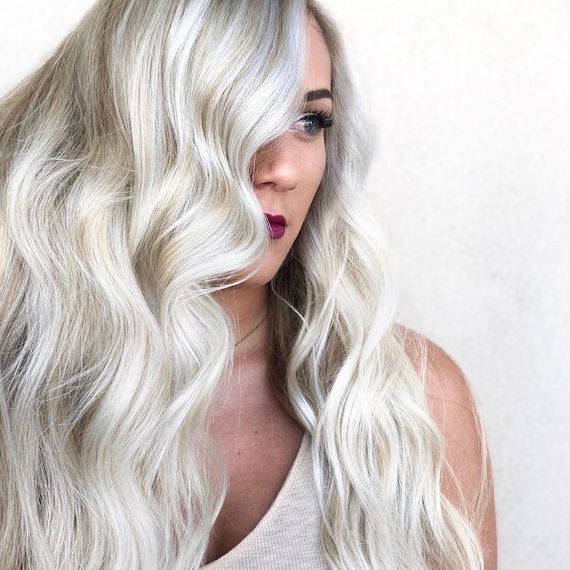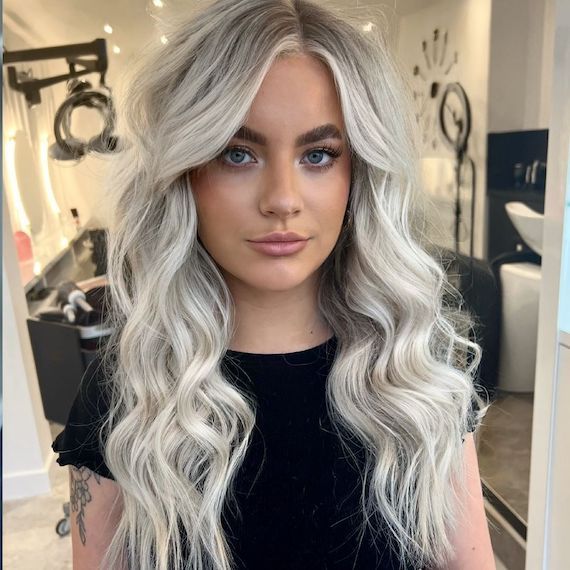 3 Top Tips for Platinum Blonde Highlights
1. Get Your Technique Right
What highlights will suit your client best? It's not just about the look, it's about their lifestyle too, so ask them what level of color maintenance they're happy to go with. Root to tip platinum highlights offer a bold, transformative effect, and are great for anyone who's open to regular touch-ups to keep regrowth at bay. Meanwhile, freehand techniques, like balayage or foilyage, will offer a soft finish and soft regrowth if they want a little more natural root (or a root shadow) on show. Once you know your client's preferred technique, pick the right pre-lightener for their style. We recommend BlondorPlex for blonde highlights and Blondor Freelights for seamless freehand painting. 
2. Measure Out Your Formula
It's so important to measure out your Blondor powder and developer properly, so you can make sure you're using enough lightener to achieve the lift your client craves. Mixing outside the ratio guidelines can actually weaken your powder or cream, so pay close attention to the scales to ensure you know exactly what's in your bowl.
3. Saturate Strands with Lightener
When applying your client's platinum highlights, it's important to saturate each strand with the lightener. Gently-gently isn't the approach here; you want high lift and even coverage, so pack the product on. To ensure you're not leaving any patches, apply your Blondor lightener in generous layers. And, remember, it can take up to 50 minutes to develop, so give it time.
Who Suits Platinum Blonde Highlights?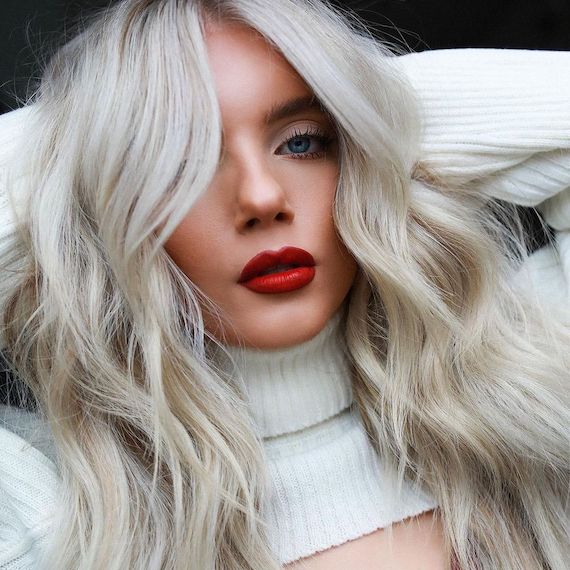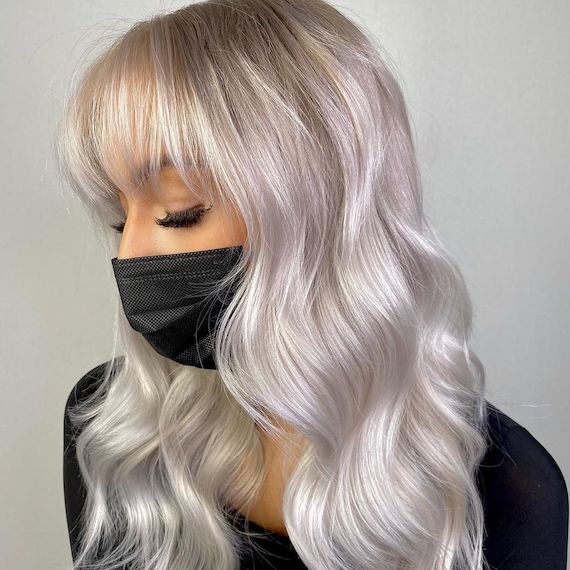 For a shade so statement-making, platinum highlights are surprisingly wearable. This is because you can pair those bright blonde shades with a base of your client's choice, allowing you to tailor the finished look. For example, on warm skin tones, you could team your client's platinum highlights with hints of vanilla to lend a glow, as you'll see in the creamy, dreamy round-up of formulas below (check out look number two!). Meanwhile, for cooler skin tones and neutral skin tones, the purest platinum hues and cool tones will enhance their complexion. Pair with darker roots or ashy ribbons to bump up multi-tonal dimension. 
8 Formulas for Platinum Blonde Highlights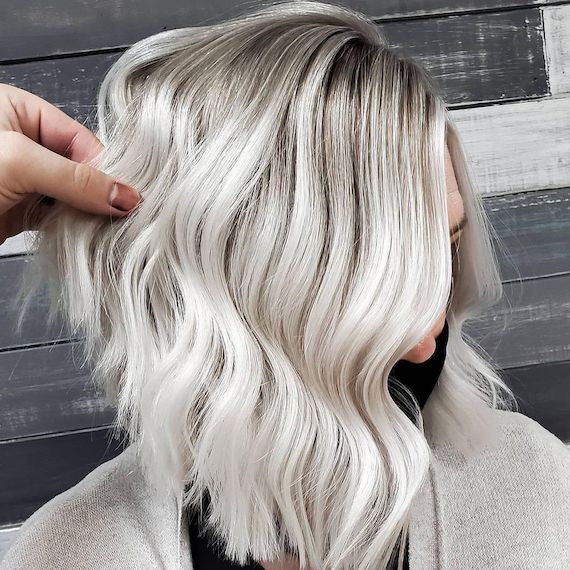 1
Platinum Blonde Babylights
Image Credit: @choppinsuhy
We get chills just looking at this cool, crisp, clean blonde. Applied to a formerly golden blonde base, it sees warm ribbons traded in for frosty platinum hues, thanks to a full head of BlondorPlex babylights. The lightener was mixed with 6% on the roots, 4% Color Touch emulsion for the mid-lengths and 1.9% for the ends. Then, Koleston Perfect 6/1 + 6/07 was applied as a shadow root, while 10/16 was used to tone the blonde.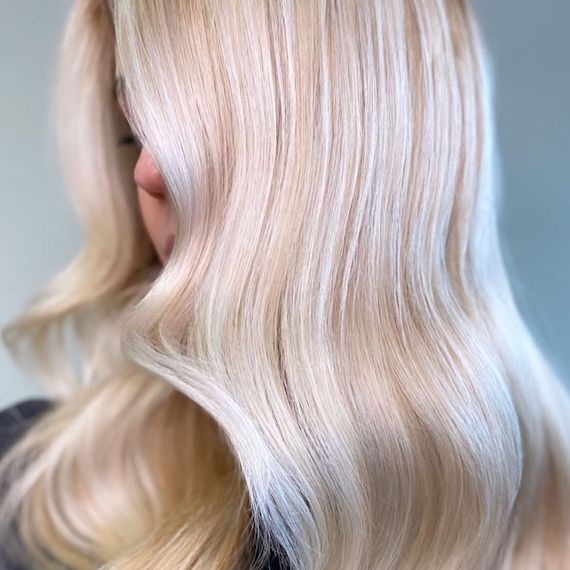 2
Blonde Hair with Platinum Highlights
Image Credit: @acgstyle
Platinum and vanilla blonde shades intertwine in this blonde on blonde creation, proving that warm and cool tones can work in harmony when you get the balance just right. Here, you're seeing BlondorPlex applied to lift, followed by Illumina Color 7/81 + 6% for subtle lowlights. And, the finishing touch? After the Illumina toner was removed, hair was treated to Color Touch 9/96 + 9/86 + 10/0. Flawless.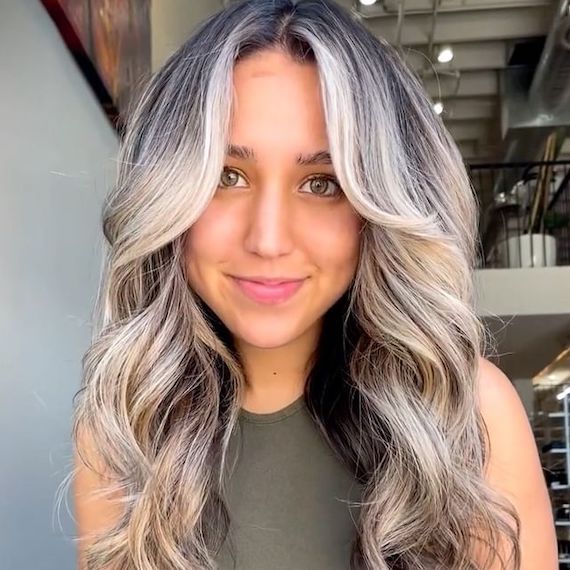 3
Ash Blonde with Platinum Highlights
Image Credit: @beautykeg
Platinum and ash blonde tones are a match made in hair color heaven. They're both bright, cool and bold, meaning they sit perfectly alongside each other in a statement-making color melt. Want to recreate this look? Apply a full head of highlights with BlondorPlex + 6%, then tone locks with a Shinefinity color glaze. Try 06/02 on the root, then sweep on alternating strokes of 09/36 and 08/38.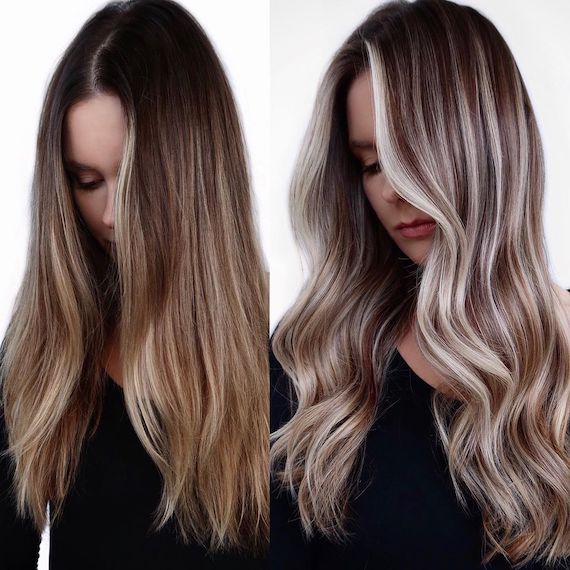 4
Face-Framing Platinum Highlights on Dirty Blonde Hair
Image Credit: @coloredbycaitlin
For a subtler take on platinum blonde, focus that bright, white shade through the face-framing highlights, then add strokes of dirty blonde balayage to the mid-lengths and ends. The trick is to apply lightener to the face frame first, so it lifts this section for the longest, resulting in added lightness at the front of the hair. Then, tone with Illumina Color 10/69 + 1.9% through lifted locks. When finished, your client's hair and complexion will glow.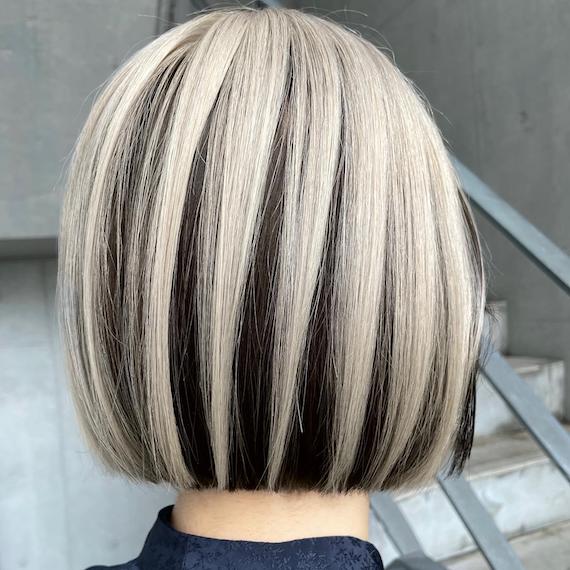 5
Platinum Highlights on Black Hair
Image Credit: @kazuma_kurata_hairstylist
Dark hair with platinum highlights is a color clash we can get on board with. That's why we can't get enough of this choppy bob haircut, complete with white blonde panels. To recreate the look, color the dark sections with Koleston Perfect 2/0. Then, after lifting slices to a level 10 with BlondorPlex, apply 10/16 to these precise pieces. The contrast is as bold as it gets.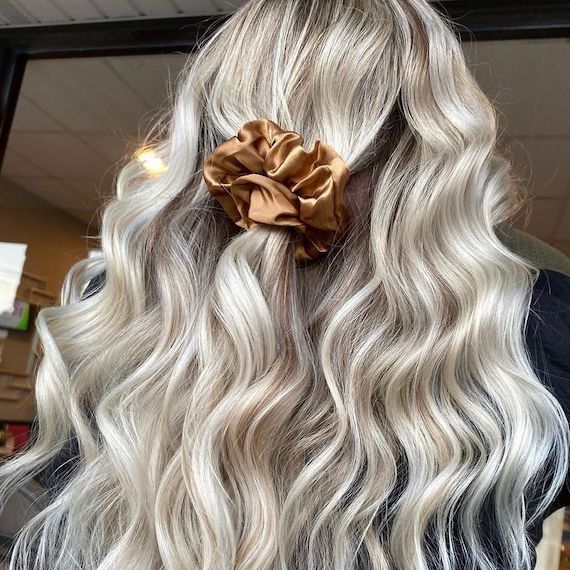 6
Chunky Platinum Blonde Highlights
Image Credit: @lightenedbyjelena
Chunky highlights are the way to go for a platinum blonde that feels beachy-fresh. Layer through ash brown hair in weighty slices, using BlondorPlex + 6% to lift. Then, perfect the tone with Illumina Color 10/1 + 10/69 for an ocean breezy blonde, with the kind of beautifully bleached-out effect you might see on surfers who can't keep out of the sun.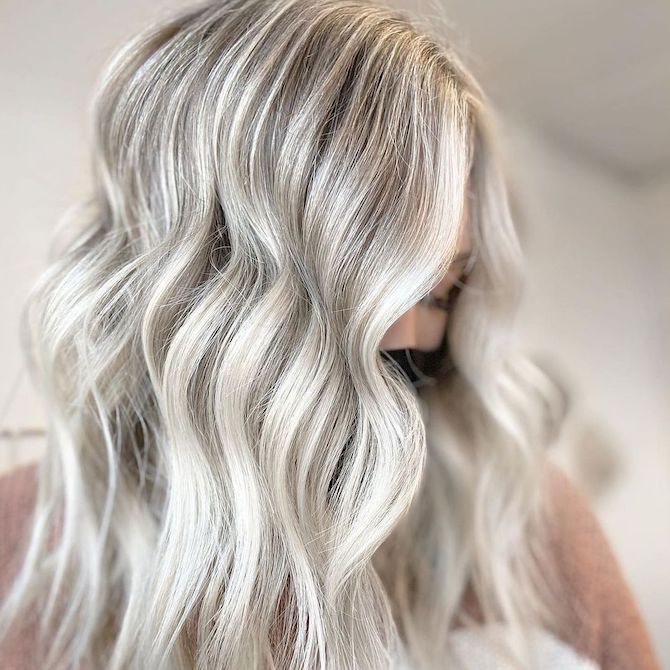 7
Platinum Highlights with Multi-Tonal Dimension
Image Credit: @balayagebybri
For extra multi-tonal dimension, layer your client's platinum highlights through an ash brown base. The contrasting lowlights and the luminous highlights will lend the illusion of boosted body and movement. BlondorPlex + 6% applied in weighty slices will give you the reliable lift you're looking for, while Color Touch 8/81 will tone locks to a crisp Nordic blonde that's beyond mesmerizing.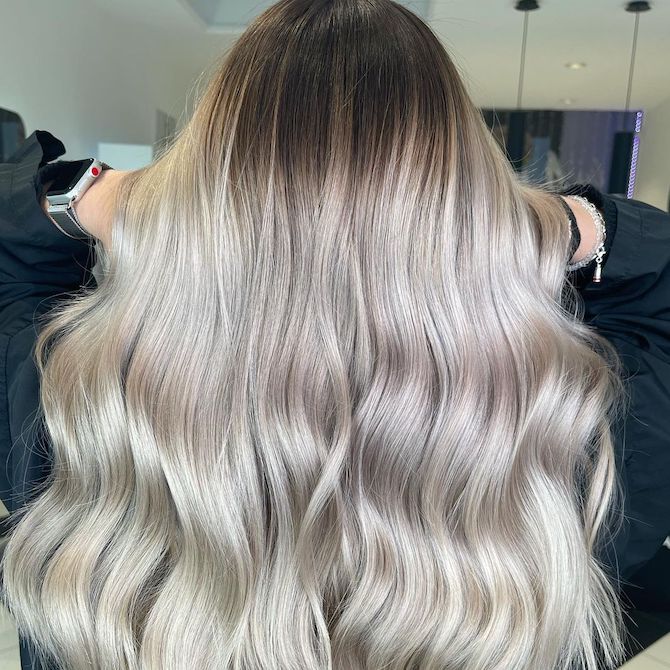 8
Platinum Highlights with Dark Roots
Image Credit: @byalexmk
The rooted blonde trend is going nowhere. If your client wants to try dark roots with platinum highlights, take it glossy with a Shinefinity color glaze. Here, 05/98 + 07/81 has been applied as a root shadow with the Brush & Bowl Activator, while 09/81 + 07/81 + 09/61 has been used to tone existing highlights. Flawless. 
How to Maintain Platinum Highlights
Don't let your client leave the hair salon without these blonde maintenance tips. These are the secrets to pure, platinum highlights that stay cool and crisp for longer… 
1. Wash with a Purple Shampoo
If your client doesn't already have a purple shampoo, now is the time for them to get one. It's a blonde hair color staple, lending a touch of violet pigment to get rid of brassiness and yellow tones. Recommend they use INVIGO Cool Blonde Color Refreshing Shampoo on days when hair is looking overly warm. All they need to do is massage it into damp hair, leave it on for three to five minutes, then rinse thoroughly. Et voila – their platinum highlights appear fresh and flawless once more. 
2. Boost with Nourishing Treatments
Keep bleach damaged hair at bay by introducing clients to reparative, restorative products. When they're not using their purple shampoo, their go-to routine should include the ColorMotion+ Color Protection Shampoo and Moisturizing Color Reflection Conditioner. Then, for deep nourishment, they should be applying the Structure+ Mask once or twice per week, which harnesses our WellaPlex bonding agent to strengthen their strands. Recommend they also apply a leave-in conditioner to damp hair, like the Elements Renewing Leave-In Spray, followed by a few drops of Oil Reflections Luminous Smoothing Oil to keep moisture levels topped up and the hair healthy.
3. Treat Platinum Hair to a Color Glaze
If your client wants a quick color refresh in between lightening appointments, suggest they book in for a Shinefinity Color Glaze to illuminate their shade. By applying 09/13 or 09/81 (mixed 1:1 with the Bottle or Brush & Bowl Activator) to their platinum highlights, you can add a shiny, translucent topcoat that corrects brassy tones and elevates radiance. Best of all, the development takes no more than 20 minutes (less for a sheer result), so your client can even drop in on their lunch break. What more could they want?
Now you know what it takes to perfect platinum blonde highlights, make sure you share your creations with us. Simply post to Instagram and tag us @WellaHairUSA.