The Ash Blonde Ombre Tutorial You've Been Searching For
Ash blonde hair is one of the most popular shades of blonde around. Take a look at TikTok, and posts tagged #ashblonde have received a huge 106.4 million views – and counting. And while you can team the color with a range of techniques – from full head color to balayage – it's ash blonde ombre that's reigning supreme in the style stakes right now. 
That's why we're sharing the ash blonde ombre hair tutorial you need to use on your clients, plus 10 formulas to inspire your salon creations and color combinations. Here are the coolest (toned) tricks to help you nail those ashy tones and a beautiful ombre color technique…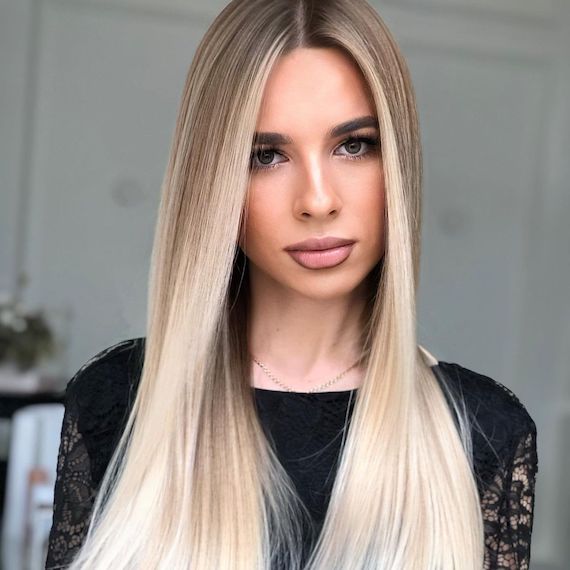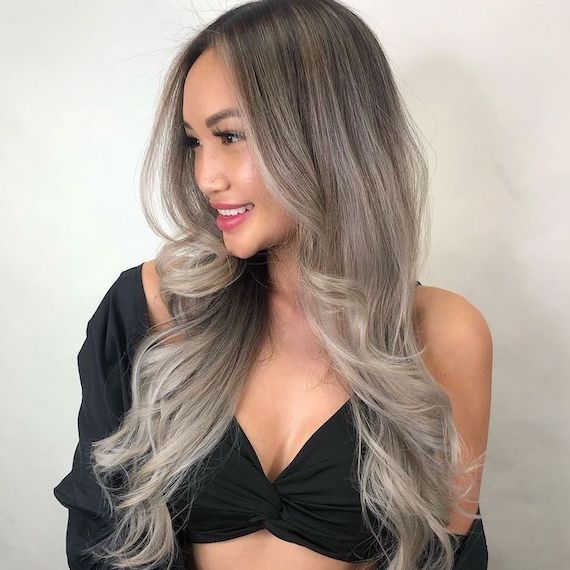 Ash Blonde Ombre Tutorial: Your 3-Step Technique
1. Tone or Shade the Root Area
If your client is happy with their natural base color through the roots, you can skip this step. However, if they want to get a dark base color, cover grays , or just refine their shade, the root area should be toned first. Choose one of the products below, and find a darker color that's cool toned so it blends with the ash blonde color in the lengths. Here's how to find the perfect color product for your client's end goal: 
For a root shadow: You can use any product in the Wella color portfolio for a root shadow. One of our favorites is Color Touch, thanks to its rich, glossy finish and gentle fade, which is ideal for softer, more seamless regrowth. 
For gray coverage: Koleston Perfect and Illumina Color each offer up to 100% gray coverage, so if your client wants to completely camouflage stray silver strands, pick a shade from one of these ranges. 
For refining and refreshing: If your client simply wants to refresh their existing root color, suggest a Shinefinity color glaze, which offers a translucent tint while retaining their natural multi-tones. All you have to do is mix their chosen color 1:1 with the Bottle Activator or Brush & Bowl Activator. 
Pro tip: Blending your root shadow down onto the lightened areas will result in a softer and more seamless transition. Just be sure not to take the shadow too low.
2. Lighten the Mid-Lengths and Ends
For hair to segue from dark roots to light ends, it will need to be lifted from the mid-lengths down. Our go-to pre-lightener is BlondorPlex, which is infused with our bond-strengthening Plex ingredient. Paint it through the full width of your client's hair, starting at the mid-lengths and ending at the tips. If your client wants a little extra 'pop' through the front, you can add some face-framing highlights too. Then, after allowing the lightener to develop, rinse hair, and use WellaPlex No2 to neutralize. Once towel-dried, locks will be ready for the ash blonde toning step. 
3. Apply Your Ash Blonde Hues
In order for your client's color to graduate seamlessly from dark to light, you may need two ash blonde toning formulas: one for the mid-lengths and one for the ends. However, as hair tends to be more porous through the tips, you may find lightener naturally lifts higher through this section, meaning one toner can be used from the mid-lengths down. You'll discover ash blonde hues across all of the Wella color products, and our numbering system makes them easy to find. Simply look for shades with a 1 (ash), 2 (matt green) or 9 (cendre) after the stroke. This can be directly after if ash is the major tone (e.g. Shinefinity 08/98), or at the end of the number if it's the minor tone (e.g. Koleston Perfect 9/81). 
Ash Blonde Ombre Tutorial Video
Want to see an ash blonde ombre tutorial in action? Watch Wella Professionals Color Consultant Fergal Doyle create a cool blonde masterpiece, complete with a subtle ombre edge:
10 Ash Blonde Ombre Looks for Inspiration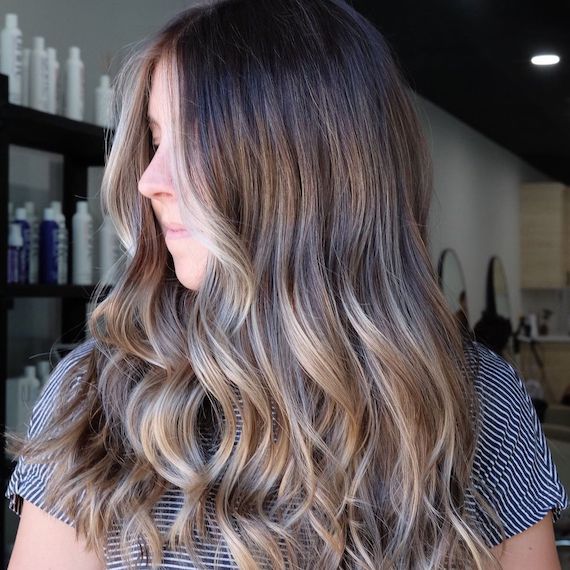 1
Ash Blonde Ombre Locks With Face-Framing Highlights
Image Credit: @colorbykaela
If you're looking to pack a little more punch with ash blonde ombre hair, shade the root a gray brown hue, then add face-framing highlights that match the lightened ends. Try recreating this mushroom-inspired mane by painting Shinefinity 06/71 Frosted Chestnut through already-brunette roots, then lightening the mid-lengths, ends and face frame with BlondorPlex. Mix 06/02 Dark Sage with 08/98 Silver Pearl to create an ashy blonde, and apply over pre-lightened hair to keep it cool and bright. Et voila – a subtle ombre (or 'sombre').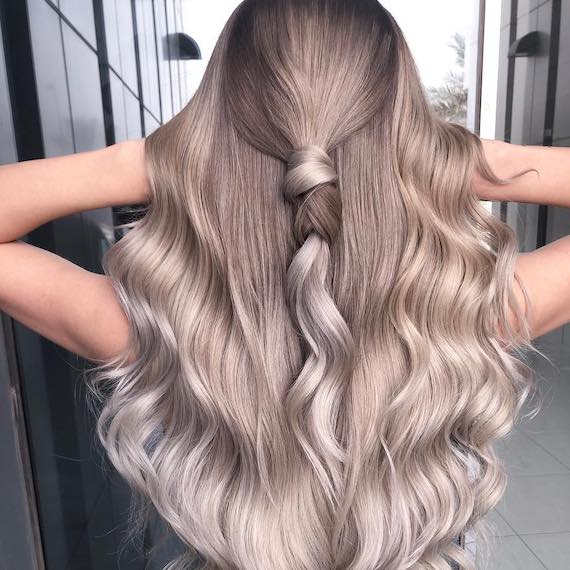 2
Ombre Ash Blonde Balayage
Image Credit: @eyadalami
Ombre and balayage techniques intertwine to deliver the most mesmerizing ash blonde, so why not try our recommended technique to recreate the look for your clients? First up, lighten the full width of mid-lengths and ends with BlondorPlex + 9% in painterly strokes. Follow with a mushroom brown root shadow using Illumina Color 5/81 + 7/81 + 1.9%. Then, paint the lifted lengths with 10/ + 10/69 + 1.9% to keep them cool and clear, resulting in a silver blonde that shimmers with every swish and sway.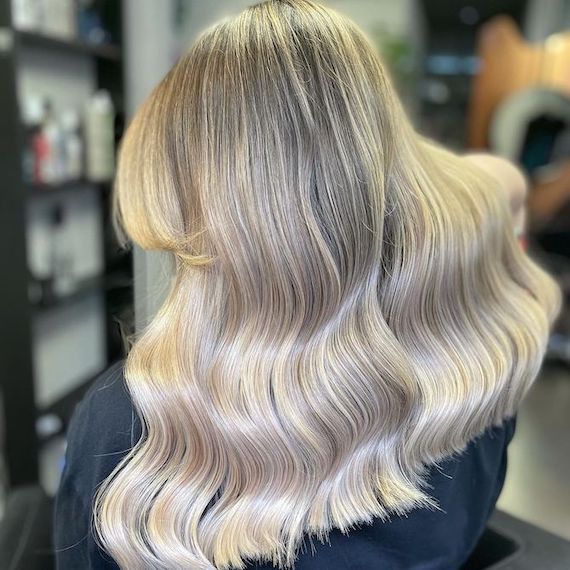 3
Light Ash Blonde Ombre
Image Credit: @luciennlucian
There are two dreamy formulas at play in this light ash blonde ombre. You're seeing Color Touch 7/1 + 7/89 through the roots, and 10/03 + 9/97 over pre-lightened lengths and ends. The finish is ultra-glossy; something you can bump up by styling hair with Oil Reflections Luminous Smoothing Oil when it's damp, followed by EIMI Glam Mist to illuminate the end result.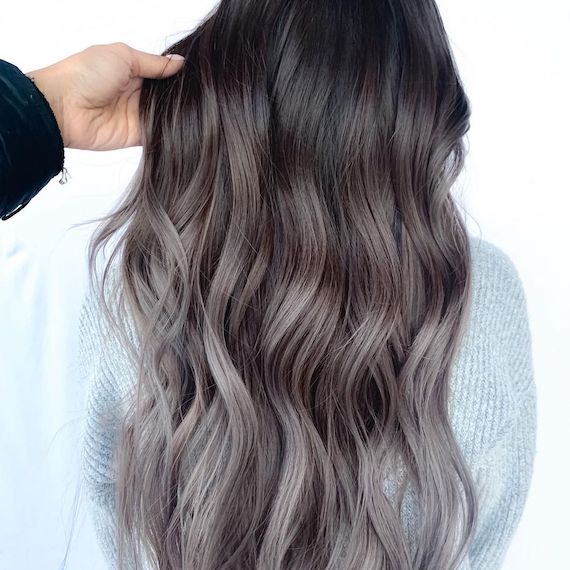 4
Dark Ash Blonde Ombre On Brown Hair
Image Credit: @biancahdrs
If a darker, silver-toned ash blonde is your client's vibe, try something like this. Perfect for fall/winter, it teams espresso roots with gray blonde ends for a smoky twist. This look started out as a warm, dark brown to caramel blonde ombre, so Bianca worked with the existing lightness by toning from root to tip with Color Touch 7/89 + just a dash of 3/68.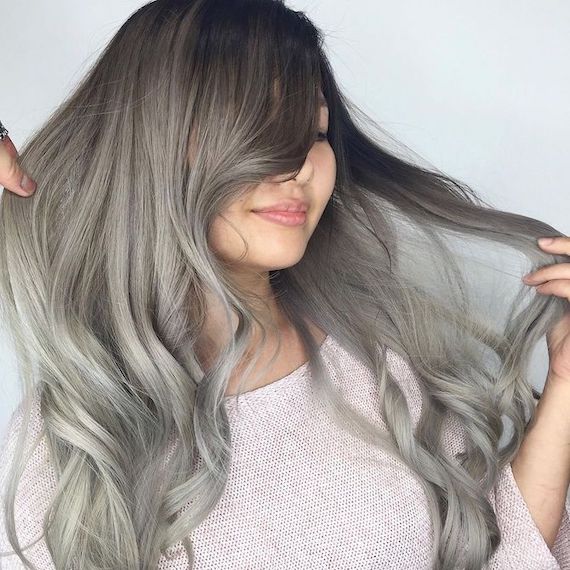 5
Ash Blonde Ombre On Black Hair
Image Credit: @xcellent_kevin
Is this the dark ash blonde of dreams? We think so. Applied to black hair, it features a natural root that cascades into deliciously soft yet statement-making blonde tones. The technique saw BlondorPlex applied a few inches down from the root and swept through to the ends, with gentle feathering to ensure a gradual shift from dark hair to light. Then, Color Touch 10/81 + 7/89 + 9/16 was used to tone hair to ashy perfection, so you get this glamorous finish.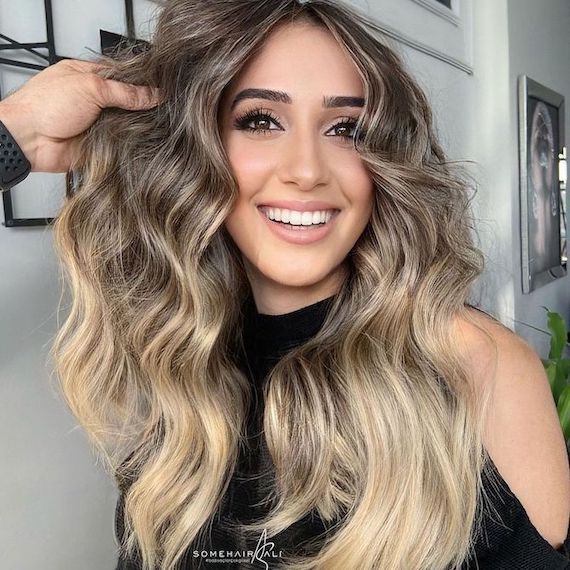 6
Ash Blonde Ombre with Highlights
Image Credit: @somehair_ali
Ombre highlights are officially a thing, thanks to this two-techniques-in-one look. You've got an ash honey blonde graduation going on, plus a few extra sweeps of brightness that start at the root. To create highlights with ombre, lighten the full width of mid-lengths and ends with BlondorPlex first, before adding a few micro-fine face-framing ribbons. Then, to finish, tone with Koleston Perfect 10/96 and a dash of 9/73.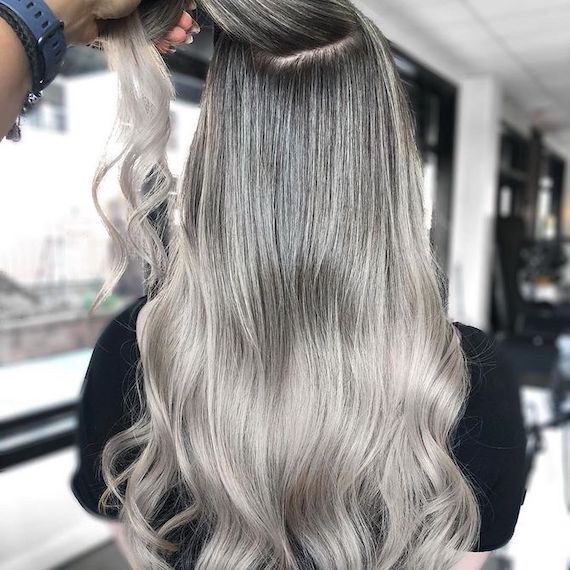 7
Ash Blonde and Silver Ombre Hair
Image Credit: @dasha.kolomiiets
We've fallen in love with this dramatic ombre look. It's a charcoal ash blonde ombre that's high on contrast, shine and drama, taking hair from dark at the roots to silver through the lengths. Create the look for black-haired clients by foiling with BlondorPlex + 6% – which gives you up to nine levels of lift – through mid-lengths and ends. Then tone using Illumina Color 7/81 + 8/69 + 1.9%. You can also combine the ombre with root to tip highlights for a more seamless blend, so the charcoal and silver tones melt together.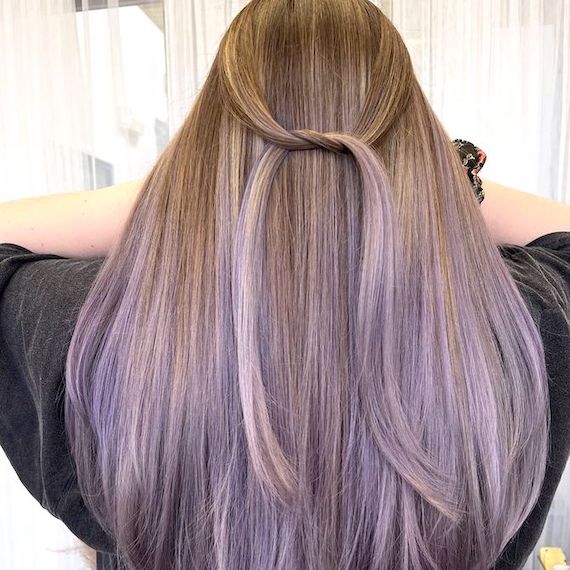 8
Lavender Ash Blonde Ombre
Image Credit: @kristiwalshair
Who knew dark ash blonde roots and purple frosted lengths could work together so flawlessly? In this bright ash blonde ombre hairstyle, ash and lavender tones come together for a fall-ready look with a twist. Try recreating a touch of lavender for your clients by sweeping Shinefinity in 00/66 Violet Booster, the Color Fresh Mask in Lilac Frost or Opal-Essence by Illumina Color in Silver Mauve through the mid-lengths and ends of an ash blonde base.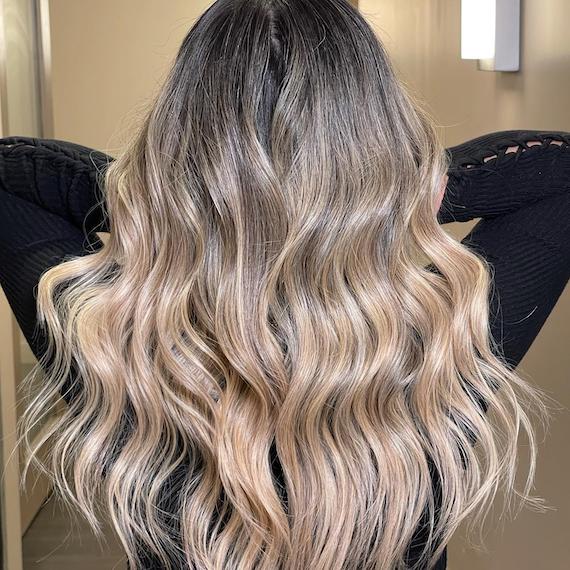 9
Ash Blonde Ombre Balayage
Image Credit: @byjohnsanchez
When it's this beautifully blended, balayage can deliver an ombre effect. Case in point: these strokes were painted freehand, but the soft graduation through to lighter ends feels distinctly sombre-like. Try recreating the look by feathering lightener (BlondorPlex) down through the mid-lengths to lend a gentler transition from the roots, then saturate the ends to achieve a bright, even lift. Finally, make like John Sanchez and tone with Illumina Color 10/36. It's a light blonde with both gold and violet undertones for a sweet vanilla ash.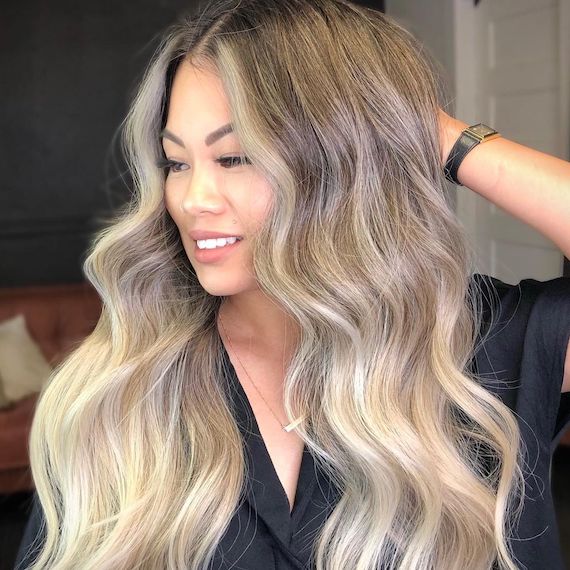 10
Light and Bright Ombre
Image Credit: @hair.qny
One clever way to create an ash blonde ombre is to use two BlondorPlex formulas: one mixed with 3% developer and another mixed with 6% developer. Apply the lightener with the 3% developer through the mid-lengths, and the lightener with the 6% developer to the ends and face frame. This will create a bright ombre that graduates from light to even lighter in the most eye-catching way. 
How to Maintain Ash Blonde Ombre Hair
Once you've crafted a flawless ash blonde ombre, show your clients how to maintain this stunning blonde shadefor longer. It's all about banishing brassiness with these simple-to-follow tips…
1. Neutralize Brassiness in Hair With a Silver or Purple Shampoo
One clever way to create an ash blonde ombre is to use two BlondorPlex formulas: one mixed with 3% developer and another mixed with 6% developer. Apply the lightener with the 3% developer through the mid-lengths, and the lightener with the 6% developer to the ends and face frame. This will create a bright ombre that graduates from light to even lighter in the most eye-catching way. 
Even the coolest ash blonde tones can start to fade brassy over time, so suggest your clients use a silver or purple shampoo to nix any excess warmth. INVIGO Cool Blonde Recharge Shampoo harnesses pigments that reverse hints of orange or yellow, so stock it in your salon for blondes who want to maintain their hue at home. All they have to do is massage it into wet hair, leave it on for 2-5 minutes, and rinse thoroughly. Their ash blonde ombre will appear bright and balanced once more. 
2. Cool Blonde Tones Down With a Color-Depositing Conditioner
If your client wants to try a color-depositing conditioner instead, introduce them to the Color Fresh Mask in Pearl Blonde. With anti-yellow tones and the softest touch of silver, it's especially good for boosting brightness in gray and silver ash blonde hair. This mask should be applied to clean, damp hair, so let your client know they'll need to use their shampoo first, then focus the product through the ombre sections and blend with a wide-toothed comb. The mask takes just 10 minutes to develop before they can rinse it out. Once hair is dry, they'll reveal a refreshed tone that shimmers and shines like they've just stepped out of the salon. 
3. Protect Hair From Sea and Chlorine Water Damage
Does your client swim regularly? Or are they going on vacation soon? Cool-toned blonde shades don't team well with chlorine or sea water, so make sure clients know how to protect their hair when they go swimming. One of the quickest and easiest ways is to soak their hair with clean water right before they take the plunge. Their strands can only hold so much water, so this will stop hair from absorbing all that chlorine or salt. They should also use shampoo right after leaving the pool, if possible, so any nasties that do get soaked up aren't left to reap damage for too long. 
With these tips, your client's ash blonde ombre will stay cool, clean and well-conditioned for longer. But we're not done yet: don't forget to share your salon-fresh looks with us on Instagram by tagging us @WellaHairUSA. We can't wait to see them.