Your 9-Point Guide to Purple Shampoo
If there's one at-home haircare product clients constantly ask about, it's purple shampoo; equal parts mesmerizing, nerve-wracking and, to some, terrifying. With fears that it will turn their hair purple and hopes that it will tackle brassiness, blondes, brunettes and silver-haired clients alike are intrigued by these violet-tinted treatments.
So, how do they really work? Here, we break down everything you need to know about purple shampoo, whether you're using it yourself or helping a client dial down overly-warm tones in their own hair...
What is Purple Shampoo Good For?
From platinum manes to ash blonde highlights, purple shampoo is good for maintaining crisp, cool tones and tempering brassiness in between pro appointments. It all comes down to color theory; because purple is opposite orange and yellow on the color wheel, the violet pigment is able to neutralize the warmth, restoring blondes back to their salon-fresh best. Check out more on this with our guide to Wella's hair color charts. It's an essential treatment for every blonde – even those who prefer a golden or caramel shade – because it prevents locks from veering in the too-warm direction.
How Often Should Purple Shampoo Be Used?
How often purple shampoo is used will differ from client to client. Some with golden blonde locks may want to use it as and when brassy tones appear, while cool-toned blondes may lather up more regularly. Recommend your clients start using it once a week – alternating with a color-kind shampoo for in-between washes – then scale it up or down, depending on their desired effect.
How Long Should You Leave Purple Shampoo In?
No two purple shampoos are made the same. Some are almost too potent, risking a purplish tinge after just a minute of sitting on locks, taking hair extra-ashy. Others may be too weak, meaning they need 10 minutes or more to make a noticeable difference to brassy tones, if they manage to do anything at all.
However, we've created the 'Goldilocks' of purple shampoos; a product with just the right level of lilac pigment, which takes 3-5 minutes to work its magic on brassy strands. INVIGO Blonde Recharge Cool Blonde Shampoo is quick, easy, and works on every hair color, from natural blondes to even chocolatey brown 'dos. It has every shade covered.
What Happens if You Use Purple Shampoo on Dry Hair?
There's a hair hack circulating about purple shampoo on dry hair. Some believe, if you want to up its potency, using it before you dampen locks will elevate its benefits. However, this trick is a big no-no. Because hair is more porous when it's dry, the violet shampoo can absorb unevenly, resulting in a patchy, purple effect. Stick to massaging it into wet hair for the most flawless finish.
Can You Use Purple Shampoo on Brown Hair?
Yes. Despite popular belief, purple shampoo isn't just good for balancing blonde hair. It can also be applied to darker locks if and when brassy tones are starting to pop up. The need for purple shampoo on dark hair is rarer, but not completely unheard of – especially on brunettes with balayage or any other type of highlights.
What Else Can Be Done to Prevent Brassy Tones?
As well as using a purple shampoo, clients prone to brassiness can keep warmth at bay with a series of quick upgrades to their daily hair routine. Here's how:
1. Opt for Antioxidants
Did you know? Pollutants are one of the key causes of brassy hair, meaning city-dwellers can be more prone to overly-warm, lackluster locks. Using hair care enriched with antioxidants – such as the ColorMotion+ collection – can trap those damaging free radicals, making them less likely to wreak havoc on hair. Recommend clients cleanse with the Color Motion+ Shampoo in between purple shampoo sessions. It's designed to help lock color down for longer, while dialling up smoothness and glossy shine.
2. Wear a Swim Cap
Chlorine is another colored hair aggressor. It strips away essential oils from strands, leaving them dry, brittle, and likely to turn brassy faster. One trick to try is to saturate hair in clean water before diving in the pool, as it prevents locks from soaking up as much of the chlorinated water. But the most reliable protection for swimmers? A swim cap – every time. Anyone who hits the pool regularly and colors their hair needs a cap in their gym bag.
3. Harness Heat Protection
You already know heat styling can damage hair. What you may not know is that it also fades color, in turn contributing to brassiness. Recommend freshly-colored clients leave the salon with a reliable heat protection spray. We use EIMI Thermal Image, misted from root to tip to create a protective shield pre-tonging.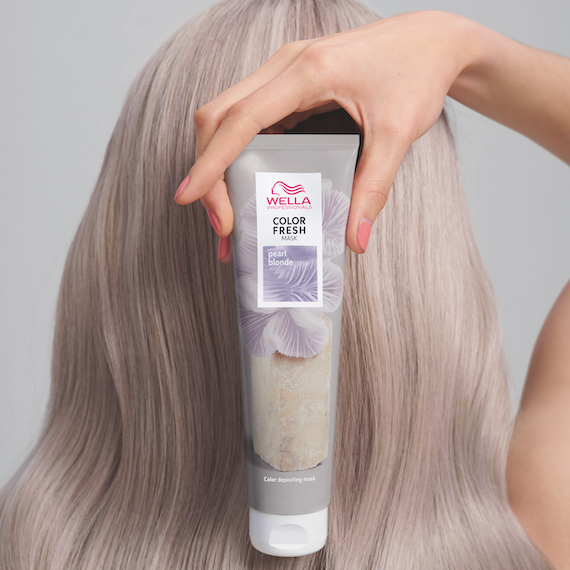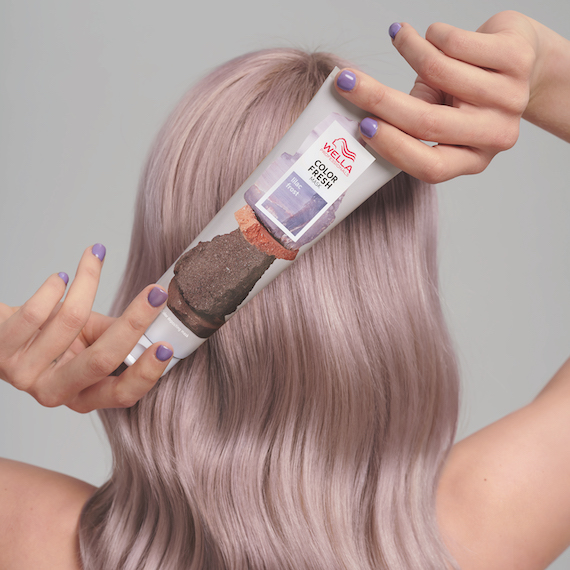 What Does Purple Shampoo Do to Gray Hair?
Gray hair – natural or otherwise – has a tendency to shift yellow over time. However, those brassy tones can be blitzed in one wash with a purple shampoo. Being careful not to leave it on too long, massage a violet-tinted shampoo into gray strands and allow it to develop for two minutes. It will up the brightness, giving grays a silvery, shimmery sheen.
Can Purple Shampoo Dry Hair Out?
It depends what purple shampoo you're using. If it's INVIGO Blonde Recharge Cool Blonde Shampoo, it won't dry out or damage your locks; it will just neutralize the color. However, we also recommend following up your shampoo with a conditioner or mask, and if hair is typically dry, alternating with a moisturizing shampoo between purple washes.