14 Scorching Warm Blonde Hair Ideas and Formulas
Some of the dreamiest blonde hair hues can be described as a 'warm blonde'. We're talking golden highlights, honeyed balayage and any lightened manes that have a sun-kissed edge. The likes of Jennifer Lopez and Gisele Bundchen have put these shades high on the coveted list, and with summer heating up, the demand for warm, surfer-girl-inspired locks is hitting fever pitch.
That's where we come in. We've pulled together everything you need to know about warm blonde hair, from the lowdown on if it will suit you (spoiler: it will) to the variety of shades available. Whether you're a colorist searching for inspo, or you're looking to try the trend yourself, keep scrolling to discover the ultimate guide to warming up your blonde…
What is Warm Blonde Hair, and Should I Try It?
To understand warm blonde, you need to know what cool blonde hair looks like. Cool blondes (seen on the left) are your paler shades, such as platinum, ash or ice blonde. Meanwhile, warm blondes (right) are richer, sunnier hues with orange, gold or red undertones, falling anywhere on the shade spectrum between a deep bronde and a light, bright beige.
If you're wondering whether you suit cool or warm blonde hair, look to your skin's undertones. Pinkish tones in the skin are cool, while yellowish undertones mean your skin is warm. Some believe that, because olive skin is tanned, it must be a warm tone, but it actually has a greenish undertone that sits on the cooler spectrum.
Generally, creating a contrast is most flattering, so cool-toned complexions pair well with warmer hair, while warm-toned skin is enhanced with icier locks. However, if you're warm-toned, your hopes for a sun-kissed 'do aren't over just yet. Combining cool and warm tones will ensure the trend still looks incredible on you – and the multi-tonal effect appears more natural too. If you want an overall warm look with warm skin, opt for cooler highlights around the face, then keep the color warm everywhere else.
Warm Blonde Hair Ideas
Let's delve deeper into warm blonde hair. Now you know how it differs from icy-cool locks, take a look at our round-up of warm blonde shades, from delicious honey to glistening gold.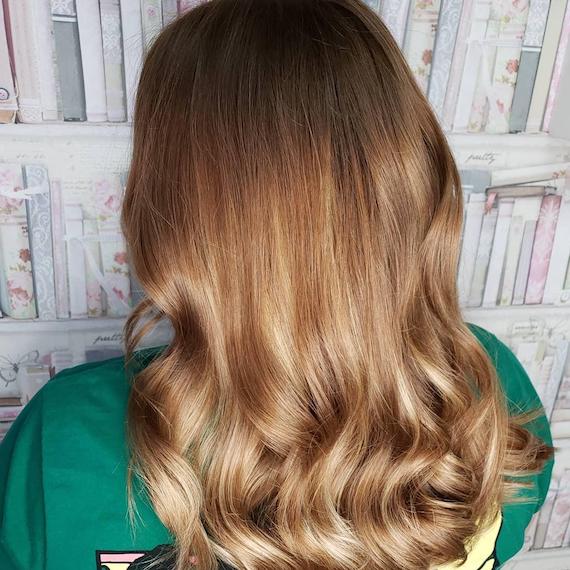 1
Bronde Hair
Image Credit: @shannonf_hair
Blonde + brunette = bronde. It's perhaps the most coveted hair color of all, merging the warming benefits of brunette with the glow-boosting properties of golden balayage. Very Jessica Alba. Make sure those blonde highlights look fresh – never brassy – by topping up color with a hair glossing service, like the Wella Professionals Pure Glossing Treatment. It'll ensure the hints of blonde through your brown base appear seamlessly blended.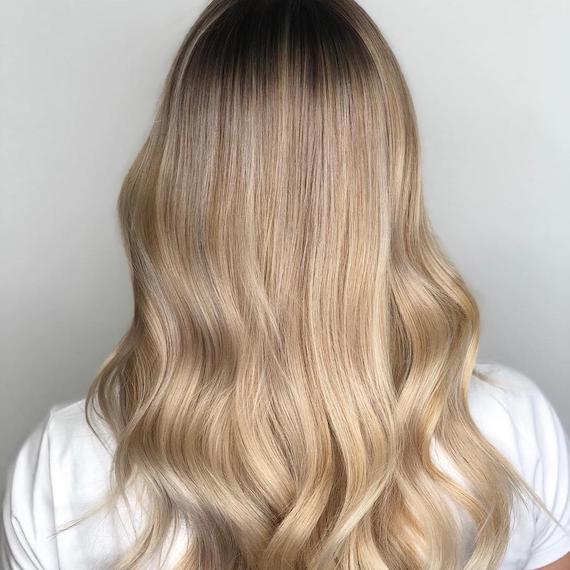 2
Creamy Blonde Hair
Image Credit: @marco_gorgosch_
Dreamy, creamy blonde hair is ultra-light and luminous. It's also a big color commitment, requiring a full-head of highlights to achieve the glowy, cashmere-like finish. Poppy Delevingne has definitely nailed it, and you can, too, with WellaPlex. Add this bond-strengthening innovation into the lightening formula to enable optimal lift and strengthen those strands.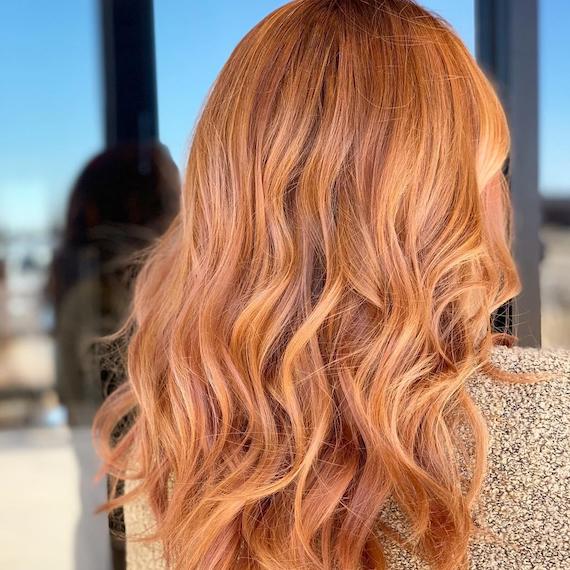 3
Strawberry Blonde Hair
Image Credit: @jordanperry25
Erring on the peachy side, strawberry blonde hair is one-part copper and two parts golden. Think, the fairest shade of red you can imagine, combined with a soft, gilded finish. Naturally blonde clients who are intrigued by this hue will find it's a great way to play with their shade by simply changing the tone, not altering the lightness. Look to the Color Fresh CREATE portfolio of pink, red, coral and orange shades to custom-blend this color, then dilute them with Tomorrow Clear to reach the perfect strawberry blonde.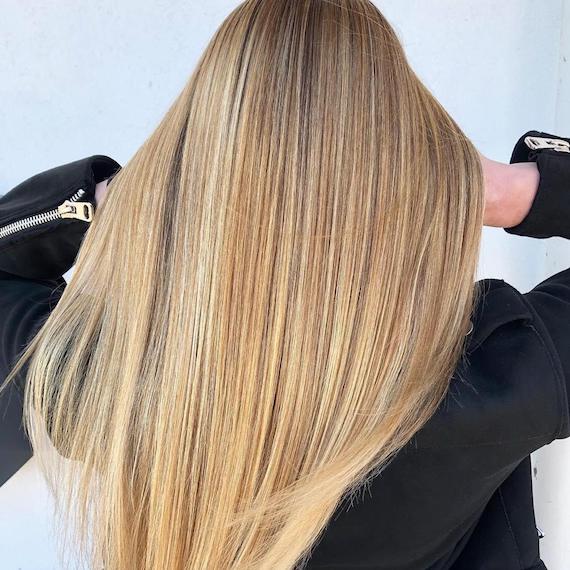 4
Golden Blonde Hair
Image Credit: @hairbykiesler
On the other end of the metallic hair spectrum to icy blonde is golden blonde; a gilded shade that teams warm-hued highlights with chocolate-y lowlights to make hair appear thicker. Bump up the brightness even more with EIMI Oil Spritz, which is a lightweight, gloss-boosting mist that'll make those golden tones shimmer.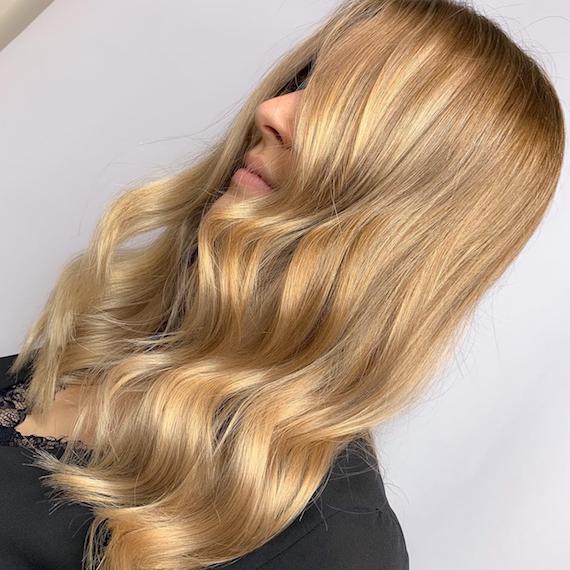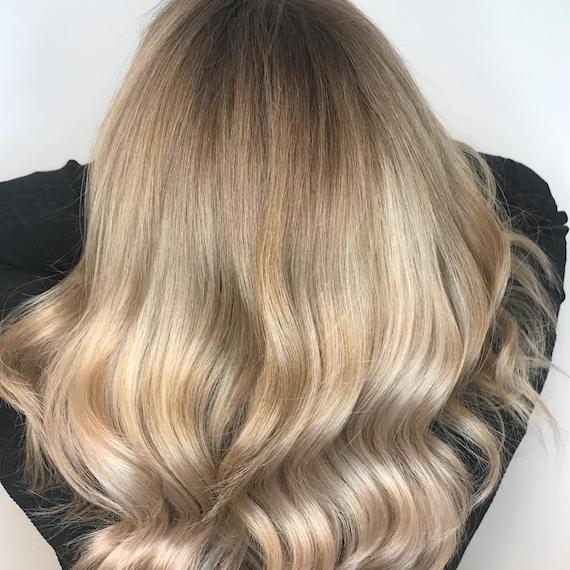 6
Beige Blonde Hair
Image Credit: @lafemmesalong
Like the Burberry trench of blondes, this premium-looking shade is a true classic; a paler take on warm blonde that sees cooler tones pulled in for a subtle shine boost. Style it with a gloss-enhancing spray, like EIMI Glam Mist, to amplify the expensive finish.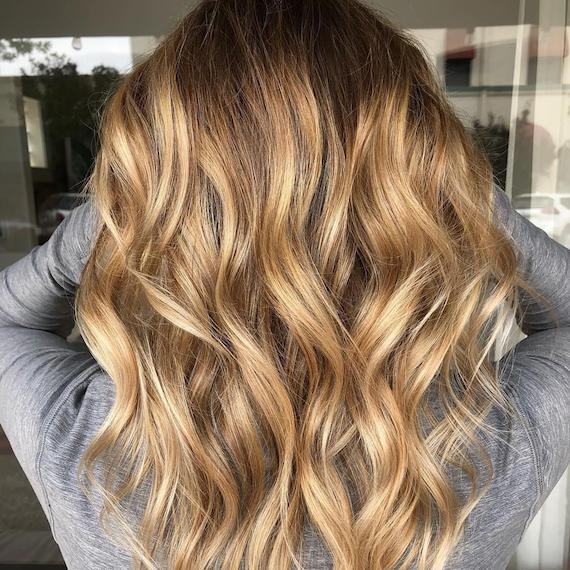 7
Beach Blonde Hair
Image Credit: @tst_with_refined
The definition of surfer girl hair, beach blonde is sun-kissed and super-flattering. It features a scattering of pale blonde and caramel tones through the tips, as if hair has been thrown up in a bun and lightened by the sun. To up that beachy effect, style locks with EIMI Ocean Spritz; a texturizing salt spray that coaxes locks into a loose, tousled wave.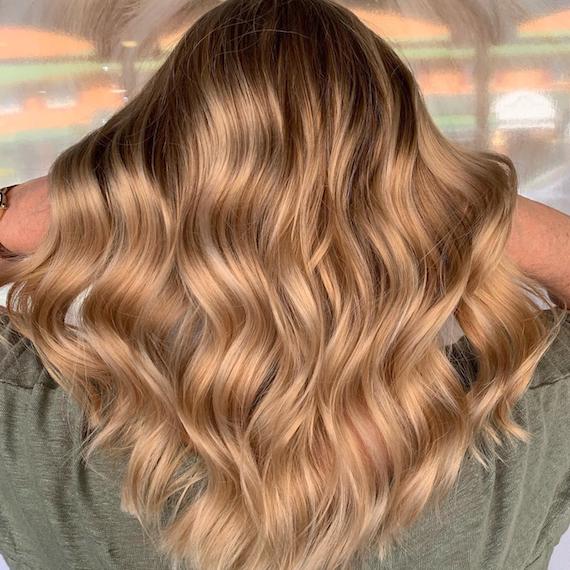 8
Warm Blonde Balayage
Image Credit: @cambridge_hair_collective
Balayage and warm blonde hair colors are a match made in heaven. Not sure how this technique works? It all comes down to the placement of your blonde highlights. While ombre results in an even dark-to-light graduation and a dip-dye creates blocky effects, balayage sees color painted freehand through mid-lengths and ends in beautifully-blended ribbons.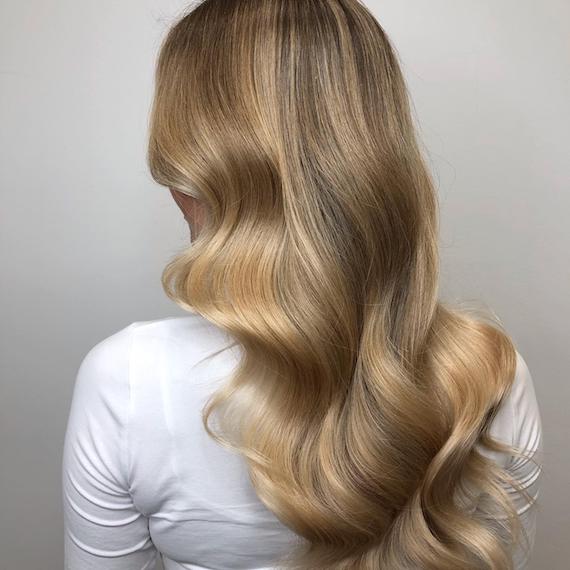 9
Dark Blonde Hair
Image Credit: @laila.wella
Dark blonde hair can be warm or cool. If you want it warm, go for a shade that's somewhere between golden blonde and light brown, featuring a higher level of light, bright tones than your average bronde. To get the balance just right, try highlights that boast a creamy caramel finish, and combine with chocolate lowlights that give your dark blonde mane plenty of depth.
Warm Blonde Hair Formulas