What Are Babylights?
Essentially, babylights are 'baby-sized' highlights. They're created by applying a lightener, like Blondor, to much finer sections of hair than traditional highlights. This can be done with or without foils, depending on the level of lift you want, and you can tone them to all manner of shades or keep them a bright, sparkly blonde.
They take subtle highlights to a whole new level because they're virtually undetectable, designed to mimic unprocessed hair that's been gently kissed by the sun. So, if you're looking back at vacation photos of your six-year-old self, and wishing you still had that hair color, babylights are going to bring your childhood 'lights back to life.
What's the Difference Between Babylights and Highlights?
Babylights are highlights - just very skinny, delicate ones that flatter anyone and everyone, whether hair is long, short, mid-length, red, brown, fine or thick. They're the highlights to go for if a hyper-real, luminous finish is the end goal, creating a reflective sheen that looks less like highlights and more of a natural glow.
What's the Difference Between Babylights and Balayage?
While babylights are all about the density of your highlights, balayage focuses on the placement, as well as the technique you use to sweep lightener focussed on the lengths and ends. It's a freehand process that involves painting random sections of hair with your lightener, typically focusing brightness through the face-framing layers, mid-lengths and ends. You can actually combine balayage and babylights, alternating painterly sweeps with skinnier 'lights for a truly multi-dimensional effect.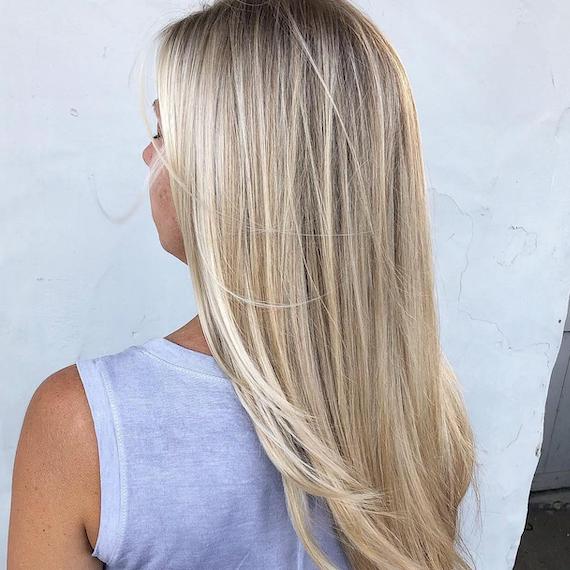 1
Cool Blonde Babylights
Image Credit: @styledbydani_naz
"No root shadow, just 1,000 babylights." That's how Danielle Nasvaderani reached this bright beige blonde color, created using very fine ribbons of Blondor Multi-Blonde Powder with 6% Welloxon Perfect Developer. She then toned to icy cool perfection with 10/73 + 9/01+ Color Touch 1.9% Emulsion, resulting in surfer-girl soft lines that look positively glowy, whatever the season.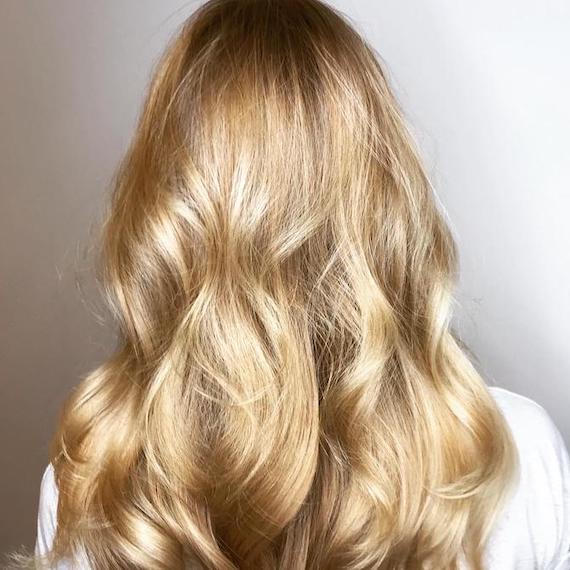 2
Warm Blonde Babylights
Image Credit: @ronnie_william6
Balayage and babylights combine in this buttery blonde mane, which features a high volume of ultra-fine 'lights that lend a spotlight effect through mid-lengths. You want to keep this warm blonde rich and golden without a hint of brassiness, so make sure it's topped up with a glossing treatment in between babylighting sessions.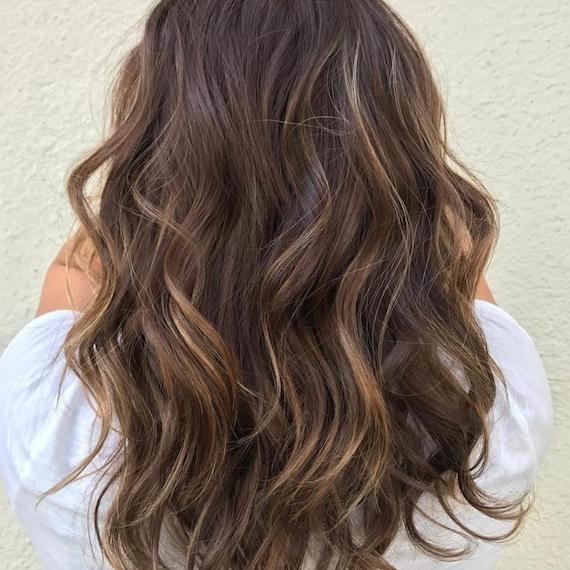 3
Babylights on Brown Hair
Image Credit: @re.fined
Just a few babylights were added to this medium brown hair color, combined with a couple of strokes of balayage to get a plumped-up, healthy-looking finish. Look closely and you'll see the micro-fine 'lights are three or four shades brighter than the base, creating a twinkly effect whenever the light catches. For clients who want to make their babylights really shimmer, recommend they finish freshly-styled hair with EIMI Oil Spritz. Simply mist the oil into palms of hands and press through lengths for instant dazzle.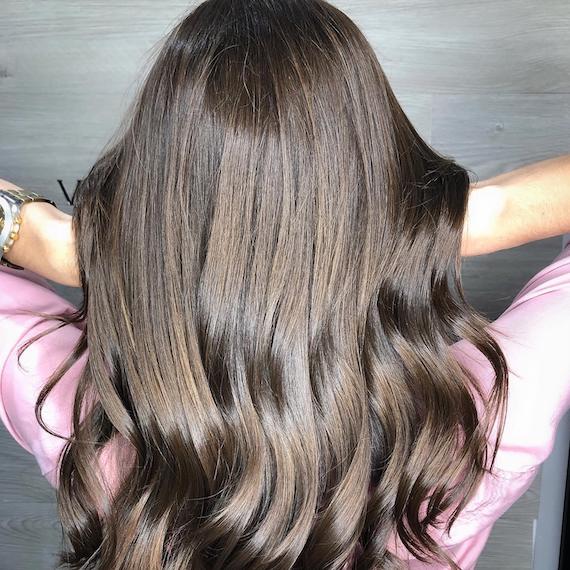 4
Babylights on Dark Brown Hair
Image Credit: @verdinipeluqueria
To the untrained eye, this chocolate brown hair color might look like a born-with-it hue. However, it's a scattering of babylights that's lending all that depth and multi-tonal texture. For a similar finish, create your micro-fine babylights with Blondor first, aiming for a lift no more than two or three shades lighter than the base to achieve a seamless finish. Then, once you've achieved the desired depth, tone with a light-boosting permanent color, like Illumina Color. There's a spectrum of dark shades in the collection, from cool ash browns to warm caramel colors.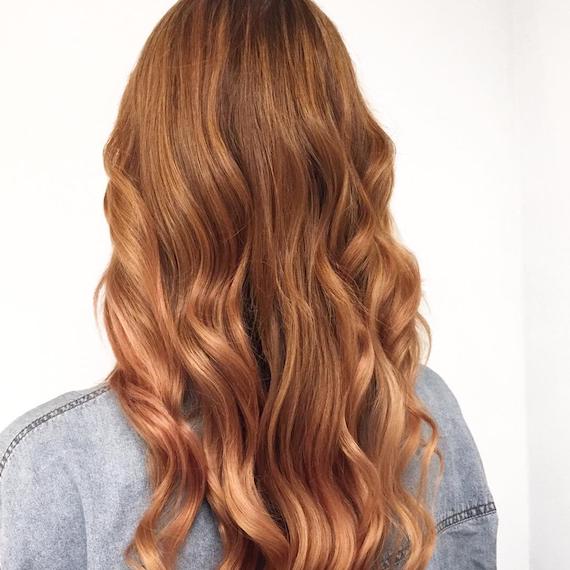 5
Strawberry Blonde Babylights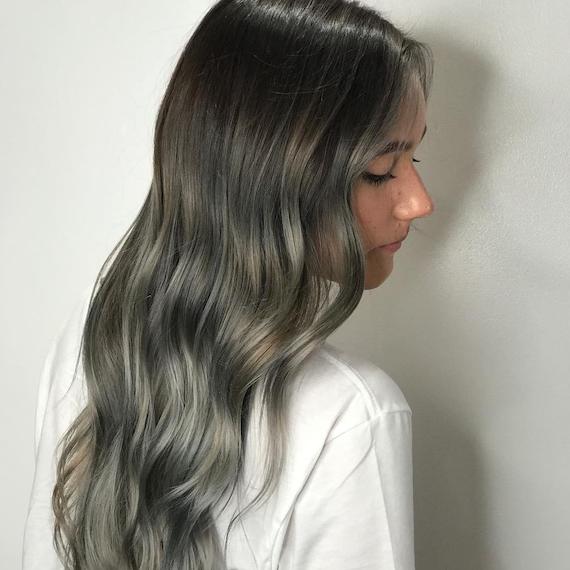 6
Silver Babylights
Image Credit: @daryl.lienhart.hair
You might think 'bold' and 'babylights' are two words that don't quite go together, but Daryl Lienhart's client's silvery-emerald 'do proves you can team this technique with any color. To get the look, hair was pre-toned with Illumina Color 9/60 + 10/ with Welloxon Perfect Pastel Developer, before balayage and babylights were weaved through strands using Blondor. The deep gunmetal finish came courtesy of demi-permanent Color Touch, which will allow the hue to fade and blend beautifully over 24 shampoos.