Your Wet Balayage Guide For Soft, Seamless Lifting
It's official: wet balayage is on the rise, as clients call for softer, more natural-looking highlights that make their hair look like it's been oh-so-gently kissed by the sun. Delicate and dimensional is high on the trend agenda this year, and this subtle take on sweeping will unlock the radiant ribbons of your client's dreams. 
But, how exactly do you do a wet balayage? Here, we reveal everything you need to know about the technique, including four must-try formulas for a light and luminous lift...
What is a Wet Balayage?
First, let's have a quick balayage refresher. This coloring technique sees hair lightener painted in freehand strokes through the mid-lengths and ends of tresses to lend a boost of brightness. Every balayage look is unique, with the placement of each ribbon personalized to your clients. You can layer it up through the face frame, start it closer to the root, or team it with a root shadow, depending on their hair goals. 
Or, you can turn it into what we call a 'wet balayage', which sees those freehand strokes applied to damp or wet hair – not dry hair as usual – in order to create a gentler lift. It can also be used as a corrective technique by lightening and brightening an existing balayage which may have gone dull over time. 
The effect is soft, subtle and sheer, but take note: hair strands shouldn't be soaking wet for a wet balayage technique. We recommend prepping locks by lightly misting them with water from a spray bottle, then towel drying to remove excess moisture. You could also use the ColorMotion+ Pre-Color Treatment to dampen locks.
Who Suits a Wet Balayage?
Everyone. As all salon colorists know, a traditional balayage is one of the most versatile hair looks out there, and applying it to wet hair for a sheer effect makes it even more wearable (especially for color-shy clients). It's like the 'no-makeup makeup' of lightening looks, softly enhancing the hair without dramatically shifting the shade. Plus, like a dry balayage, it can be applied in any shade to suit your client, from beachy blondes to rich brunettes. 
Watch a Wet Balayage Application in Action
Follow These Steps:
Step 1: ROOT GLAZE
First up, apply a root shadow in a Shinefinity hue that's close to your client's natural color. Mix it 1:1 with the Brush & Bowl Activator for a zero lift, zero damage root shade. 
Step 2: LIGHTEN
Dampen the lengths and ends of the hair with Color Motion+ Pre-Color Treatment or water. Then take diagonal zig-zag sections and saturate the ends with Blondor Multi-Blonde Powder + 6%. Feather the lightener to just below the Shinefinity application, dampening the hair throughout for seamless blending. Leave to develop for up to 50 minutes.
Step 3: CARE
Rinse your client's hair before applying ColorMotion+ Shampoo and Blondor Seal & Care to neutralize the lightener and prep locks for a final toning step.
Step 4: GLAZE
Finish with an all-over Shinefinity Color Glaze in the shade of your client's choice, mixed 1:1 with the Bottle Activator. Leave it to develop for up to 20 minutes before rinsing. Style and finish the look with EIMI Glam Mist for a boost of shine.
4 Wet Balayage Hair Ideas to Try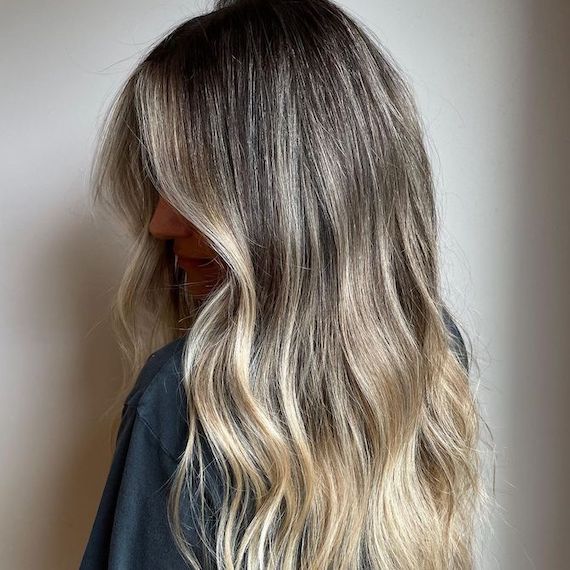 1
Wet Balayage For Ash Blonde Hair
Image Credit: @gretawagner_
One of the most popular hair colors of all, ash blonde, pairs perfectly with a wet balayage. Delicately lifted ribbons and cool toners result in a shimmery mane that feels fresh and dimensional. To create the look, prep hair with water and apply BlondorPlex to the mid-lengths and ends to brighten the perimeter, then sweep through the front for face-framing highlights. Once the lightener has developed, follow with ashy hues for a crisp, clean finish. Some of our favorites in the Wella Professionals portfolio include Color Touch 9/16, Koleston Perfect 9/1 or Shinefinity Color Glaze 09/81.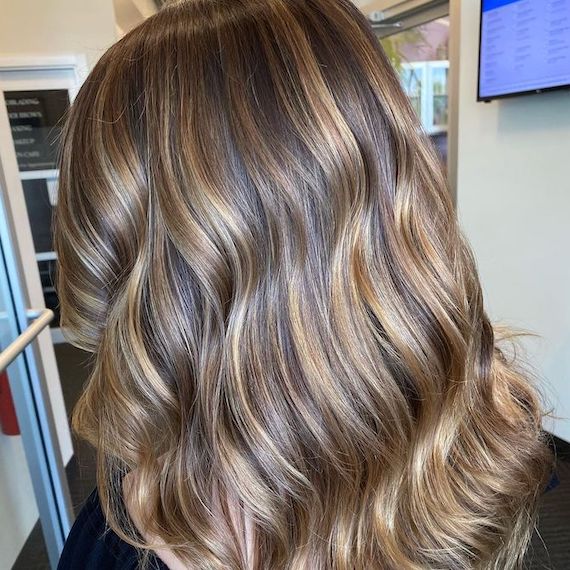 2
Wet Balayage For Chocolate Caramel Hair
Image Credit: @hairbyangelaalberici
To give a wet balayage a bolder edge, apply BlondorPlex in chunky highlights to towel-dried hair. Don't be shy; go for weighty slices to make those brighter pieces pop. Then, if you want to achieve this caramel glow for a client with a brunette base, try toning highlights with permanent Koleston Perfect 8/07 or demi-permanent Color Touch 8/3. The rich warmth of the blonde will shimmer against the warmth of a chocolate brown base, giving your client an unforgettable glow.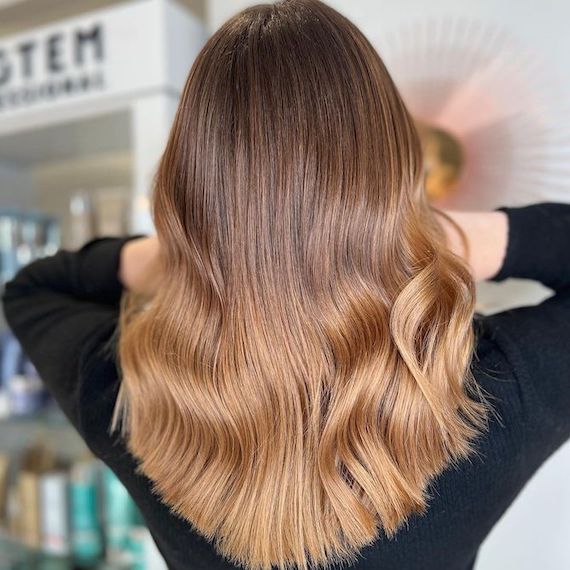 3
Wet Balayage For Brown Hair With Subtle Highlights
Image Credit: @stylhairniort
Check out this bronde (brown blonde) dream come true. Crafted with our go-to freehand lightener Blondor Freelights + 9%, it shows just how seamless your lifting can be when you apply balayage to lightly damp locks. The golden finish comes courtesy of Shinefinity Color Glaze 06/07 + 07/13, two beautiful hair hues brimming with lustrous warmth to suit all skin tones. If you're creating a shade like this, finish the look with EIMI Glam Mist to pack in extra shine. Your client will leave the salon chair feeling truly radiant.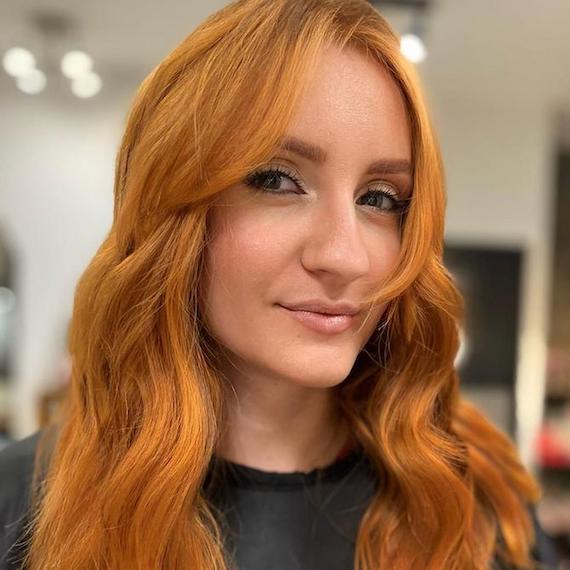 4
Copper Blonde Wet Balayage With a Pop of Dimension
Image Credit: @jarod_fiscarelli
Red-haired clients who are craving soft dimension will love a wet balayage. The contrast is low enough to give locks a melted effect, yet high enough for hair to radiate fresh summer vibes. Case in point: this sunny mane, which was crafted with BlondorPlex + 4% to lighten, followed by Shinefinity Color Glaze 08/34 + 09/73 to tone locks to copper blonde perfection.  
The Perfect Hair Care Routine For Wet Balayage
1. Pick the Right Shampoo For Their Hair Type
Gorgeous hair color deserves premium formulas to keep it locked down for longer, so make sure your client is using a salon-approved, color-kind shampoo to maintain their wet balayage. One of our favorites is ColorMotion+ Color Protection Shampoo, which is packed with antioxidants to shield strands from dulling pollutants. If they have a blonde balayage, a purple shampoo is also key to preventing brassy hair. Recommend they use INVIGO Blonde Recharge Cool Blonde Color Refreshing Shampoo once per week, leaving it on for around three minutes to nix any unwanted warmth. 
2. Nourish Locks With a Hair Mask
Lightened lengths and ends need extra care to stay hydrated, so remind your client to treat their locks to a weekly hair mask. ColorMotion+ Structure+ Mask is perfect for nourishing color-treated hair, as it's packed with our WellaPlex bonding agent to keep strands smooth and strong. They should apply it to clean, towel-dried hair, leave it on for five minutes, then rinse thoroughly before styling locks as usual. 
3. Apply Hair Sunscreen to Protect Color
UV rays can take a balayage from blonde to brassy over time, so make sure locks are protected from sun damage with a hard-working hair sunscreen. Suggest your clients try EIMI Glam Mist, which gives their mane a glossy glow, while shielding it from the effects of humidity and UV rays. It's perfect for a year-round dose of shine.
Now you've got all the tips you need to create a wet balayage for your client, go ahead and get painting, then share your looks with us by tagging @WellaHairUSA on Instagram. We can't wait to see your masterpieces.