What is Hair Twilighting? Your Complete Guide
We often talk about sun-kissed locks, but what about moonlit strands? In a break from the beachy look, hair twilighting is trending in 2021. Designed to add warm flashes of light to dark hair, this lust-have technique creates depth and definition. But it's not just for brunettes; deep brondes and vampy redheads can get a twinkly glow, too.
Want in? Discover how you can create the look for your salon clients, giving them glittering twilights inspired by the moonlight – not a certain vampire movie.
What is Twilighting?
Twilighting sees brunette balayage and babylights combine. Sometimes, they're applied side by side, while other times the techniques are fused together for freehand, micro-fine highlights. The definitive way to work the trend is through a dark or medium brown base, giving the impression of soft, glowing light hitting strands as the sun disappears beyond the horizon.
These hair twilights can be soft and subtle or starker in contrast, depending on how bold your client wants their brighter ribbons to appear. The goal is to add a scattering of warm tones that make dark hair positively glow, while boosting radiance through the face-framing layers for the dreamiest dimension.
But, as we said before, this trend isn't just for brunettes. Clients who crave red brown or bronde hair can try it too, adding pumpkin spice tones to a hazelnut base or caramel richness to a lighter brown. Twilighted hair reflects warmth in the most flattering way, giving dark-haired clients a way to embrace their own style of sun(set)-kissed lengths.
How to Twilight Hair
Blonde highlights on dark hair always begin with some level of lifting. Use a hair lightener that works with your balayage, foilyage and babylights technique, like Blondor Freelights. The ultimate all-rounder; it can be applied for air or foil developing, and the adhesive mass means it stays in place when sweeping through with freehand strokes. Aim for a lift one to three shades lighter than the base for twinkling twilights, and stroke your formula in alternating babylights and balayage. Concentrate brightness through the face.
Then, allow the lightener to develop, rinse it out and tone hair to the perfect warm shade for your client. Look to golden hues that replicate the glow of twilight.
6 Twilighting Hair Ideas For Glowing Locks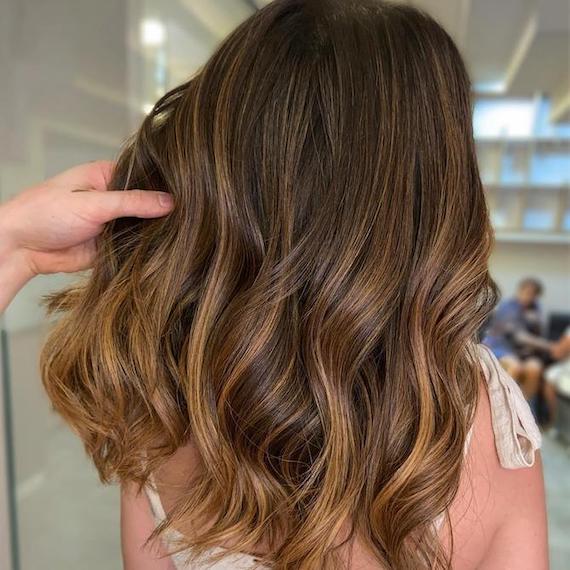 1
1. Twilighting on Chocolate Brown Hair
Image Credit: @fredyhair
Chocolate brown hair teams flawlessly with twilighting. Adding delicious milky 'lights through cocoa-ed strands, the technique ensures every curve and curl in the hair truly strands out. Create the look by toning blonde highlights with Illumina Color 7/35 + 7/7; two golden blondes that pop when the (twi)light catches them.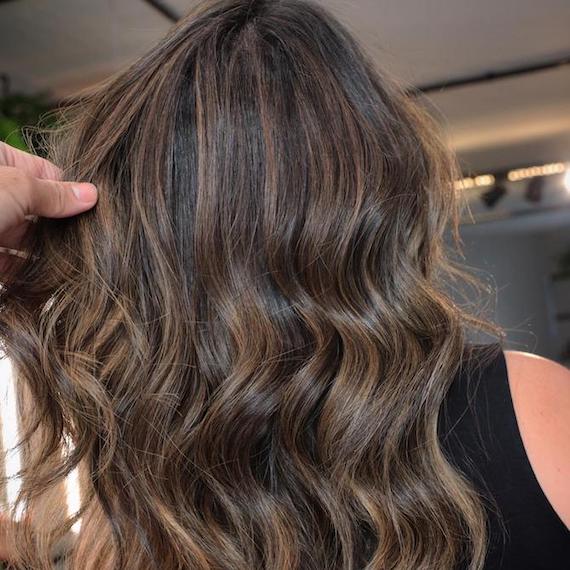 2
2. Subtle Twilighting
Image Credit: @kalnascimentostudio
The sombre (subtle ombre) of the twilighting world; this soft and seamless look sees 'lights shift one shade lighter than the dark brown base for added movement and tonality. Blondor Multi-Blonde Powder + 4% was applied in foiled babylights and balayage, before Illumina Color 7/7 + 10/38 was used to tone. It's our go-to color product for light-reflective strands.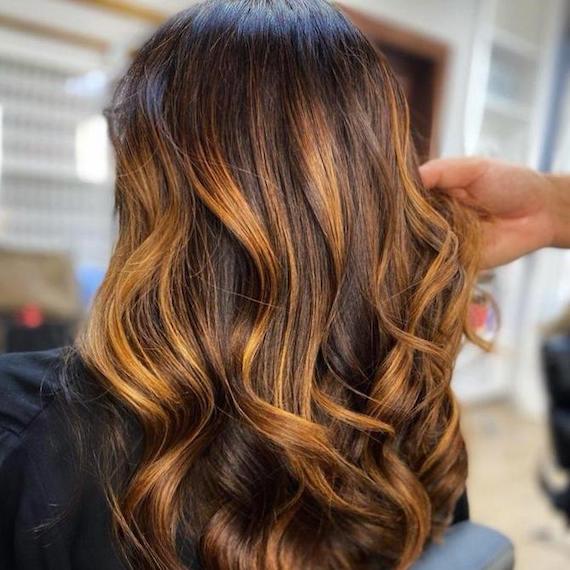 3
3. Copper Twilighting
Image Credit: @kalnascimentostudio
For clients who want to dabble with red hair but maintain a dark brown base, copper twilighting is perfect. It gives locks a warm, metallic boost that sets brunette tones aglow. To recreate this shade, try blending babylights through the front and sweeping balayage in the back, before toning pre-lightened strands with Illumina Color 7/43 + 9/43.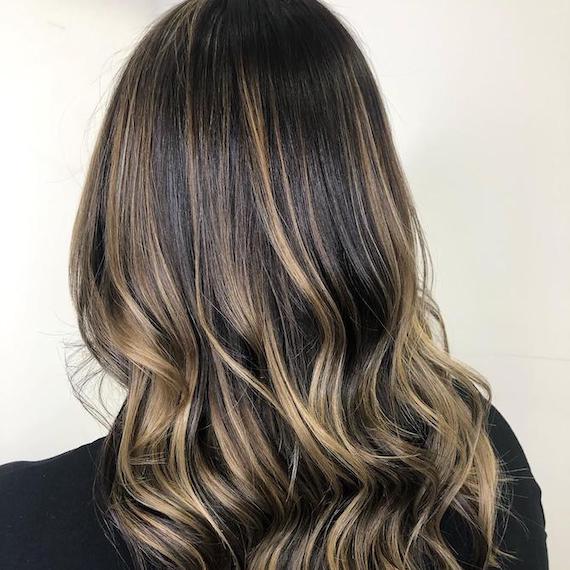 4
4. Cool-Toned Twilighting
Image Credit: @chloebradburyhair
We talk a lot about warmer tones when twilighting clients' hair, but here's proof that cool blonde ribbons can also work for a crisper, cleaner contrast. For this 'do, Chloe Bradbury has applied micro-fine foilyage with Blondor + 1.9%, painted Color Touch 5/97 + 1.9% through mid-lengths and ends, then toned blonde pieces in 7/97.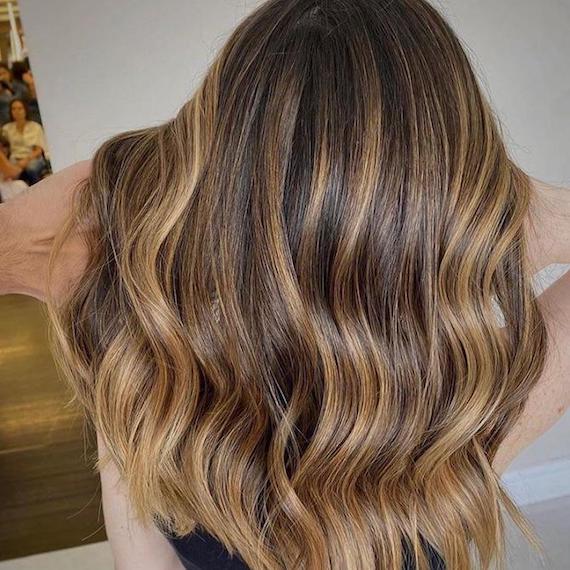 5
5. Bronde Twilighting
Image Credit: @fredyhair
Packed with Blondor Freelights babylights and balayage, this bronde mane is high on gloss, richness and depth, with caramel twilights glittering over a dark blonde-light brown base. Fredy Siqueira toned with Illumina Color 8/69 + 7/43 + 8/37 to finish.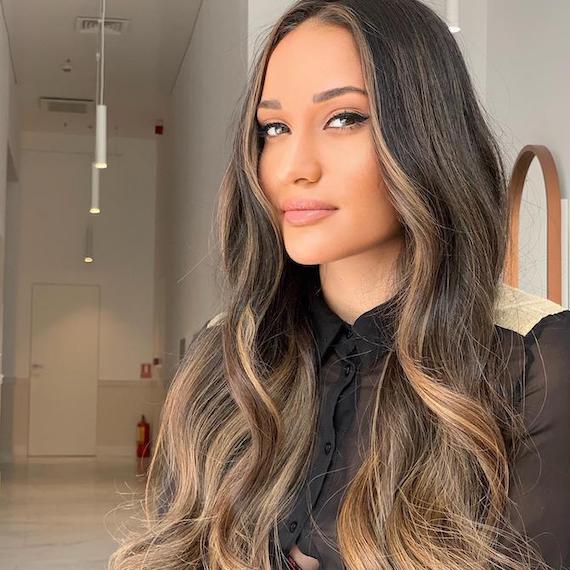 6
6. Twilight Money Piece
Image Credit: @oneday.hair
Bump up twilighting with a bold money piece for three covetable trends in one: babylights, balayage and face-framing highlights that make the complexion glow. Ensure clients who try this look have a purple shampoo as they'll prevent a warm, gilded money piece from turning brassy.