How to Create Dimensional Blonde Hair with Lowlights
Do you ever feel like a fresh mane of blonde hair looks somewhat dull? Sometimes, an all-over blonde color can look artificial, but one way of softening that is by weaving in lowlights of different blonde shades. By introducing pockets of light and shade you reveal a more natural looking, multi-tonal blonde your client will love. Lowlights are also great for adding more dimension to a balayage result that may be a bit too blonde. Lowlights create depth, texture and volume and are great for enhancing the client's facial features, working with their skin tone.
When highlighting, you lift the pigment out of the hair with weaves or slices isolated in foils (or free hand techniques such as balayage). With the lowlight technique you are replacing the pigment back into the air with foils or freehand techniques. A balance of blonde highlights and lowlights will give you a more natural-looking blonde. Read our dedicated article about the difference between highlights and lowlights if you want to learn more.
If you are applying lowlights to darken hair that's already been lightened, that's an additional chemical service that can cause further processing to the hair and areas of damage. Therefore, it's always recommended to add Wellaplex to your formulas to strengthen the bonds within the hair and prevent any damage.
Wie man blondem Haar mehr Dimensionen verleiht
Zunächst ist es wichtig zu verstehen, wie stark die Aufhellung und der damit verbundene Kontrast sein soll, den sich eure Kund:in wünscht. Soll die Naturhaarfarbe deutlich heller werden oder soll sie nur subtil aufgewertet werden? Wenn das Blond eurer Kund:in zu hell geworden ist, zum Beispiel während der Sommermonate, sind Lowlights eine wunderbare Technik, um die Farbe etwas abzutönen und mehr Tiefe hineinzubringen.
Behaltet aber im Hinterkopf: Was Friseur:innen wie eine kleine Veränderung erscheint, kann eine drastische Veränderung für eure Kund:in sein. Zu dunkle Strähnen können dann schnell sehr extrem wirken. Bei Lowlights gilt daher die Regel: wählt eine Farbe, die eine Nuance heller ist als die Naturhaarfarbe oder die zwei Nuancen dunkler ist als die Highlights.
Setzt am Hinterkopf und an den Seiten breitere Strähnen und im Gesichtsbereich und am Scheitel feinere. Blondes Haar wird schneller porös, verwendet deswegen Farbtöne mit einer warmen Nuance, da kühle Farbtöne das Haar stumpfer und matter wirken lassen können.
Demi-permanente Haarfarben wie Color Touch 7/7 oder 8/73 eignen sich wunderbar für Lowlights – fallen diese jedoch zu warm aus, perfektioniert die Rezeptur mit einem Naturton aus der Color Touch Pure Naturals Reihe.
Unsere liebsten blonden Lowlight Looks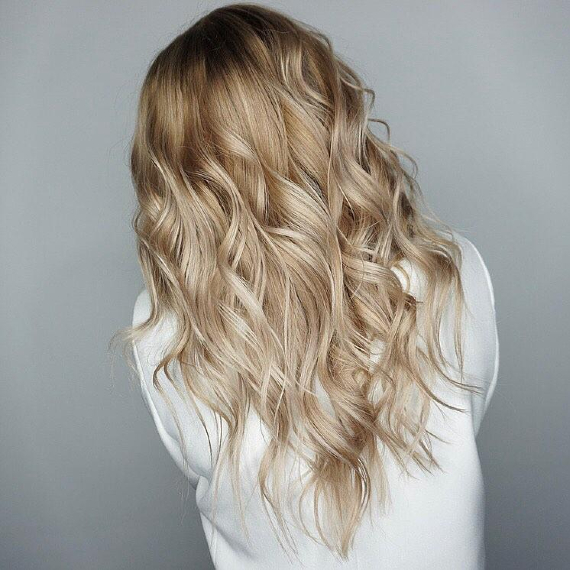 1
1. Blonde Illuminage
Image credit: @kai_sohn
Wir lieben diesen strahlenden Look von Kai Sohn. Das Haar wird zunächst mit Blondor Freelights aufgehellt. Anschließend werden mit der neuen Illuminage-Technik hellere, kühle Lowlights gemischt, die der Balayage mehr Tiefe zu verleihen. Ihr wollt den Look nachkreieren? Dann haltet euch an diese Rezeptur:
Blondor Freelights & Welloxon Perfect
30g Blondor Freelights Powder + 45g 9%
Illumina Color & Welloxon Perfect
Lowlights: 20g 9/59 + 40g 9/19 + 60g 6%
Color Melting: 10g 7/ + 10g 6/16 + 40g 1,9%
Toner: 20g 10/36 + 20g 9/59 + 80g 1,9%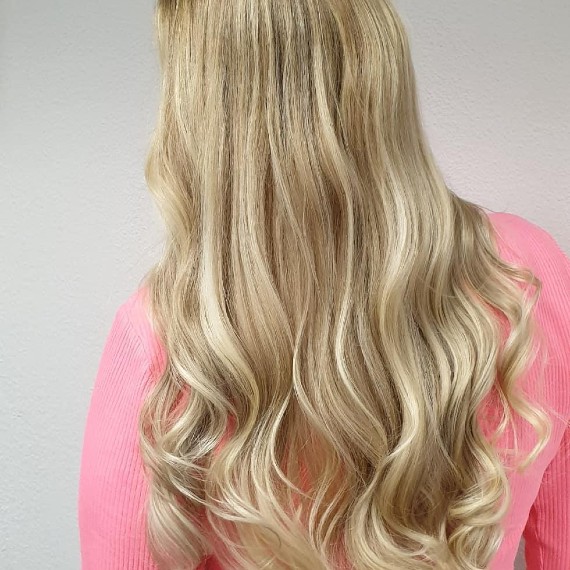 2
2. Lange Locken mit Balayage
Image Credit: @pablofriseure
Balayage sieht auf jedem Haar toll aus, aber bei langem, lockigem Haar kommt die Technik einfach am besten zur Geltung. Um dieser sehr hellen Balayage mehr Tiefe und Dynamik zu verleihen, verwenden die Stylist:innen von Pablo Friseure Koleston Perfect für eine Kombination aus Highlights und Lowlights. Das Ergebnis: strahlende, sandig-blonde Beach Waves!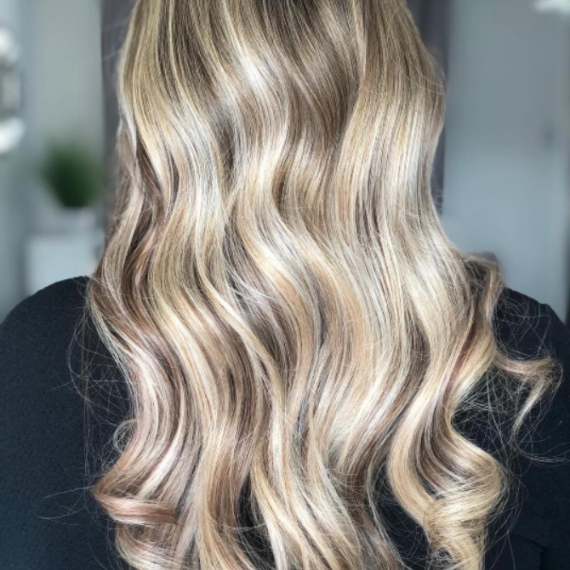 3
3. Verschmelzende Blondtöne
Image Credit: @styled_byheather
Wenn es um Dimensionen geht, ist dieser umwerfende Look von @styledby_heather das perfekte Beispiel! Mit der Backcomb-Balayage-Technik werden dunkelblonde Schattierungen mit kühleren, helleren Blondtönen vermischt. Hier ist die Rezeptur für diesen Look:
Blondor & Welloxon
Balayage: 30g Multi Blonde Powder + 45g 6%
Color Touch and Color Touch Emulsion
Lowlights: 30g 4/77 + 60g 1,9%
Illumina Color + Welloxon Perfect
Toner: 20g 8/69 + 10g 7/81 + 10g 9/60 + 80g 1,9%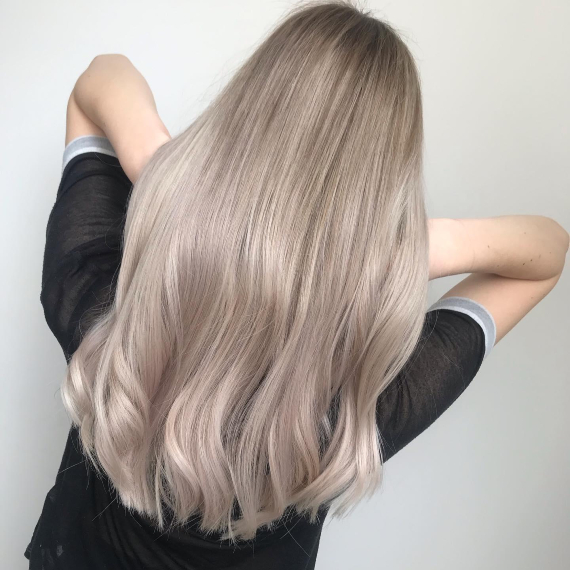 4
4. Aschblondes Haar mit platinblonden Lowlights
Image Credit: cheryldoighairstylist
Ihr bevorzugt lieber ein kühleres Blond? Dann werdet ihr diesen Look, den Cheryl Doig gezaubert hat, lieben! Für mehr Ausdruck und Bewegung wird das Aschblond mit eisblonden Lowlights aufgewertet und abschließend mit einem Gloss veredelt. Die Rezeptur:
Koleston Perfect & Welloxon Perfect
Lowlights: 20g 7/7 + 20g 7/18+ 80g 1,9%
Anschließend waschen und föhnen
Color Touch & Color Touch Emulsion
Gloss für Ansatz: 10g 6/0 + 10g 9/01 + 10g 10/0 + 60g 1,9%
Gloss für die Längen: 20g 9/96 + 20g 9/01 + 20g 10/0 + 120g 1,9%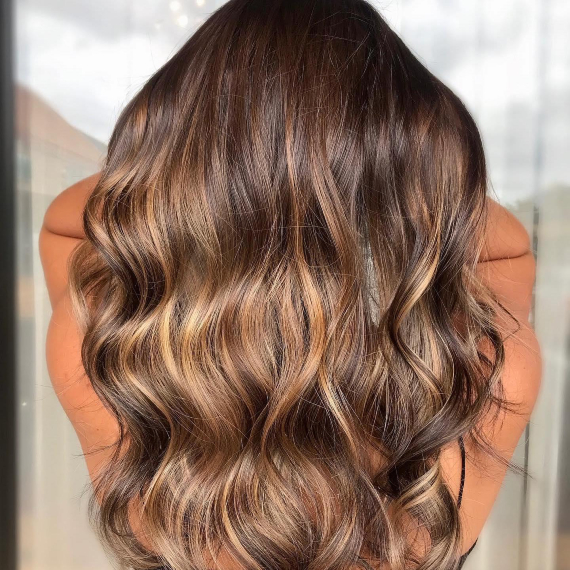 5
5. Goldbraune Haare mit karamellfarbenen Lowlights
Image Credit: wellanordic
Blond ist nicht die einzige Haarfarbe, die von mehr Dimension profitiert. Durch subtile Lowlights kommen die karamellfarbenen Strähnen von Veronica Faith besonders gut zur Geltung. Die Rezeptur, die Veronica dafür verwendet, lautet:
Blondor Freelights + Freelights Developer
Highlights: 30g Freelights Powder + 60g 9%
Color Touch & Color Touch Emulsion
Ansatz: 30g 5/0 + 60g 1,9%
Lowlights: 30g 6/0 + 30g 6/7 + 120g 1,9%
Toner: 20g 9/03 + 10g 9/73 + 60g 1,9%
Mit diesen Rezepturen verleiht ihr blondem Haar mehr Höhen und Tiefen – teilt eure Ergebnisse mit uns auf Instagram und verlinkt @wellaprofde und den Hashtag #wellabewegt in euren Beiträgen!