What Does Damaged Hair Look Like? 5 Signs to Watch Out For
If you're asking, 'what does damaged hair look like?', we haven't got just one answer for you. There are a multitude of signs that strands are stressed out, from excess shedding due to hair breakage, to dullness and brassiness. The fact is, 9 out of 10 women do something to damage their hair every single day. This includes brushing, exposing locks to UV rays, heat styling or undergoing chemical treatments.
So, here, we're breaking down what to look for, and the steps you can take to get healthy hair and prevent future damage. Watch out for these 5 key signs…
5 Signs of Hair Damage
1. Hair Looks and Feels Dry and Brittle
The first tell-tale sign of hair damage is usually that dry and brittle feeling. It's lacking in natural shine, it's permanently parched, and it's more difficult to style as a result. Hair strands can dry out for a whole host of reasons, whether it's because of heat damage, bleach damage, or just simple genetics. And, once hair becomes brittle it can lead to further problems – think breakage, split ends, flyaways and dullness. The good news is, there are plenty of ways you can rehydrate your dry hair, from vitamin-packed shampoos and conditioning treatments, to smoothing and renewing salon treatments.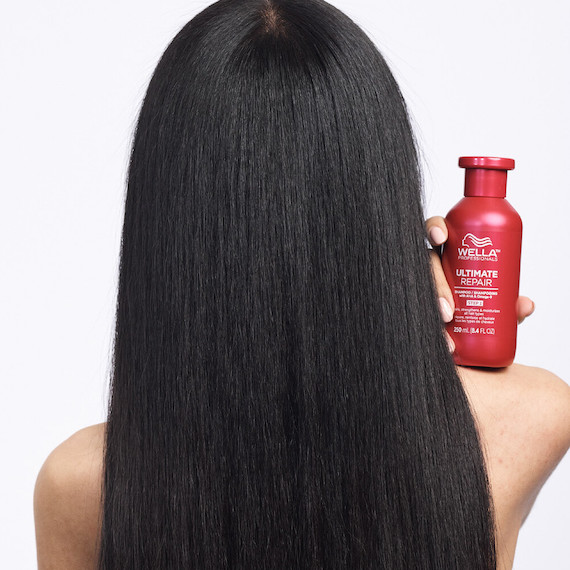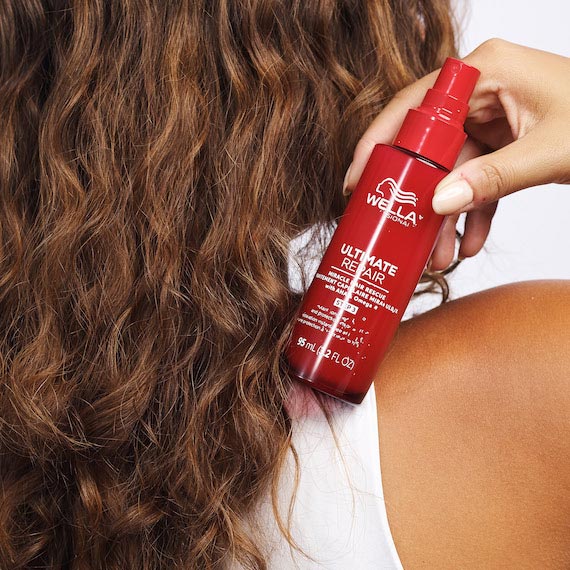 Try this for dry, brittle hair:
1. Reach for nourishing shampoos
Is your shampoo nourishing enough? For a truly transformative cleanse, reach for Ultimate Repair Shampoo; a luxurious formula that cleanses without stripping strands of essential oils. It's perfect for all hair types – including straight, wavy, curly and coily – giving tresses a boost of hydration while sweeping away damaging metals, pollutants and product build-up. It also kicks off the bond-rebuilding process, prepping your strands for the rest of the Ultimate Repair ritual, so all the reparative goodness can be deeply absorbed.
2. Squeeze out excess water from wet hair before conditioning
If your hair is too wet before you apply a conditioner, you may dilute the benefits. Think about how a sponge works; if it's soaking wet, it can't soak up any more moisture. Your hair acts in much the same way, which is why it's important to squeeze out excess water and gently towel-dry strands ahead of applying conditioner. Try it with the Ultimate Repair Conditioner; a rich and creamy treatment which detangles strands, bumps up smoothness and visibly hydrates dry, brittle hair. Leave it on for between 30 seconds and three minutes so you reap the full rewards of this breakthrough conditioner.
3. Style hair with a supercharged treatment
When it comes to styling damaged hair, there's no more intensive treatment than Ultimate Repair Miracle Hair Rescue. In fact, it can transform your mane in just 90 seconds – no more, no less. All you have to do is mist it through towel-dried locks, let it absorb for 90 seconds, then style as usual. With a blend of AHA and Omega-9, the lightweight yet luxurious mist will leave your hair 12x smoother*, with 99% less breakage* and legendary shine that lasts up to four washes**.
In between those washes, when hair is dry, you can keep adding nourishment to locks with beautifying balms and creams that keep dryness at bay. EIMI Perfect Me is the dream for smoothing frizz and flyaways if you're refreshing a glossy blow-dry, while NutriCurls Curlixir Balm is ideal for hydrating curls while defining their flawless shape. You can also layer in a lightweight oil for sleek styling, like EIMI Oil Spritz. Focus on the mid-lengths and ends of hair only.
2. Damaged Hair is Prone to Breakage and Excess Shedding
Are your strands snapping off? Have you noticed excess split ends? Is your hair shedding more than you think it should? While having a few split ends is normal when you're due a trim, a high volume of snapping usually means hair has hit its breaking point. This can happen when heat damage or bleach damage are at play; while hot tools and lightening products are completely safe for your strands, proper care should be taken to ensure the integrity of hair is protected. And while you can't reverse breakage when it happens, you can protect sensitized strands from further stress with the right products and techniques.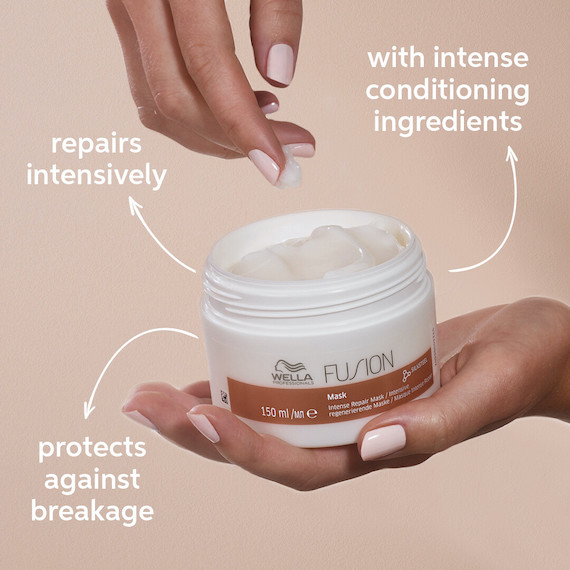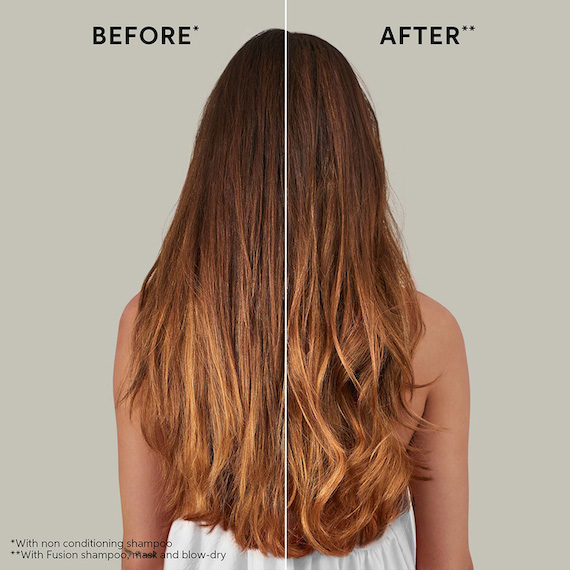 Try this for broken hair and split ends:
1. Use strengthening shampoos and conditioners
Work on building up your hair's resilience with strengthening shampoos and conditioners. The Fusion collection gives you up to 95% protection from breakage, thanks to a fusion of silk amino acids that work to recover the hair fiber. Wash with the Intense Repair Shampoo and Conditioner, and apply the Intense Repair Mask (in place of the Conditioner) weekly to make strands more resistant to wear and tear.
2. Get regular trims for split ends
The ultimate 'cure' for split ends is a cut. While you can't permanently seal them (although the Oil Reflections Luminous Smoothing Oil will temporarily smooth them down), you can keep them at bay with regular trims. While you're improving hair's strength with the Fusion ritual, keep ends tidy with salon appointments every four to six weeks, even if you're only 'dusting' off the very tips to maintain length.
3. Hair Gets Tangled in Knots Easily
Tangles happen. A few knots are completely normal – especially if you've just washed your hair – but you shouldn't be having to spend more than five minutes teasing them out. If they're becoming a problem, this could be a sign that strands need a turbo boost of nourishment. Dry, thin and frizzy hair gets in knots more easily, so this is a symptom of damage. As such, not only should you follow the tips above for dry hair, but you should also take extra care when eking out tangles to ensure you don't cause further hair breakage. 'Gently, gently' is the perfect approach to detangling knots and achieving smooth hair.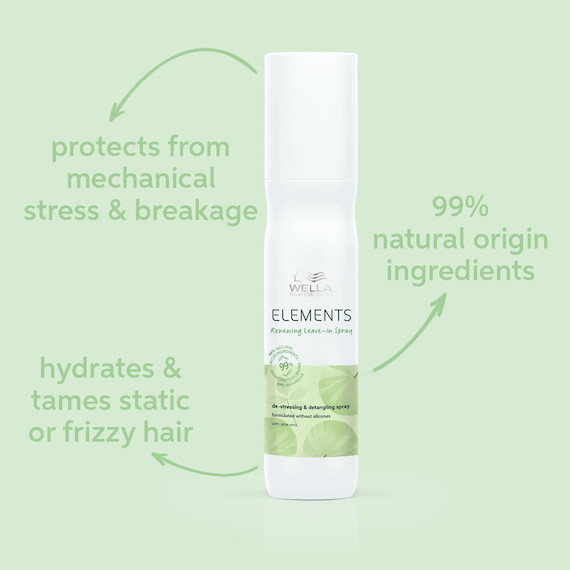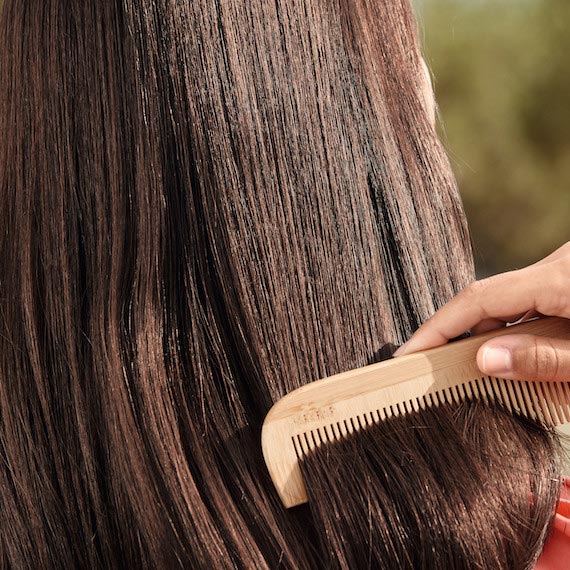 Try this for knotty, tangled hair:
1. Tease out knots while conditioning hair
On hair wash day, try detangling hair with a conditioner or hair mask. This will soften up the knots and make it easier to work through strands section by section. If your hair is curly or coily, you'll want to do this before shampooing with fingertips. If your hair is straight or slightly wavy, you can detangle after shampooing, also with fingertips or a wide tooth comb.
2. Start combing from the bottom
When detangling, don't drag your brush or comb from root to tip. Start at the bottom of the hair and gently, patiently tease out knots, then move a little higher up the hair shaft before working through the next section. Continue this process until you've smoothed out every last tangle. This way, you won't be tugging hard on delicate strands, reducing your risk of extra shedding and hair breakage.
3. Use a leave-in detangling spray
Don't be without a detangling spray. Elements Renewing Leave-In Spray makes it quicker to battle knots by smoothing and nourishing damaged hair, so it has more 'slip'. After washing, mist it all through towel-dried mid-lengths and ends, allow it to settle for 30 seconds or more, then begin teasing out tangles. Your comb or brush will move through strands easier.
4. Your Color Looks Dull and Brassy
Hair can start to look dull when it's lacking in moisture and vital nutrients, so if it's lost its luster, there may be damage at play. And, while brassy hair can simply happen as a result of color pigments fading, it may also be a sign that your locks have been exposed to too much sun or heat. Dull hair can usually be fixed with in-salon glazing and glossing services, but it's important you upgrade your care routine to prevent dullness at home too.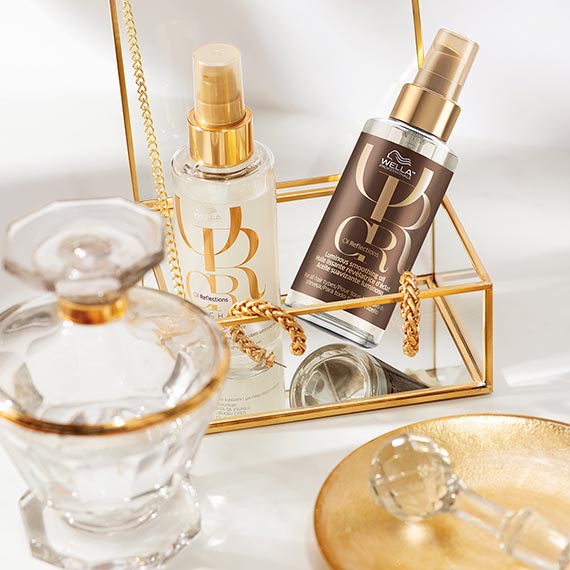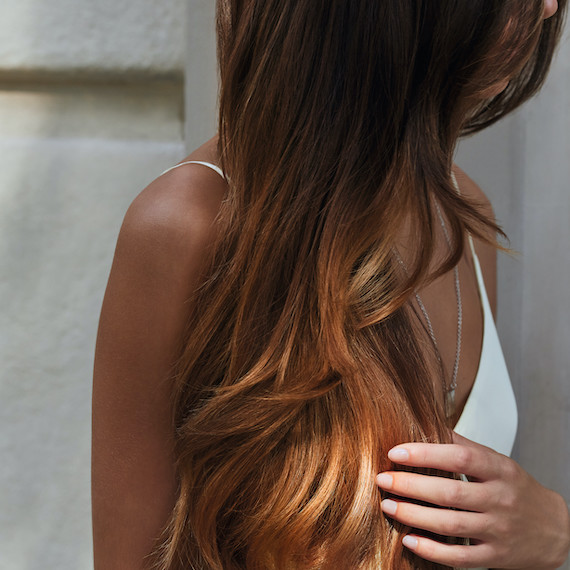 Try this for dull, brassy hair:
1. Book in for a Shinefinity Color Glaze
Few things transform dull or brassy hair quicker than a Shinefinity Color Glaze. Not only does it offer zero damage, but it veils strands in shine you can feel with sheer, translucent color. Plus, your colorist can dilute the shades further if you want an even softer result, or they can give you a clear glaze that works like a glossy topcoat for your hair. So, next time you're in the salon, ask about this new service; it only takes up to 20 minutes to develop, so you can be in and out in the space of a lunch break.
2. Inject shine with oil-rich hair care products
Oil-rich hair care products bestow a glow like no other, while rehydrating dry locks for short-term shine and a long-term health boost. Look to Oil Reflections for a light yet lustrous blend of oils that supercharge hair's radiance. The Luminous Reveal Shampoo and Luminous Smoothing Oil are musts for dull hair days.
3. Finish each look with a shine spray
Don't underestimate the power of a shine spray. When you've finished perfecting your style, a 'topcoat', like EIMI Glam Mist, will deliver a touch of gloss without weighing strands down. Spritz through mid-lengths and ends to instantly brighten and beautify.
5. Hair Care Products Don't Work as They Should
If you notice that every conditioning mask or hair oil you use makes little difference, you might be dealing with what's known as 'highly porous hair'. Strands become more porous when damage causes tears and gaps in the hair cuticle, which allow moisture to get in and – more importantly – straight back out with ease. As a result, a lot of the nourishing ingredients in your masks escape through the gaps, meaning your hair can't reap the full rewards of your moisturizing routine. So, watch out for how your damaged hair responds to hydrating products. If you're not getting the results you expected, a few extra tricks may be needed to lock nourishment in and prevent future damage.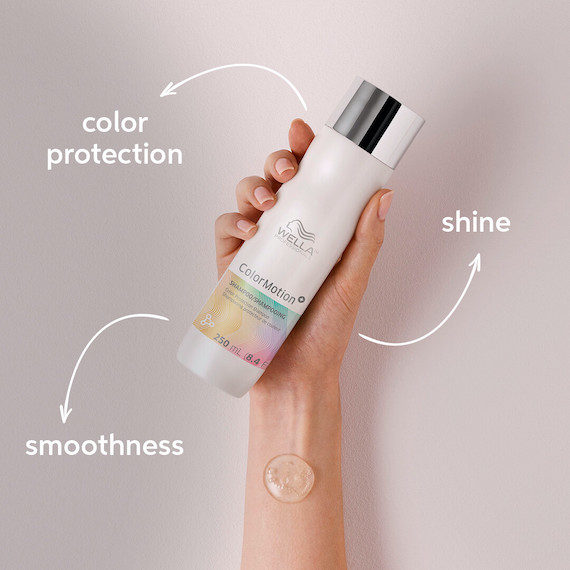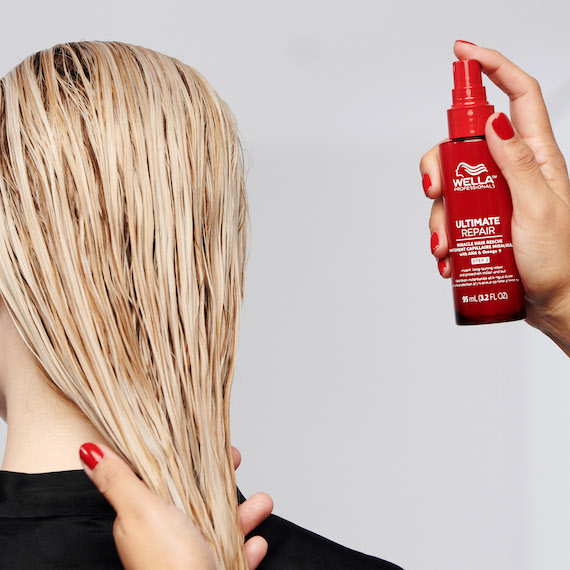 Try this for high hair porosity:
1. Wash colored hair with color-protecting shampoos
It's not just moisture that can escape through tears in the cuticle; if your client has colored hair, they might find some of the pigment gets out too. This makes color care products more important than ever. Introduce them to the ColorMotion+ Color Protection Shampoo to lock their shade down, which is packed with antioxidants designed to protect their dream color from fading.
2. Reach for oil- and cream-based masks and conditioners
Richer oil- and cream-based hair masks have enough substance to help seal the cuticle, so locks will be better able to hold in moisture. That's why Fusion Intense Repair Mask is ideal for highly porous hair. Massage it through the mid-lengths and ends of clean, towel-dried hair, leave it on for 10 minutes, and enjoy a smoother, silkier mane. For even deeper repair, reach for the Ultimate Repair Conditioner and leave it on locks for up to three minutes, allowing the blend of AHA and Omega-9 to nourish porous strands from the inside out.
3. Lock in moisture with leave-in treatments
While rinse-out masks are still a must for porous strands, leave-in treatments are the secret to longer-lasting nourishment through parched hair. That's why your hair wash routine should end with Ultimate Repair Miracle Hair Rescue. We recommend around five sprays for fine hair, 10 sprays for medium hair, and 15 sprays for coarse hair. Don't forget to let the supercharged treatment absorb into porous hair for 90 seconds, then go ahead and style to perfection. Locks will be smoother, softer and flawlessly detangled.Now, by knowing the signs of damaged hair, you can upgrade your at-home hair care routine to ensure you're giving locks exactly what they need, when they need it most. Get ready to start your journey to achieving healthy hair!
*Instrumental test versus non-conditioning shampoo
**When using Ultimate Repair Steps 1, 2 & 3