6 Ways to Work a Summer Balayage
You can work balayage all year round, in shades of espresso brown, navy blue or pumpkin spice. But let's face it: when teamed with caramel or golden hues, this look screams beachy, sun-kissed vibes. Summer balayage is a style unto its own, and when the temperatures rise, we can't get enough. So, let's admire some of the dreamiest summer balayage ideas and formulas around…
First, What is a Summer Balayage?
Let's have a quick balayage recap: this lust-have technique sees freehand strokes of lightener swept through the hair, usually concentrated on the mid-lengths, ends and face-framing layers. With a traditional balayage technique, the painterly highlights are then left to develop in the open air, although you can wrap them up in foils to enhance the lift. (This is a trick called 'foilyage'.)
A balayage can be done in any color – and we mean any color – but to make it summery, you're shooting for natural-looking shades (although we won't say no to a fresh boost of pastel hair). This could be anything from a golden brown, to a beachy ash blonde, to a strawberry blonde. As long as it's soft, glow-enhancing, and hair looks like it's been lifted by the sun, you've got a summer balayage.
When creating the look for your clients, lift with Blondor Freelights, a lightener that's been specially developed to aid flawless freehand painting with no smudging or bleeding. Then, when hair has reached the correct underlying tone, reach for toners infused with hints of sunshine gold or sea-breezy ash or – if your client is bold – pastel colors that turn heads.
Summer Balayage Hair Formulas to Follow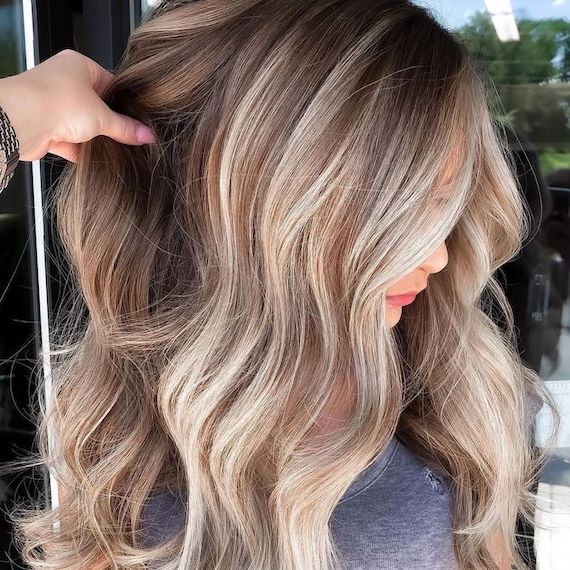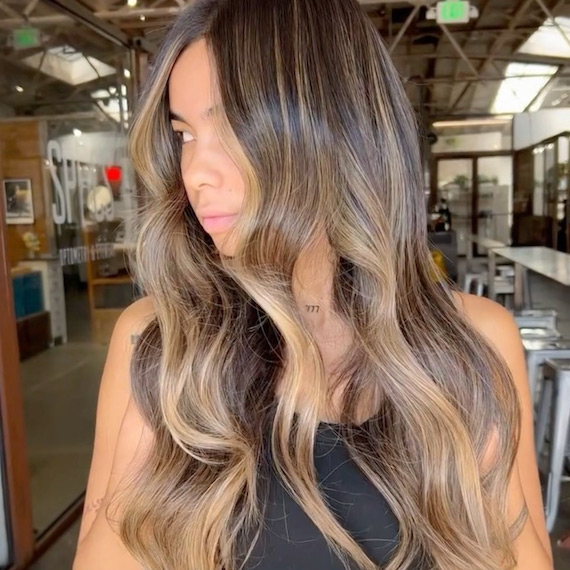 2
2. Summer Bronde Balayage
Image Credit: @danielleemilie
How incredible is this bronde (brown-blonde) balayage? A summer dream come true; it sees chocolate brown locks set aglow with sweeps of beige and toffee and taupe. If you're looking to match this masterpiece, lift mid-lengths and ends with BlondorPlex + 6% first. Then, shade the root with Koleston Perfect 5/0 and tone mid-lengths and ends with Color Touch 9/0 + 9/73 + 1.9%.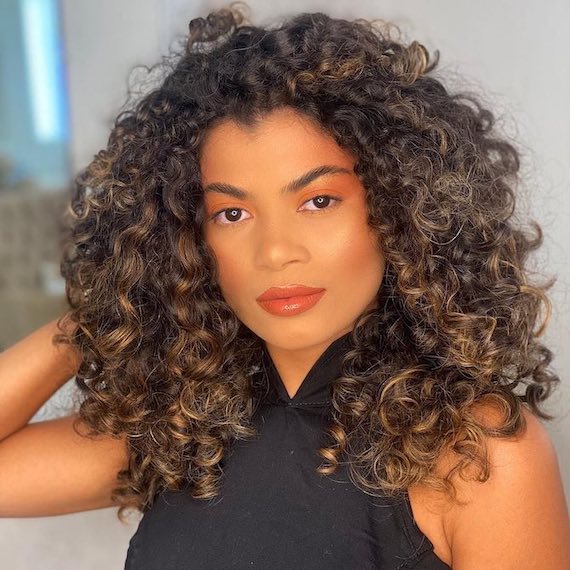 3
3. Summer Balayage for Dark Hair
Image Credit: @bormannjr
Giving dark hair a sweetly sun-kissed edge, this summery balayage features a whisper of fine caramel tones. And – bonus – the freehand strokes make those bouncy curls pop for a boost of extra definition. Try recreating the look with Blondor Freelights to lighten, followed by Color Touch 10/03 + 1.9% for the most delicious tone.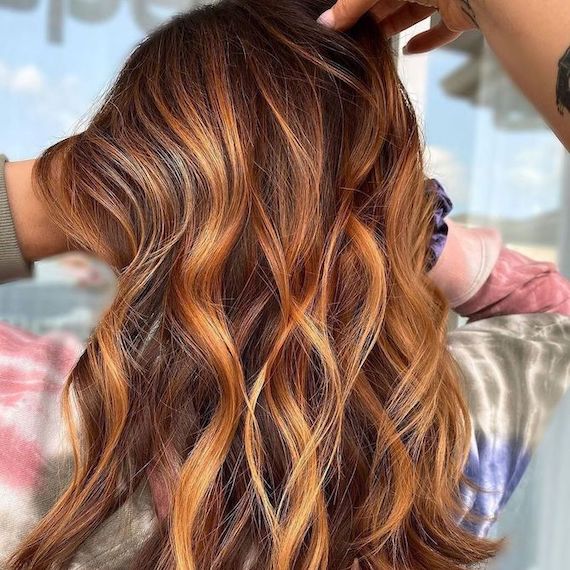 4
4. Summer Balayage for Red Hair
Image Credit: @summerevansstudio
While red tones typically give us autumnal vibes, this copper mane feels beautifully sun-kissed. It's been crafted with three Koleston Perfect formulas, resulting in a truly multi-dimensional finish. Try recreating the look by painting balayage with Blondor Freelights first (or working with any existing lightness), then apply 6/0 + 5/43 in the root area, 8/43 + 9/03 through the mid-lengths, and 10/34 on the ends. A masterpiece.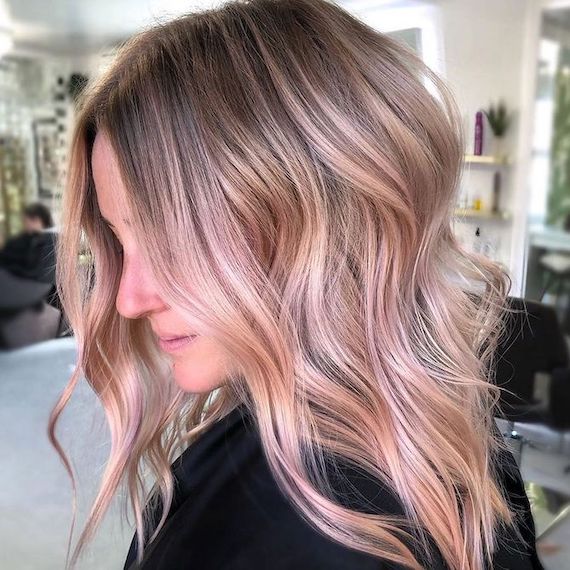 5
5. Summer Pastel Balayage
Image Credit: @tialambourn_hair
A pastel balayage isn't going to make hair look like it's been kissed by the sun. (If only a day at the beach could mean pops of pink would appear in our hair!) However, ice popsicle shades of peach blonde, candy lilac and mint green still feel summer-ready, so if your client is color-brave, introduce them to this whimsical trend. If it's this particular pink blonde shade they're going for, lighten mid-lengths and ends with Blondor Freelights, then layer Opal-Essence by Illumina Color in Platinum Lily and Titanium Rose over the top.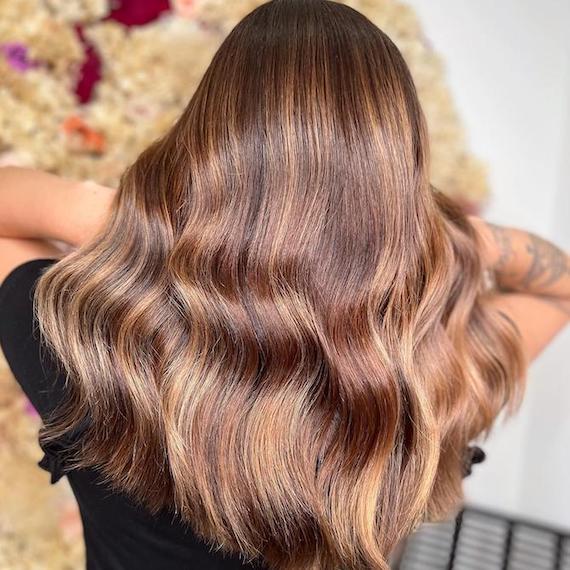 6
6. Summer Balayage for Brunette Hair
Image Credit: @joanaportal
If you're creating a summer balayage for brunettes, focus on warm tones versus cooler, crisper tones. Think flashes of golden blonde, generous sweeps of chocolate brown or a nod to this season's bronze hair trend. This look is a perfect demonstration, featuring Blondor Freelights + 4% to lift, followed by Color Touch 9/03 + 8/74 + 5/37 to tone. Check out those sparkling metallic ribbons.
How to Maintain Summer Balayage
Because summer balayage isn't a one-hue wonder, your clients will need to adapt their care routine to their shade. However, there are some golden rules that apply to all freehand masterpieces, whether golden blonde or caramel brown…
1. Cleanse, Protect & Care
It's important that your client treats their colored hair to targeted shampoos and conditioners, so recommend they wash locks with the INVIGO Color Brilliance Color Protection Shampoo and Vibrant Color Conditioner. Infused with lime caviar extract, these nourishing must-haves keep hair protected from fading aggressors between washes. Plus, your client can tailor their formula to their hair type, choosing between the Fine/Normal or Coarse editions.
2. Make Hair Glow with a Mask
If your client finds their hair turns dry and dull in the sun, suggest they add a hair mask to their weekly routine. One of our favorites for making summer balayage glow is Oil Reflections Luminous Reboost Mask. Tell them to layer it through clean, damp mid-lengths and ends, then leave for 10 minutes before rinsing. The shine is next level.
3. Shield with Heat Protection
All clients need a good heat protection spray in their hair care kit, so introduce them to EIMI Thermal Image. The bi-phase formula safeguards locks from heat up to 220 degrees, while enhancing shine from root to tip. It's perfect for use before blow-drying, straightening or curling, to keep those locks glossy and shielded.