Bronze-Colored Hair is In – Try *These* 5 Formulas
It's not just skin that looks more radiant with a subtle stroke of bronzer. Now, you can bring the sun-kissed look to your clients' locks with this season's bronze hair trend. Perfect for blondes who want to go darker, and brunettes craving a lift, it sees golden brown and bronzy tones swept through the lengths for a metallic mane that glows. 
Here, we show you how to bronze your client's hair to perfection, featuring tips, tricks and formulas for high-shine locks that sparkle all summer long…
How to Create Bronze-Colored Hair
If You're Bronzing Blonde Hair…
When you're taking a blonde client bronze, you need to consider the base you're working with. Cool-toned, ashy blondes will jar against bronze tones, but warm, golden or caramel blondes will match up flawlessly. If their locks are currently cool, consider toning their blonde with a richer hue, like Koleston Perfect 9/3, Color Touch 7/7 or Shinefinity 07/34. 
Then, when their blonde has warmed up, add bronze lowlights throughout the hair. You can do this with a root-to-tip or reverse balayage technique, depending on the look your client wants. For extra shine, consider completing the service with a zero damage clear glaze. All you have to do is mix the Shinefinity Glaze in 00/00 at a 1:1 ratio with the activator. Apply from root to tip and let it develop on the hair for up to 20 minutes. 
If You're Bronzing Brown Hair…
When you're working with brunette hair, any shade of dark brown makes the ideal base for bronze. A warm hue adds extra luster to the metallic trend, and a cool canvas lends striking contrast that catches the eye. But what you and your client do need to decide is how bold the bronze tones are going to be. Do they want chunky highlights? Sun-drenched balayage? Subtle babylights? The choice is theirs. 
Define the technique, then pre-lighten strands with BlondorPlex or Blondor Freelights, going around two to three shades lighter than the base to help those bronze tones pop. Then, tone highlights with a bronze hue. You'll want to mix a few hues to reach the perfect shade, but some of our favorites to add to the mix include Koleston Perfect 8/03, Color Touch 8/35 and Shinefinity 06/73.  
5 Bronze Hair Color Formulas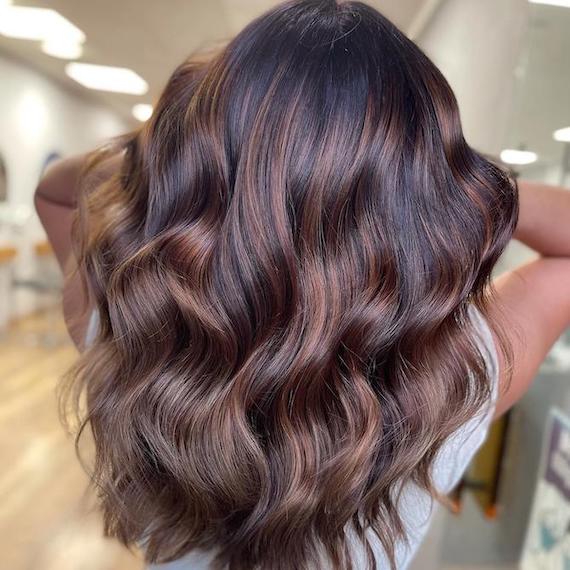 1
Dark Bronze Hair
Image Credit: @loickdambrine_hair
Bronze ribbons bring this brunette mane to life in all its silky, shimmery glory, thanks to sweeps of Blondor Freelights, applied with a balayage technique.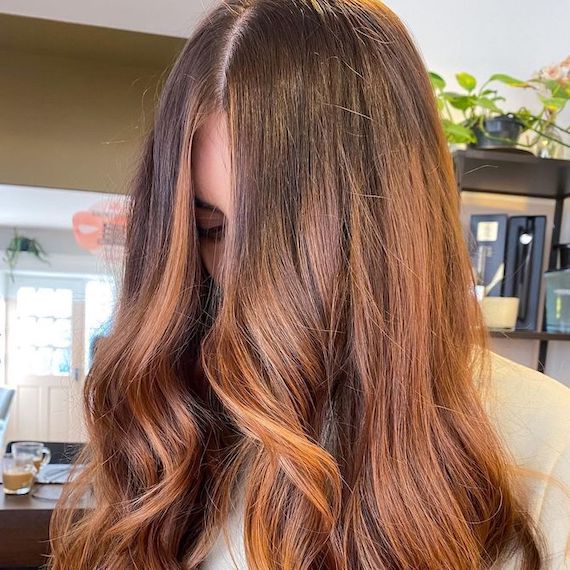 2
Copper Bronze Hair
Image Credit: @hayley_wella
What do you get when you mix Shinefinity's raspberry 07/75 with natural brown 06/07? A vibrant bronze that leans slightly red and oozes dimension. This dynamic formula was applied through the mid-lengths and ends of Hayley's client's hair, resulting in a copper bronze hue that softly shimmers with every curve.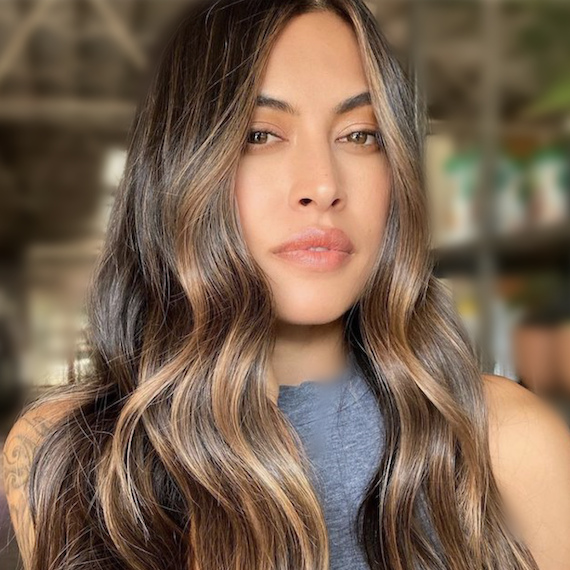 3
Bronze Money-Piece
Image Credit: @danielleemilie
A shade like bronze was made for a money-piece. It works flawlessly through those face-framing layers, giving your client a gentle glow that flatters all skin tones. If you love this look as much as we do, try lightening the front and a few extra ribbons with Blondor Freelights, then tone with lightening the front and a few extra ribbons with Blondor Freelights, then tone with Color Touch 8/41 + 10/34.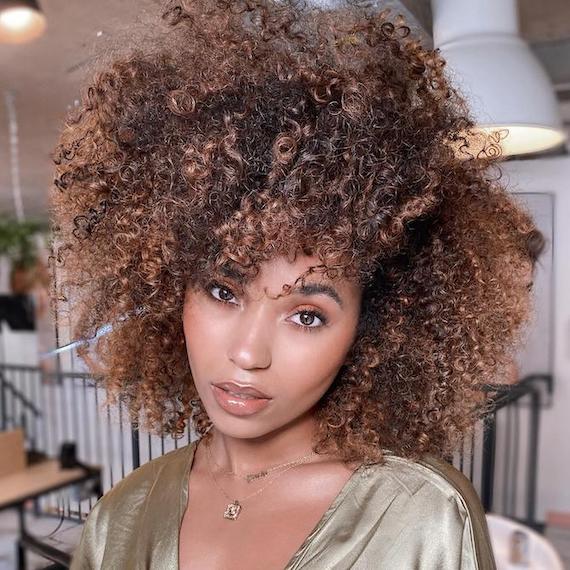 4
Bronze Curly Hair
Image Credit: @jhair_stylist
How dreamy are these bronzed-out curls? To create the look, James Earnshaw started by adding chunky highlights with BlondorPlex + 4%. Then, Color Touch 9/73 + 7/97 + 1.9% was applied as a toner, lending a subtle glistening effect that helps to define the shape of each coil.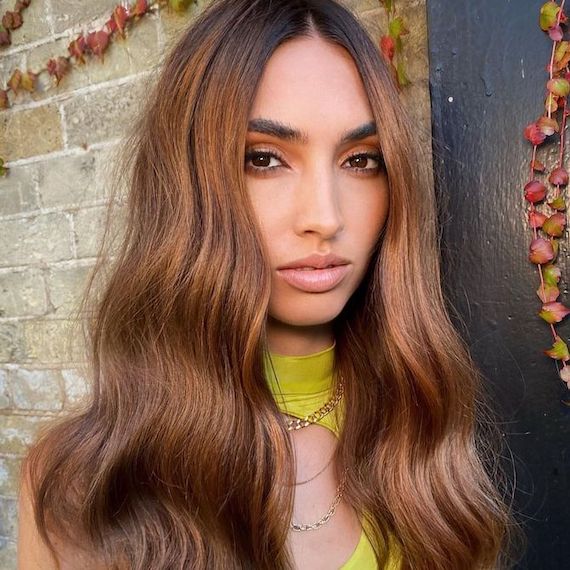 5
Light Bronze Hair
Image Credit: @jhair_stylist
This lighter take on bronze hair is just as captivating as a darker hue, bringing in accents of gold and caramel for a multi-tonal finish. For the look, James Earnshaw mixed Color Touch 7/75 with 8/3 + 8/81, then applied it to virgin hair for a metallic sheen with a little natural root shadow on show. 
How to Maintain Bronze-Colored Hair
One of the dreamiest things about bronze hair is its luminosity. It's like having a ring light surrounding you at all times, beaming a glow onto both your hair and your skin. However, like all hair colors, that glow can fade if it's not properly cared for at home, which is why your client needs a radiance-boosting, shade-shielding routine. Here are the products they should add to their kit for easy color maintenance:
1. A Caring Shampoo and Conditioner
A must for every client with colored hair is a protective shampoo and conditioner, so suggest they try INVIGO Brilliance Color Protection Shampoo and Vibrant Color Conditioner. Not only can they tailor each one to their hair type – they come in Normal/Fine and Coarse/Thick formulas – but they will also enjoy a boost of shine with every wash. 
2. A Color-Depositing Hair Mask
Your client can top up their bronze tone at home with the Color Fresh Mask, which comes in Golden Gloss and Caramel Glaze shades to inject some sunny warmth when they need it most. Recommend they use it whenever their color needs a quick refresh. The trick is to apply to clean, damp hair, leave on for 10 minutes, then rinse thoroughly. The glow is real. 
3. A Protective Styling Spray
Bronze tones can quickly turn brassy, so introduce your client to EIMI Thermal Image; a heat protection spray that reduces the chance of their shade fading overly warm. Before they blow-dry, straighten or curl their hair, they should mist it from root to tip. It protects strands from heat up to 220 degrees celsius, while imparting a dose of shine.