5 Navy Blue Hair Formulas We Can't Stop Staring At
In your wardrobe, navy blue is a classic neutral that goes with everything. But in your or your client's hair it's a statement-making color that teams depth and dimension with glossy shine. Navy blue hair sits between denim and blue black on the shade spectrum, delivering drama no matter which way you wear it – root to tip, in highlights, or in balayage strokes.
But how do you create navy blue hair? We're breaking down the tips and formulas you need to know, along with maintenance advice that keeps those deep blue hues looking fresher for longer…
How to Create Navy Blue Hair
1. Pre-Lighten Hair First
In many cases, you'll need to pre-lighten your client's hair before you add navy blue tones. This allows you to make sure the blue tones pop, and to maintain control over the final result. For all-over lightening or highlights, we recommend painting locks with BlondorPlex, which is infused with our bond-strengthening WellaPlex ingredient. For on-scalp lifting, Blondor Soft Blonde Cream is the perfect pick. Meanwhile, for blue balayage, Blondor Freelights paves the way for flawless freehand painting.
2. Choose a Blue Hue
There are so many ways to go navy blue with Wella (and that's an understatement). Here are just some of our favorite routes if you're in need of mixing inspiration…
Using Koleston Perfect: Special Mix 0/88 is a cool cobalt blue that's daringly bold. By mixing it with 0/00 Clear, you can make it softer, while adding a touch of black, gray or silver tones will give it a navy edge. 
Using Color Touch: Similar to Koleston Perfect, Color Touch features a blue that's numbered 0/88 in its portfolio, which you can blend with other deeper hues to produce a classic navy. 
Using Color Fresh CREATE: New Blue in this demi-permanent range may look too bright to be navy, but by mixing it with the Tonight Dusk additive, you achieve a darker, more muted tone. The more you add, the deeper the finished look will appear. 
Using Shinefinity: Now you can glaze the way to blue locks. By mixing the 00/89 Blue Booster with cool grays, such as 07/81 or 05/98, you'll unlock a softer, smokier take on navy hair. 
3. Finish with a Clear Glaze
Navy blue hair looks its best when it's impossibly glossy, so suggest your clients complete their service with a clear Shinefinity glaze. The process is simple: all you need to do is mix the 00/00 Glaze with the Brush & Bowl or Bottle Activator, apply all over to damp or dry hair, then rinse after 20 minutes (or less). Once hair has been dried and styled, the glaze acts like a topcoat to beautifully reflect the light. 
5. Navy Blue Hair Formulas to Try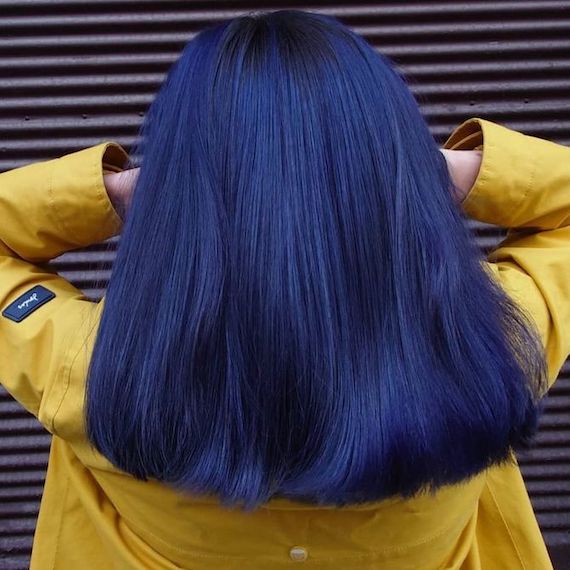 1
Dark Navy Blue Hair
Image Credit: @mareksyriste
There's some master mixing at play in this dark navy blue mane. Here, hair has been painted root to tip with Color Touch 2/8 + 3/68 + 7/86 for a blue black navy that's, in a word, mesmerizing. If you're creating the look, give hair body with a bouncy blow-dry, then finish with a spritz of EIMI Glam Mist for an extra boost of shine.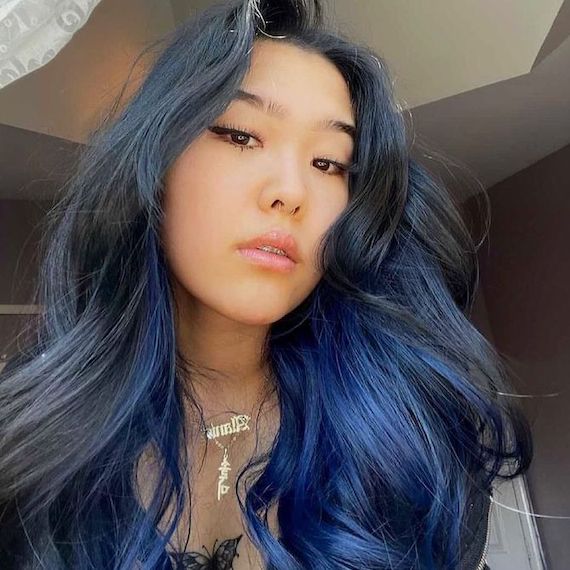 2
Bright Navy Blue Hair
Image Credit: @kingdivinefive
With flashes of brightness, this is a bolder take on the navy blue trend, featuring sweeps of Koleston Perfect 5/0 + 0/88. Dial up the luster with INVIGO Color Brilliance Vibrant Color Shampoo and Conditioner; a shine-boosting combo that will keep blue tones intact for longer.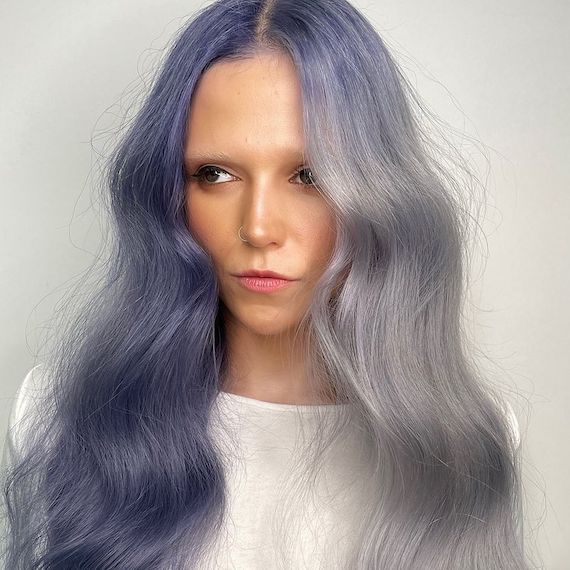 3
Half-and-Half Soft Navy Blue Hair
Image Credit: @jordannacobella
If root to tip navy blue hair isn't statement-making enough for your client, introduce them to this soft, blue-gray, half-and-half creation, crafted with Shinefinity. The 00/89 Blue Booster has been mixed with a little 00/00 Clear to create a soft navy on one side, then extra 00/00 Clear has been added for a second, much paler formula on the other side.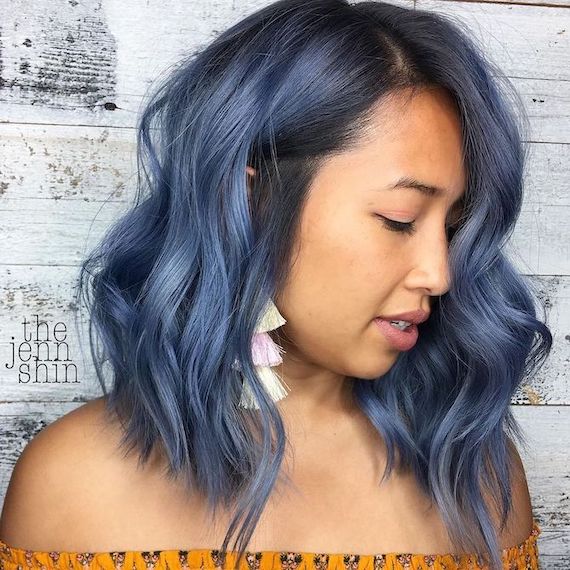 4
Navy Blue Denim Hair
Image Credit: @thejennshin
This navy hue is like your favorite denim – soft, multi-tonal and goes with everything. You can recreate it on level 10 hair using Color Touch 7/89 + 10/8 + 0/88. The result? A glowy, glossy navy that reveals new dimensions with every swish.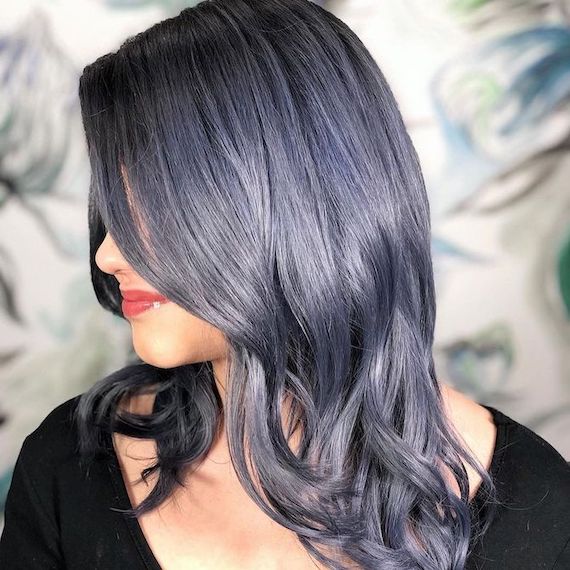 5
Navy Blue Gray Hair
Image Credit: @xcellenthairsquare
Blue-gray hair is trending right now, so this silvery navy is sure to be a hit. To recreate the look, try mixing Koleston Perfect 0/88, 10/1 + 7/18, then sweep over a pre-lightened base from root to very tip. Finish by loosely curling ends of hair, then add a touch of EIMI Oil Spritz to help those metallic tones shimmer.  
How to Maintain Navy Blue Hair
1. Keep Blues True with Color Care Products
Before your clients leave the salon and show off their navy blue mane, ensure they know how to take care of their shade. That starts with using the right shampoo and conditioner. Our picks for blue hair are the INVIGO Color Brilliance Color Protection Shampoo and Vibrant Color Conditioner, which bump up gloss and give blue hues extra mileage between color appointments. 
2. Apply a Blue Color-Depositing Conditioner
If your client's navy blue hue is fading but it's not yet time for their next salon visit, suggest they refresh their tone at home with the Color Fresh Mask in Blue. All they have to do is apply it to clean, damp hair, in place of their usual conditioner, allow it to develop for 10 minutes, then rinse thoroughly. Their blue will appear revived. 
3. Use a Heat Protection Spray When Styling
For clients who style their hair with heat (meaning pretty much all of them), a heat protection spray is essential to prevent fast color fade. Our pick is EIMI Thermal Image, which they should use before blow-drying, and then again just before they straighten or curl their hair. Blues will stay glossy for longer.