5 of the Hottest Espresso Brown Hair Formulas
You don't need to be a coffee lover to adore this season's trending brunette shade. Espresso hair color is here, lending a rich dimension with a cool, dark brown base and a shot of subtle, smoky highlights. As potently deep as a cup of the good stuff – without the caffeine jitters, of course – this dramatic brown hue is building buzz amongst shine-seeking brunettes.
But What is Espresso Hair Color?
The clue is in the name. Espresso is the darkest, strongest coffee you can find, leaning almost black, with a hint of brown swirling around the cup. An espresso hair color mimics that fresh brew by mixing a black-brown base with the softest subtle highlights, which boast just enough contrast to catch the light and add a touch of shimmer.
These 'lights take on a 'blink and you'll miss them' effect, as they seamlessly blend with the base to lend dimension and a very gentle, low contrast lift. To make them subtler still, they're usually applied with a balayage technique, so the delicate contrast only appears through the mid-lengths and ends.
How to Create Espresso Hair Color
The way you approach an espresso creation depends on the base you're working with. There are two routes you can take to get their color piping hot, whether their hair is already dark or a lighter brown hue. 
If They Have Dark Brown Hair:
Start by adding balayage to your client's dark brown base. Use Blondor Freelights, which is specially designed to be smudge-proof in the face of freehand, foil-free painting techniques. Because you're only applying a scattering of ribbons, be intentional with the placement of the lightener. Pick out pieces that will make their complexion glow or will enhance their cut and style.
After lifting their hair to the correct underlying tone – no more than two shades lighter than the base – rinse out the Freelights, and tone with a cool or caramel brown that matches the depth of the highlights. You could then finish their color with a root-to-tip glossing or glazing service, which will not only enhance your client's base, but also help to blend the balayage.
If They Have Medium or Light Brown Hair:
Give your client a reverse balayage by adding lowlight panels to their hair in a dark brown shade. Your goal is to cover most of their lighter brown but leave a few ribbons free as highlights. You can do this with demi-permanent Color Touch, semi-permanent Color Fresh, or permanent Koleston Perfect or Illumina Color, depending on the finish they crave.
Then, when the reverse balayage has developed, shampoo it out before applying an all-over toner to enhance your client's new brown tones and softly blend the lighter pieces they already had. Finishing with a glossing or glazing service will further boost shine, so don't be afraid to add this step if their espresso needs some extra refinement.
5 Espresso Hair Color Formulas to Try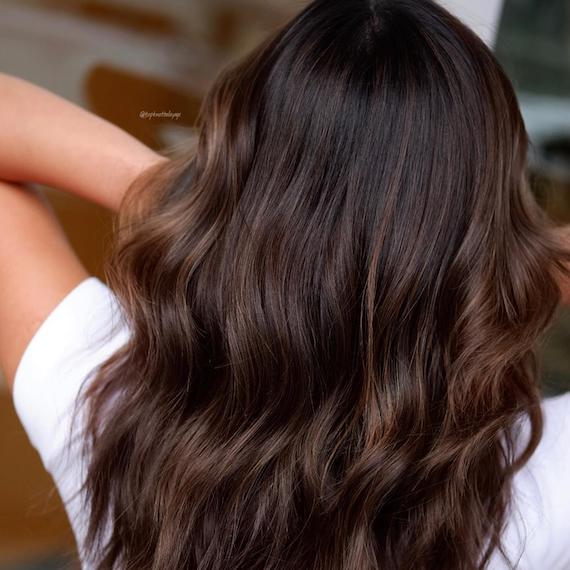 1
Chocolate Espresso Hair Color
Image Credit: @topknotbalayage
There's a hint of chocolfate in this epic espresso, courtesy of whole-head, lowlight panels, created using Color Touch 6/0 + a line of 5/0. Painted in such a way that existing highlights were able to subtly pop, the look was finished with a blend of 7/97 + 7/86 + 7/0 for brightness and movement.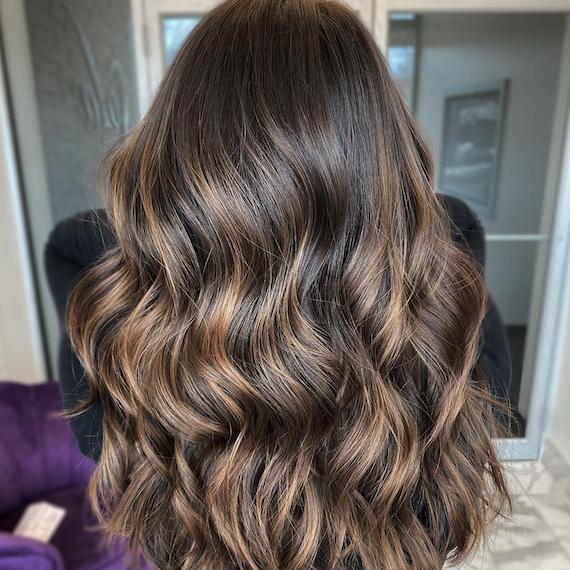 2
Hazelnut Espresso Hair
Image Credit: @hairbytiffanyobert
Achieve an ultra eye-catching espresso by adding a swirl of hazelnut to the mid-lengths and ends. It boosts the contrast, but only by a touch, so the finished look is still deep and dark. Here, Tiffany Obert has created a coffee-inspired masterpiece with a brunette balayage, which she's then toned using Color Touch 8/0 + 8/3 + 7/71 + 1.9%.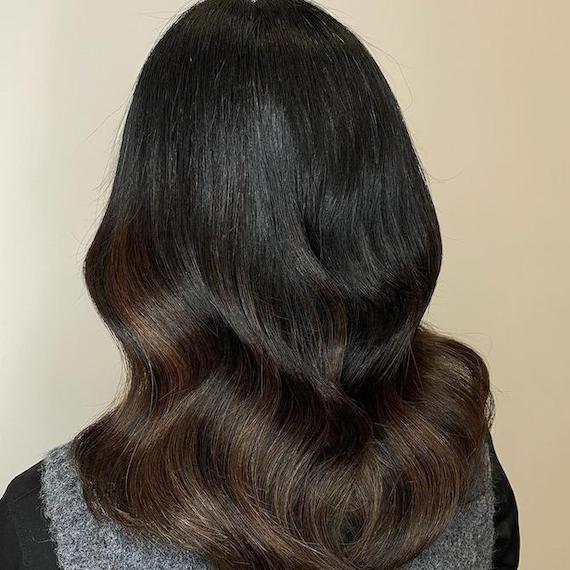 3
Dark Espresso Hair
Image Credit: @laila.wella
'Espresso, but make it darker.' That's the vibe we're getting from this sultry look, which sees almost-black roots and mid-lengths melt into a hint of cappuccino brown at the ends. To create this look, Laila Pettersen gave her client a root shadow with Koleston Perfect 2/0+ 6%, while allowing BlondorPlex + 6% to develop through the tips. Then, once those formulas were thoroughly rinsed out, she toned the full head with a blend of medium brown 7/7 + 1.9% for a whisper of brightness.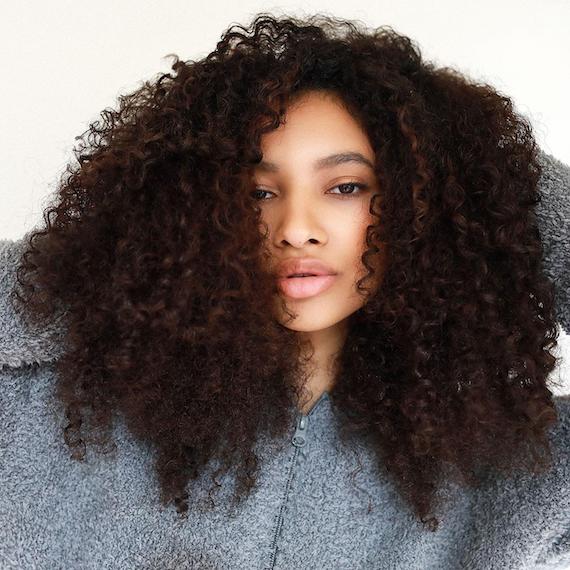 4
Subtle Espresso Hair
Image Credit: @cameronkepford
Sometimes, not even highlights are needed for espresso. If your client has natural highs and lows in their dark brunette hair, a color-depositing conditioner might be enough to boost the dimension. Case in point: this easy espresso look by Cameron Kepford, which was created using little more than the Color Fresh Mask in Chocolate Touch, left to develop for just 10 minutes.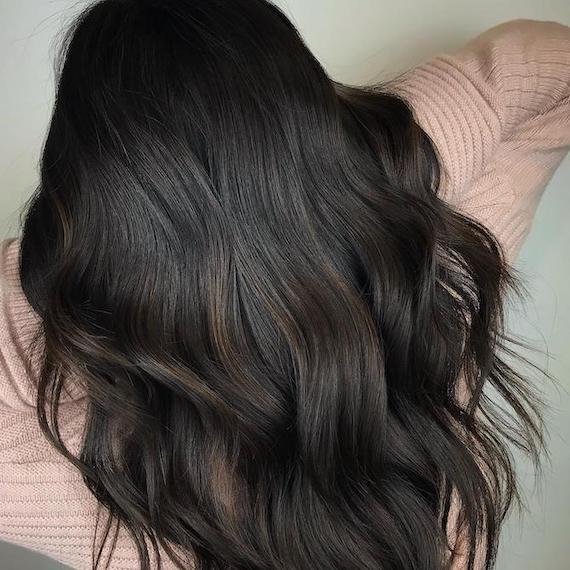 5
Iced Espresso Hair
Image Credit: @leothehairalchemist
Blonde isn't the only shade that gets to go icy. For this ultra-cool brunette hue, try using two Color Touch formulas to deepen the root and enhance the ends. Apply 4/0 + 5/71 + 1.9% up top for dreamy depth, then add a whisper of cappuccino highlights and tone using 6/0 + 5/97 + 1.9%. Together, these formulas will create a frosted effect that's overflowing with shine.
How to Maintain Espresso Hair
While a brunette hue is easier to maintain than say a blonde or a red hair color, your client's hair will still require proper care in between salon appointments. That's where your expertise comes in. Before your freshly espresso-ed client leaves the salon, offer them tips on keeping their color in good condition when they're at home. All they need is the right kit, including these four shade-locking essentials:
1. A Purple Shampoo
Did you think purple shampoo was just for blondes? Think again. If you've added highlights to a dark brown base, there's a chance those lighter pieces could start to fade brassy over time. To correct unwanted warmth, suggest your client uses INVIGO Cool Blonde Color Refreshing Shampoo. It's not an everyday cleanser, but rather an occasional treatment to correct yellow or orange tones. All they have to do is massage it into wet hair, leave it on for up to five minutes, and then rinse. Their espresso brown hair will appear cool and crisp once more.
2. A Color Protecting Shampoo
Now for their everyday wash. A safeguarding shampoo is a must, so introduce them to the INVIGO Color Brilliance Color Protecting Shampoo. It comes in two formulas – one for Fine/Normal Hair and one for Coarse/Thick Hair – so they boost color retention and tailor their routine to their hair type in a single step.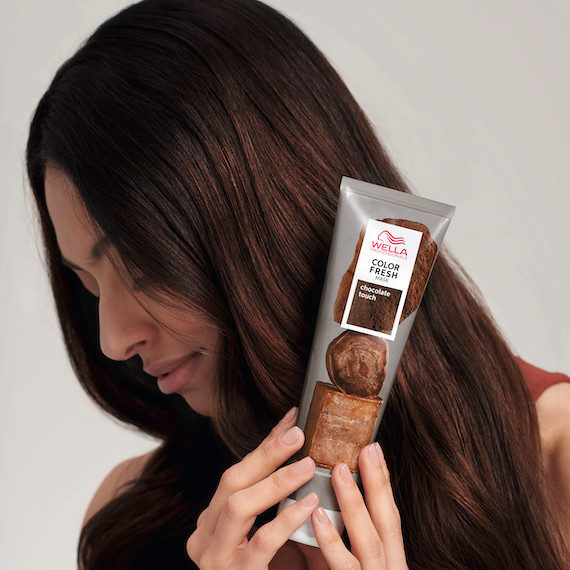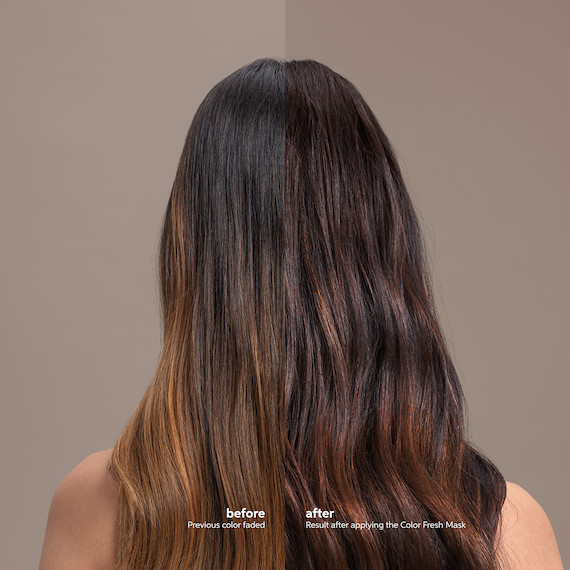 3. A Shade Boosting Conditioner
Your client should always follow up shampoo with a moisturizing conditioner. INVIGO Color Brilliance Vibrant Color Conditioner will complement their shampoo perfectly. It's packed with nourishing Lime Caviar and copper encapsulating molecules to maintain hair's vibrancy. Plus, like the shampoo, there are two formulas to suit Fine/Normal or Coarse/Thick Hair's unique needs.
4. A Color Depositing Mask
Last in your client's essential kit is a color-depositing mask, which can be used to lend a hint of a tint to fading hues, so their shade appears refreshed. The Color Fresh Mask in Chocolate Touch is a must for refreshing espresso brunettes. Tell your client to use it once per week, in place of conditioner, for a 10-minute pick-me-up. By the time they've rinsed it out, their espresso brown hair will be rich and radiant once more.