10 Formulas for Blonde with Brown Highlights & Lowlights
A blonde with brown highlights or lowlights is the ultimate in versatile looks. You can take it light or dark, warm or cool, and it works through every season. Brown and blonde is a classic combo, but a new raft of techniques ensure it always feels contemporary – which is why it's always a good idea to refresh your brown and blonde highlights inspiration. So, let's explore the 10 best ideas and formulas for blonde with brown highlights and lowlights. From natural colour block hair to frosted foilyage, these are the pro techniques to know…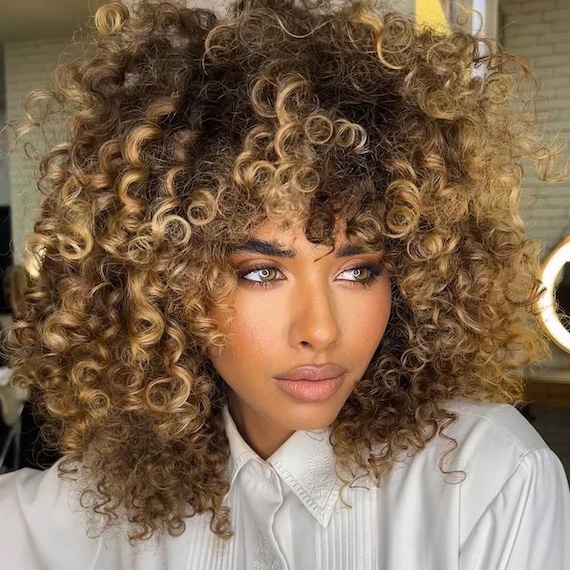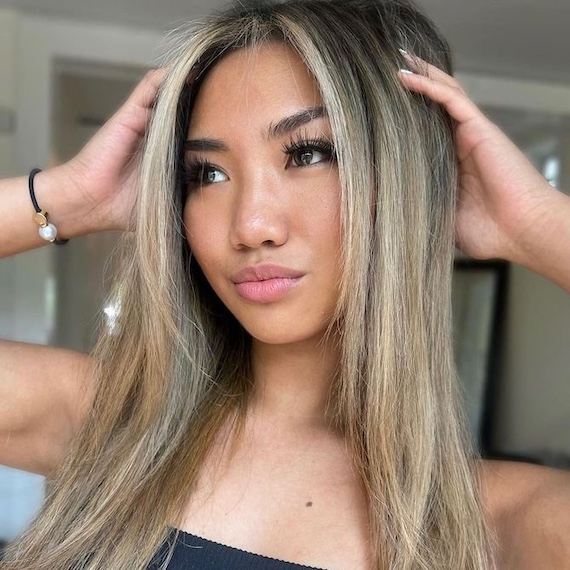 Try These Formulas for Blonde and Brown Highlights
Whether you're creating a blonde with brown highlights and lowlights, or adding blonde balayage to a brown base, there are so many ways to play with light and dark tones using Wella, the No. 1 Salon Colour Brand in the World*. Here are some of our favorites: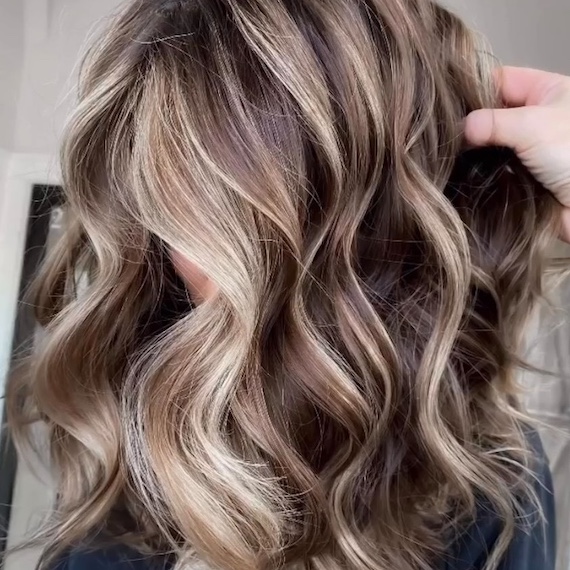 1
Ash Blonde and Brown Highlights and Lowlights
Image Credit: @camouflageandbalayage
A combination of highlights and lowlights has been used to create this dimensional brown blonde (AKA bronde) mane. If you want to create contrast on a medium brunette base, this is the way to go. First up, lighten chunky sections of hair with Blondor Freelights + 6%, taking it from root to tip before wrapping the hair up in foils. Then, while locks are lifting, apply lowlights with Color Touch 6/0 + 1.9%; a medium brunette that, in this case, is seriously popping against those lighter pieces. Once the lightener and colour have developed, rinse hair so it's ready for its final step: a toning session with 9/0 + 9/16 + 1.9%.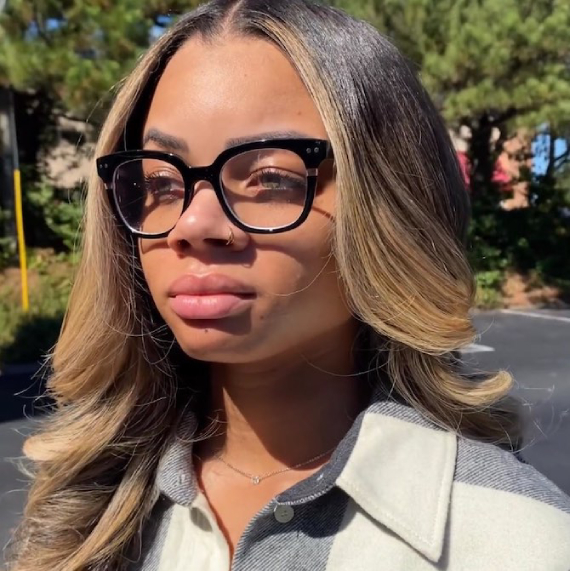 2
Brown and Blonde Face-Framing Highlights
Image Credit: @essentialwigz
One of the freshest ways to combine blonde and brown highlights is with a bold face frame. Go ultra-bright through the front of the hair, leaving the rest a rich brown for a caramel latte mane. To recreate this particular brown and blonde combo, lighten and foil the front section of dark hair with BlondorPlex for up to nine levels of lift, then tone with a cool blonde such as Illumina Color 10/1.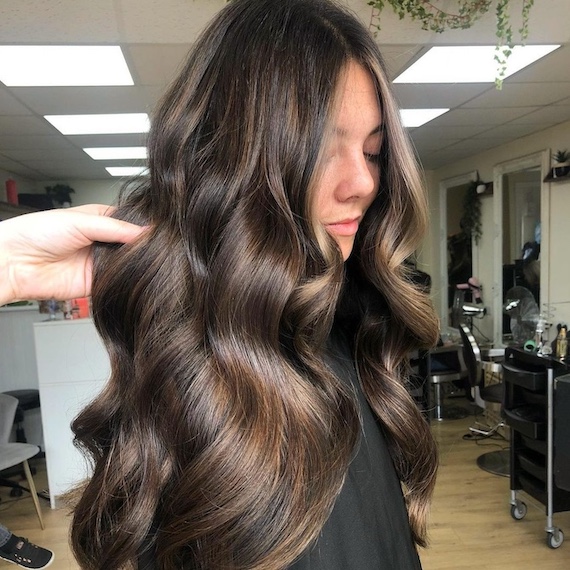 3
Blonde and Brown Balayage Highlights
Image Credit: @hairbygeorgiabaker
What a mane. For the ultimate expensive brunette, combining espresso and hazelnut ribbons with a balayage technique is the way to go. On this dark brown base, you're seeing a mix of lighter brown and bronde highlights, courtesy of Color Touch. Create the same rich vibe with 5/1 + 1.9% for the root shadow, 6/71 + 5/97 + 1.9% for the lowlights, and 7/97 + 9/97 + 1.9% as a final, all-over toner. Don't forget to finish the look with EIMI Glam Mist for an extra dose of lightweight luminosity.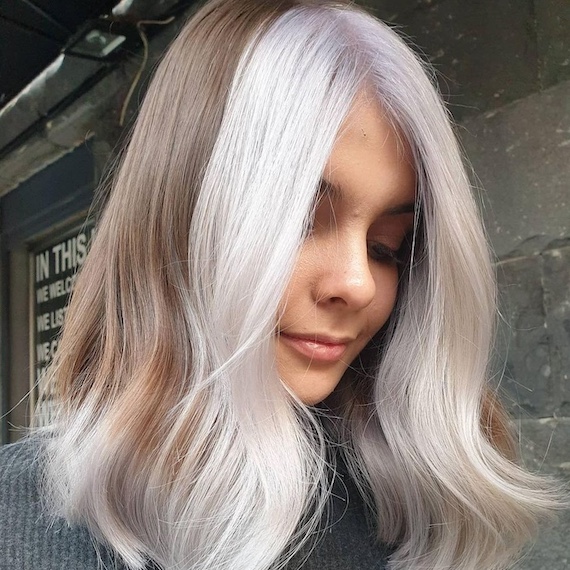 4
Brown and Blonde Natural Colour Blocking
Image Credit: @hair__lust
Wella Colour Blocking is the must-have look of the season, but it isn't just about painting with pastel tones and rainbow brights. Working the trend in natural hues, like brunettes and blondes, can be just as statement-making. Case in point: this ultra chunky blonde face frame on a medium brown base, which you can craft with shades from the Koleston Perfect portfolio. Try 7/18 to create that milky chocolate brown hue, then lift the front piece with BlondorPlex and tone with a bright, white, icy blonde. 10/16 is a great pick, as it's ultra ashy and shimmery, while 10/86 is the perfect choice if you want to add some silver into the mix.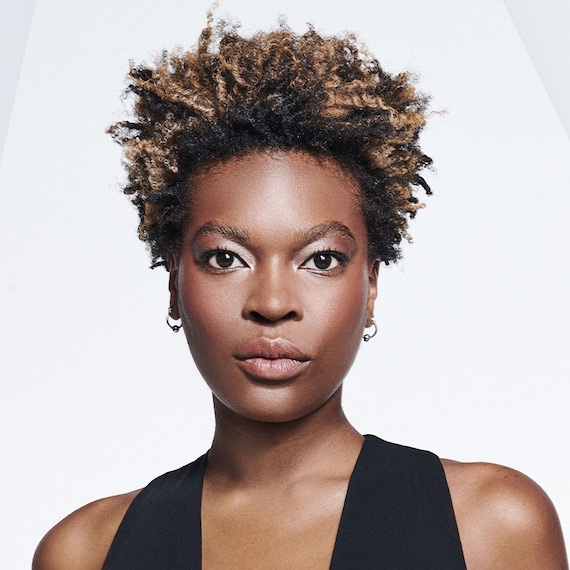 5
Brown and Blonde Dip-Dye Highlights
Image Credit: @lindsey.wella
Caramel blonde gets a statement-making upgrade with this high-contrast dip-dye, featuring dark brown through the roots and a whole lot of golden lightness on the ends. If you're looking to enhance the shape of coils through a beautifully textured, short mane, try this two-toned look, starting with BlondorPlex + 4% on the mid-lengths and ends. Allow it to develop in foils for up to 50 minutes, before rinsing with WellaPlex No2 Bond Stabilizer. Then, apply Shinefinity Color Glaze 09/36 + 09/61 to the lightened sections for a beautiful blonde with shine you can feel.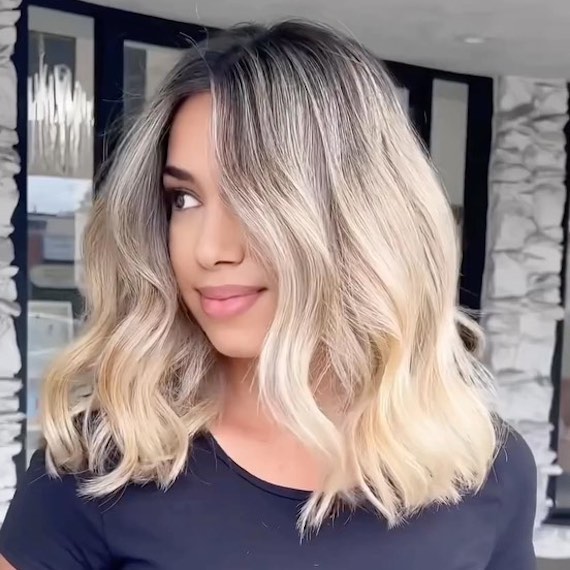 6
Brown to Blonde Ombre Hair
Image Credit: @marianna.colorist
When it comes to blonde ombre hair, a dark brown is the perfect root colour to set off the look. The two hues melt into each flawlessly, and deliver low-maintenance flawlessness for brunettes who crave seamless regrowth. If your client wants to go light and bright with their blonde, shade their root with Color Touch 7/89 + 5/1 + 1.9% first. Then, on pre-lightened mid-lengths and ends, tone hair to platinum perfection with 9/16 + 10/01 + 1.9%. They can then maintain their cool hue with the Color Fresh Mask in Pearl Blonde at home. All they have to do is apply the tinted treatment to blonde sections of clean, damp hair, leave it on for 10 minutes, and rinse thoroughly.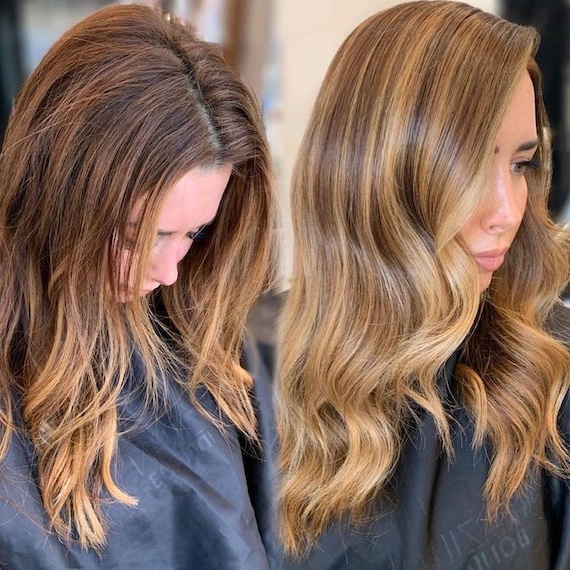 7
Chunky Blonde and Brown Highlights
Image Credit: @ninanears
How dreamy is this golden brown and blonde mane? Featuring high contrast highlights, it's a testament to just how glossy and glowy a Shinefinity Color Glaze will go. If you're as obsessed as we are, try it on your brunette clients. Start with chunky highlights using Blondor Freelights, making sure you really saturate those thicker slices for an ultra even lift. Then, apply Shinefinity Color Glaze 07/13 + 09/73 as the toner – two toasty blondes that boast major radiance.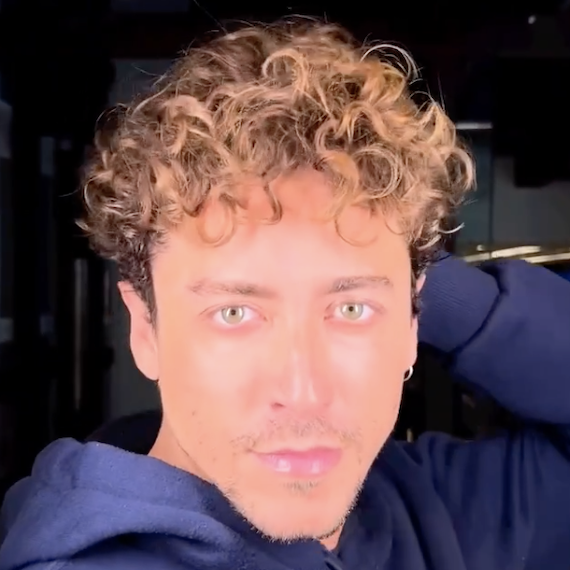 8
Brown and Blonde Babylights on Short Hair
Image Credit: @augustoallencar
Give short, curly, brown hair a caramel blonde upgrade with piecey highlights focused through the full crown section. Keeping the sides cropped and darker allows the texture up top to really stand out. If you're as hooked on this look as we are, you can try recreating it with BlondorPlex and Koleston Perfect. On a brown base, apply BlondorPlex first to lighten, then reach for a warm-toned, golden Koleston Perfect hue to tone, such as 9/3 or 9/73.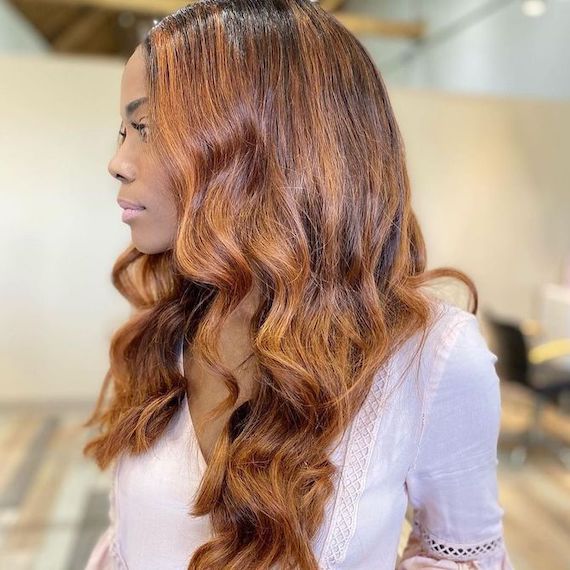 9
Red Blonde Brown Highlights.
Image Credit: @nicolerevish
You're already mixing blonde and brown tones – why not add some red to the mix? This brown and ginger blonde mane features a scattering of babylights (AKA micro-fine highlights) and chunky 'lights on a natural level three human hair wig. To create the look, locks were first lightened with Koleston Perfect Special Blonde 12/22 + 12%, a high lift blonde hair colour that lifts and tones in a single step. Then, once that formula had been rinsed and neutralized, tresses were finished with a Shinefinity Color Glaze, featuring 07/34 + 08/34.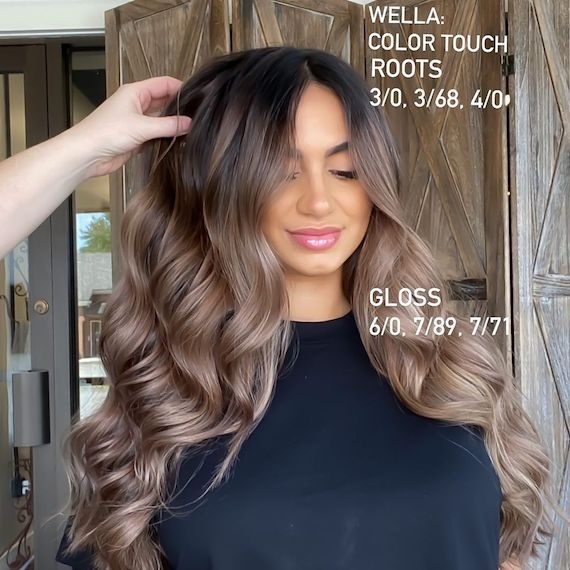 10
Mushroom Blonde and Brown Foilyage Highlights
Image Credit: @camouflageandbalayage
A combo of mushroom blonde and brown highlights is the dream for clients who love cool-toned hues, and a foilyage technique (balayage developed in foils) just takes hair to the next level. Wrapping freehand ribbons in foils is a go-to trick for increasing the lift from your lightener, or for isolating strands to give them extra contrast. Try it yourself with BlondorPlex. Then, finish the look with Color Touch 3/0 + 3/68 + 4/0 on the root, and 6/0 + 7/89 + 7/71 applied to pre-lightened mid-lengths and ends.
How to Maintain Blonde with Brown Highlights
1. Wash Blonde Locks with a Purple Shampoo
Those blonde pieces in your client's mane may be prone to brassiness, so they may want to add a purple shampoo to their at-home hair care kit. INVIGO Blonde Recharge Cool Blonde Shampoo is perfect, with a touch of violet pigment that tones yellow hair in under five minutes. Simply massage into wet hair, let it sit for three to five minutes, then rinse out thoroughly. Your client shouldn't use it for every wash; the trick is to reach for it when locks appear overly warm and in need of a refresh.
2. Prevent and Repair Hair Damage with a 90-Second Treatment
Highlighted and coloured hair deserves plenty of extra love and care in order to prevent damage and help it glow in the best possible way. So, when your client isn't using their purple shampoo, recommend they try the Ultimate Repair collection, with colour-safe formulas that enhance shine and prevent hair breakage. After washing with the Ultimate Repair Shampoo and treating locks with the Ultimate Repair Conditioner, show them how to apply the Miracle Hair Rescue treatment. All they have to do is mist it through clean, towel-dried locks, allow it to absorb for 90 seconds, then style as usual. Hair damage will be repaired in just those 90 seconds**, leaving strands 12x smoother*** with 99% less breakage****.
3. Keep Highlights Shielded From the Sun and Heat
Heat and UV rays are bad news for blonde and brown highlights, as they can turn locks warmer than your client wants their hair to be. So, recommend two products to keep their locks protected; easy-to-use essentials that shield hair in seconds. The first is EIMI Thermal Image, a heat protectant spray that levels up shine. It's designed to be used before blow-drying, straightening or curling, misted from root to tip. And the second is EIMI Glam Mist, a shine spray-meets-UV shield that finishes their look. Recommend they spritz it on before heading out the door to give strands a protective sheen.
Ready to share your own looks featuring blonde with brown highlights and lowlights? Post them on Instagram and tag us @WellaHairUKI and @WellaEducation – you might even appear in one of our future round-ups!
* Based on Wella Master Brand USD sales on the 2022 Salon Hair Care Study for the hair colouring products category published by Kline.
** When using ULTIMATE REPAIR Miracle Hair Rescue.
*** Vs. non-conditioning shampoo.
**** When using ULTIMATE REPAIR Miracle Hair Rescue. Instrumental test versus non-conditioning shampoo.