Chunky Highlights Are Back – But Not As You Know Them
While some nineties hair trends belong in the past (butterfly clips, 'The Rachel' and zig-zag partings), one throwback look from the decade is proving popular once more. Chunky highlights are having a moment on Instagram, and a host of celebrities are getting on board – from Kim Kardashian and Beyoncé to Jennifer Lopez and Kylie Jenner.
But, these aren't chunky highlights as you know them. Where once they appeared stripey and brassy, 2021's bumper ribbons are softer, subtler and more seamless, with a statement-making edge. By combining them with other techniques, such as balayage, chunky highlights have morphed into the new year's chicest look. Here's everything you need to know about creating these 'lights for your clients…
How to Do Chunky Highlights and Lowlights
Chunky highlights and lowlights are built on contrast, which is why we typically recommend a half-head technique, allowing the natural lower layers to peek through. You might think the application here simply requires wider weaves than you would usually section, but that's not all; there are three extra key components to consider for this trend.
1. Creating a Contrasting Colour
Although 2021's chunky highlights are more seamless than their nineties counterparts, they still need to stand out more than traditional highlighting techniques. So, where you might usually lift the hair one or two shades brighter than the base, this trend allows you to play with a few ribbons that are three or four levels up. The same goes for chunky lowlights; don't be afraid to experiment with extra depth for eye-catching contrast.
2. Perfecting Chunky Face Framing Highlights and Lowlights
One of the most modern ways to wear the trend is by painting money-piece highlights. These face-framing ribbons keep the contrast through the front, so you can add softer babylights through the rest of the hair. Try breaking up these sections into two or three foils: one starting at the root from the very front, then an extra one or two that begin slightly lower down. It will look like one thick highlight, but with softer transitioning.
3. Adding Chunky Highlights Through the Lengths
If your client would prefer chunky highlights to appear all through the lengths – not just the face-framing layers – consider using a freehand balayage technique with Blondor Freelights. Chunky highlights that start at the root can steer into stripey territory, while sweeping them through the mid-lengths and ends gives a beachy effect that flatters everyone.
7 Chunky Highlights Looks We Love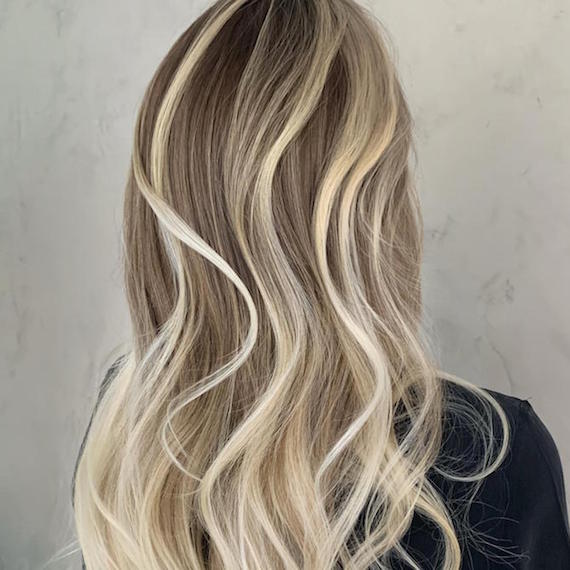 1
Platinum Blonde Chunky Highlights
Image Credit: @rcgimenes
These chunky highlights truly pop. The platinum ribbons have been painted through hair on the depth of a dark blonde 6/0, resulting in a super-striking contrast. Did you know? You can actually achieve up to five levels of lift, just like this, with Special Blonde shades of Koleston Perfect or Illumina Color. Try mixing the chosen colour 1:2 with Welloxon Perfect 12%.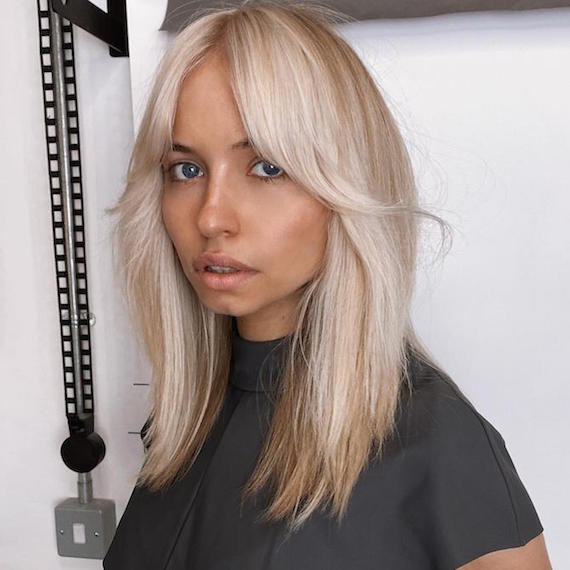 2
Butter Blonde Thick Highlights
Image Credit: @jhair_stylist
Buttery-smooth and soft, this chunky hair colour sees a scattering of Blondorplex + 4% pieces placed through the hair in wide sections. A sheer colour wash of Illumina Color 10/1 + 10/05 + 10/69 was applied over the top, creating plenty of brightness to complement the warm blonde layers underneath.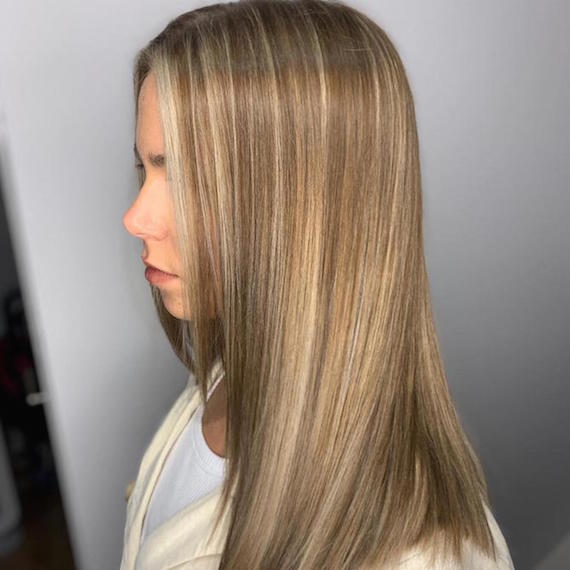 3
Chunky Lowlights Through Blonde Hair
Image Credit: @theboutiqueknowle
In a bid to take locks from baby blonde to light brown, Chloe Griffiths swept chunky lowlights through her client's hair, using Koleston Perfect 7/17 + 7/7 + 6% in slices and weaves. The existing blonde was then toned with 9/1 + Welloxon Perfect Pastel Developer, resulting in this dreamy bronde creation. We are hooked.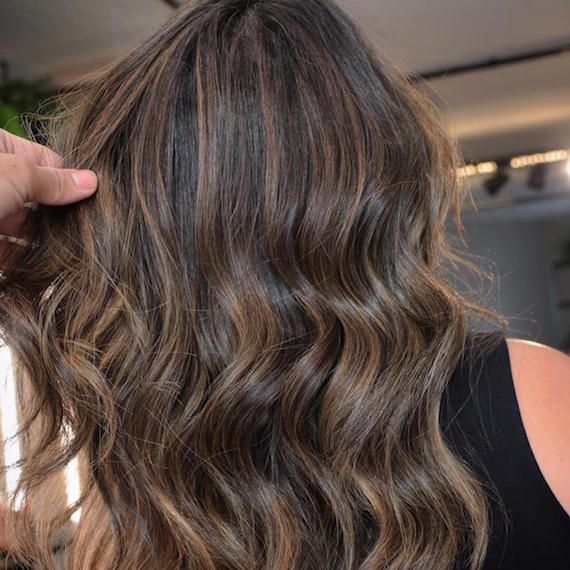 4
Dark Hair with Chunky Highlights
Image Credit: @kalnascimentostudio
Proving chunky highlights aren't just for blondes, these deliciously rich, chocolatey ribbons were created using Blondor Multi Blonde Powder + 4%, followed by a glossy veil of Illumina Color 7/7 + 10/38. Illumina is a great choice for highlights on darker hair, because the radiant finish allows lighter pieces to stand out and catch the light in the most striking way.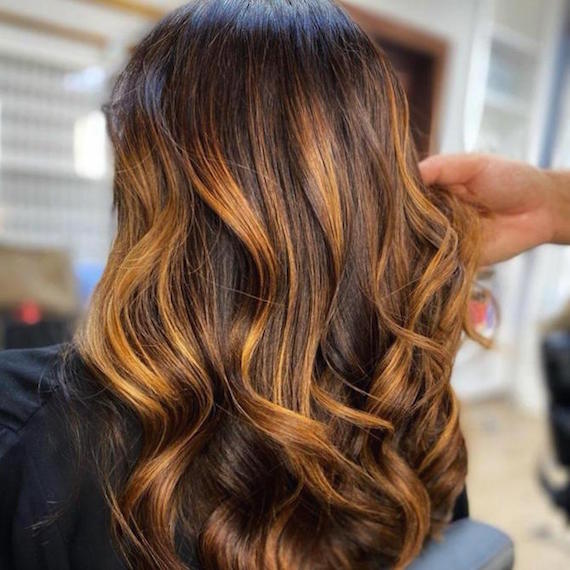 5
Chunky Copper Highlights
Image Credit: @kalnascimentostudio
Combining two trends in one – copper hair and chunky highlights – this lust-have look was created using bumper-sized balayage strokes of Illumina Color 7/43 + 9/43. We love the contrast between the generous ribbons and the brunette base, giving hair plenty of volume-boosting dimension.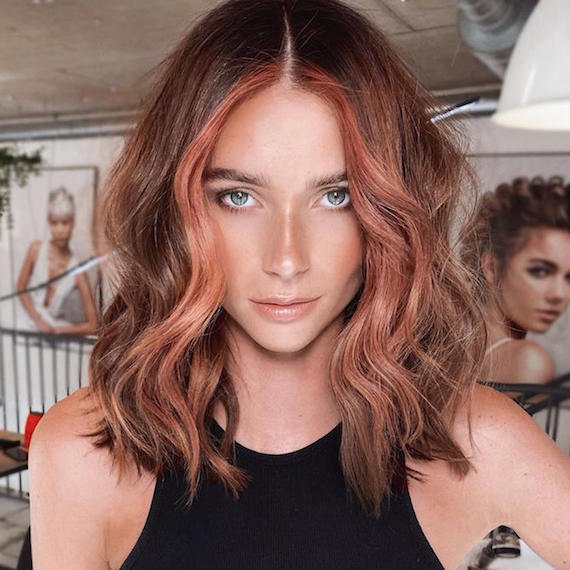 6
Chunky Highlights Through a Long Bob
Image Credit: @jhair_stylist
Chunky rosé highlights? Yes, please. Wella Digital Ambassador James Earnshaw has nailed this wavy lob by teaming auburn lengths with a rose-toned money-piece. The lighter panels were lifted using Blondorplex + 6%, while Color Touch 9/97 + 5/5 + 1.9% was used to help the chunky 'lights, glow, glow, glow.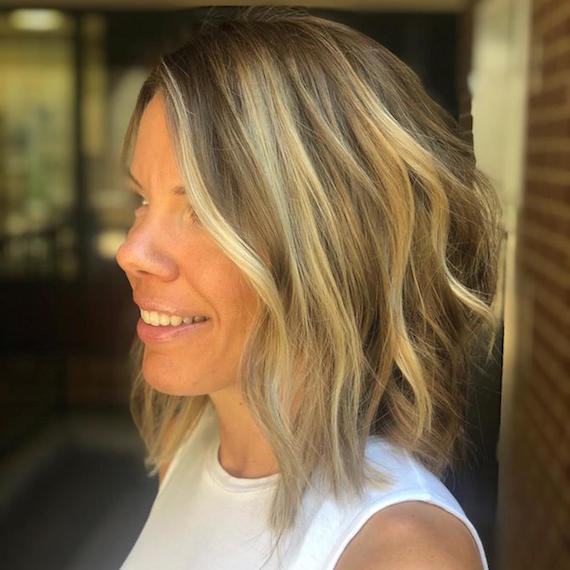 7
Chunky Ash Brown Lowlights
Image Credit: @hairslayyer
At first glance, you might think this look is made up of chunky blonde highlights. However, those richer ribbons come courtesy of ash brown lowlights, which break up the blonde. This is a clever trick for clients who want to tone down summer locks for fall or winter. Simply place a few chunky lowlights through the mid-lengths and ends, then add a smudgy root shadow. Dreamy.
DISCOVER E-EDUCATION
Go to Wella Professionals' online learning platform to discover new tips and master the latest techniques to use on your clients.
Go to Wella Professionals' online learning platform to discover new tips and master the latest techniques to use on your clients.