9 Wella Colour Blocking Hair Ideas & Formulas
Colour blocking hair is set to be one of the biggest colour trends for fall 2023. It's a look that's high on contrast, high on drama and high on Instagram appeal. From pops of pastel, to monochrome strokes, to rainbow hues in chunky ribbons – colour blocking is the ultimate in versatile hair looks, allowing you to take it from subtle to bold.
So, let's take a look at the trend that's helping you and your client push the boundaries of colour. Here are the colour blocking tips and formulas you need from Wella Professionals, the No.1 Salon Color brand in the world1.
What is Colour Blocking on Hair?
It's a trend that sees contrasting colours painted through the hair in statement blocks. Usually it's a two-tone look, but you could level up your colour blocks by pulling in three, four or even five hues. At the very least, you need a base colour and an accent hue to make the trend work for your client. Then you can choose the placement that best suits their personality and style, whether that's a bold, chunky face frame or a scattering of highlights. 
How to Carry Out a Colour Blocking Consultation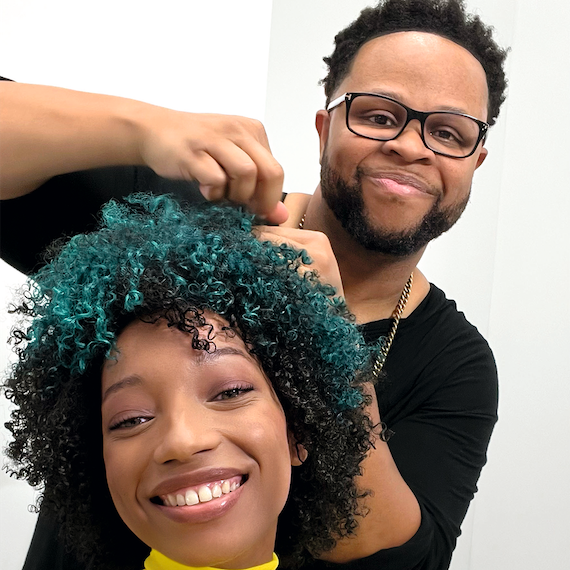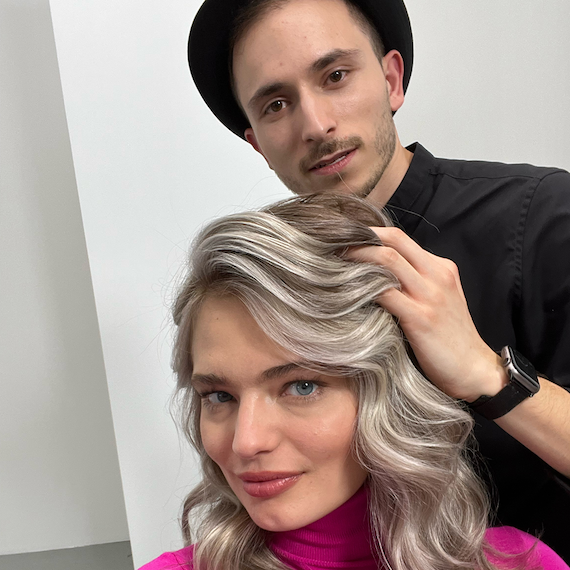 Before creating colour blocked hair, carry out a client consultation to ensure the perfect finish. These are the three key kick-off topics it's important to cover…
1. Identity
Get to the root of who your client is by asking about their personality, what they like most about their hair, and what they want to achieve from their colour blocked hair. You can also discuss their sense of style at this point, so you can recommend a colour placement that suits their overall look. For example, if they prefer a softer finish, you could work in diagonal sections under the parting, or if they want a bolder effect, you could suggest colour block highlights that are vertical and start closer to the root. 
2. Destination
Delve deeper into the details of your client's dream look. Do they want a subtle colour change? A rainbow transformation? Something in between? It's time to paint a clearer picture of the desired destination, and understand what stands between them and their perfect hair. This is also a good time to cover off grey coverage. Find out if it's something your client wants to explore, so you can choose the ideal colour product for their needs. 
3. Services
You've decided on a destination. Now, how are you going to get there? Introduce your client to your service menu, and talk through the colouring techniques that will take them to their end goal. Ask if they're open to hearing your ideas and, if they are, share advice on the services and shades that you feel will suit them best. Finish up by talking through the home hair care required to get the most out of their look. 
Once you've completed the consultation, you and your client can embrace their colour blocked look with confidence. Next up, it's time to grab the tint brush and start painting…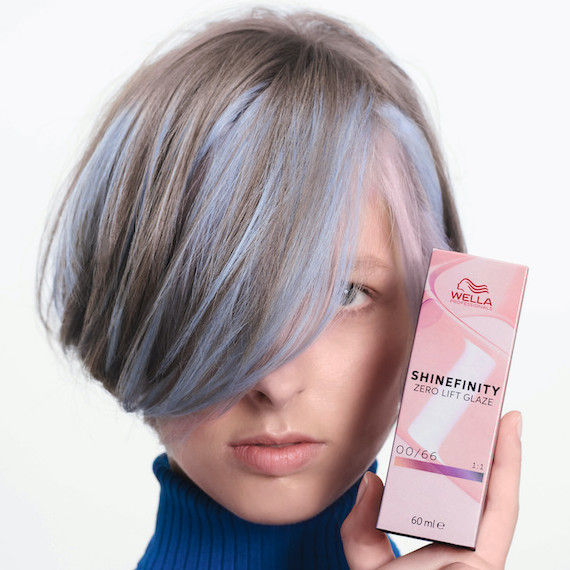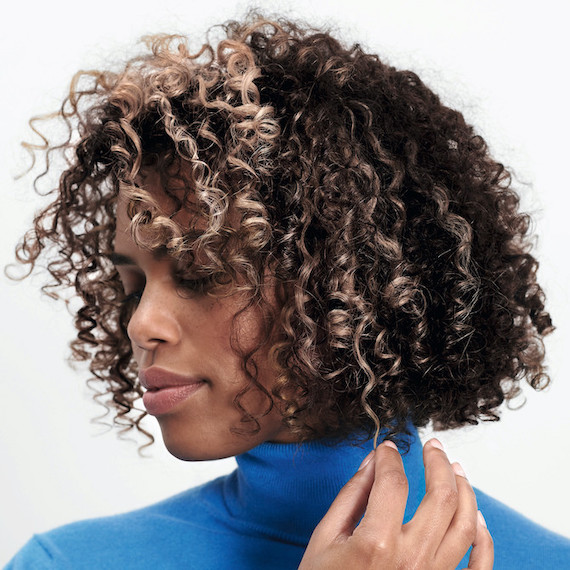 3 Ideas for Perfect Colour Block Placement
There are so many ways to work colour block hair – and in so many shade combinations – but if you're looking to contour or enhance your client's features, keep these guidelines in mind:
Dark colours can shorten and narrow your client's face shape.
Light colours can lengthen and widen your client's face shape. 
So, what do these tips mean for your colour blocking hair creations? While there are no rules when it comes to the trend, you can harness the magic of colour theory to refine your placement for an extra flattering finish. Here's how…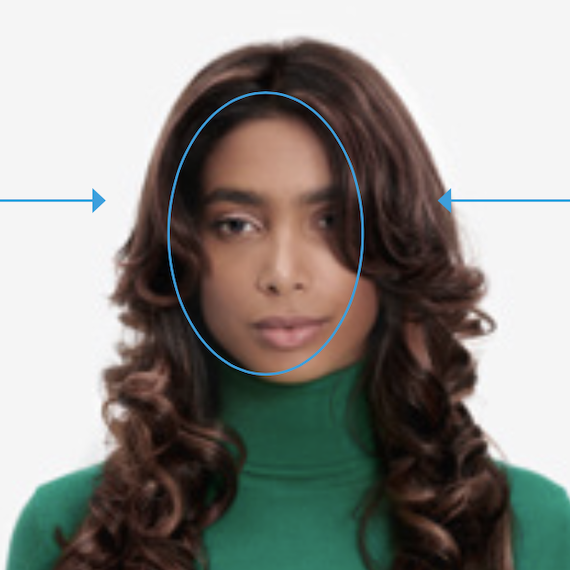 1
To Sculpt a Wider Face Shape
If your client wants to contour their features, try adding a darker frame closest to the front of their hair. For example, if you're adding chocolate brown highlights for black hair, keep the very front section black. This can have an elongating effect on the overall face shape, while drawing attention to the eye area.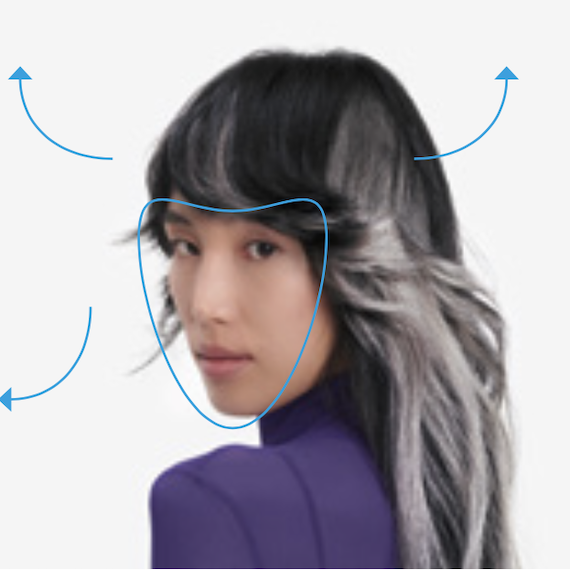 2
To Add Width to a Narrow Jawline
For clients who hope to add width and draw attention to the lower part of their face, sweeping bold lightness through the lengths is a great idea. Go for high contrast balayage or colour block highlights that are at least three shades brighter than the base. Case in point: these silver grey ribbons on black hair make a major statement.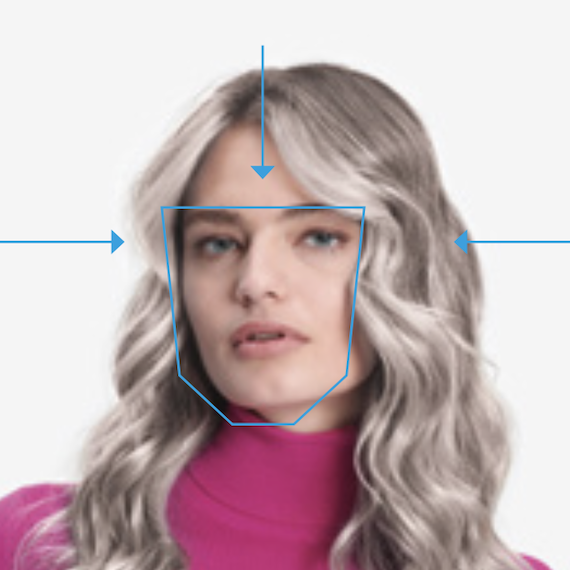 3
To Soften Angular Features
If your client wants to soften their features with their hair colour placement, try focusing lightness close to the face while leaving depth near the neckline. By embracing targeted lightening with a bright face frame, you open up the cheekbones and jawline, and give your client's complexion a radiant glow. 
6 Colour Blocking Hair Formulas to Try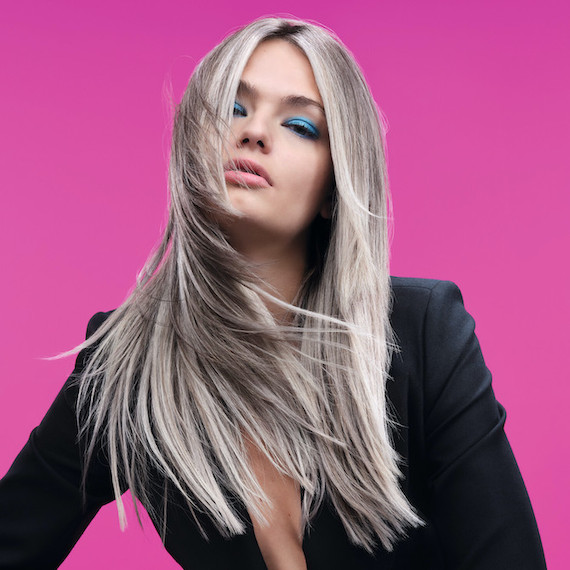 1
Express Face Frame
Go for maximum impact in minimum time with an express face frame; a quick technique that transforms blondes by adding cool depth and glow-boosting brightness. For this look, BlondorPlex + Welloxon Perfect 6% was focused around the face and scattered freehand through the back. Why BlondorPlex? Because this bond-strengthening lightener gives you up to nine levels of lift with up to 97% less hair breakage2. Then, for depth and shadow, Shinefinity Color Glaze 06/0 + 07/12 + Brush & Bowl Activator was swept through the roots and the lengths between the lightness, before the new Shinefinity Flash Glaze in 010/6 + 010/8 was applied for enhanced tone and shine in just five minutes. Shinefinity is the perfect partner to add a touch of shine to any service.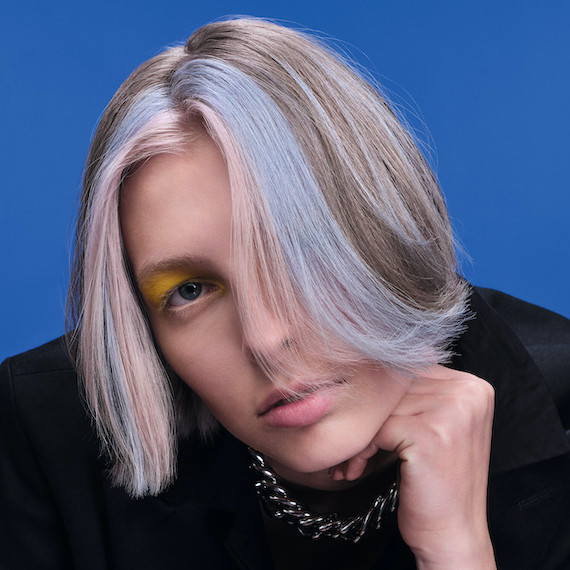 2
Blocked Face Frame
For an even bolder, blockier take on a face frame, try this pastel meets platinum blonde look. It sees light locks enhanced with a bolt of sky blue, but you can also reach for pinks, greens, purples… you name it. To create the look, first lighten the full face frame and diagonal weaves throughout the hair with Blondor Freelights + Welloxon Perfect 6%. This cutting-edge lightener was specially designed for freehand painting, as it stays right where you place it with no need for foils. Then, glaze the majority of the hair with Shinefinity 08/8 + 00/00 + 00/89 for a soft sky blue, making sure you leave the hairline out. Complete the look with Shinefinity Flash Glaze 010/6 + 00/66 on the lightened areas; a mauve-tinted platinum blonde that shimmers and shines at every turn.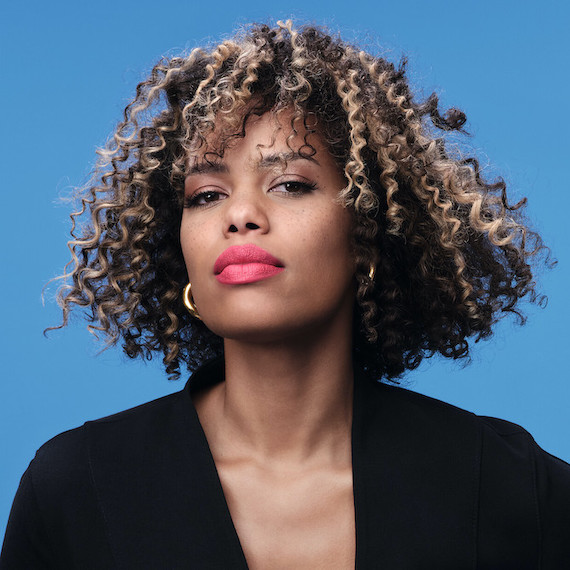 3
Express Chunky Highlights
Chunky highlights offer up an easy way to create colour block hair. Simply offset your base colour with weighty sweeps of an accent hue, like this honey blonde. It's especially great for adding subtle contrast to textured locks, making it a must-try for curls craving definition. Try recreating the look by painting BlondorPlex + Welloxon Perfect 6% in large triangle sections around the face, before boosting depth through the surrounding hair with Koleston Perfect 5/82 + 8/97 + Welloxon Perfect 1.9%. Once the formula has developed and been neutralized, reach for Shinefinity Flash Glaze 010/10, and focus it through the lightened areas to give locks some extra 'pop' against the dark base.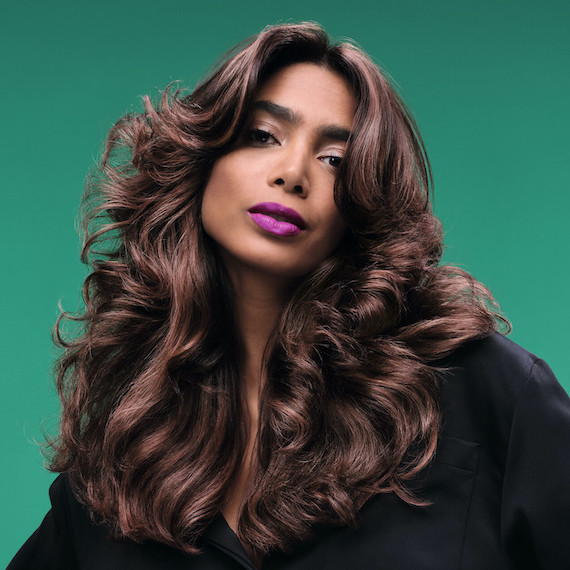 4
Bold Chunky Highlights
Take chunky highlights even bolder by adding extra ribbons throughout the hair. With a subtle rose brown tone, this particular creation is a sophisticated version of colour blocked hair. Start by painting the highlights with BlondorPlex + 6% in vertical and diagonal sections for high impact lightness. Then add a root tap and depth to the surrounding hair with Koleston Perfect 5/82 + 6/91 + 3%. That rose brown comes courtesy of 8/96 + 8/97 + 0/65 + Welloxon Perfect 1.9%, which should be focused through the lightened areas to set chunky highlights off in style.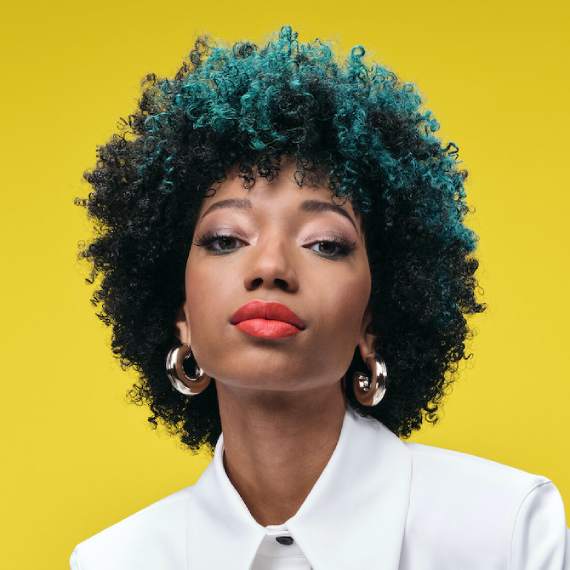 5
Contrast Blocking
Punchy and playful, contrast colour blocking is a look made for the brave. Don't be afraid to strive for maximum impact with your placement, as seen in this teal-toned creation. It started with BlondorPlex + 6%, applied in a large diamond section and back-to-back slices through the front of the hair, with the root left natural for added dimension. The lightened area was then toned with Koleston Perfect 0/28 + 0/30 + 0/00 + Welloxon Perfect 1.9% for a touch of ocean teal, and left to develop for up to 15 minutes. Finally, a gloss was applied to the rest of the hair with 5/82 + INVIGO Post Color Service + Welloxon Perfect 1.9%, lending richness and depth to the base, with a dose of glossy shine.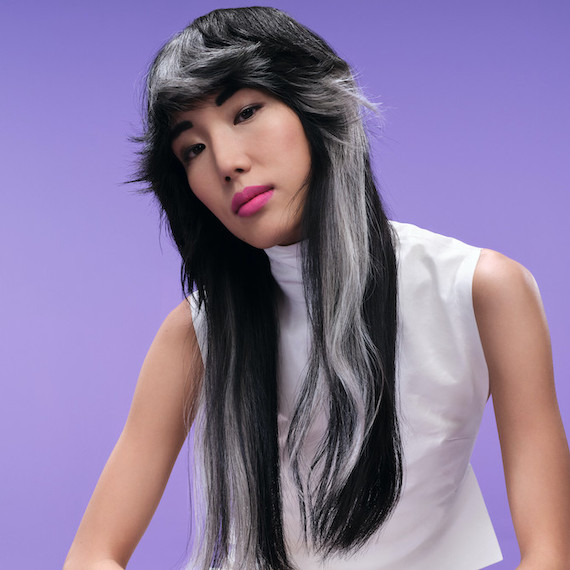 6
Monochromatic Blocking
You don't need to reach for rainbow brights to turn heads with a colour block mane. Black and grey blonde hair makes a statement like no other, so embrace that monochrome palette. Here, locks were lightened with BlondorPlex + Welloxon Perfect 6% in two large diamond sections through the front and back of the hair, with a small triangle section through the bangs in back-to-back slices. Meanwhile, the rest of the hair was toned with Koleston Perfect 4/82 + 0/88 + Welloxon Perfect 1.9%, including on the root area of the lightened areas for a smoky root smudge. Once that had developed and been neutralized, the lightened areas were then glazed with Shinefinity 08/98 + 00/00 + 07/81, resulting in an alpine blonde that seriously stands out against the dark charcoal base. 
How to Care for Colour Blocked Hair
Whether your client is working rainbow brights, power pastels or naturals with a statement twist, it's important they stick to a strong colour maintenance routine at home. These are the tips they need…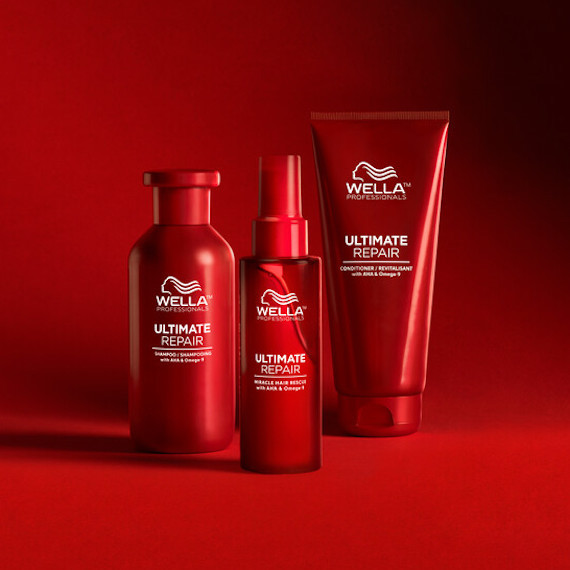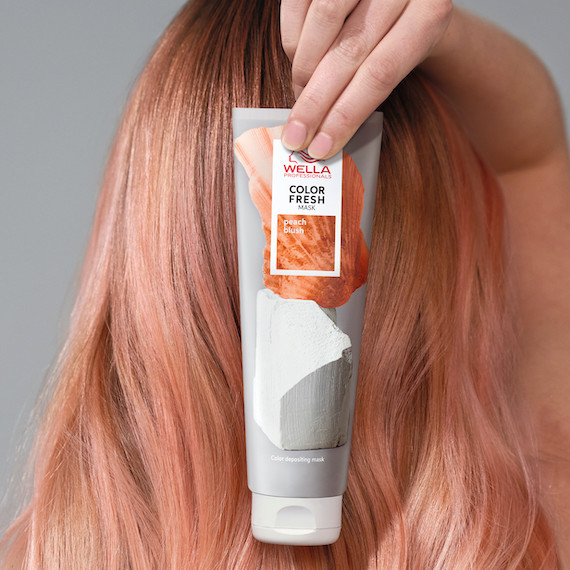 1. Use Colour-Kind Shampoos and Conditioners
The top two essentials for shade maintenance? A colour-kind shampoo and conditioner. Not just any shampoo will do; specially formulated care products will help locks hold onto pigment for longer. We recommend ColorMotion+ Color Protection Shampoo and Moisturizing Color Reflection Conditioner, which nourish colour blocked hair for beautiful shine, while keeping fading free radicals at bay. If hair is dry or damaged, step up the care with Ultimate Repair Shampoo and Ultimate Repair Conditioner. Together with the Miracle Hair Rescue leave-in treatment, they repair hair damage in just 90 seconds3, leaving strands 12x smoother4 with 99% less breakage5. 
2. Top Up Colour Blocks With a Colour-Depositing Mask
Your client wants their colour blocked hair to look fresh for as long as possible. So, introduce them to the Color Fresh Mask, available in 13 shades, from pastel Mint to Copper Glow. It's a DIY must-try that revives salon colour when it needs a boost. All they have to do is shampoo and towel-dry their hair, apply their chosen shade, leave it on for 10 minutes, then rinse thoroughly. Their mane will appear brighter and bolder – just the way colour blocked hair should be. Plus, their strands will feel smoother and more moisturized from a single wash.
3. Protect Hair From Heat and UV Damage
Heat and UV damage are two of the biggest culprits when it comes to colour fade, so remind your clients how important it is to shield their perfect shade. EIMI Thermal Image is their partner in shine for protection from heat styling, whether they're blow-drying, straightening or curling their locks. They simply mist it from root to tip, then style as usual. Meanwhile, EIMI Glam Mist is a finishing spray with major benefits, including dazzling shine, anti-humidity effects and a built-in UV shield. When their hair is ready for the day, your client can spray it over their finished look, and head out the door with colour blocked locks looking glossy. 
Ready to share your own colour blocking hair creations? Make sure you tag us in them on Instagram @WellaHairUKI. We can't wait to see your next masterpiece. 
1 Based on Wella Master Brand USD sales on the 2022 Salon Hair Care Study for the hair colouring products category published by Kline.
2 When using Wellaplex N°2 with BlondorPlex, versus BlondorPlex alone.
3 When using ULTIMATE REPAIR Miracle Hair Rescue.
4 Vs. non-conditioning shampoo.
5 When using ULTIMATE REPAIR Miracle Hair Rescue. Instrumental test versus non-conditioning shampoo.