Expensive Brunette Hair is the Richest Look Around
Expensive blonde isn't the only hair trend making a splash in salons. Now, expensive brunette hair is here to bring added depth, dimension and gloss to darker hues. But don't be fooled by the name; this trend isn't going to leave your clients broke, it's simply going to enhance their existing brunette colour in the most natural-looking way. Featuring subtle highlights that shine, shimmer and bring laidback luxe to the fore, this trend is low on contrast, low on maintenance, but high on unstoppable radiance. Here's how to perfect it…
Hold Up – What is Expensive Brunette Hair?
This shade of brown is as lustrous as it gets, relying on soft, sheer highs and lows that stay within one hue (or two) of the base colour. You'll know you're looking at an expensive brunette if the hair reminds you of the Hollywood elite. Each creation should be understated yet eye-catching, as if a Seychelles getaway has gently lifted hair in sections. Condition is key to this look too; locks should appear shiny, frizz-free, yet effortlessly styled, so focus as much on hydration as you do on colour when creating the look.
How Do You Get Expensive Brunette Hair?
For brunette clients who want their hair to look more expensive, there are two routes we typically follow: a lift and tone, and/or a hair glaze. Follow these tips to keep their colour looking rich…
1. Lift and Tone for a Boost in Dimension
Sheer, almost-invisible highlights and a fresh toner will take brunette locks to the next level, but make sure you go low on lift to avoid a bright, bleached-out look. These 'lights should melt into the hair and lend a perfectly polished glow, which is why bond-strengthening BlondorPlex is the ideal lightener to respect each strand's integrity. Consider a 1.9% developer, then tone with caramel, espresso or golden browns, depending on the base you're working with. The trick is to layer hues in the same tonal direction, so veer away from dialing up contrast with stand-out ribbons.
2. Use a Glaze to Enrich the Finished Look
If your client is blessed with brunette hair that's already brimming with dimension, a colour glaze may be all they need to enhance the existing richness they have. You can also apply it to pre-lightened locks to elevate subtle highlights, smooth over brassy hair to correct the shade, or use a clear glaze to boost that light-reflective sheen. Shinefinity is our go-to for a zero lift, zero damage glaze that positively gleams with health. Some of our favourite warm brunettes include 06/73 and 05/37, while 00/00 is your go-to for a clear glaze that acts like a topcoat.
5 Expensive Brunette Formulas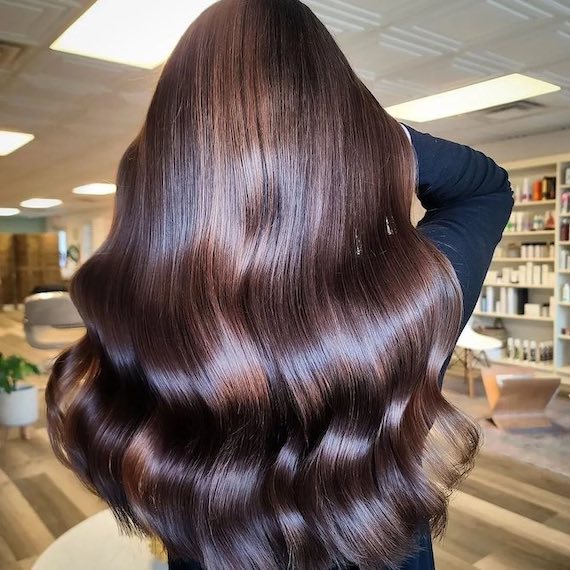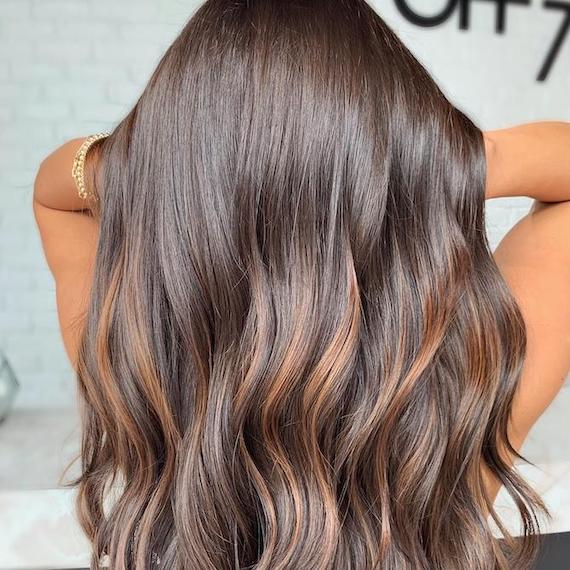 2
Expensive Brunette Balayage
Image Credit: @thescissorsammurai
Previously untouched, virgin hair is set aglow with these toffee ribbons, courtesy of Blondor Freelights + 6% for the lightener, and Color Touch 6/71 + 1.9% for the toner. A brunette balayage like this is perfect for clients who have never dabbled with colour before, but want to brighten up the lengths without too much upkeep. Simple yet oh so effective.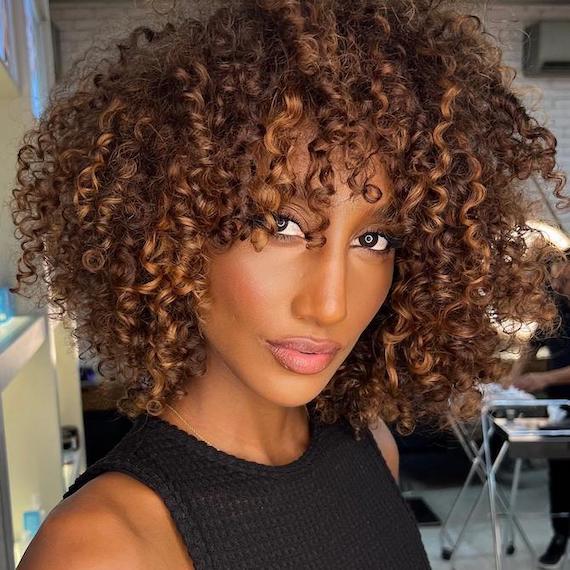 3
Light Expensive Brunette Hair
Image Credit: @romeufelipe
You can take the expensive brunette hair trend lighter with a rich caramel tone. Simply layer a light brown over a medium brown with a hint of gold infusing the formula. Luminosity is beaming from this warm-toned creation, thanks to strokes of BlondorPlex and Color Touch 9/75 + 7/43 + 5/5 with 1.9%.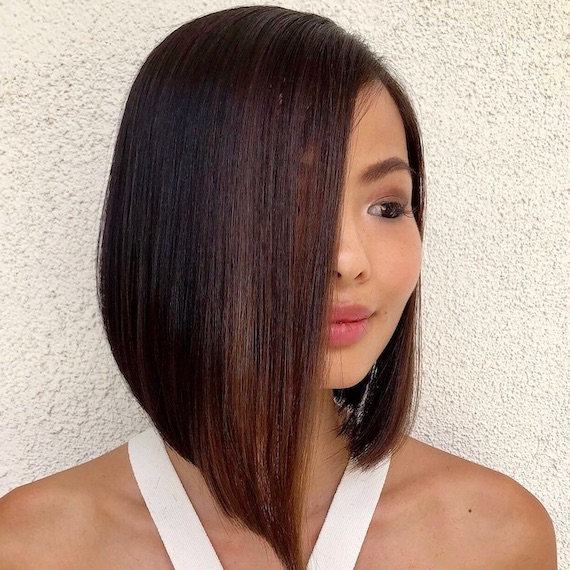 4
Dark Expensive Brunette Hair
Image Credit: @neongods
If you want to brighten dark, almost-black hair, highlights aren't the only 'tool' in your kit; you can also lift wide panels to create a subtly dimensional look. Case in point: this sleek, sharp bob haircut features Color Touch 4/71 in the back, and a generous dose of mocha brown Koleston Perfect 7/18 through the front. Because the hair hasn't been lifted first, the KP panel shifts the colour gently, creating a barely-there contrast that we can't get enough of.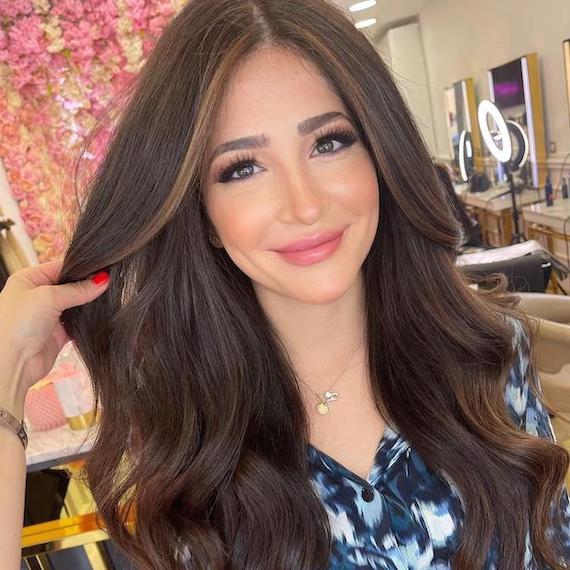 5
Expensive Brunette Hair with a Face Frame
Halo highlights instantly make your client's hair look more expensive, and this caramel face frame is no exception to the rule. Create the look by first sweeping Blondor Freelights through the front of the hair, then toning all but the highlighted sections with an intense espresso brown hue, like Koleston Perfect 6/77.
How to Maintain Expensive Brunette Hair
When you hear the words 'expensive hair', you might imagine a look that involves costly upkeep. However, expensive brunette hair is surprisingly (and pleasingly) low maintenance for both you and your clients. The delicate highs and the glossy lows rely on hydration and sheer top-ups to maintain their vibrancy, so share these tips with freshly coloured brunettes before they leave the salon…
1. Bump Up Shine with the Right Shampoo and Conditioner
Your client needs a care routine that doesn't simply protect their colour but enhances it too, so suggest they use ColorMotion+ Color Protection Shampoo and Moisturizing Color Reflection Conditioner. Packed with antioxidants to ward off fading aggressors, and nourishing ingredients that keep locks healthy, they're the ultimate combination for an expensive brunette.
2. Add a Touch of Chocolate Brown Pigment
If your client notices their colour is starting to look a little dull, they can use a colour-depositing conditioner to add a sheer injection of pigment. Our favourite for expensive brunettes is the Color Fresh Mask in Chocolate Touch, although Golden Gloss and Caramel Glaze will also work if they want to elevate the richness. All they have to do is apply their chosen mask to clean, damp hair, leave it on for 10 minutes, then rinse thoroughly to reveal refreshed colour.
3. Turn to a Clear Glaze for Extra Shine
For clients who are serious about glossy shine, a clear glaze with Shinefinity is a must. It's a super-quick service that can be completed in under one hour, so it's ideal for carrying out in between colour appointments. Simply mix Shinefinity 00/00 at a 1:1 ratio with the Brush & Bowl Activator or Bottle Activator, apply from root to tip, then wash out with shampoo after 10-20 minutes. Flawless.
By following these tips for creating and maintaining an expensive brunette, your client will be working the richest trend of the season. What are you waiting for?