6 Delicious Caramel Blonde Hair Ideas and Formulas
Is there anything more delicious than caramel blonde hair? As far as gourmet-inspired hues go, it's up there with chocolate brown hair as a Wella Professionals favorite. Rich, warm and silky-soft, caramel sits on the deeper end of the blonde hair spectrum, verging on a light, golden bronde that's brimming with light-reflective shine.
So, how do you create this covetable hue? Keep scrolling for six caramel blonde hair ideas and formulas that are positively delectable…
What is Caramel Blonde Hair?
We all know the color of caramel; it's warm-toned, creamy, tawny and rich. When layered with blonde, you get an expensive-looking brown-meets-gold shade that boasts a sun-kissed effect. Some confuse caramel blonde with honey blonde or a Jennifer Lopez-esque bronde hue, but caramel is deeper than honey blonde and lighter than the typical beachy bronde.
This means, if you're creating the look on a brown-haired client, you'll need to scatter plenty of blonde highlights throughout to reach the right level of lightness. Meanwhile, light blondes will benefit from some carefully placed lowlights, as well as a golden toner that
Caramel Blonde Hair Ideas and Formulas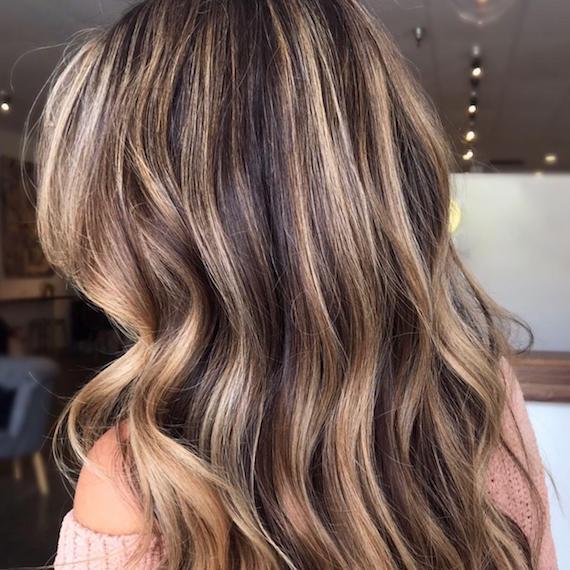 1
Caramel Blonde Highlights
Image Credit: @kellynaso
If you're looking to add a little lift to brunette locks, caramel highlights are the way to go. However, Wella Passionista Kelly Naso's caramel creation involves so much more than well placed lightener. She was working on a blonde base that was veering too light, so she first applied reverse balayage to add depth, using demi-permanent Color Touch 66/07 + 1,9% in a 1:2 mixing ratio. Then, brightness was placed back in with Blondor Freelights + 6% 1:1.5, resulting in this deep brown 'do with caramel highlights.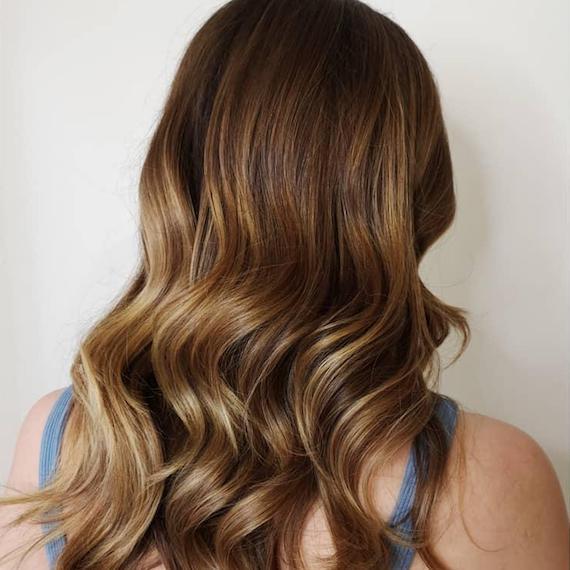 2
Caramel Blonde Balayage
Image Credit: @tombadgerhair
For a sun-kissed caramel blonde, try giving your clients a taste of balayage. Sweeping caramel tones through the mid-lengths and ends of a brunette base gives you the dreamiest, creamiest colour melt. To get the look, lighten locks with Blondor, then apply a shadow root using Color Touch 5/1 + 7/1 + 1.9%, which should then blend into 9/36 + 10/6 + 1.9%.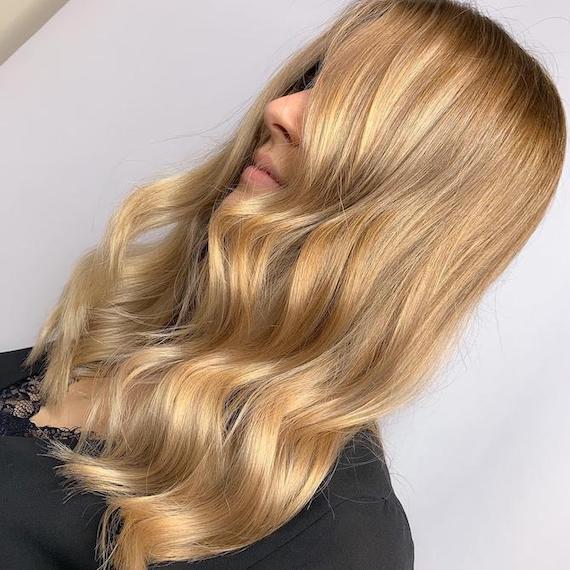 3
Blonde Hair with Caramel Highlights
Image Credit: @beverlykillshair
This is a lighter take on caramel blonde that sees warm, rich highlights combine with a golden blonde base, creating a gloriously glowy mane that appears lit from within. To achieve this hue, create a deeper root with Color Touch 7/89 + 7/86 + 6/0 + 1.9% 6 vol., then paint Yesterday on the following formula through the mid-lengths and ends: 9/96 + 9/86 + 7/7 + 1,9% 6 vol. This is the perfect cocktail if there is any unwanted warmth in the hair, and it will give the existing blonde a softer, more multi-tonal feel.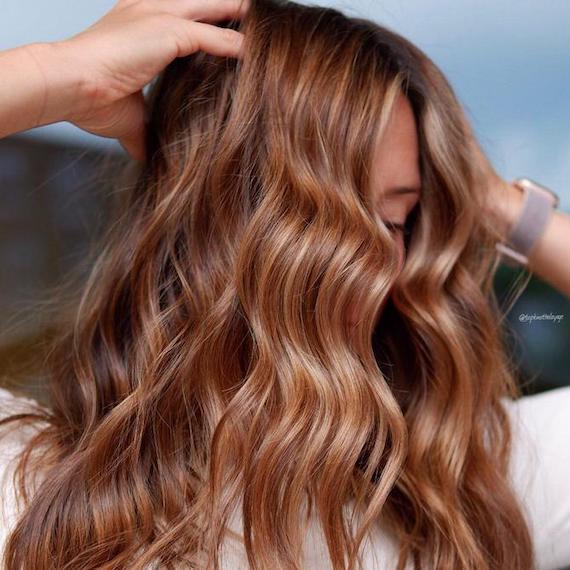 4
Brown Hair with Caramel and Blonde Highlights
Image Credit: @topknotbalayage
For clients who crave a light brown mane with merely a hint of caramel blonde, this is what you're going for: multi-dimensional, creamy, shimmering tones. Amanda Leaman's client already had a few brighter 'lights in place, so she created the look by applying a gloss of Color Touch 8/71 + 8/73 over the top. We're obsessed with the finished look.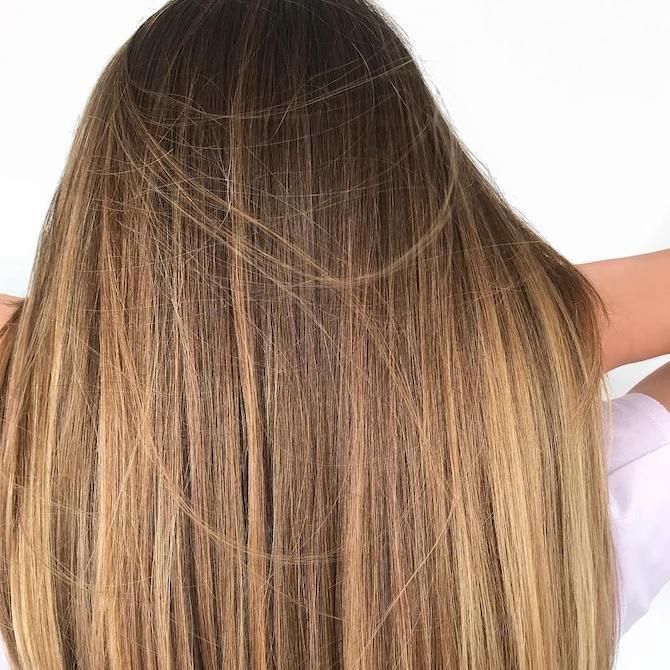 5
Dark Blonde Hair with Caramel Highlights
Image Credit: @allyson_m_
Because dark blonde hair already veers rich and warm, it's easy to take it to caramel heights by simply adding a few highlights through the mid-lengths and ends. Allyson M wanted to give her client something ultra-low maintenance, so she worked with the natural base and painted in a scattering of lighter ribbons using Freelights + 6% (20 vol). The finished look? Sun-kissed surfer girl in San Diego.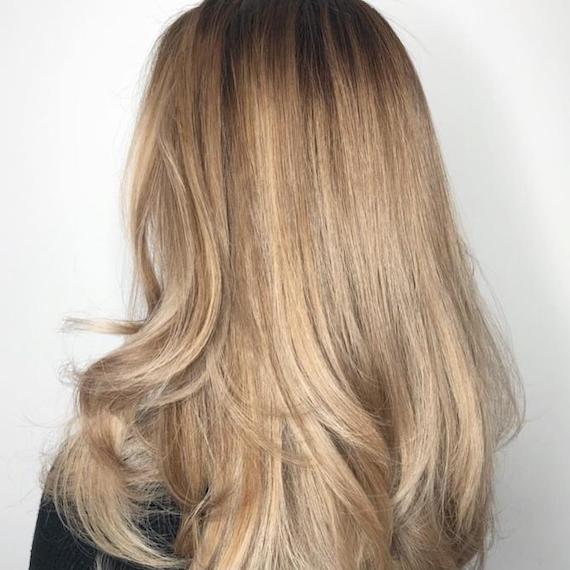 6
Dirty Blonde Hair with Caramel Highlights
Image Credit: @remeccahair
Dirty blonde hair is all about getting those contrasting tones looking flawless. Think dark brown lowlights against golden highlights, so you achieve a lived-in effect. Add a few caramel highlights, and the finish is brighter than your average dirty blonde, as demo-ed by Rebecca Sellers-King's earthy caramel creation. On a client whose hair had been taken too blonde, she blended Color Touch 6/0 + 7/0 + 8/0 down the root, over the previously lifted blonde, then finished with 9/16 to tone.
How to Maintain Caramel Blonde Hair
Once your client has got their caramel blonde mane in place, they'll want to make it last. That's why it's vital you provide them with the full lowdown on how to care for coloured hair.
First up, recommend a purple shampoo and conditioner routine that nurtures their freshly lightened locks, starting with INVIGO Color Brilliance Color Protection Shampoo, or ColorMotion+ color protection shampoo and a hydrating dose of INVIGO Color Brilliance Vibrant Color Mask. Then, introduce a weekly pigment-depositing treatment to their routine. Because caramel blonde hair is warm-toned, INVIGO Warm Blonde Color Refreshing Conditioner is ideal for maintaining richness and depth."
How they style their hair affects the color, too. Make sure your client is prepping their locks with EIMI Thermal Image heat protectant spray before they blow dry, straighten or tong. 
And then come the touch-ups. Depending on your clients' shade and base colour, the way you maintain their caramel blonde hair colour is going to differ. For some, a glow-boosting gloss may be all they need to brighten up, while others may want to up the volume of blonde highlights at their next appointment. Just make sure that – as with all blonde colour transformations – they come back every six to eight weeks. Hair colour this delicious deserves plenty of TLC…