Your Pro Guide to Blonde Ombre Hair
There are some blonde hair colour trends that come and go as quickly as the seasons change, and others so flattering, clients just can't stop requesting them. Top of the list? Alongside blonde balayage, it's got to be a blonde ombre; one of the most seamless looks around, giving mid-lengths and ends an irresistible candlelit glow.
But just because the technique is well-known doesn't mean we don't need a 'how to' refresher from time to time. Checking looks from fellow pros is a must to get new ideas for your own salon masterpieces. So, discover fresh blonde ombre hair inspiration below, complete with salon formulas you can try out on your clients...
How to Create Blonde Ombre Hair
1. Consider a Dark Hair Root Shadow
To get a clear dark-to-light transition from the roots to the ends of your client's hair, you may need to add a root shadow. That is unless their natural root is the right shade for the finished look. Choosing the perfect product for this technique means understanding your client's ultimate hair goals. Do they want grey coverage? Are they seeking softer regrowth? Get roots dark and dimensional with one of these products:
Koleston Perfect: Not only does this iconic permanent colour give you up to 100% grey hair coverage with rich, healthy-looking results, but it also harnesses the Metal Purifier to protect hair bonds during the colouring process. Meanwhile, Ultra Precision Colour Technology ensures reliable results for a true-to-tone finish, so you can sweep on that root shadow and tone ombre lengths with total confidence.
Color Touch: If your client wants softer root regrowth for a low-commitment ombre, this demi-permanent colour is their go-to. It delivers a killer combo of intense vibrancy and shine that lasts for up to 24 washes, and provides up to 70% grey coverage*. Plus, it comes in a huge array of shades, allowing you to tailor-mix a root hue and ombre colour blend for every client's goals.
*with Color Touch Plus
Shinefinity Color Glaze: For zero damage, zero lift colour with an exceptional shine you can feel, treat your client to a Shinefinity Color Glaze for a touch of shine to any service. Its translucent finish lasts up to 6 weeks and enhances – never masks – their natural colour, maintaining tone and dimension. It's great for a root shadow, kickstarting ombre creations with a healthy glow while giving lighter sections added luster when used to tone lengths and ends.
2. Lighten the Mid-Lengths and Ends
Unless your client is a natural blonde or they have dark hair that's already been lifted to a light shade, you'll need to pre-lighten their mid-lengths and ends for an ombre base. Your must-try for this step is BlondorPlex, a lightener that gives you up to nine levels of lift, infused with the bond-strengthening WellaPlex ingredient to keep hair supported during the lifting process for up to 97% less hair breakage*.
Start painting it a couple of inches down from the root and sweep through to the ends, then allow it to develop until you've reached the correct underlying level for the final look. For a sombre (subtle ombre) effect, you want locks to be around two shades lighter than the darker roots, while for a traditional ombre, you should aim for around three shades lighter.
*When using Wellaplex N°2 with BlondorPlex, versus BlondorPlex alone.
3. Apply a Flawless Ombre Toner (or Two)
Once locks have been lifted, it's time to tone the bleached sections. Choose the perfect blonde shade to suit your client's skin tone, whether that's a light shade with golden undertones or a cool and ashy formula. You might need to use two shades: one that's brighter than the roots to paint through the mid-section, and an extra light colour to sweep on the ends. This two-toner technique results in a bolder ombre style.
However, because hair is more porous on the ends, this section often lifts higher than the mid-section, so you get a ready-made ombre base that naturally segues from dark roots to bright lengths. In this case, you only need one blonde ombre colour for the look. Apply it all the way through pre-lightened mid-lengths and ends for the easiest ombre technique around.
5 Blonde Ombre Formulas to Try For a Hair Makeover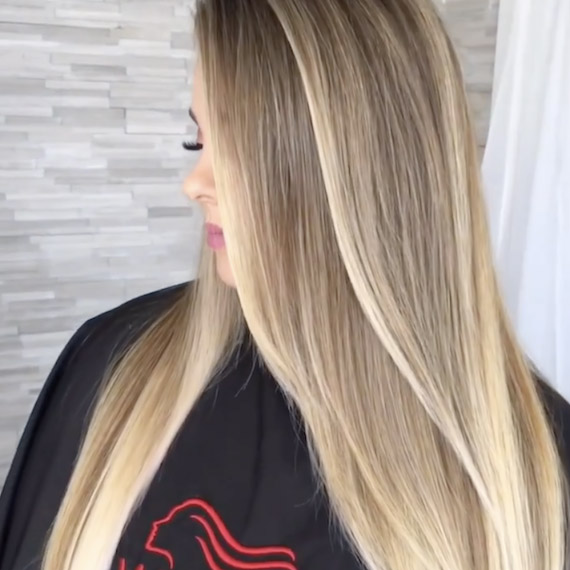 1
Honey Blonde Ombre Hair
Image Credit: @paintedhair
All hail honey blonde! The shade is a guaranteed glow-giver, and it pairs flawlessly with already-brunette roots, as demonstrated in this seamless style by Wella Professionals Global Ambassador Patricia Nikole. To create the look, mid-lengths and ends were first painted with Magma by Blondor 0/89, a game-changing product that lifts and tones in one step for easy, efficient colouring. Then, once the formula had been rinsed and neutralized, locks were glazed with Shinefinity 09/13 for a soft blonde ombre with the most show-stopping colour transition. This shade works like a dream on all hair textures – straight hair, wavy hair or curly hair – delivering a sun-kissed look from root to tip.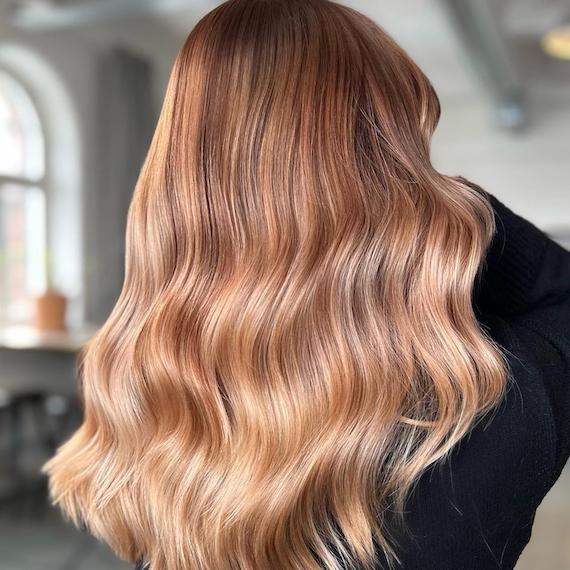 2
Strawberry Blonde Ombre Hair
Image Credit: @ebba.wella
Wannabe redheads and natural redheads will love this strawberry blonde ombre, featuring soft copper shades for extra shimmer through the mid-section. It's hard to believe this light and luminous look was created on a brown base colour, but Wella Educator Ebba Eliasson nailed it with the help of the Shinefinity Color Glaze. On the roots, you're seeing 06/0 + 06/73, mixed 1:1 with the Brush & Bowl Activator for a darker colour on the roots. Then, on pre-lightened mid-lengths and ends, 09/65 + 08/38 have been applied; two complementary colours that form a blonde with the most delicate hint of dusty pink.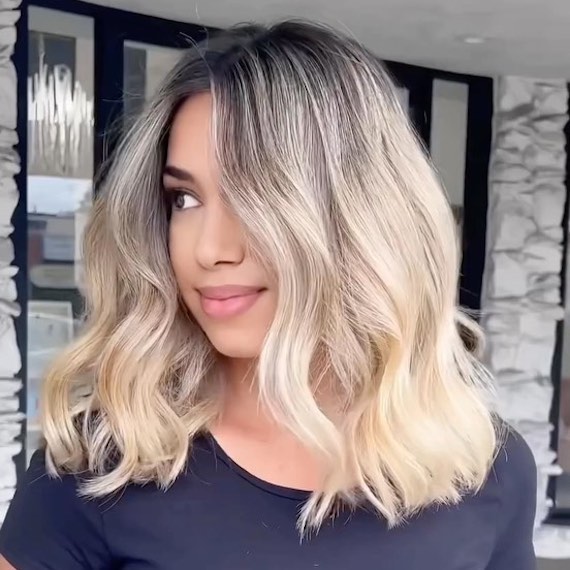 3
Radiant Platinum Ash Blonde Sombre Hair
Image Credit: @marianna.colorist
This dream of a sombre look features the perfect blend of platinum and ashy tones, courtesy of BlondorPlex (to lighten) and Color Touch (to tone). If you want to recreate the look, apply 7/89 + 5/1 + 1.9% to shade the roots first, then treat pre-lightened mid-lengths and ends to 9/16 + 10/01 + 1.9%. The vibe is icy, cool and clean, but the root shadow lets your client enjoy light blondes with a low-maintenance edge. This platinum blonde creation is an excellent choice for those with brown or black hair and already outgrown roots, as you can work with your client's natural hair colour to achieve soft regrowth.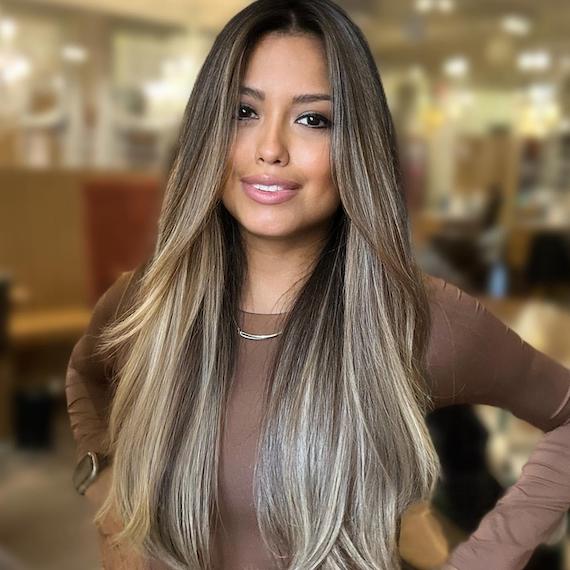 4
Golden Blonde Brown Ombre Hair
Image Credit: @antonio_espinal1984
Have you seen a more seamless blend of blonde brown ombre tones? Espresso hues through the root cascade into golden beige shades for a gorgeous colour that screams summer. Brunette clients will love this one if they're all about rich, warm colours, so kick-start their look with Blondor Multi-Blonde Powder + 9% swept in blonde highlights through the full width of mid-lengths and ends. Then, mix Illumina Color 9/60 + 1.9% at a 1:2 ratio and apply it to pre-lightened sections. For an extra boost of brightness with a fun vibe, add face-framing highlights.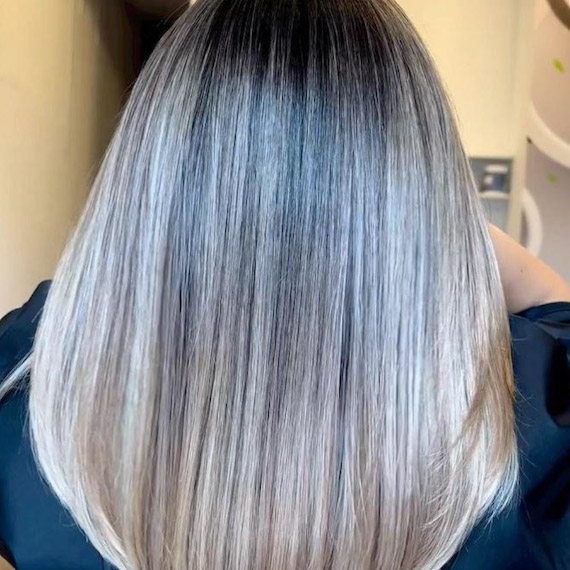 5
Chocolate Brown to Blonde Ombre Hair
Image Credit: @florealdea_hairstyle
A melt like no other, this gorgeous blend of blondes features a soft transition from dark brown roots through to a shimmering, soft caramel shade on the mid-lengths and ends. When a sheer gold ombre is the goal, reach for colour products that promise a luminous glow. Here, Shinefinity 04/12 has been applied for a root melt, Blondorplex + 6% has been used to lift the lengths, and Koleston Perfect 10/96 + 9/81 + 9/97 + 1.9% is giving us those golden vibes. Obsessed.
How to Maintain Blonde Ombre Hair
1. Add a Purple Shampoo to the Kit
For blonde ombres with a cool tone, a purple shampoo is a must. It harnesses a violet pigment to neutralize any brassy, orange tones that appear in between hair appointments. So, recommend your client adds INVIGO Cool Blonde Color Refreshing Shampoo to their kit. All they have to do is lather up when locks appear overly warm, leave it on for three to five minutes, then rinse. For all other hair wash days, they'll need a formula for colour-treated hair, like INVIGO Brilliance Color Protection Shampoo or, if their strands are damaged, Ultimate Repair Shampoo.
2. Apply a Colour-Depositing Hair Mask
Your clients can also correct their tone with lighter shades from the Color Fresh Mask collection. This hair industry hero revives colour in just 10 minutes, leaving blonde tones looking salon-fresh. Pearl Blonde is perfect for an ashy base, while Golden Gloss is a subtle shade designed to enhance warmer hues. Apply to clean, towel-dried locks, leave on for 10 minutes, then rinse thoroughly to reveal the glossiest, most gorgeous mane.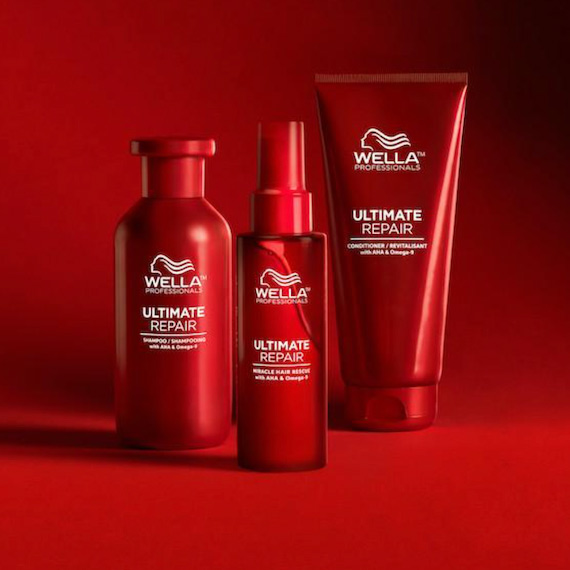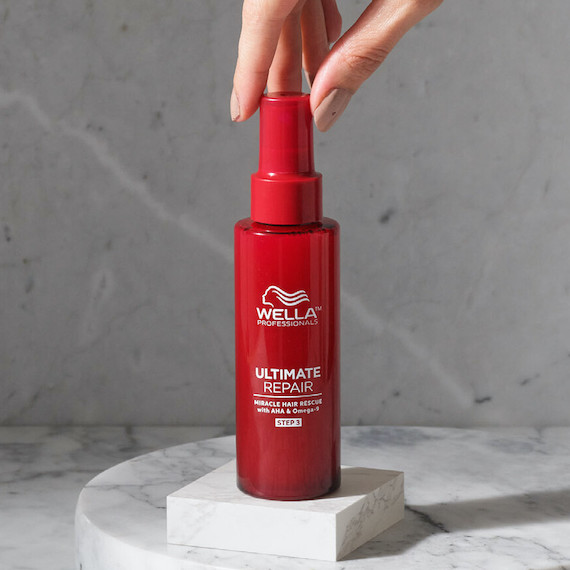 3. Keep Hair Healthy with Deep Conditioners
An ombre blend looks fresher and brighter when you're working healthy hair, so remind your client to add nourishing products to their at-home hair routine. Ultimate Repair Conditioner is suitable for all hair types and promises deep hydration, while repairing locks from the inside out with a blend of AHA and Omega-9. Suggest your client applies it to the mid-lengths and ends of clean, towel-dried hair, then allows it to absorb for between 30 seconds to five minutes (the coarser the hair, the longer they can leave it on).
For legendary repair in just 90 seconds (yes, really!), recommend they follow up with Ultimate Repair Miracle Hair Rescue; a lightweight yet luxurious and potent leave-in treatment that transforms even the most damaged manes. It rebuilds bonds within the hair shaft while replenishing the outer layer, delivering 12x smoother strands* with 99% less breakage**. It's like nothing you've tried before.
Now you're up to date with the latest blonde ombre inspiration, share your own creations with us. Tag @WellaHairUKI on Instagram for the chance to be featured on our feed. We can't wait to see your looks!
* Vs. non-conditioning shampoo
** When using ULTIMATE REPAIR Step 3. Instrumental test versus non-conditioning shampoo