What is Balayage Hair? Your Complete Guide
All hail balayage hair. The celeb-approved hair coloring technique is the ultimate salon go-to if you like your highlights soft, seamless and beyond selfie-perfect. It's often mixed up with ombré or a dip-dye but make no mistake: balayage highlights is the one to choose if you want radiance-boosting scatterings of color and a multi-tonal effect. Whether you're looking for a classic blonde balayage or searching for something bolder, keep scrolling for the full details...
1. What is Balayage?
Balayage is a French word that, aptly, means "to sweep". It sees high- and low-lights freehand-painted at random through strands to add reflective dimension and luminosity. Much of the colour is focused from the mid-lengths to the ends, but the most flattering effects happen when subtle ribbons are swept through the hairline, too. 
When you hear the word 'balayage', blonde highlights may be the first thing that come to mind. However, this technique is about so much more than adding a sun-kissed glow to strands. All manner of shades - from pastels to dark browns to rainbow brights - are getting the balayage treatment, making this one of the most versatile colour services your clients can choose. 
2. How Do You Pronounce Balayage?
Worried you might be pronouncing it wrong? Say it with us: bah-lay-ahge. 
3. Why is Balayage Such a Trend?
Why wouldn't it be? Balayage creates some of the dreamiest hair looks out there, and it boasts legions of A-list fans, from Jessica Alba to Lily Aldridge. It's the kind of hair trend that flatters everyone, no matter their base colour or hair length, with even Anne Hathaway in her pixie crop days working a scattering of lightened sections. 
And if you're wondering whether it's too late to jump on the balayage bandwagon, rest assured: this look has been around for years now, and it's showing no signs of slowing down. If anything, painterly processes appear to be getting more and more popular, proving this is one trend that's set to stand the test of time. 
4. How is Balayage Different to Ombré or a Dip-Dye?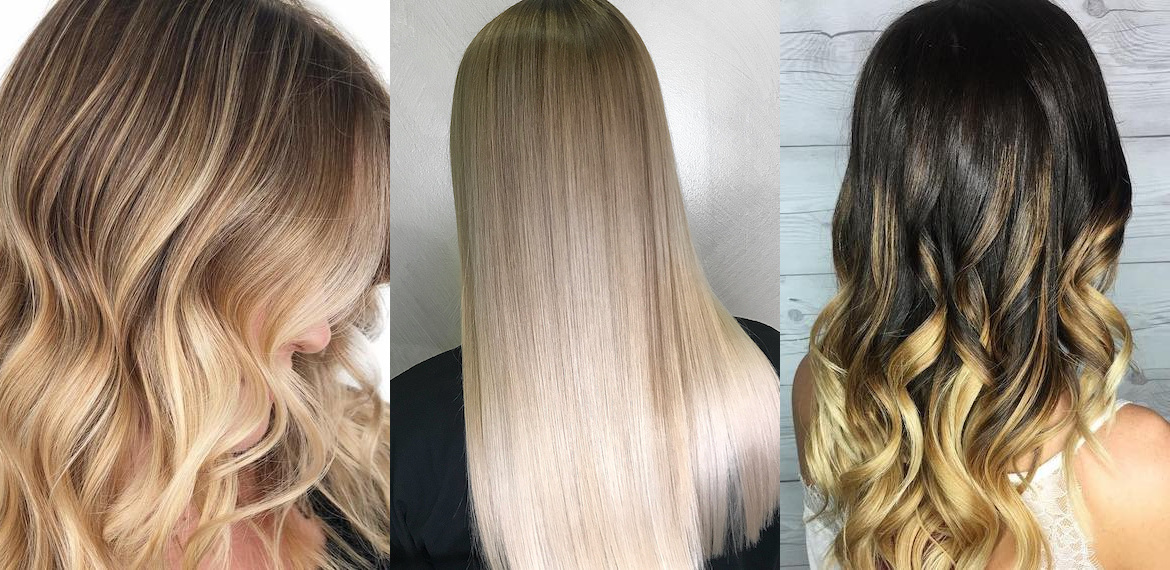 Image Credit: @gretawagner_ | @kthrnaprg | @badwolfstudio
In the images above, you have balayage on the left, ombré in the middle and a dip-dye on the right. The key difference between each technique lies in the placement and application of the contrasting colour. Let's break it down…
Ombré: While both balayage and ombré can be created freehand (with or without the use of foils), ombré means the roots are natural and the mid-lengths to ends are all lightened evenly for a smooth, dark-to-light graduation. This is in contrast to balayage's more painterly approach, which sees ribbons of light and dark shades scattered all over – not just from the mid-lengths downwards. 
Dip-Dye: The dip-dye is ombré's blockier cousin. The final effect makes mid-lengths to ends look as though they've been, well… dipped in a dye that contrasts against the natural base colour. This could be a bright blonde, or something bolder, like blue, pink or aqua. There's none of the soft gradient you see with ombré and balayage – just a clear line that separates the two colours. 
5. Who Does Balayage Suit?
Anyone and everyone. Because balayage can be tailored to flatter the base hair colour, the warmest of blondes, the darkest of brunettes and the most radiant of redheads suit the trend. It's perfect for anyone who craves lower-maintenance colour and softer regrowth, as highlights tend to start inches down from the root, meaning they're meant to look grown-out.
Rather than wondering whether balayage is going to suit a certain eye colour or skin tone, the bigger question is whether hair is in good enough condition for the lift required. Balayage almost always involves a pre-lightening product, so remind clients to take good care of mid-lengths and ends in the run-up to their colour appointment. A cosseting mask, like INVIGO Nutri-Enrich Deep Nourishing Mask, is a must in everyone's routine, as it pampers hair back to its nourished best, resulting in the perfect base for balayage. 
6. How Do You Do Balayage?
First up, you need a pre-lightening product. Look to Blondor Freelights, which gives colourists ultra-precision for freehand techniques, and delivers up to seven levels of lift. Plus, its creamy consistency ensures it stays in place wherever you apply it, so you don't have to worry about colour bleeding if you do a balayage without foils.
That brings us to our next point. While there's no hard and fast rule about foils and balayage, it's typically known for being a foil-free process. This might mean you want to up the volume of your colour developer, which will ensure you still get plenty of lift if you're doing open-air painting. 
That's formulas and foils covered. The next step: embracing your creativity. The beauty of balayage is that it allows you to get artsy with your highlighting techniques, sweeping colour on where you see fit instead of following a pattern. Want to know more? Simply read our complete guide on how to do a balayage. 
7. How Long Does it Take to Achieve Balayage?
If you're wondering how long you need to book clients in for, there's no one-size-fits-all answer. Nailing that balayage technique can take anywhere between 45 minutes and three hours. Things you need to keep in mind include the length of your client's hair, porosity and their desired finish, so invite them for a consultation first to ensure you'll leave plenty of time for their transformation.
You may also want to do a strand test. This will show you how your client's hair responds to the formula, so you can fine-tune the colour and judge how long the entire process will take. 
8. Will Balayage Cover Gray Hair?
Balayage's freehand technique isn't best suited to camouflaging silver strays. Ribbons can be tactically placed to disguise a few salt 'n' peppered strands, but full gray coverage requires a permanent tint that saturates the roots. That doesn't mean you or your client has to give up on balayage altogether, though; after shading gray patches, you can start sweeping on those light-reflective, radiance-boosting ribbons. Simple.
9. How Do You Avoid 'Bad' Balayage?
Beware of bad balayage. To avoid going viral on Reddit for all the wrong reasons, make sure there's clear client-to-colourist communication, so you achieve a flawless final result. Here's how… 
If you're a colourist: Book out time for a consultation with first-time balayage triers. Encourage them to bring in photos and quiz them on how light they'd like to go and how much face-framing colour they're happy with. Be sure, also, that they know the difference between balayage, dip-dyed and ombré hair. You might just find that they're looking for a rootier, more dramatic finish. 
If you're a customer: We've said it before, and we'll say it again: always have photos to hand. Your idea of a subtle balayage might be different to your colourist's, so take along photos to avoid confusion. You could show this article to your hairdresser or download some images from the Wella Hair Pinterest page. You'll find plenty of balayage inspiration on our Party Hair, Koleston Perfect and Hair Tutorials boards. 
10. What is Foilyage?
The buzz around foilyage is gaining traction, but what does it actually mean? The answer's simple: foilyage is the name for balayage that's processed using foils. You still paint highlights freehand and get creative with your placement, but the strands are wrapped in foils to ensure plenty of lift from the pre-lightener.