5 of the Dreamiest Blonde Dip-Dye Ideas & Formulas
Before the world became obsessed with the wonders of a subtle ombre or balayage, the blonde dip-dye was leading the charge as the hottest hair trend around. And now? Dipped hair is back, but with a softer, more modern finish. Think two-tone without the harsh lines we saw in the noughties. Here's what you need to know about the new generation of dip-dyes...
Dip-Dye vs. Ombre vs. Balayage: What's the Difference?
For clients who can't tell their blonde dip-dye from their freehand balayage, remind them of the key features that belong to each trend. This is how you can define each one:
1. Dip-Dye
The clue is in the name with this one. Hair looks like it's been 'dipped' in a pot of bleach or colour, creating a clear contrast between the roots and the ends. Darker at the top and lighter through the tips; a dip-dye usually requires lifting the lengths around two to three shades brighter than the base.
2. Ombre
An ombre is similar to a dip-dye in that the colour transitions from dark to light, and the hair lightener is applied to the full width of the hair. However, with ombre, you'll see more of an even fade from root to tip, so the tone lifts gradually as you reach the ends.
3. Balayage
Balayage is entirely different to both trends, yet it sometimes gets mixed up with the two. This is because, like ombre and dip-dye hair, it features a little more depth through the root. However, a balayage technique sees lightener applied in painterly strokes to mid-lengths and ends, resulting in radiant ribbons that shimmer and shine.
How to Create a Modern Blonde Dip-Dye
1. Choose Your Lightener
Tailor your choice of lightener to the condition of your client's hair. Our favourite for most hair types is BlondorPlex, which is infused with our WellaPlex No1 Bond Maker. This revolutionary technology helps to strengthen internal bonds through the colouring process, and teams perfectly with a rinse of the No2 Bond Stabilizer to complete the treatment. For drier locks, you could also use Blondor Soft Blonde Cream, which harnesses protective lipids that coat the hair and help protect from moisture loss.
2. Apply to the Ends
Talk to your client about where they want their lighter shade to begin. There's no one-size-fits-all rule; they can opt for the very tips or start in line with the bottom of their earlobes. Once you've agreed on a placement, begin stroking the lightener from the starting point down to the tips. You'll want to cover the full width of the hair to create that dipped effect.
3. Diffuse the Line
Here's where we make the dip-dye more modern: after applying lightener to the full width of the ends, gently feather the formula upwards where the light and dark tones meet. This diffuses the dip-dye lines for a softer, subtler finish. Remember: you're only feathering gently, so be sure not to take your strokes too high.
4. Rinse and Tone
Once hair has lifted to the desired underlying tone, take your client to the sink and wash their locks with a colour-kind shampoo, like INVIGO Color Brilliance Color Protecting Shampoo. Condition and apply Blondor Seal & Care to neutralize the pH levels, then use a toner to personalize their dip-dyed blonde shade. Choose Color Touch for a demi-permanent tint, Color Fresh for a zero-damage, semi-permanent hue, and Illumina Color or Koleston Perfect for a shade that's permanent. Allow to develop, then rinse until hair is ready for styling.
5 Blonde Dip-Dye Ideas to Try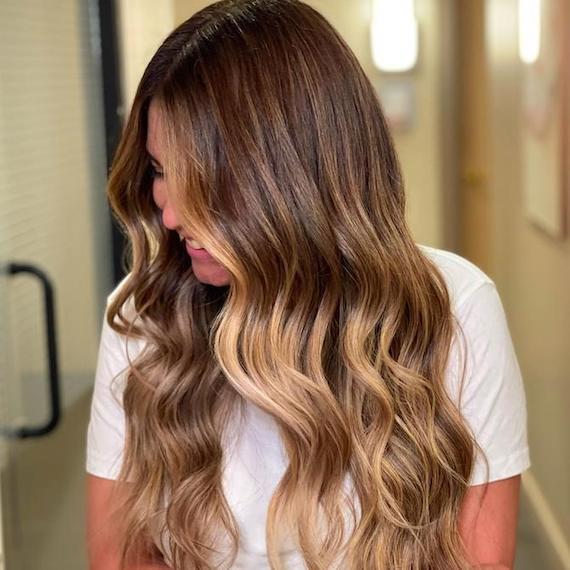 1
Caramel Blonde Dip-Dye
Image Credit: @byjohnsanchez
Glow with golden tones to create a caramel blonde dip-dye; one that radiates warmth from brunette roots to light and luminous tips. You can recreate the look with BlondorPlex, starting the dip just in line with your client's jawline. Then, try toning with light-reflective, permanent Illumina Color in rich blonde hues, such as 8/37, 9/03 or 9/7.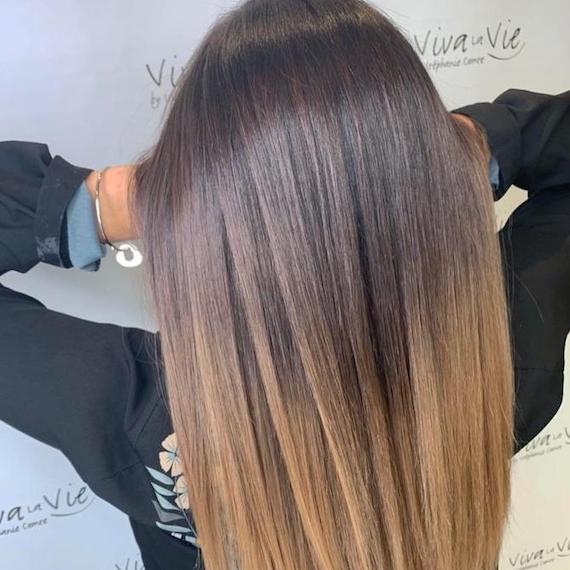 2
Blonde Dip-Dye on Brown Hair
Image Credit: @vivalavie_stephaniecomte
Styling dip-dyed hair straight allows the tones to pop, showing off that clear contrast. Try it with your clients, enabling them to see just how striking their brown to blonde dip-dye is. First, apply an oil to towel-dried strands, like Oil Reflections Luminous Smoothing Oil, then layer with a pump of EIMI Perfect Me, a moisturizing styling lotion. Blow-dry hair with the nozzle pointing downwards to encourage the cuticle to lie flat. Then, mist with EIMI Thermal Image heat protection spray and straighten strands to smooth.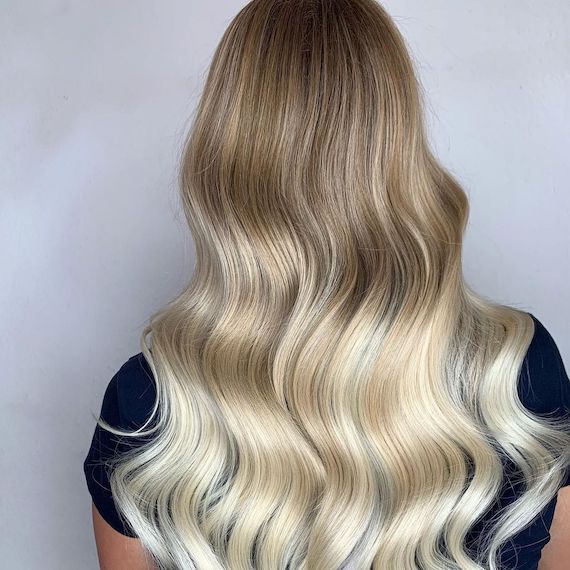 3
Vanilla Blonde Dip Dye
Image Credit: @david_bkc
Layer blonde on blonde with a cool vanilla dip-dye that sees ashy roots melt into lighter lengths. We love this lustrous creation by Wella Passionista David. If you'd like to recreate the look for your dark blonde clients, try lifting the ends of the hair with BlondorPlex, starting in line with the earlobes. Stroke a little of that lightener upwards to soften the dip-dye line. Then, after the blonde has developed, use the Color Fresh Mask to balance the tone. This is a nourishing tinted treatment you can use in the salon and at home in 11 shades. Our go-tos for blondes? Lilac Frost for a pastel haze or Ivory Blonde for an icy finish, like the one you see here.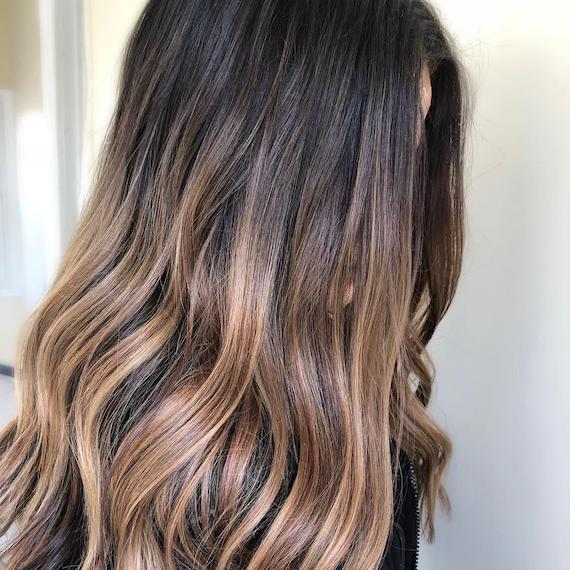 4
Blonde Dip-Dye on Dark Brown Hair
Image Credit: @christydoeshair
This is the dip-dye to end all dip-dyes; a dark to light creation that's cool, clean and fresh, perfected using BlondorPlex + Welloxon Perfect 6%. After the ends had been lifted to a warm level eight, the tone was balanced with Color Touch 5/1 + 7/1 on the roots, and 7/89 + 10/6 through mid-lengths and tips. Flawless.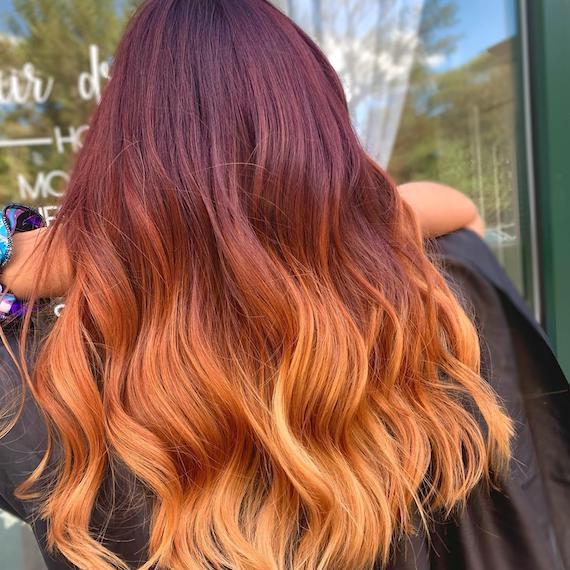 5
Strawberry Blonde Dip-Dye
Image Credit: @thehairwaytoheaven
Redheads can work a blonde dip-dye, too. This creation teams mahogany roots with strawberry blonde mid-lengths and ends for a colour combo that's beyond mesmerizing. Try the look with the Vibrant Reds palette from Koleston, choosing a deep tone, such as 6/41, to tone the roots, and 88/43 for the dipped strawberry blonde.
How to Maintain a Blonde Dip-Dye
1. Pick Protective Formulas
Care for blonde hair begins in the shower with your client's choice of shampoo and conditioner. Recommend they use gentle, nurturing formulas, like ColorMotion+ Color Protecting Shampoo and Moisturizing Color Reflection Conditioner. To keep lifted lengths hydrated, they'll also love the Structure+ Mask for a weekly treat; an intense cream that pampers coloured ends back to their best.
2. Top Up the Tint
In between toning sessions at the salon, suggest your clients refresh their colour at home with the Color Fresh Mask, which can be used in place of conditioner whenever their locks look brassy. The Ivory Blonde edition is perfect for pepping up cool-toned blonde dip-dyes, while Golden Gloss gives warm-toned dip-dyes a little extra glow.
3. Shield From the Heat
The third essential in your client's blonde haircare kit is a heat protection spray. Show them EIMI Thermal Image, which shields locks from heat up to 220 degrees celsius. It also veils strands in frizz-defying shine that lasts until the next wash. They'll want to use it before blow-drying, straightening or tonging.
These are your client's dip-dye staples for protecting their lifted locks. With these must-haves in their kit, their glossy blonde will stay looking luminous for longer.
SHOPWELLA STORE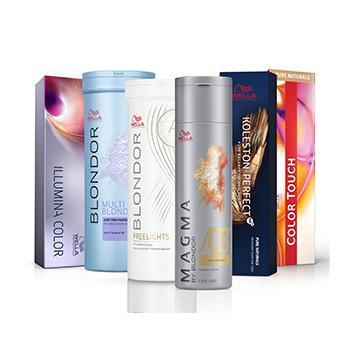 SHOP NOW
Products are only available to professionals.