Why Ice Blonde Is The Coolest Hair Trend Right Now
Ice blonde – or platinum blonde hair, if you prefer – is the coolest shade of blonde ever. When it's not turning heads on the NYFW catwalks, the trend is cropping up in the locks of A-list celebrities, from Lady Gaga to Kaia Gerber. The striking look features the palest of platinum tones, sometimes paired with a silver, white or blue hue, and always appearing to shimmer, as if strands have been veiled in a touch of frost.
So, how do you get hair to look this light? It may take a couple of salon appointments but, whether you're trying the trend yourself or you're a colorist creating the look, Wella Professionals' extensive color portfolio has got you covered.
How to achieve platinum blonde hair
1. Pre-Lighten Locks
First, hair must be pre-lightened. Use a lightener from the Blondor range, and aim for a level 10 to reach platinum brightness. This can take a few sessions, and the hair will typically come out as the palest yellow shade, but don't panic – the soft yellow pigment is completely normal and works as a base for your toner. Go any lighter than this, and you risk removing the natural keratin – the backbone of the hair.
2. Add WellaPlex
When lightening locks, add Wellaplex to your Blondor formula. This is our bond-strengthening system, which works to strengthen the strands of hair during the coloring process. Use the No1 Bond Maker first, which allows lightener or color to penetrate in the optimal way, then apply the No2 Bond Stabilizer after coloring to rebalance pH and strengthen the hair structure.
3. Apply Ice Blonde Color
Once you've perfected a pre-lightened base, it's time to personalize that platinum hue, mixing up a formula that flatters your client's skin tone and eye color. At this point, you can decide if you want to work with a semi, demi or permanent product. Some Passionista favorites include Opal-Essence by Illumina Color in Silver Mauve for a shimmery effect. You could also try Koleston Perfect in 10/16, 10/8 or 10/86 to achieve a more concentrated finish.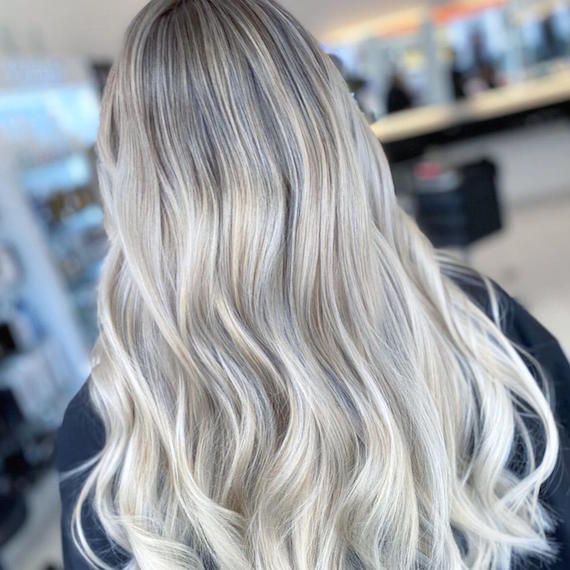 1
Platinum Blonde Hair with Dark Roots
Platinum blonde hair is dreamy, but it's not the most low-maintenance look – especially if your client has naturally dark roots that grow in fast. For those who want that icy freshness, but with easier upkeep, recommend they try platinum blonde hair with dark roots, featuring a soft, powdery shadow. 
Image Credit: @njuk_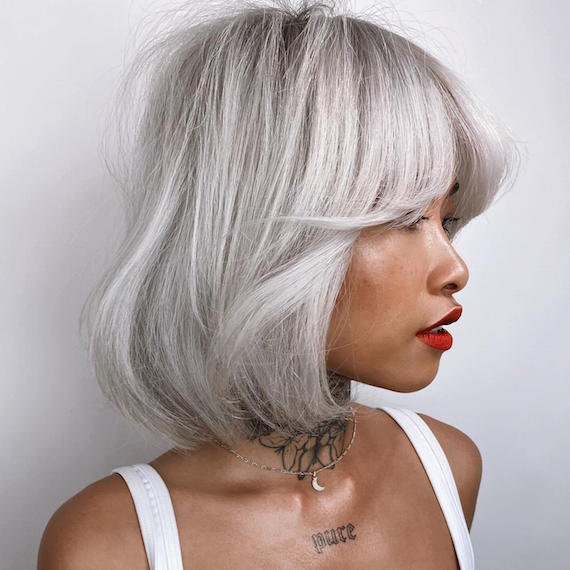 2
Ice Blonde Bob
Here, you're seeing our new BlondorPlex in action; a lightener that was virtually made for lift-intense looks like ice blonde, thanks to its built-in bond-builder technology. With this, you won't need to add WellaPlex No1, because the strengthening system is already in there, making it quicker and easier to achieve maximum lift. Make sure you complete the lightening service with WellaPlex No2.
Image Credit: @jhair_stylist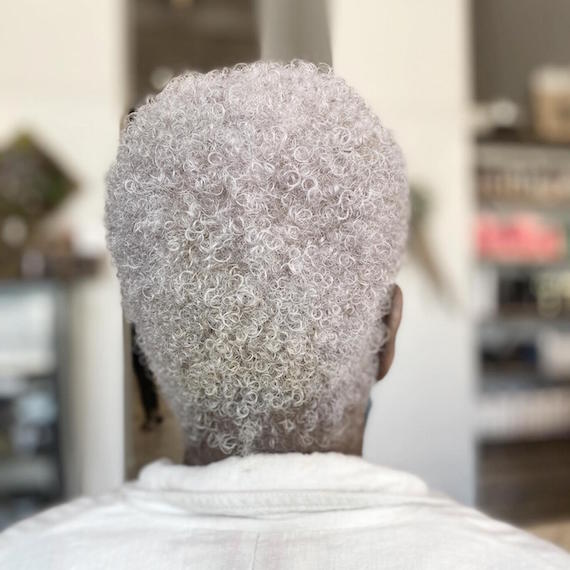 3
Ice Blonde Curly Hair
Platinum blonde curls are ultra-striking, and this look by Dana is no different. She used our Blondor Multi-Blonde Powder to achieve the platinum hue, followed by a Color Touch Transformational Toning Service using 10/81 with a line of 8/81. The powder is perfect for when your clients want a really high, platinum lift, as it goes up to seven levels and contains anti-yellow molecules for a cooler finish.
Image Credit: @danadidmyhair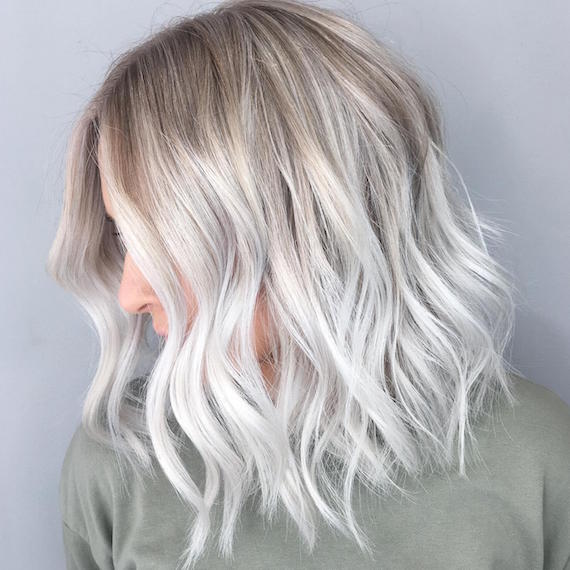 4
Ice Blonde Balayage
Ice blonde color and balayage are a match made in hair heaven, combining two of the biggest trends from the past decade. We love how Konstantinos has added a touch of vanilla blonde through the root area, then lightly tonged lengths to show off the sparkling high and low tones. To recreate the style, try loosely wrapping two-inch sections of hair around the ghd Curve Soft Curl Iron, tease with fingertips, and add a spritz of EIMI Stay Firm to set.
Image Credit: @konstantinos_hair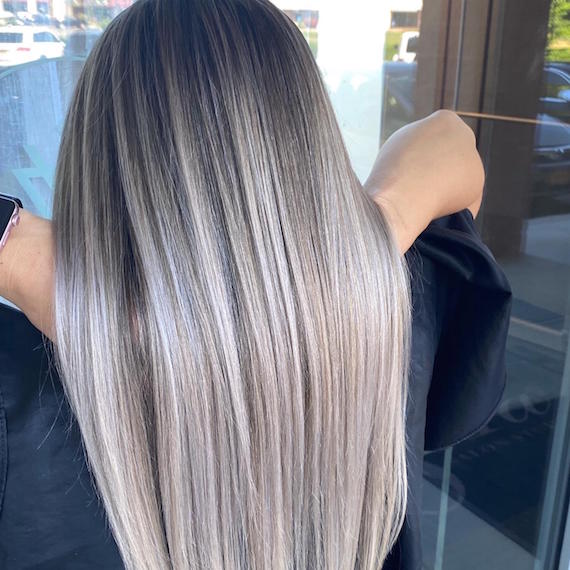 5
Ice Blonde Ombre
Proving ombre hair is here to stay, Angela created an ice blonde gradient that transitions seamlessly from ashy roots to perfectly platinum tips. A scattering of lowlights breaks up the brightness without altering the impact, resulting in a look that could pass for beachy when the temperatures rise once more.
Image Credit: @hairbyangelaalberici
How to Maintain Ice Blonde Hair
Don't forget to share these tips with your clients post ice blonde transformation. Or, if you've tried the look for yourself, keep these tricks up your sleeve for easy maintenance.
1. Use a Purple Shampoo
Purple shampoo is a must-have for every icy blonde. The violet pigments help to neutralize brassiness and keep any overly-warm tones at bay between salon visits. Try INVIGO Cool Blonde Color Refreshing Shampoo.
2. Book in a Glossing Service
A color top-up in the space of a lunch break? Our glossing service makes that possible, offering a hint of a shine-boosting tint for locks in need of a quick refresh. This isn't to replace a lighten-and-tone service, but it helps to bridge the gap in between, making ice blonde hair look freshly-done.
3. Step Away from Heat Styling
Heat can speed up the color fade process, making it go brassy much quicker. It therefore makes sense that reducing heat styling would help clients maintain that cool, crisp shade for longer. However, not everyone is ready to put the curling iron away, which is where a heat protection spray, like EIMI Thermal Image, comes into play. Mist from root to tip before blow drying or tonging to safeguard strands.
Find more hair color inspiration on the Wella Hair Pinterest, and follow @WellaHairUSA on Instagram for the hottest new-season looks. Make sure to tag us in your photos with #MakeChange #WellaFamily to show off your latest creations and be in with the chance of a feature on our social channels.
Discover more on ice blonde color tips, trends and application advice with Wella Professionals UK Color Trend Expert, Zoë Irwin, in our demonstration below.