*This* is How You Create the Balayage Bob of Dreams
What do you get when you merge the hottest highlighting technique with this summer's must-have haircut? It can only be the balayage bob; a style so seamlessly sun-kissed, everyone will want it. While you might be used to seeing freehand blonde highlights swathed through longer, mermaid-like locks, a shorter take is just as 'Gram-worthy, and requires some serious coloring skills. After all, your challenge is to make those 'lights look natural with only a little bit of length to work with. So, how do you perfect your client's balayage bob? Here's everything you need to know…
How to Create a Balayage Bob
How to Cut a Bob Haircut
1. If you're lopping off a lot of length to give your client a balayage bob, you'll need to do the cut first, so you can see exactly how much hair there is to highlight. On mid-length or long hair, go ahead and chop the length so it skims shoulders for a lob (long bob) or use the chin as your guide for a shorter style.
2. On very thick hair, remove some of the weight with texturizing shears. Go slow at first, so you don't take too much volume away. Bonus: reducing the excess length and weight before the coloring service will save you time and money, as you will have less hair to apply color to.
3. When you've reached the right length, neaten the style by gently point-cutting the ends. You could also add layers or some feathering through the front to give the bob extra texture and dimension.
How to Do the Balayage Bob
1. The best balayage technique always starts with our freehand hair lightener, Blondor Freelights. It allows for the most precise highlights, with an adhesive mass that ensures it stays exactly where you apply it. Mix it up, keeping in mind that, when you're doing balayage foil-free, you might want to increase the volume of the developer to get plenty of lightness and lift.
2. When it comes to placement, you should always start by sweeping Blondor Freelights where you want balayage to appear most intense. These sections of hair will end up having the lightener on them for the longest, so they'll experience more of a lift. With a bob, extra brightness through the face-framing layers is ultra-flattering, as it frames the cut flawlessly and makes the complexion glow. Try this as a starting point.
3. Around the face, start sweeping the lightener about an inch down from the root. For the rest of the hair, take a painterly approach, gliding your brush through the mid-lengths and ends at varying heights. Just keep in mind that, the lower you apply balayage on a bob, the sooner it gets cut out. That's why we tend to start highlights higher than we would on mid-length or longer hair.
4. Once the lightener has developed, rinse out and – if needed – tone the hair to the perfect shade. Then it's time to blow-dry and style… PSA: a wavy bob always gets plenty of Insta likes.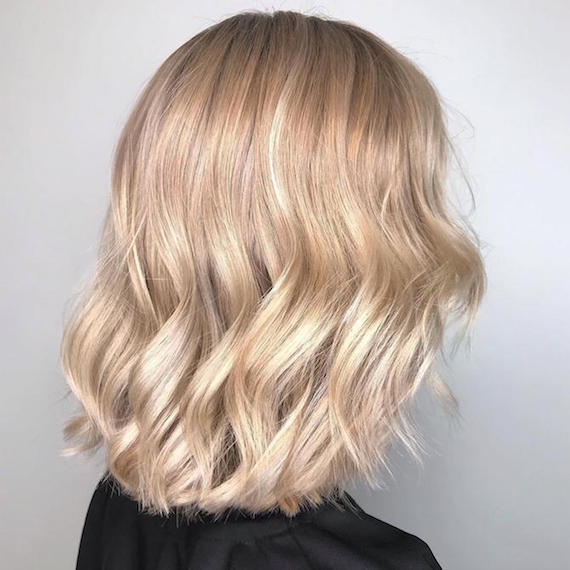 1
Blonde Balayage Bob
Image Credit: @audreym_paris
A blonde-on-blonde balayage is all about adding 'spotlights' of brightness through the mid-lengths and tips, helping to lend some extra shimmer to an already-light base. These soft-focus, diffused highlights, by Audrey Meigneux, are a perfect example of seamless blending, and you can bump up the glow even further by spritzing EIMI Glam Mist shine spray after styling.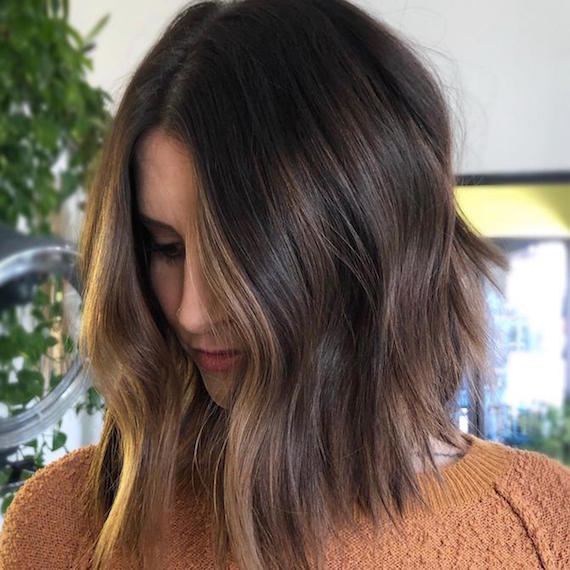 2
Brown Balayage Bob
Image Credit: @jt_hairandmakeup
Who said blondes get to have all the fun? We love a brunette balayage, and this modern creation by Jessica Tyransky flawlessly demonstrates why. Every balayaged ribbon – perfected using Blondor – works to give the bob even more depth and volume, but the shift in shade is so subtle, it could pass for a natural, born-with-it hue. We're obsessed.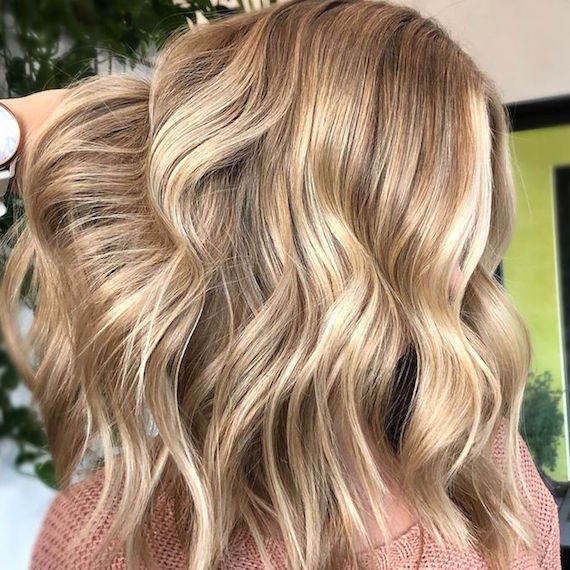 3
Caramel Balayage Bob
Image Credit: @jt_hairandmakeup
How delicious is this caramel blonde balayage bob? The shade is brimming with luster and shine, and the wavy styling only adds to the high-shine effect. If your clients are craving a rich, toasted hue like this, point them in the direction of INVIGO Blonde Recharge Warm Blonde Conditioner, which they can use between appointments to ensure their balayage doesn't steer too warm.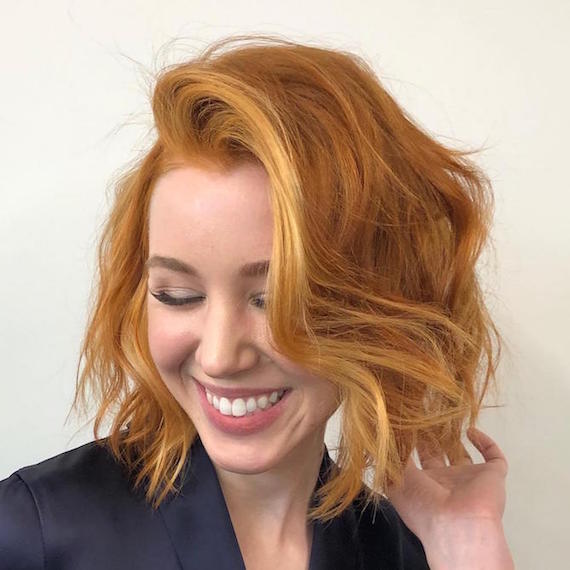 4
Copper Balayage Bob
Image Credit: @shannonrha
For this bold copper hair creation, Shannon Rha started by trimming in a razor textured bob, before carrying out a three-hour color correction with Wella Hair Color Global Ambassador Briana Cisneros. They co-created a blend of babylights and foilyage (balayage in foils), before Wella Global Creative Artist Sonya Dove colored locks using permanent Koleston Perfect. Talk about a dream team.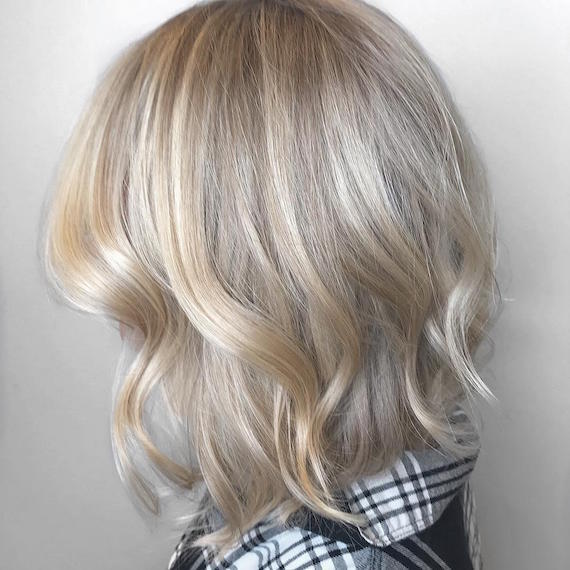 5
Ash Blonde Balayage Bob
Image Credit: @lift_lob_love
This isn't your average ash blonde. Instead of an all-over cool, ashy tone, it pops up in subtle babylights, intertwined with hints of ivory, beige and vanilla blonde. The result? A multi-tonal mane that takes a bob from glossy to glossier, lending the appearance of bountiful bouncy volume and depth. To get the look, Laura Marie lifted hair with Blondor + 6%, then toned using demi-permanent Color Touch with 10/6 + 10/03 + 4 % developer.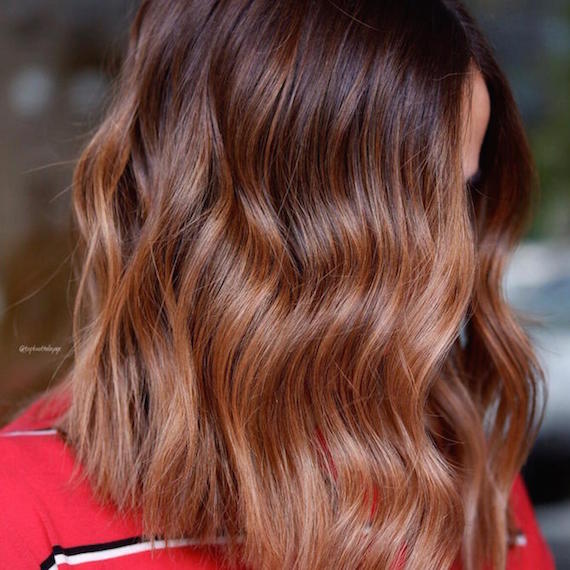 6
Balayage Lob
Image Credit: @topknotbalayage
A balayage lob brushes the shoulders, giving you a little more length to lift and lighten, and offering the chance to start your highlights a few inches further down from the roots. Case in point: this bronde hair look by Amanda Leaman, which was lightened from the mid-lengths to ends, then toned using Color Touch 8/71 + 8/0 + a line of 8/43.
Vanilla Balayage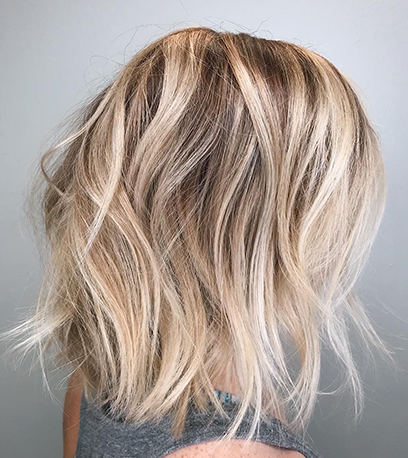 Color Formulas:  
Blondor Freelights, Freelights Developer,
Color Touch, Color Touch Emulsion
Sections:
Balayage: 30g Freelights + 60g 9% 
Lowlights: 20g 7/1 + 40g 1.9% (isolated in foil)% 
Tone: 30g 10/6 + 60g 1.9% 
Ash Balayage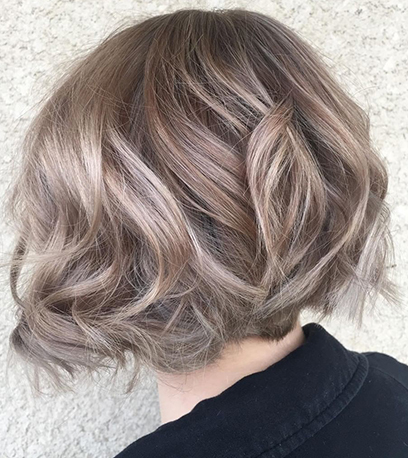 Color Formulas:  
Blondor Freelights, Freelights Developer,
Color Touch, Color Touch Emulsion
Lighten: 30g Freelights + 60g 9%
Tone: 
Roots: 10g 7/0 + 10g 7/1 + 40g 1.9% % 
Lengths and ends: 15g 7/89 + 15g 8/71 + 60g 1.9% 
Peach Cobbler Balayage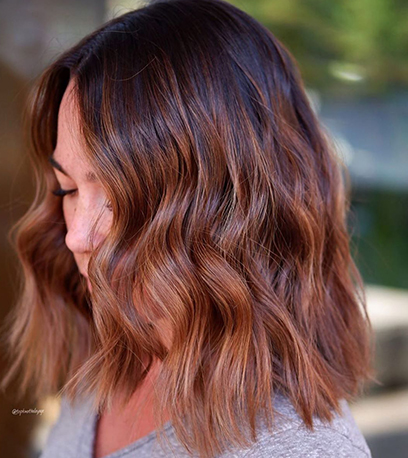 Color Formulas:  
Blondor Freelights, Freelights Developer, Color Touch,
Color Touch Emulsion, Invigo Post Color Treatment
Lighten: 30g Freelights + 60g 9% 
Gloss: 15g 7/0 + 15g 7/73 + 30g Invigo + 30g 1.9% 
Golden Balayage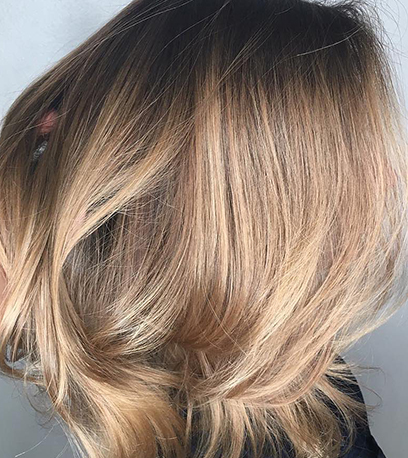 Color Formulas:  
Blondor Freelights, Freelights Developer, Koleston Perfect,
Welloxon Perfect, Invigo Post Color Treatment
Lighten: 30g Freelights + 60g 6%
Lowlights: 20g 8/97 + 20g 6/97 + 40g 4%
Multi-Tonal Balayage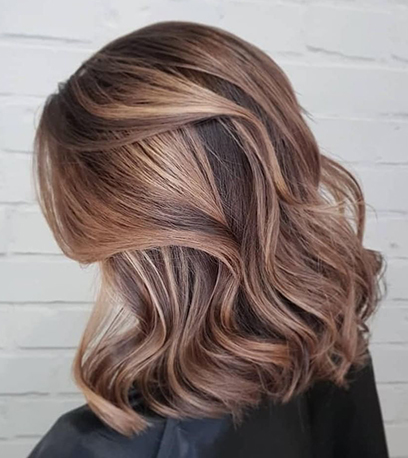 Color Formulas:  
Magma by Blondor, Freelights Developer, Magma Post Treatment,
Illumina Color, Welloxon Perfect, Invigo Post Color Treatment
Freehand:
A: 30g /89 + 60g 12%
B: 20g /07 + 40g 9%
Gloss: 15g 8/05 + 15g Invigo + 15g 1.9%
How to Maintain a Balayage Bob
1. Lift the Line
It goes without saying that regular trims – every six to eight weeks – are a must with a bob. But how do you also keep that breezy balayage looking fresh? Quite simply, lift the (subtle, seamless) line at every other appointment, shortening a grown-out root stretch by blending the lightener further up the hair shaft.
2. Get the Gloss
Another way of maintaining balayage is by glossing or toning the mid-lengths and ends. Try a Pure Glossing Service for clients in need of a quick fix; it can be done in the space of a lunch break. Not only will a gloss help to eliminate any unwanted brassy tones, but it will also pump locks with some much-needed shine and gently refresh the color.
3. Share Top Tips
If your client is new to balayage, make sure they leave the salon with plenty of advice on how to care for their high-lights. Top of the list is a shampoo and conditioner routine that's kind to their color and prevents fading. For all shades, ColorMotion+ Color Protection Shampoo and Color Reflection Conditioner are both must-haves, while the INVIGO Blonde Recharge and Color Recharge collections feature targeted treatments tailored to blondes, brunettes and redheads.