How To Go From Highlights to All-Over Blonde
As colourists, we love nothing more than seeing big hair transformations come to life in salons. There are few things more satisfying than a brown to blonde transition , or a fresh scattering of contrasting balayage. But one of the most eye-catching switch-ups involves taking hair from highlights to an all-over blonde; a change that doesn't just alter the colour, but also the dimension seen through strands.
So, how can you swap your client's full head of highlights for a full head blonde colour? Let's break down the tips, tricks and techniques – as well as the 'before and after' shots – you need to know...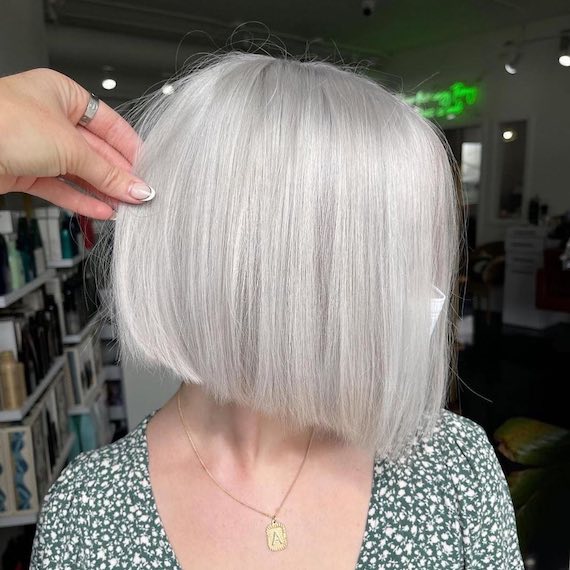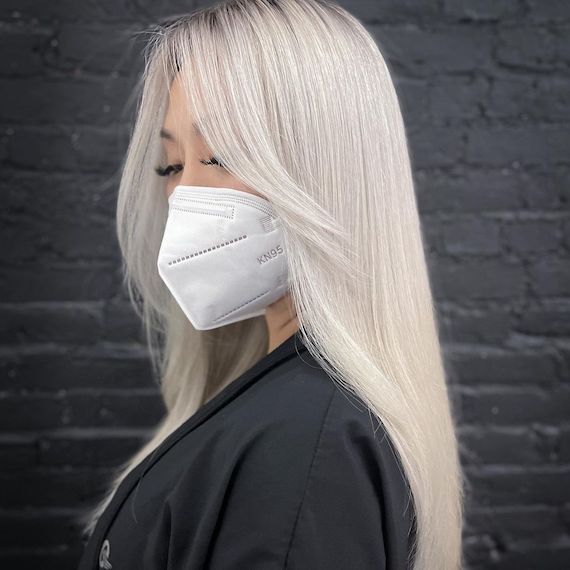 All-Over Colour vs Highlights
The difference between these looks is straightforward. All-over colour covers the entire head of hair, giving your client a root-to-tip blonde that's statement-making in its simplicity. A great example is the Nordic blonde hair trend; a look that's pure and bright, with very few (or zero) highs and lows, so hair appears like a silky, soft sheet of icy blonde. Meanwhile, highlights swap uniform colour for bumped-up dimension, teaming brighter pieces of blonde with lowlights for the perfect balance of tones. Both looks are ultra-covetable, meaning there's no wrong or right choice for your client. Just make sure they show you photos before you start to cover their highlights, so you can make sure the outcome matches up to their goals.
How to Cover Highlights
Step 1: Lighten and Foil the Darker Pieces
Take note: transitioning hair from highlights to all-over blonde can be a lengthy colour process. To start, you may need to work around the existing highlights to bleach the darker roots, lengths and ends. Start by sweeping through the darker pieces section by section, saturating hair strands with BlondorPlex. If the existing highlights also need lifting, use a bleach with a lower volume developer on the lighter colour, so strands blend more seamlessly with the base hair colour. Once locks have been lifted to the correct underlying tone, rinse and neutralize, so your client is ready for toning.
Step 2: Pre-Tone Hair for a Seamless Blend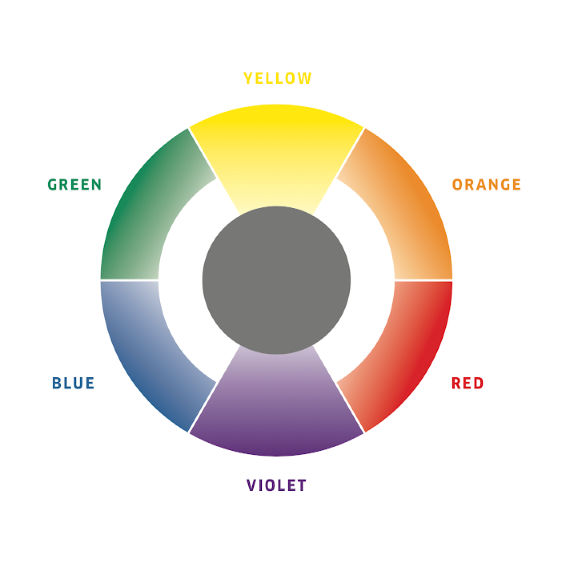 This isn't always essential, but there are cases where pre-toning hair will be required. For example, if there are stubborn, overly warm tones in the newly lifted strands and/or the old highlights. Reach for corrective hues that sit opposite the unwanted shades on the colour wheel (above). That means choosing colours with hints of blue to counteract orange, touches of ash green to reverse red flecks, and a dose of violet to balance yellow or golden tones.
Step 3: Finish with Your Client's Perfect Blonde
Once the processing time on corrective toning is complete, tone hair again – this time with your client's dream hair colour. Usually, all-over blondes look freshest in cool or neutral shades, like ash blonde, platinum blonde or vanilla blonde. You'll find a host of lighter colours in the permanent Illumina Color and Koleston Perfect palettes, as well as the demi-permanent Color Touch and semi-permanent Color Fresh collections. Meanwhile, for a high-shine glaze with a natural colour finish, you could also carry out a Shinefinity Color Glaze, which veils lightened locks in a translucent tint that positively glows.
Blonde Highlights to All-Over Blonde Colour - Before and After
Sometimes you just need to see it to believe it. That's why we've rounded up four of our favorite 'before and after' colour transformations to show you how mesmerizing all-over blonde tones can be.
Bronde Highlights to Lilac Frost Hair Colour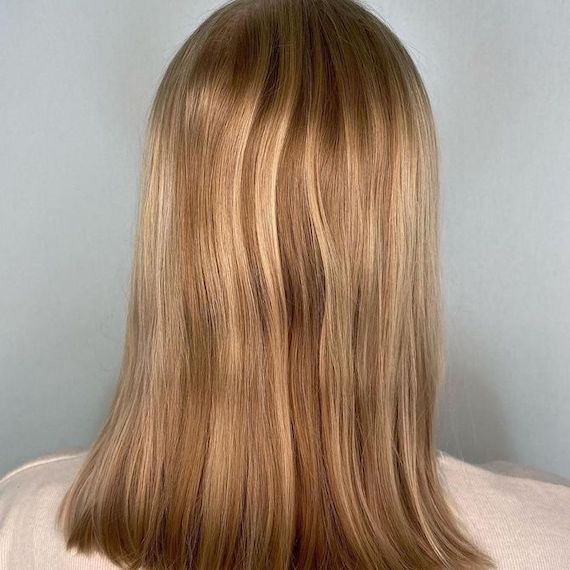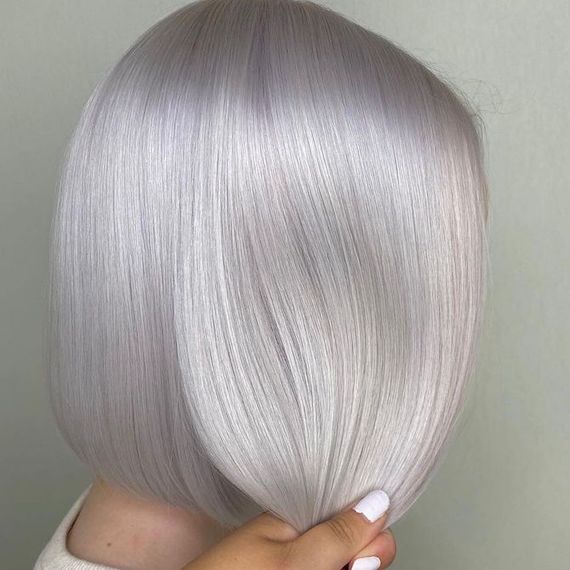 It's hard to believe golden bronde (brown blonde) highlights could turn into such a pure lilac platinum, but here's all the proof you need that it's possible – and in a single session, no less. Try recreating the look with BlondorPlex + 6% on areas where darker shades are visible, and + 4% on the lighter shades, which will give you the ideal canvas for toning. Then, apply Koleston Perfect 10/16 + 10/97 + 10/95 + 1.9% for a double-process platinum blonde with a shimmering hint of purple.
Brunette Highlights to All-Over Honey Blonde Hues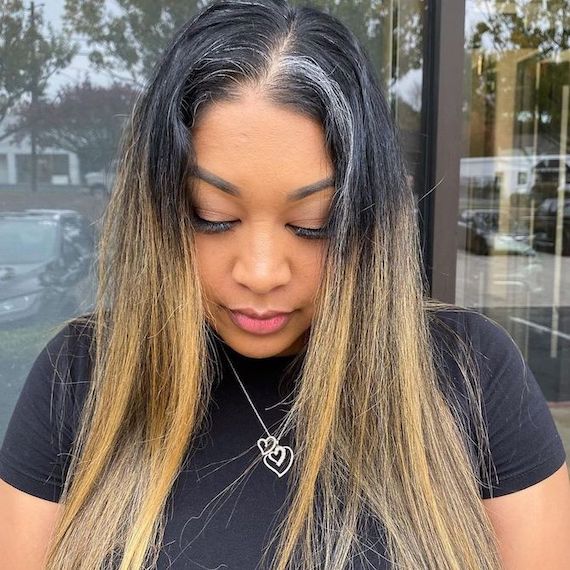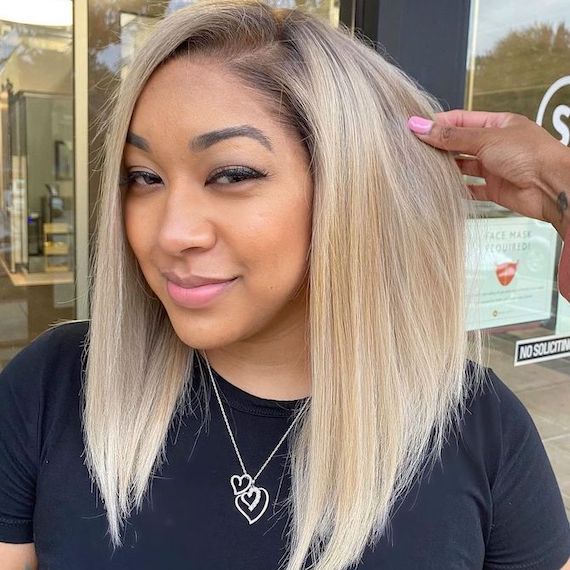 What a transformation. This client went from dark brown hair with first greys and caramel highlights, to an all-over honey blonde with a hint of a natural-looking root shadow peeking through. Try crafting the look with BlondorPlex and two developers: a higher volume to lift the roots and darker pieces and a lower volume for the already-lightened ends. The root section may need a pre-toning session with an ashy Color Touch shade to nix orange tones, before you can tone all over with a dreamy, honeyed hue.
Red Highlights to All-Over Ice Blonde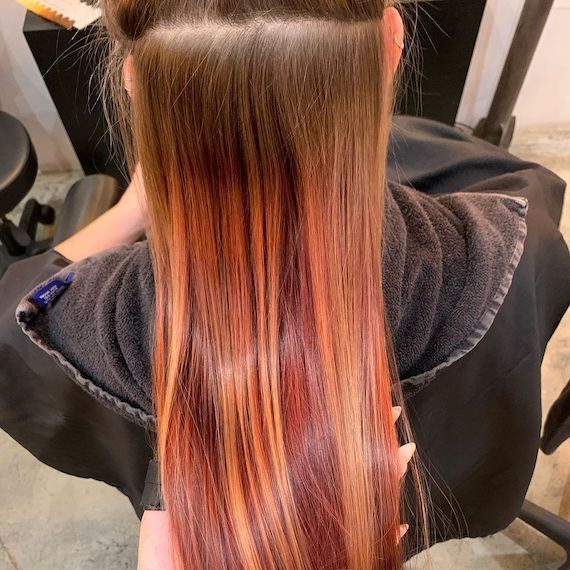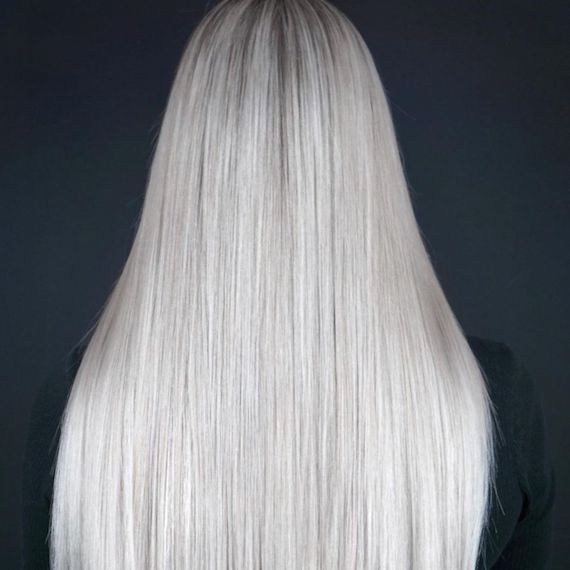 Going from red highlights to platinum blonde is no mean feat. In fact, Karamia said that this look is "a transformation that has taken years, pandemics, patience, and tested nearly everything I know about colour theory". Blondor was used to lighten and Color Touch to tone over a number of sessions, so if you want to recreate the look you'll need: a) a patient client, and b) the colour wheel to help you keep refining the tone from one salon trip to the next.
Golden Blonde Highlights to Vanilla Blonde Hair Colour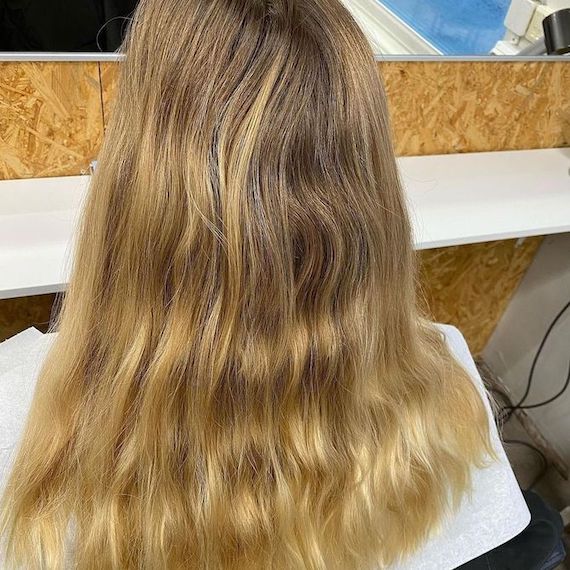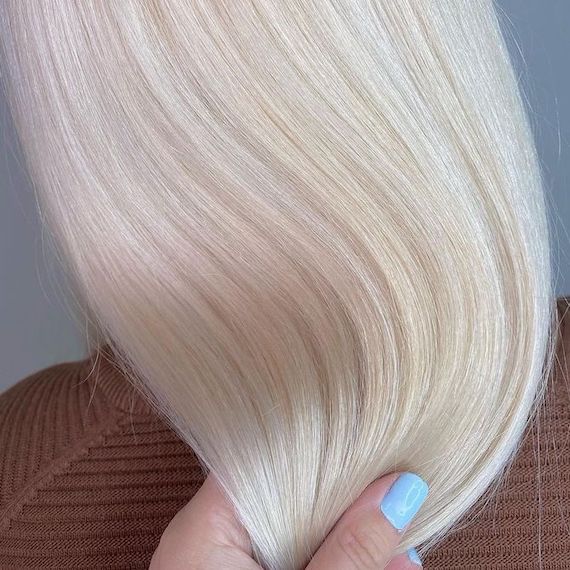 Who knew vanilla and beige tones could be so eye-catching? This all-over blonde transformation was brought to you by a whole lot of lightener and the coolest toners around. The highlights were lifted out with BlondorPlex wrapped in foils first, then demi-permanent Color Touch 9/96 + 10/81 + 1.9% was applied to refresh and refine. It's another masterpiece from Wella Master Colour Expert Elisa Luomala.
How to Cover Darker Highlights to Achieve All-Over Colour
3 Tips to Cover Brunette Highlights
If your client is working brown hair with brunette highlights, the transformation from dark to blonde won't be as simple – but that doesn't mean it can't be done. Keep these tips in mind when giving dark hair a root-to-tip blonde makeover...
1. Prepare Clients For the Process
While taking hair from brunette to blonde in one session isn't impossible, many clients need to make regular visits to the salon to achieve their lighter colour. Assess their hair type to understand how many colouring sessions will be required to lift both their base colour and brunette highlights. Then let them know what to expect before the process begins. If your client's hair is a bronde shade (AKA brown blonde), featuring golden highlights, a single session might be enough, but if their hair is a dark espresso brown, two or three appointments may be required for an all-over blonde.
2. Work With the Underlying Tone
If your client's natural hair colour is, for example, a golden brunette with caramel highlights, suggest they try an all-over blonde shade in a warm tone (instead of cool) to ensure the shift doesn't feel too dramatic. Similarly, if their base hair tone is a cool brunette, introduce them to a root-to-tip blonde with ashy tones. Switching from brown to blonde hair is a big change, but maintaining the undertones can make the change seem more seamless.
3. Recommend a Silver or Purple Shampoo
In between salon visits, undertones from your client's natural colour may start to come through. For example, if their natural hair colour is warm-toned, hints of yellow can appear through their all-over blonde. As their colourist, you'll be able to fix this quickly in the chair, but an at-home fix is a must too. That's why they should be using a silver or purple shampoo to neutralize brassiness. Introduce them to INVIGO Cool Blonde Recharge Shampoo, which cools locks down when left on for 3-5 minutes and rinsed thoroughly.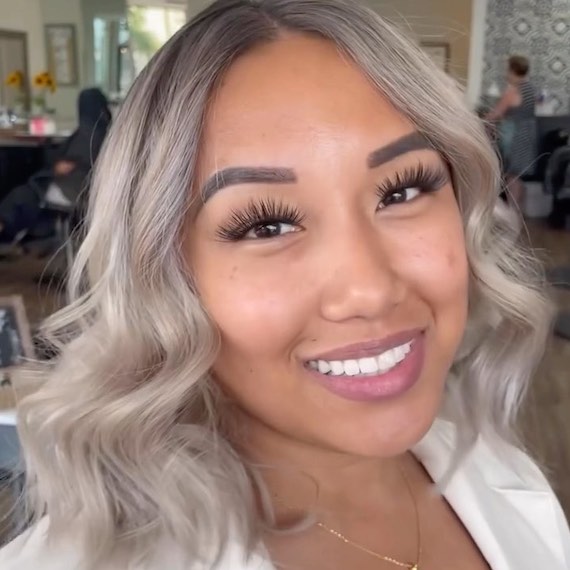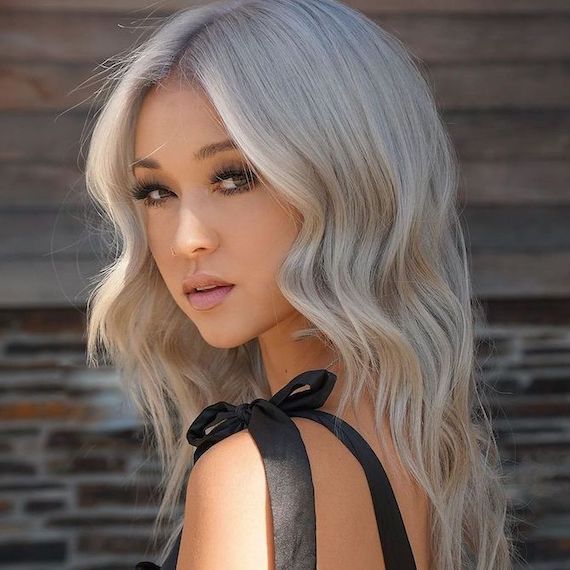 3 Tips to Cover Red Highlights
Red hair colour is notoriously tricky to cover – but not impossible. Every transformation is unique, but if you're dealing with red highlights, these tips will help you out...
1. Use a Bond-Strengthening Hair Lightener
Lifting red and yellow tones out of your client's hair can take time and lots of lightener, so make sure red hair is well cared for with our bond-strengthening WellaPlex ingredient. You can harness its powers by adding the No1 Bond Maker to your Blondor formula, or you can sweep on BlondorPlex, which already has the ingredient mixed in. Finish the service with a rinse of the No2 Bond Stabilizer to neutralize locks. This hard-working, hair-protecting system can also be used as part of a toning service.
2. Correct Red and Orange Tones By Lifting to the Correct Level
Whether you're covering a copper balayage or blending strawberry blonde highlights into an all-over blonde, it's important you use a lightener that can lift locks to an orange yellow, true yellow or pale yellow hue. This will provide the perfect base for toning to an all-over blonde. Going from red highlights to blonde hair can take a few sessions – even if your client craves an auburn blonde – so prepare them for a lengthy colour journey.
3. Show Your Client How to Maintain Their All-Over Colour
Your client's all-over process isn't complete when they've reached their perfect shade. They still need to maintain it at home if they want to keep stubborn red or orange tones at bay. Remind them to use colour-locking hair care, like the shielding INVIGO Brilliance Color Protection Shampoo and Vibrant Color Conditioner. They can also top up their blonde tone at home by choosing a shade of the pigmented Color Fresh Mask. This tinted treatment should be smoothed through clean, damp hair in place of conditioner, and left on for 10 minutes to eliminate any excess warm shades in their newly blonde hair.
3 Tips to Cover Bold Highlights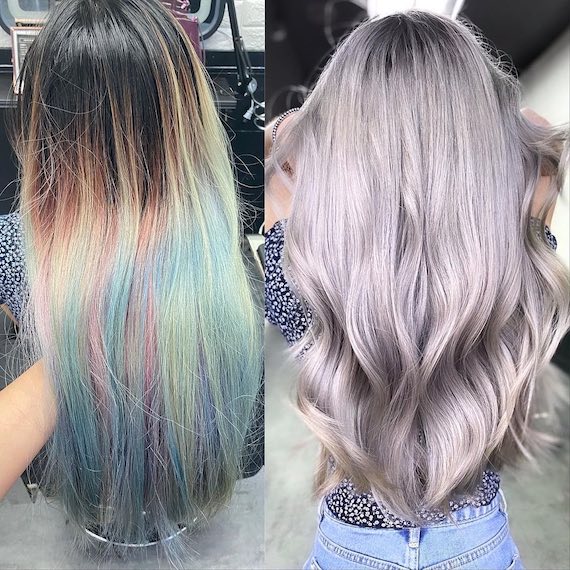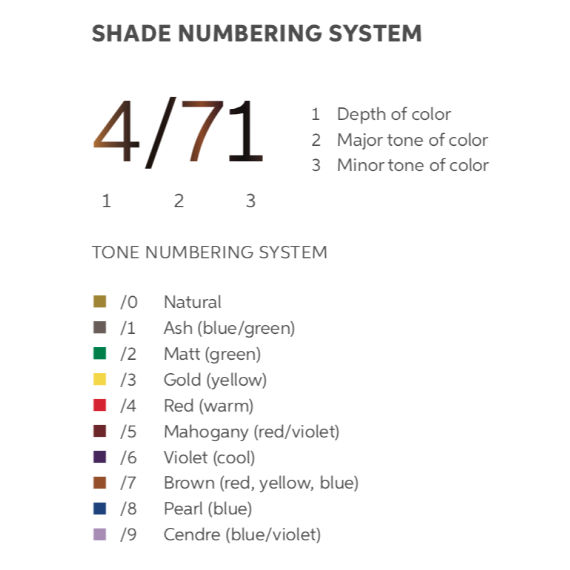 Whether your client is working bright blue hair, pastel hair or peach blonde hair with their bold highlights, you'll need to give strands specialized care to reach a balanced all-over blonde...
1. Use a Hair Colour Remover to Reset Their Base Shade
In some cases, reversing bold highlights is just a matter of time. If they were painted with a semi-permanent colour, like Color Fresh CREATE, the shade will last up to 20 washes. However, if your client's bold highlights were swept on with an oxidative permanent formula, you may need to apply a colour remover to take them back to their natural colour. Try Color Renew, painting it through the darkest, most pigmented areas first, and allow for a 5-45 minute processing time, depending on the desired result. Rinse out with water only and ensure hair is 100% dry before you go on to recolour locks.
2. Refer to the Colour Wheel to Correct Tones Left Behind
Are there still hints of pastel pink or lilac frost through your client's hair? Then refer back to the colour wheel and the Wella colour chart (both above) to see which tones sit opposite the hues you're removing. Having these accents in your pre-toning formula will create a cleaner canvas for your root-to-tip blonde shade to pop.
3. Complete the Service with a High-Shine Glaze
If your client is used to bold hair colour, they'll still want their new all-over shade to pop. The best way is with a clear Shinefinity glaze for megawatt gloss and a shimmery topcoat. Add this service to the end of their appointment by mixing Shinefinity in 00/00 Crystal Clear with the Brush & Bowl or Bottle Activator, and then applying it from root to tip. The processing time is less than 20 minutes, so they'll be glowing in no time.
Now you've got all the tips you need to cover highlights and create an all-over blonde with confidence. Don't forget to share your 'before and after' shots with us by tagging @WellaHairUKI on Instagram.