How to Create Dimensional Blonde Hair with Lowlights
Do you ever feel like a fresh mane of blonde hair looks somewhat dull? Sometimes, an all-over blonde colour can look artificial, but one way of softening that is by weaving in lowlights of different blonde shades. By introducing pockets of light and shade you reveal a more natural looking, multi-tonal blonde your client will love. Lowlights are also great for adding more dimension to a balayage result that may be a bit too blonde. Lowlights create depth, texture and volume and are great for enhancing the client's facial features, working with their skin tone.
When highlighting, you lift the pigment out of the hair with weaves or slices isolated in foils (or free hand techniques such as balayage). With the lowlight technique you are replacing the pigment back into the air with foils or freehand techniques. A balance of blonde highlights and lowlights will give you a more natural-looking blonde. Read our dedicated article about the difference between highlights and lowlights if you want to learn more.
If you are applying lowlights to darken hair that's already been lightened, that's an additional chemical service that can cause further processing to the hair and areas of damage. Therefore, it's always recommended to add Wellaplex to your formulas to strengthen the bonds within the hair and prevent any damage.
How to add dimension to all over blonde hair
It's really important to understand what type of blonde your client is looking for. Does she want to feel significantly lighter than her natural colour, or subtly enhance her natural shade?If your client does feel she has become too blonde, this is where lowlights come in to save the day. It's also important to understand that a subtle change for us hairdressers may seem like a drastic one for the client so adding lots of darker pieces into their hair might seem too extreme.As a rule for lowlighting, chose a colour that is one shade lighter than the natural hair or two shades darker than the highlights.
Work with thicker slices through the back and the sides, and finer weaves around the face and through the parting. As blonde hair tends to be more porous, consider using shades with an element of warmth because cool shades may leave it looking duller and flat.
Demi Permanent Hair Color like Color Touch 7/7 or 8/73 are great for lowlighting – if these are too warm, introduce some of your Pure Naturals into the mix.
Blonde hair with lowlights looks that we love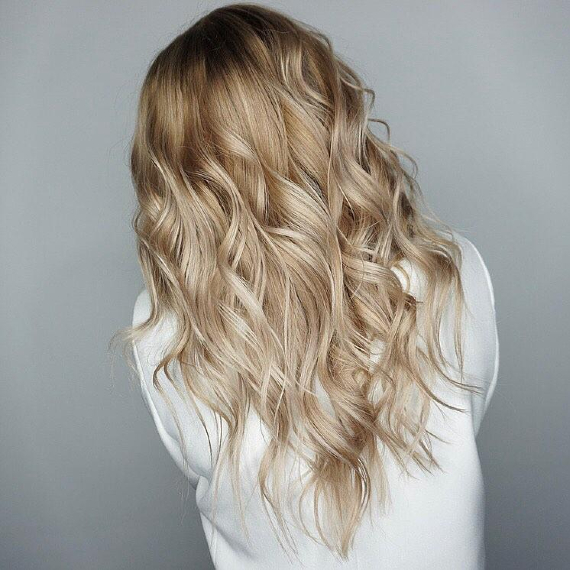 1
1. Illuminage blonde
Image Credit: @kai.sohn
We're loving this luminous and glowing look created by Kai Sohn. After lightening the hair with Blondor Freelights, he used a balayage technique and blended lighter, cooler lowlights to create more depth to the balayage.
Blondor Freelights & Welloxon Perfect
1) 30g Freelights Powder + 45g 9%
Illumina Color & Welloxon Perfect
2) Lowlights: 20g 9/59 + 40g 9/19 + 60g 6%
3) Color Melting : 10g 7/ + 10g 6/16 + 40g 1.9%
4) Toner: 20g 10/36 + 20g 9/59 + 80g 1.9%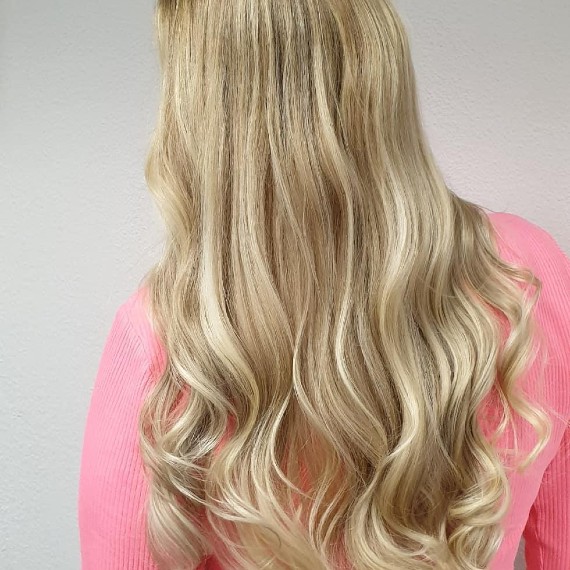 2
2. Long balayaged locks
Image Credit: @pablofriseure
Balayage is great for all types of hair but it's definitely mesmerising on long locks. To add more depth and movement into this very light balayage, Pablo Friseure used Koleston Perfect for a combination of highlights and lowlights, resulting in glowing sandy blonde beach waves.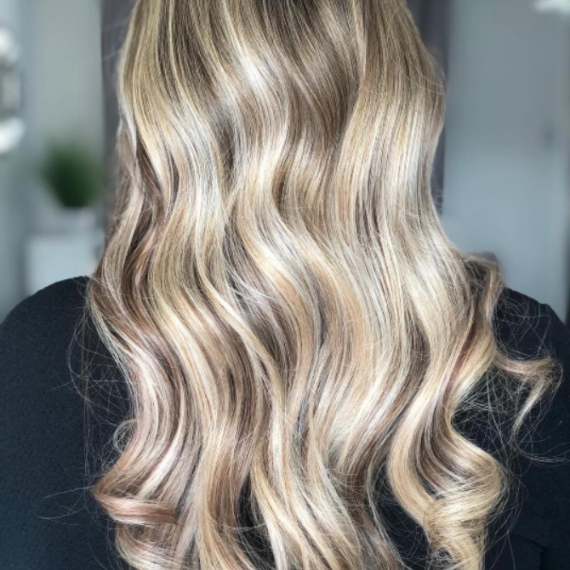 3
3. Blonde melting
Image Credit: @styled_byheather
When we're talking about dimension, there's no better example than this look that we absolutely adore. By using the back comb balayage technique, Heather seamlessly blended shades of dark blonde with cooler light blondes.
Blondor & Welloxon
Balayage: 30g Multi Blonde Powder + 45g 6%
Color Touch and Color Touch Emulsion
Lowlights: 30g 4/71 + 60g 1.9%
Illumina Color + Welloxon Perfect
Toner: 20g 8/69 + 10g 7/81 + 10g 9/60 + 80g 1.9%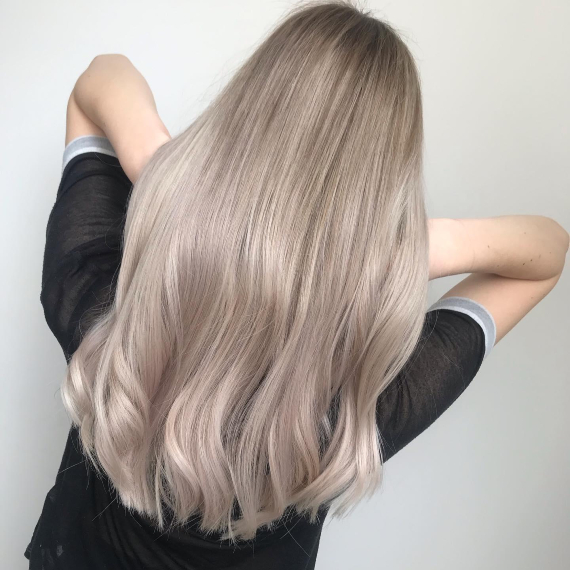 4
4. Ash blonde and platinum lowlights
Image Credit: cheryldoighairstylist
For all the ice queens out there, try this extremely cool look created by Cheryl Doig. She used an overall ash blonde color and enhanced by scattering ice blonde lowlights towards the ends. She also added extra shine by glossing the hair. Formula used:  
Koleston Perfect & Welloxon Perfect
Lowlights: 20g 7/7 + 20g 6/0 + 1g 6/34 + 82g 1.9%
(wash and dry)
Color Touch & Color Touch Emulsion
Gloss roots: 20g 6/0 + 20g 7/89 + 80g 1.9%
Gloss ends: 20g 9/96 + 20g 9/01 + 20g 10/0 + 120g 1.9%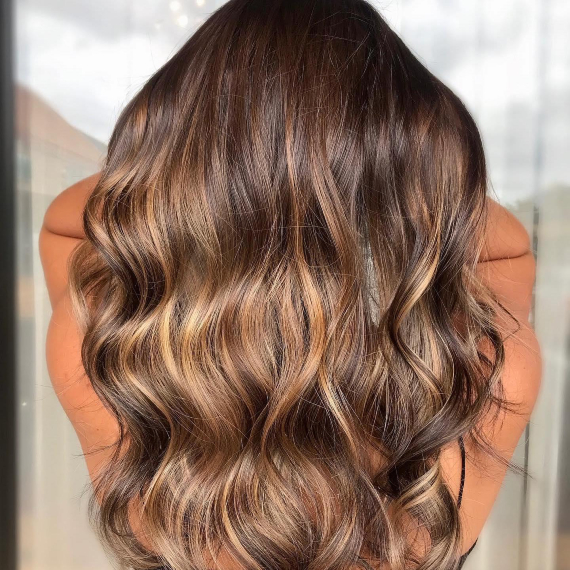 5
5. Golden brown and caramel lowlights
Image Credit: wellanordic
Blonde hair isn't the only colour that can benefit from more dimension. By introducing subtle lowlights Veronica Faith's caramel highlights really pop. The formula used by Veronica to create it is:
Blondor Freelights + Freelights Developer
Highlights: 30g Freelights Powder + 60g 9%
Color Touch & Color Touch Emulsion
Roots: 30g 5/0 + 60g 1.9%
Lowlights: 30g 6/0 + 30g 6/7 + 120g 1.9%
Toner: 20g 9/03 + 10g 9/73 + 60g 1.9%
Add dimension to your blonde looks by using some of these formulas and share them with us on Instagram using @wellahairUK and #Wellapassionistas!