8 of the Prettiest Pastel Pink Hair Ideas
Pretty in pastel pink is the vibe for summer '21, as clients turn to fun, fresh hues that shimmer and shine as the temperatures rise. This pretty shade is trending head to toe – in your hair and in your closet – meaning an influx of pastel pink hair requests is about to come your way.
Be ready with eight inspiring formulas for every type of pastel pink 'do, from a bright-to-light ombre, to a sparkly rose gold mane. Plus, discover the aftercare you should be recommending to your clients. This soft hue is prone to shade fade, but Wella's must-have tips will keep locks vibrant for longer.
Pastel Pink Hair Formulas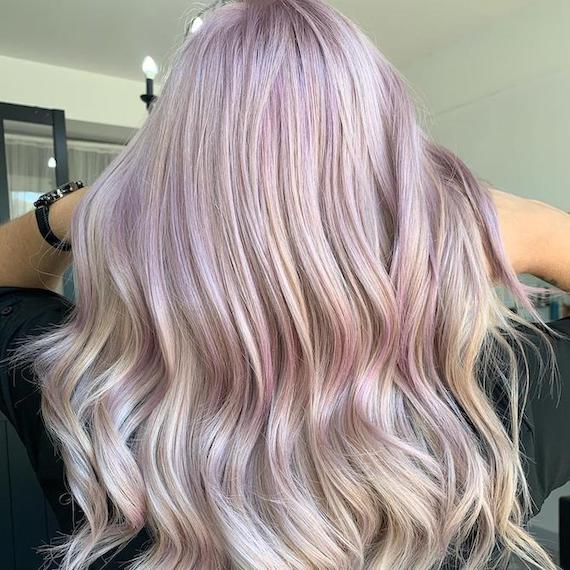 1
1. Pastel Pink Highlights
Image Credit: @oz_beauties
For clients who aren't quite ready to take the plunge with full-head pastel pink, opt for macaron ribbons through a light blonde base. Those candied highlights catch the light in the prettiest way. Try lifting with BlondorPlex + 6% first, then stroke Koleston Perfect 9/81 + 9/96 + 55/65 through top-layer pieces to sweeten the deal.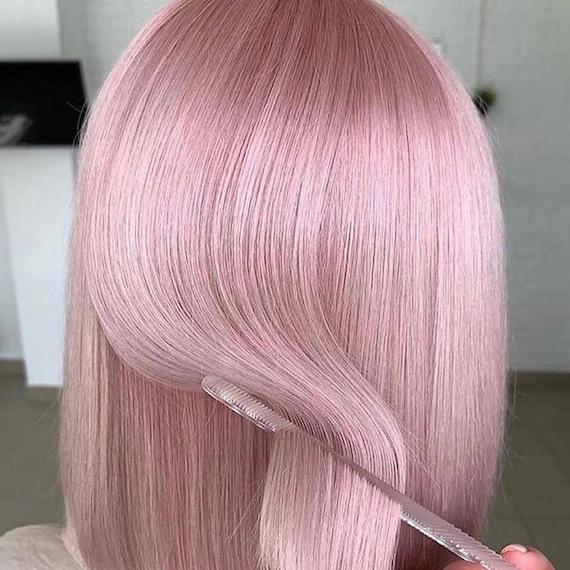 2
2. Light Pink Hair
Image Credit: @wella_makoto_ueda
This is pure pastel pink at its punchiest. To create the look, locks were lightened with Blondor Soft Cream + 4% first, which enables gentler lifting when you're working close to the root. Next, permanent Illumina Color 10/36 + 10/05 + 1.9% was applied. Then, after the formula was rinsed, hair was treated to a final gloss of Color Fresh CREATE in NuDist Pink.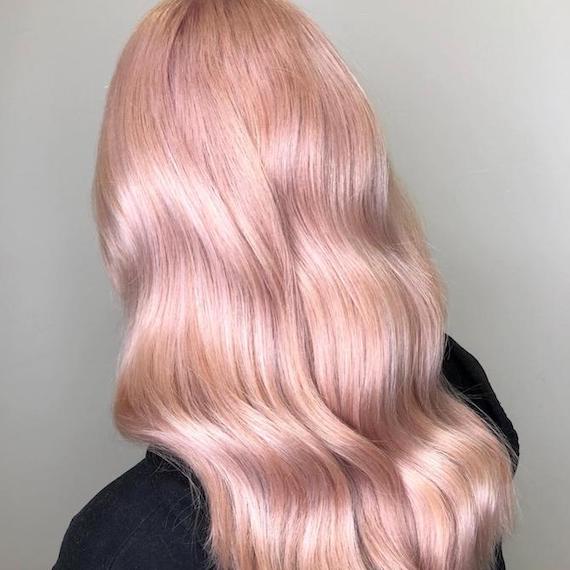 3
3. Pastel Rose Gold Hair
Image Credit: @laila.wella
Rose gold everything is trending – including high-gloss rose gold hair. What you're going for is pastel pink with warm blonde reflections and a hyper-metallic sheen. For this look, hair was pre-lightened with Blondor Soft Cream + 6% and WellaPlex, before old remnants of pink were rinsed out using Blondor 1:4 with 1.9%. Then, the pastel shade was added back in with Koleston Perfect 10/95 + 9/16 + 0/65 + 1.9%, applied for 15 minutes to dry hair.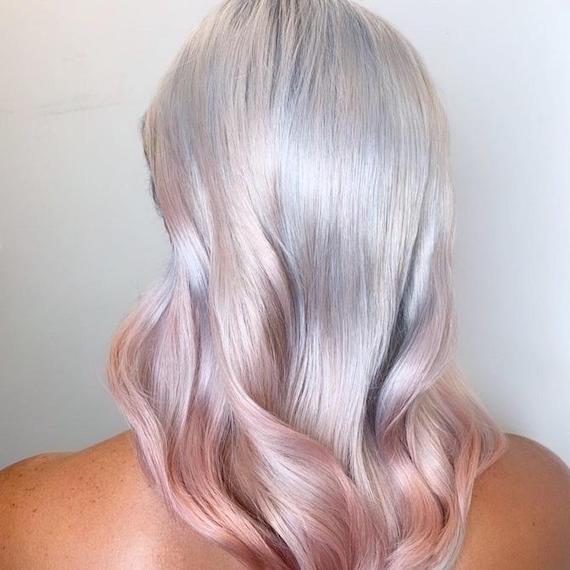 4
4. Pastel Pink Tips
Image Credit: @salehairstudio
Check out these pearlescent pink ends. Swathed through a silver blonde base of Color Touch 10/6 + 8/81, the hint of a tint in the tips was created with a blend of Instamatic by Color Touch in Pink Dream and Clear Dust. If you haven't tried it yet, Instamatic is our go-to for clients who want playful, low-commitment colour. The sheer, matte gloss gives locks a temporary touch of pink perfection.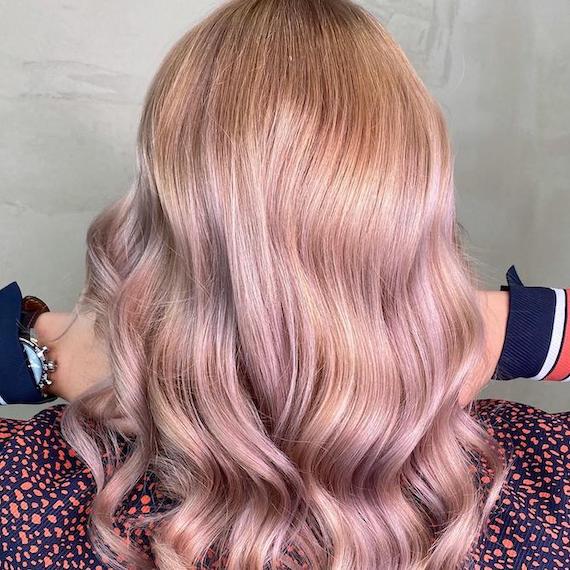 5
5. Pastel Pink and Blonde Hair
Image Credit: @hairbysatukylatasku
Pastel pink doesn't just work on light, almost-platinum hair. Your honey blonde clients will love it too, as it adds a dose of candyfloss-inspired fun to their look. If they're feeling this sunny hue, try colouring their roots with Illumina Color 8/69 + 8/1 + 6% first. Then, tone mid-lengths and ends using two alternating formulas: 10/05 + Titanium Rose + 1.9% and 8/05 + Silver Mauve + 1.9%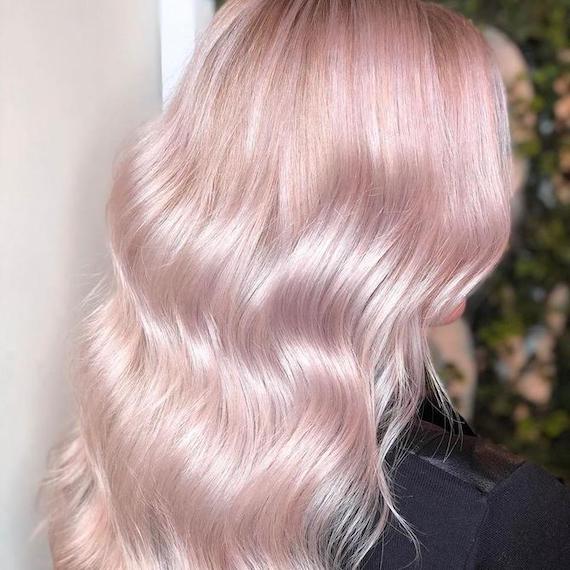 6
6. Baby Pink Hair
Image Credit: @wellanordic
The shine on baby pink hair is next level. Case in point: this megawatt, pastel hue, which was applied to a base of Blondor + 6%. Once hair had been lifted to a bright level nine, it was toned root to tip with Illumina Color 9/59 + Titanium Rose + 1.9%. Loose waves upped the sparkle.
7
7. Ash Rosé Hair
Image Credit: @hairbysahra
For the subtlest take on pastel pink hair, try rosé ribbons on an ash blonde base. The cool tones flawlessly intertwine, so blush highlights have a 'blink and you'll miss them' quality. Here, babylights were applied using Blondor, before an Illlumina Color blend of 10/05 + 9/19 + 9/60 + 1.9% was smoothed over the top.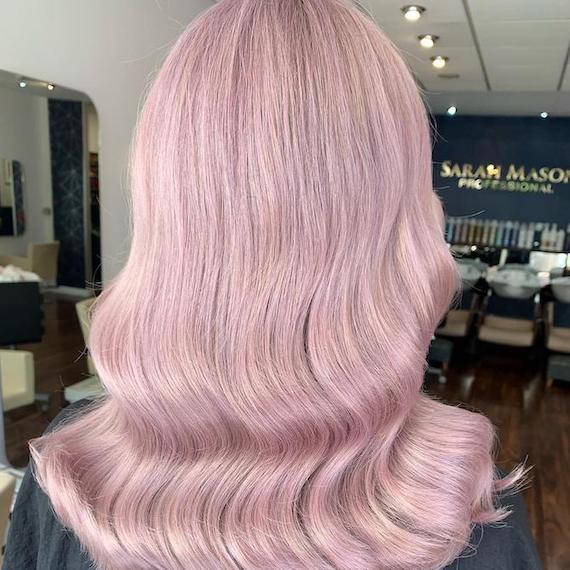 8
8. Purple Pink Hair
Image Credit: @sarahmasonprofessional
Is it lilac frost? Is it icy pink? This reflective shade shifts with every swish and sway, lending a multi-tonal effect that's beyond mesmerizing. For the hue, BlondorPlex was applied as a base, before Color Touch 10/6 + 55/65 + 66/44 + 1.9% was swept from root to tip, resulting in a purple-meets-pink hue that flatters all skin tones. Seriously.
How to Maintain Pastel Pink Hair Colour
Because pastel pink is soft in tone, it tends to fade faster than brighter hues. So, for clients who want to lock it down, proper aftercare is a must. Before they leave the salon with their macaron mane, recommend they use a colour-kind shampoo, like ColorMotion+ Color Protection Shampoo.
Then, suggest two conditioners: ColorMotion+ Moisturizing Color Reflection Conditioner for everyday hydration, and Color Fresh Mask in Rose Blaze or Lilac Frost to top up the tone. The latter is a 10-minute nourishing treatment that veils strands in a hint of a pink tint. Used once weekly, it refreshes salon colour, nurtures tips and maintains pastel hues until the next colour appointment.
Finally, demonstrate the safeguarding powers of EIMI Thermal Image; a heat protection spray that protects locks from UV and heat styling damage. Heat – whether from a hair tool, hot tap or scorching weather – is one of the key shade-fade culprits. That's why a hat on hot days and washing locks with lukewarm water is essential keeping pinks punchy and bright.