5 Auburn Blonde Hair Ideas Bringing All the Drama
Strawberry blonde isn't the only reddish-blonde hue on the block. For those who like their reds with a glimmer of contrasting gold tones, it's all about auburn blonde hair right now. Fusing burnished browns with warm, sun-dappled blondes through an array of techniques – from balayage to ombre – this look is high on drama, radiance and shine. What more could you want?
How to Create Auburn Blonde Hair
So, how do you create auburn blonde hair? It all depends on how much contrast you're aiming for, but typically, these rules will help you achieve a beautiful balance of the two tones. Like strawberry blonde, this trend rarely sees bolder blondes popping up through red-brown hair, but rather a nod towards a blonde tonal direction through the mid-lengths and ends.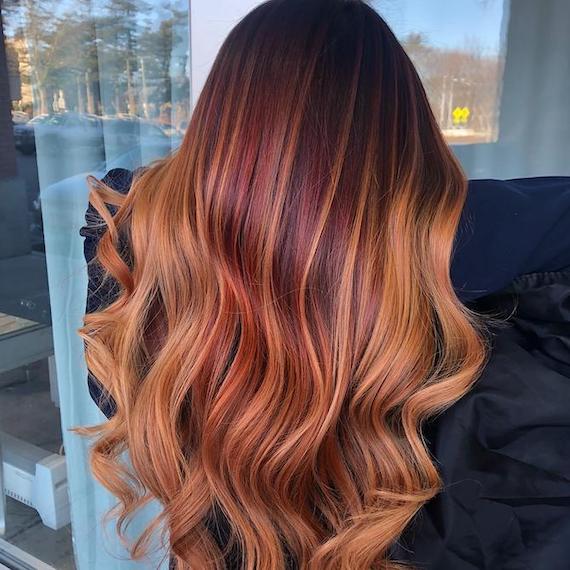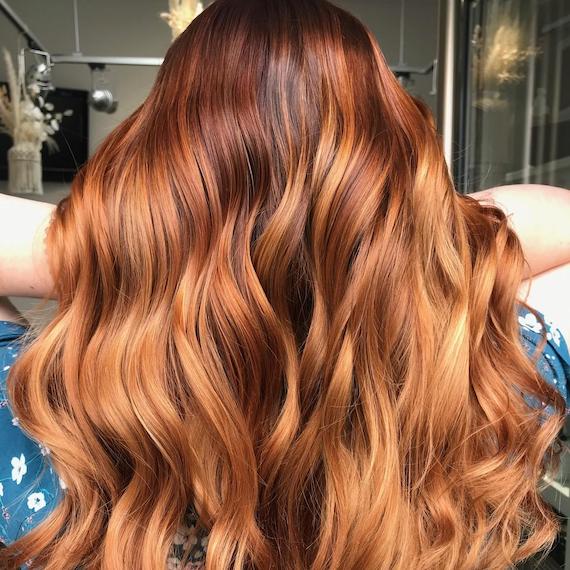 Image Credit: @hairbyangelaalberici | @hairart.lisa
1. Pre-Lighten Locks First
Whether hair is already auburn, a warm brunette or a dark blonde, you'll need to start by applying blonde highlights using a pre-lightener. Use Blondor Freelights for balayage strokes, and BlondorPlex for foilyage or ombre techniques. Allow it to develop until you reach the correct underlying tone, then wash out and neutralize with Blondor Seal & Care. If you're adding a root shadow to your client's look, apply it while the lightener is still developing, then rinse your two formulas out in one go.
2. Apply an Auburn Shade
Use a shine-enhancing product – like permanent Illumina Color or demi-permanent Color Touch – to tone locks in an auburn shade, such as 7/43 (Illumina) or 6/47 (Color Touch). You don't have to sweep this root to tip. Depending on your client's desired final look, you could alternate it with strokes of a golden blonde, which should be applied over the top of the pre-lightened sections. Leave this to develop for the recommended time. If you want to enhance the red of the auburn, use a Climazon to develop the colour under heat.
3. Wash, Style and Glow
Once those auburn blonde hues have developed, take your client to the sink and wash the formulas out using INVIGO Color Brilliance Color Protecting Shampoo. Follow with INVIGO Color Service Post Color Treatment to neutralize and enhance the colour, then wash and style locks as desired. A finishing spritz of EIMI Glam Mist will help those warm tones glow.
5 Auburn Blonde Hair Ideas & Formulas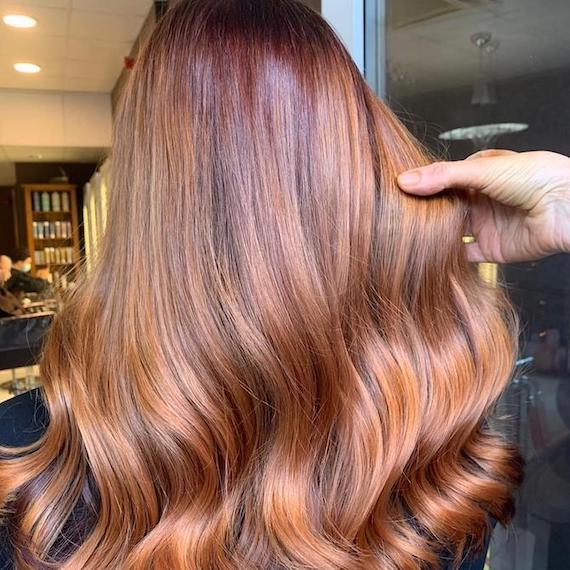 1
Auburn Strawberry Blonde Hair
Image Credit: @cf40hair_hairdesigners
There are almost too many tones to pick out in this dreamy colour melt. We spy auburn in the roots, strawberry blonde through the mid-lengths, and even subtle flashes of rose gold at the tips. To create the look, Color Touch 5/4 + 6/7 + 4% was applied as a root shadow. Then, on mid-lengths to ends, a blend of 7/47 + 8/43 + 0/34 + 4% was mixed up and swept through. Flawless.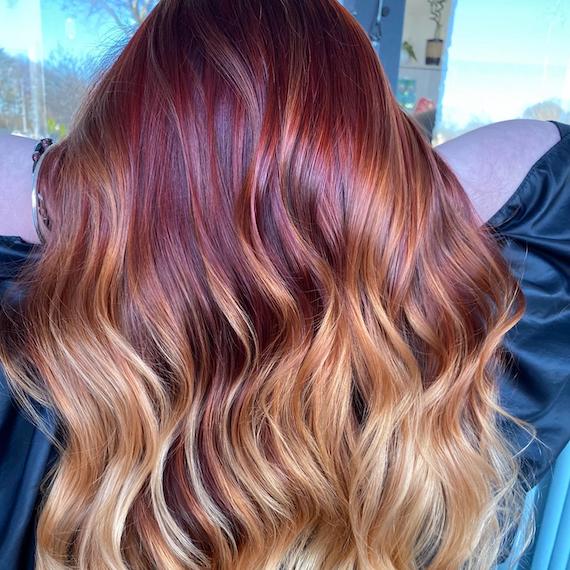 2
Auburn and Blonde Hair
Image Credit: @hairbyangelaalberici
When we talk about high contrast auburn blonde, this is what we mean. Rather than melting the two colours together, Angela Alberici has given each shade its very own spotlight. First, she painted on the root shadow using Koleston Perfect 6/45 + 0/45 + 0/56, and gently dragged the auburn formula down to the mid-lengths. She allowed that to develop for 10 minutes, before sweeping Blondor Freelights + 9% from mid-lengths to ends, then continued development time for a further 25 minutes. After washing out the two formulas, she toned hair using 8/43 on the mid-lengths, and 10/03 on the ends. The result? A show-stopping masterpiece.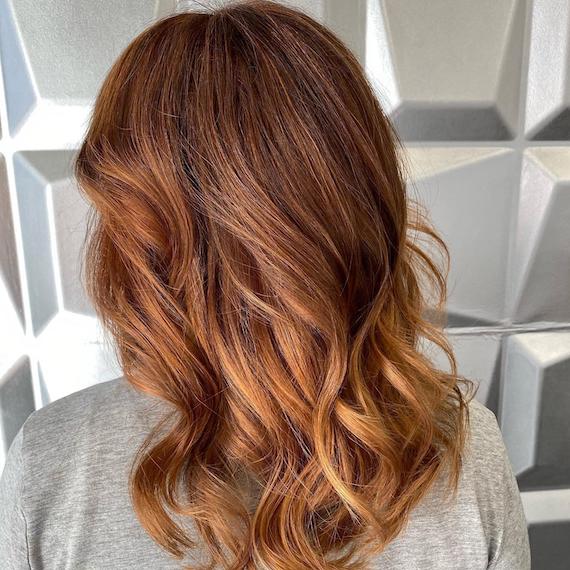 3
Light Auburn Hair with Blonde Highlights
Image Credit: @janina_ehrenberg
There's just a whisper of blonde in this auburn mane, which was created using freehand strokes of Blondor Freelights + 9% and a root shadow of Koleston Perfect 6/00 + 6/75 + 6%. Once those two formulas had been thoroughly washed out and neutralized, the look was completed with a Color Touch toning step, featuring 7/43 + 9/16 + 1.9%.
4
Auburn Blonde Balayage
Image Credit: @hairbyangelaalberici
Here's another vibrant auburn blonde creation from Angela Alberici, whose Instagram is packed with all the red to blonde inspiration you could possibly need. Here, she's gone light on the auburn and heavy on the golden, peachy-blonde tones; a balayage you can replicate with Blondor Freelights to lighten, and Koleston Perfect to tone. Try 6/41 (cool) or 6/43 (warm) on the roots, and 8/04 or 9/04 on the mid-lengths and ends.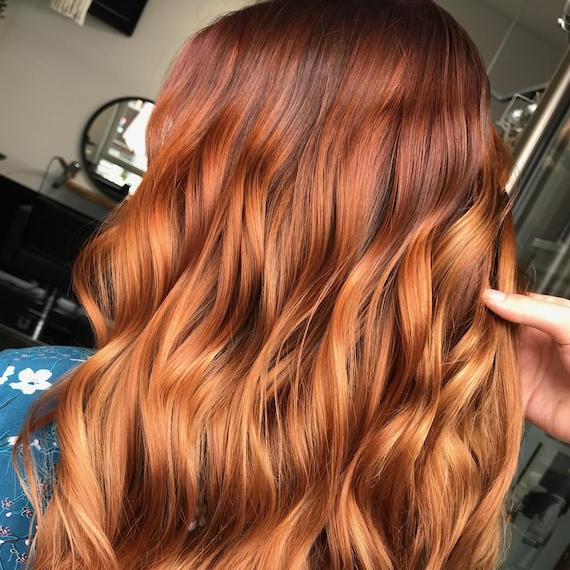 5
Medium Auburn Hair with Blonde Highlights
Image Credit: @hairart.lisa
Copper balayage meets auburn roots meets strawberry blonde tips in this multi-tonal 'do, created by Wella Passionista Lisa Futterer. Recreate with the look on auburn hair by painting foilyage (balayage in foils) through mid-lengths and ends, then toning with touches of pale copper. Koleston Perfect 88/43 is a foolproof red-blonde tone.
How to Maintain Auburn Blonde Hair
With auburn blonde hair, you've got two of the trickiest tones to maintain in one captivating look. Reds are prone to fading, and warm blondes tend to go brassy, so at-home care by your client is crucial. We don't recommend they play with home glossing, as the balance of colours is quite complex for a flawless result, but we do suggest they add a few nurturing staples to their hair care kit.
1. A Colour Care Shampoo
Your client's key essential is a shade-saving shampoo, like INVIGO Color Brilliance Color Protecting Shampoo. It's the same formula we recommend for washing their colour out while they're still in the salon. They can choose between the Fine/Thin Hair or Normal/Thick Hair editions, meaning not only does this shine-boosting shampoo make their colour glow; it works with their hair type too.
2. A Shine Boosting Conditioner
Recommend clients follow up their shampoo with the INVIGO Color Brilliance Vibrant Color Conditioner and, once per week, the Vibrant Color Mask. The conditioner is perfect for light detangling and enhancing the shine in auburn blonde hair, while the hair mask lends deep hydration to coloured hair, so it stays healthy-looking between salon appointments.
3. A Heat Protection Spray
Because too much heat can cause blondes and reds to fade brassy – and fast – a spritz of heat protection spray is essential when your client styles their hair. Introduce them to EIMI Thermal Image, which infuses mid-lengths and ends with light-reflective shine, while protecting hair from heat up to 220 degrees Celsius.
4. A Glossing Boosting Hair Oil
Auburn blonde hair looks its most Instagrammable when it's ultra-shiny, so clients may want to treat their strands to hair oil, like Oil Reflections Luminous Smoothing Oil. Not only does it level up radiance when massaged through mid-lengths and ends; it also treats coloured hair to a beautifying cocktail of macadamia seed and avocado oils.