Peach Blonde Hair Colour Formulas
Pastel hair is seeing a summer resurgence like never before, veiling locks in creamsicle-inspired shades of macaron pink, candy lilac and mint green. But if there's one colour that's leading the pastel pack for 2022, it's peach blonde; a sunshine orange-meets-pink hue that gives blondes a juicy upgrade that's hard to resist.
Want in? Keep scrolling to discover how to create the peach blonde look for your clients, featuring tips, tricks and formulas from fellow professionals…
How to Create Peach Blonde Hair
Peach blonde hair can be one of two things. Either your client works a head-to-toe peach that's so pale, it looks almost blonde, or they wear blonde tones alongside peach (say, for example, a peach blonde ombre or balayage). Whatever the case is for your next masterpiece, it's likely that a pre-lightener will be required, so choose one that works with your chosen technique. BlondorPlex is great for highlights or an all-over lift, while Blondor Freelights is your go-to for freehand painting.
Then, get familiar with the peach shades available in the Wella portfolio. There are plenty just waiting to be mixed, but these are some of our favorites for …
Opal-Essence by Illumina Color in Copper Peach: An almost-metallic peach that gives your client's hair warm and cool reflections for an otherworldly glow.
Color Fresh CREATE in Infinite Orange or Hyper Coral with Tomorrow Clear: By teaming Infinite Orange or Hyper Coral with the Tomorrow Clear additive, you can pastelize the tones with ease.
Color Touch or Koleston Perfect Vibrant Reds: Mixed with 0/00 Clear and pale blonde hues on a level 9 or 10, the coppery hues in the Vibrant Reds portfolio transform into a sunny peach.
8 Ideas for a Peach Blonde Upgrade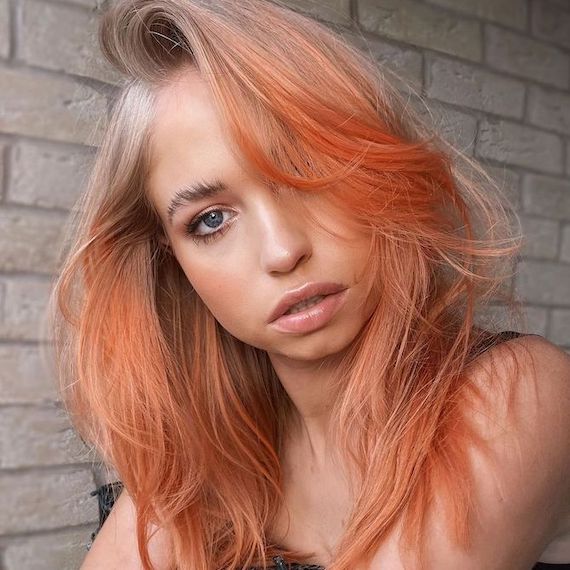 1
Peach Blonde Balayage
Image Credit: @jhair_stylist
If you're looking to get super creative with a peach blonde balayage, try a melt like this. Blonde roots blend into peachy-orange lengths for a two-tone look that's sure to turn heads. Contrast is key here, so don't be afraid to go a little bit bolder with your formula, adding some extra Infinite Orange to a Color Fresh CREATE mix to turn up the vibrancy. You could also take the roots ultra ice blonde to really help the peach pop.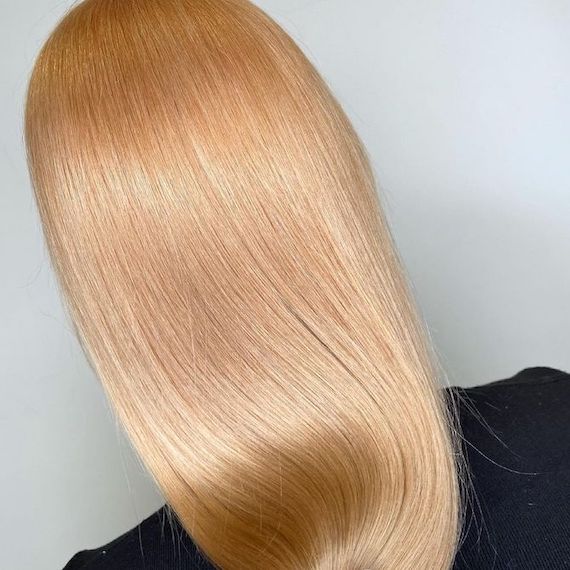 2
Light Peach Blonde Hair
Image Credit: @laila.wella
As crisp and clean as a pure platinum blonde, but with a hint of peachy warmth, this root-to-tip hue is a must for clients who crave major luminosity. It teams particularly well with poker straight locks, so if they tend to reach for the flat iron, this is the perfect shade of peach blonde to suit their style. Try recreating it by lifting hair to a level 9 or 10 with Blondor Soft Blonde Cream first, then apply Opal-Essence by Illumina Color in Copper Peach + Titanium Rose over the top.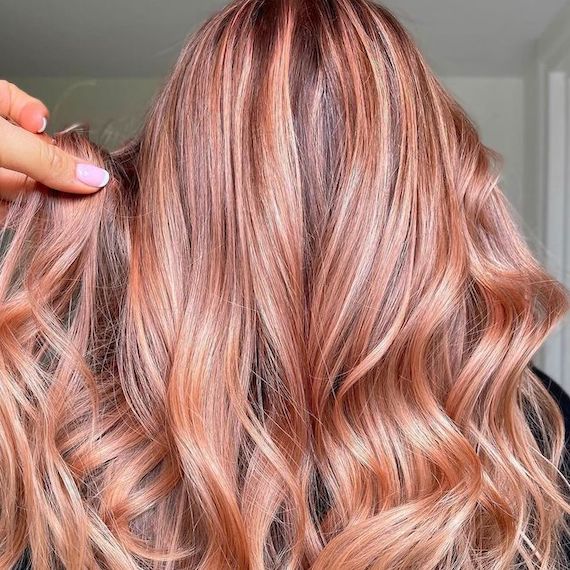 3
Peach Blonde Highlights
Image Credit: @jmc.hair
Blonde highlights get a peachy upgrade in this Color Touch look, featuring 9/73 + /56. If your client wants peach hair with tons of dimension, chunky peach highlights and dark blonde lowlights are the way to go, delivering a dose of pastel freshness with defined highs and lows for a beachy effect. We're obsessed.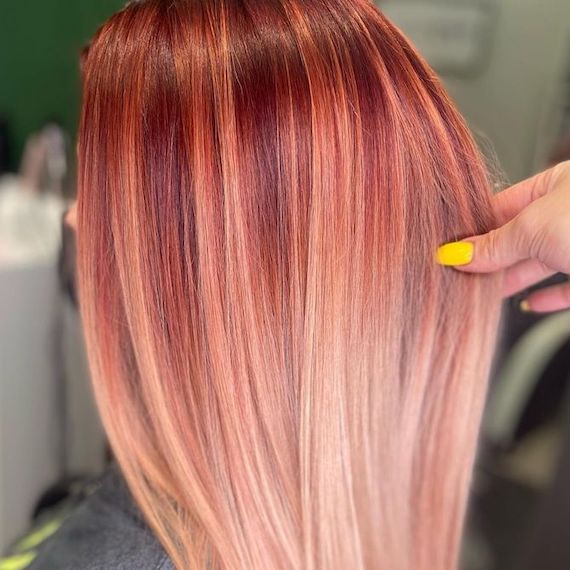 4
Peach Blonde Ombre Hair
Image Credit: @elizabeth.tindall.salon
The ombre hair of dreams? We think so. This look fades from ripest peach to softest pink blonde, resulting in a pastel gradient unlike anything we've seen before. To create the look, locks have been lightened with Blondor Multi Blonde Powder first. Then, the root has been shaded with Koleston Perfect 55/46 + 4% and ends toned with 8/81 + 9/16 + 9/86.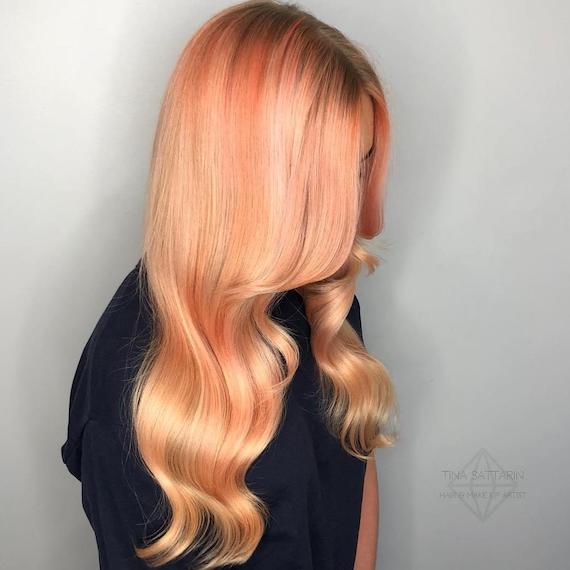 5
Platinum Peach Hair
Image Credit: @tinted.bytina
For clients who want a little more orange in their peachy look (think a pale apricot tone), add Color Fresh CREATE in Infinite Orange to a blend of Hyper Coral and Tomorrow Clear. We love how this look teams a platinum blonde base with soft, peach highlights and more vibrant orange tones, resulting in a mesmerizing, multi-tonal finish that appears mermaid-inspired.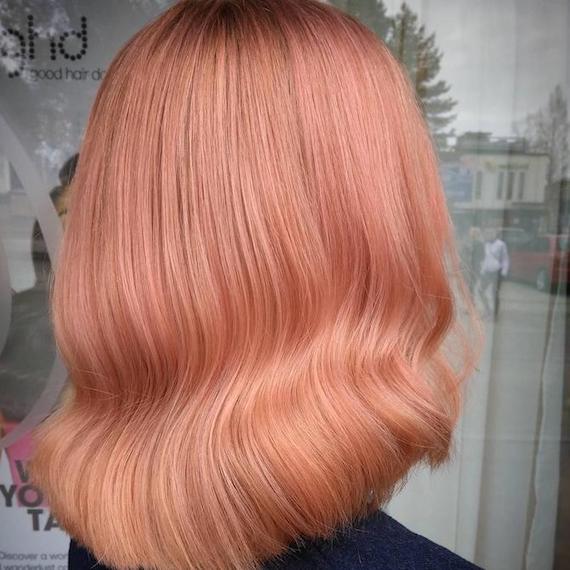 6
Peachy Rose Blonde Hair
Image Credit: @hairbyjennivehkaoja
Blend peach and rose tones for a candy floss-inspired creation that's as sweet as can be. To get the look, start with a balayage technique using Magma Clear with a sprinkle of /44 and /36. Then, wash hair and apply Color Touch Instamatic in Pink Dream with a pastel developer, before misting dried and styled strands with EIMI Sugar Lift for an injection of texture.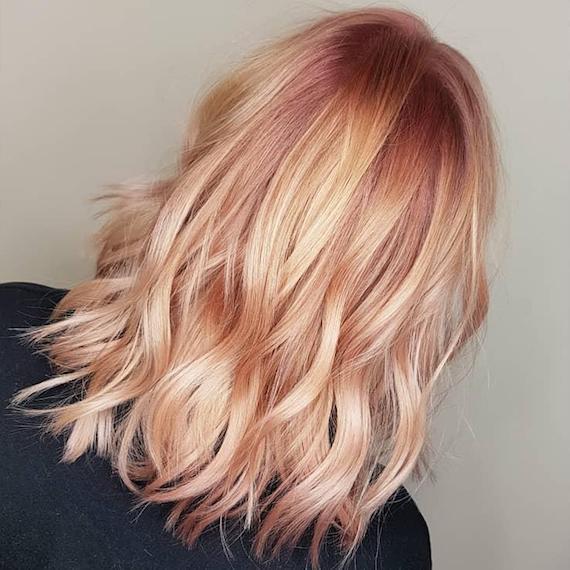 7
Pale Peach Blonde Hair
Image Credit: @tombadgerhair
Another Color Fresh CREATE creation, this look sees shades of peach and pink hair intertwined through a pale blonde base. The effect is apricot hair that makes skin appear ultra-glowy. To get the look, Tom Badger mixed Nu-Dist Pink and a drop of High Magenta and Hyper Coral with Tomorrow Clear, which diluted the punchy colour to a softer pastel shade.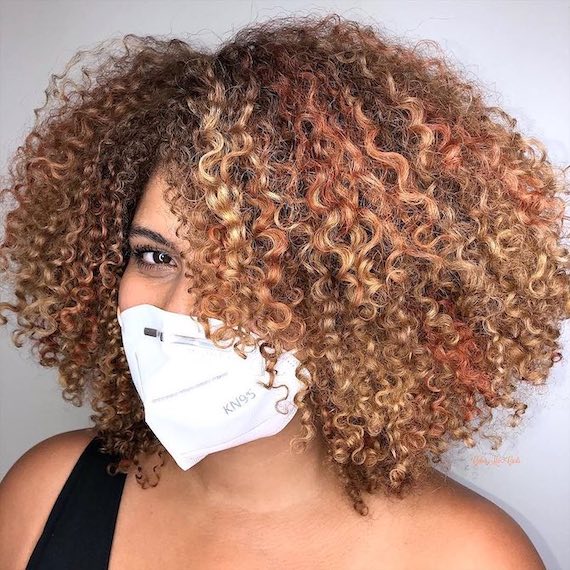 8
Peach Hair Highlights
Image Credit: @colormecurls
If your client is going for subtle peach hues, suggest they opt for highlights on a golden blonde base. This way, the warmth will help the pops of peach blend for a 'blink and you'll miss it' pastel effect. There are three alternating colour mixes at play in this dreamy look: Illumina Color 7/43 +1.9%, Koleston Perfect 8/41 + 99/44 + 1.9%, and Illumina Color 8/69 + 1.9%.
9 Peach Hair Formulas to Try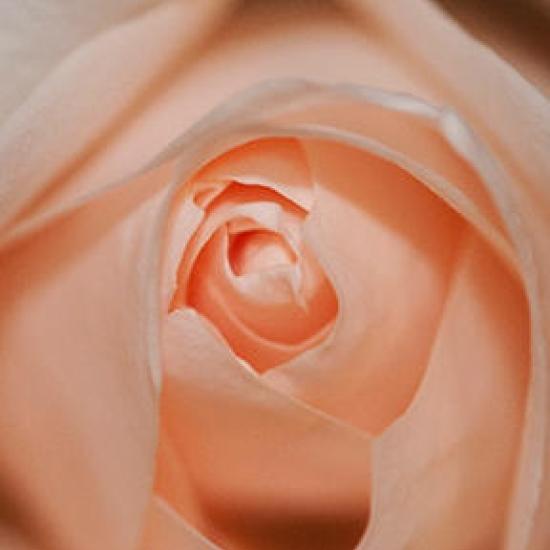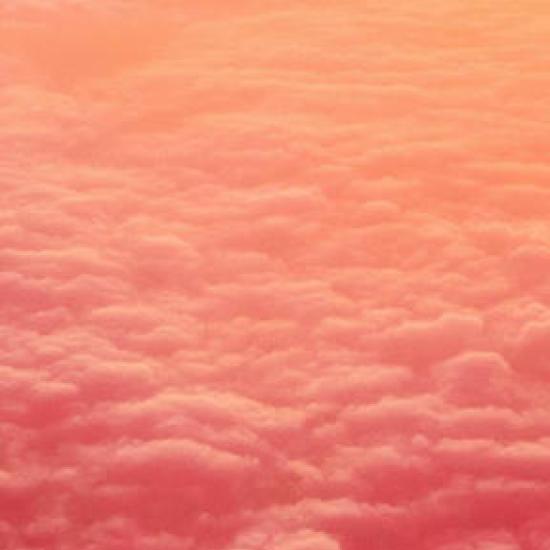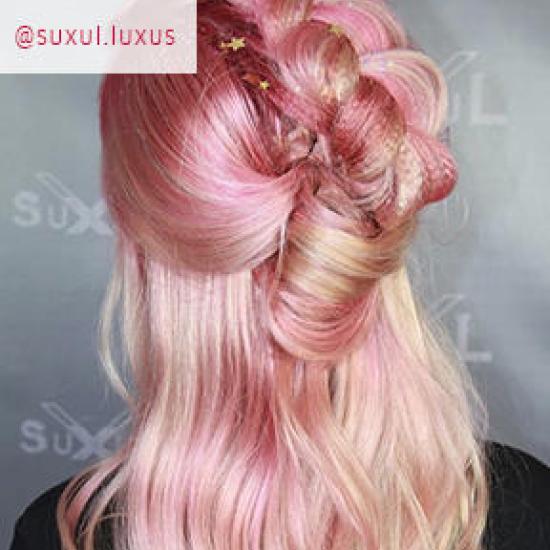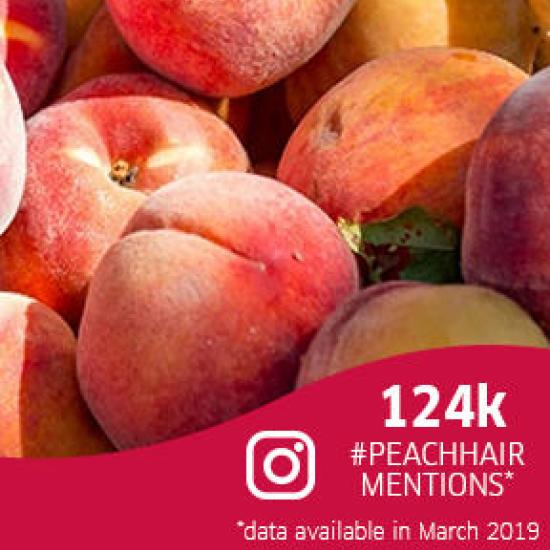 SUNSET PEACH BLONDE HAIR
COLOUR FORMULA:
#IlluminaColor 10/38 + 8/69
FIERCE PEACH BLONDE HAIR
COLOUR FORMULA:
#ColorFreshCreate: #HyperCoral, #NudistPink #TomorrowClear
SILKY PEACH BLONDE HAIR
COLOUR FORMULA:
Step 1:
#Blondor + 6%
Step 2:
Color Touch 10/0 + 9/16 + 66/44 + 55/65 + 1.9%
GLOSSY PEACH BLONDE HAIR
COLOUR FORMULA:
#Blondor Soft Blonde Cream + 4% on the roots
#IlluminaColor 9/43 + Opal Essence Copper Peach + 10/05 + 1.9%  
SOFT PEACH BLONDE HAIR
COLOUR FORMULA:
Lightened #KolestonPerfect 12/0 + 12% Toned #OpalEssence by Illumina Color Titanium Rose + Copper Peach + 7/43 + 4% 
How to Maintain Peach Blonde Hair
Keep hair looking peachy by swapping traditional shampoos for care products that cater to coloured hair. We love INVIGO Color Brilliance Color Protection Shampoo and Color Recharge Red Conditioner. The conditioner deposits a small amount of pigment every time you use it, instantly refreshing the warm peach tone in between colour appointments. Make sure you also safeguard strands during heat styling with EIMI Thermal Image; a heat protection spray that helps to counteract the colour-fading effects of your favorite hot tools.
Looking for more peach hair inspiration? You'll find endless hair ideas on the Wella Hair Pinterest board, and @WellaHairUKI Instagram. Make sure to tag us in your photos with #WellaHair to show off your latest styles and be in with the chance to get featured on our social channels.