It's Official: This is the Season of Natural Hair Colour
It's hard to remember a time when natural hair colour was more popular than it is now. And we don't mean untouched, virgin locks; we're talking in-salon creations that boast a born-with-it radiance. Pastel tones, chunky highlights and other bold looks are still high on the trend agenda for the season, but there's no denying it: natural colour is stealing the spotlight for fall/winter 2022/23. 
Given how lustrous and luminous natural-looking hair colours can be, we're not surprised they're so covetable amongst many of today's salon clients. But the current surge in believable hues also reflects a cultural shift towards authenticity; a time when clients are looking to put their most vibrant selves forward – and their hair is the vehicle. 
For some, that means expressing themselves with the boldest, brightest colours they find, but for many, it's all about enhancing what they've got with locks that appear 'au naturel'. It's the latter who have paved the way for such dreamy trends as 'expensive brunette' and 'expensive blonde', giving a whole new meaning to natural-looking hair. Think head-turningly rich and unstoppably vibrant. 
Now, we're taking natural hair colours to the next level with the new collection of Signature Naturals. Discover the delectable palette, and see how the wide shade range can elevate your services…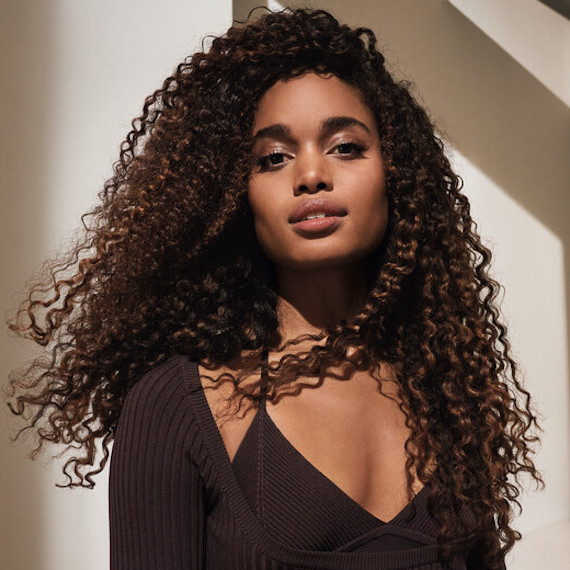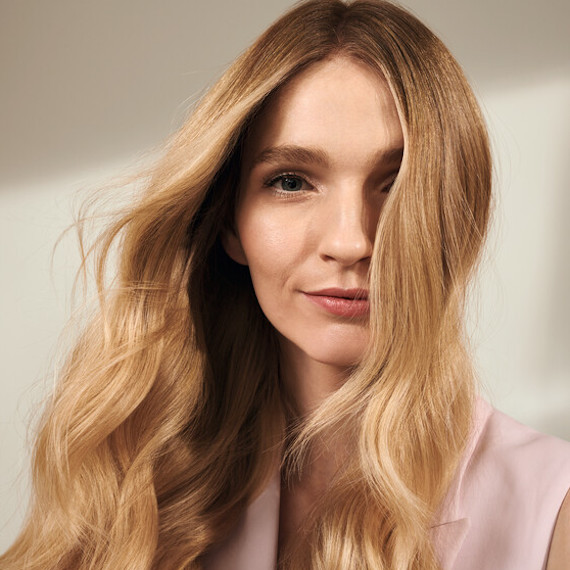 Introducing the New Signature Naturals
It's official: Signature Naturals are here to enrich the existing Koleston Perfect, Shinefinity and Color Touch collections with stunning neutrals that infuse your creations with vibrancy. It's these neutrals that provide the perfect canvas for the changing colour trends, enabling more bespoke hair results and light reflections that truly catch the eye. 
Each of the magnetic neutrals in the Signature Naturals palette adds a twist to this season's go-to hues, whether you're looking to create natural blonde hair or a deeper, darker hue. From nude cashmere, to bitter chocolate, to smoky lavender, the naturals of the future feature multi dimensions and alluring accents that are, in a word, mesmerizing. 
Best of all, the Signature Naturals shades team seamlessly with the rest of the Wella portfolio, extending your colour and service options to give your clients more choice. So, what do the new shades look like? These are some of our favourites…
New Koleston Perfect Brown Hair Shades:

6/91 (a soft minky brown), 7/36 (a light mocha brown) and 5/18 (a lustrous ash brown). 
New to Shinefinity:

04/12 (an icy cool brunette), 07/12 (a light mushroom) and 08/0 (a natural latte).

04/0 (a natural dark espresso brown) and 06/0 (a natural brandy).
High Demand Colour Touch Hues:


5/0 (a medium mocha brown), 6/71 (a dark ash bronde) and 8/71 (a light ash brown).
9 Hair Colour Services to Try for a Natural Shade
The diversity of the Signature Naturals palette means the shades can enhance a whole raft of natural colour services – whether your client wants some subtle grey blending, or an upgrade on traditional highlights. In the coming weeks, we'll be revealing more about how the colours can be used, but for now, here's a look at some of the dynamic, dimensional creations they've inspired…
1. Burnt Amber Mirror Lights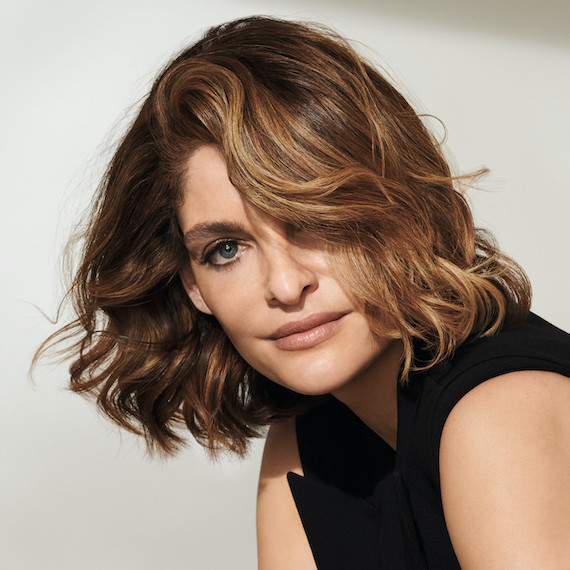 For warm brunette clients craving some extra lift and contrast, introduce two of the new Koleston Perfect hues – 6/91 and 7/36 – to their Mirror Lights service. To recap, Mirror Lights offers a modernized take on grey coverage, and features three key elements: a light foreground, a deeper background, and soft transition lights. 
In this bursting-with-richness Burnt Amber look, 6/91 appears in each of the root formulas, but it's also mixed with 7/0 for a little brightness through the foreground. Meanwhile, 7/36 has been used to tone highlights (which were lifted with BlondorPlex), lending a shimmer to the mid-lengths and ends that appears hyper-natural. 
Find out more: Discover the full Burnt Amber Mirror Lights technique
2. Colour Correction with a Glaze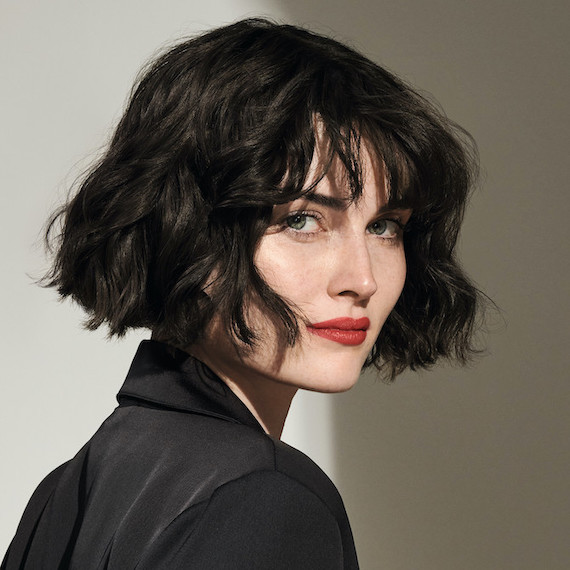 Did you know that you can carry out a colour correction with a Shinefinity Glaze? Now you do. Case in point: this corrective glaze, which took hair from brassy red brown to dark espresso brown. It featured just two shades from the Signature Naturals line-up: 04/12 for the root and face frame, and 04/12 + 07/12 for the lengths (both mixed with the Brush & Bowl Activator). 
Thanks to the dark olive undertones in the crisp, ashy hues, the formulas were able to counteract hints of red through the base colour, revealing a rich yet cool canvas with deep dimension. Bonus tip: All of the /12 shades in the Shinefinity collection are perfect for using on brassy orange or red hair, as they cool the warmth down in the space of a 20-minute service.  
Find out more: Discover the full Corrective Glaze technique
3. Sahara Blonde with Grey Hair Blending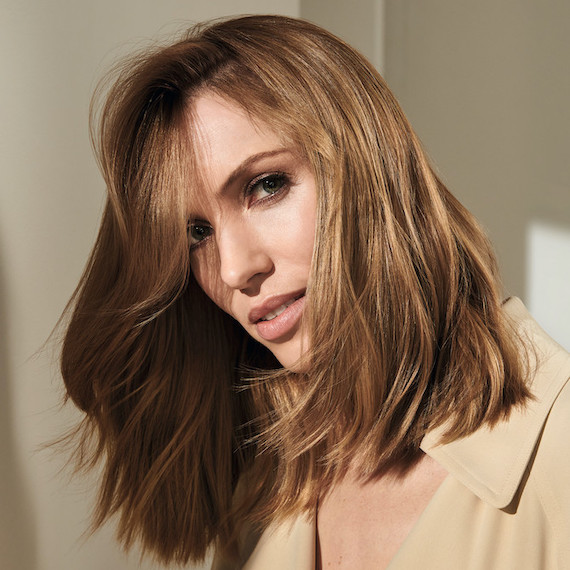 Not only is this Sahara Blonde great for giving locks a gilded glow, it's also perfect for masking those first silver strays, with up to 70% grey coverage. Color Touch 8/3, 7/97 and 9/97 have all been used to craft these golden hues, from the root smudge (which doubles as grey hair camouflage) to the refreshed, balanced, and glistening lengths. 
These Color Touch toners aren't new, but they're best-selling semi-permanent hair colours that belong in the Signature Naturals palette, all thanks to their richness, versatility, and natural-looking finish. 
4. Bitter Chocolate Mirror Lights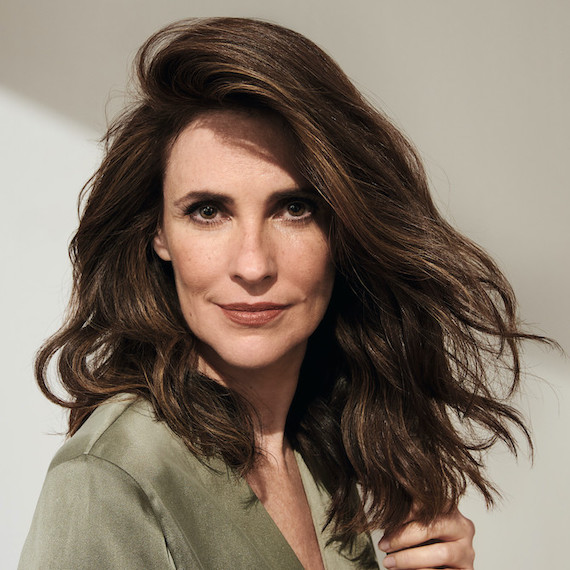 Chocolate brown hair gets a glow-up in this Bitter Chocolate look, which was expertly mixed up with shades from the Koleston Perfect palette, including 6/91, 5/18 and 7/36. The 7/36 lends a soft hint of butterscotch through the cool brown base, bestowing hair strands with the subtlest sun-kissed effect; not too golden and not too smoky.
This is a must-try for dark-haired clients who are seeking a whisper of warmth through their lengths; a natural brown hair transformation with added movement and some of the most seamless blending we've seen.
Find out more: Discover the full Bitter Chocolate Mirror Lights technique
5. Root Shadow on Natural Blonde Hair Colours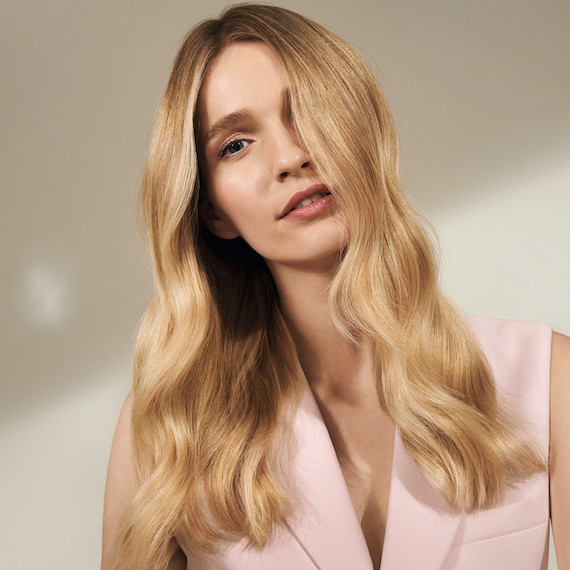 Nothing says 'low maintenance hair' like a softly rooted blonde, and this one was perfected with a Shinefinity Color Glaze for added luster. It benefits from gentle shadows that give the sandy, neutral lengths a dose of dark-to-light dimension, so a formerly butter yellow blonde becomes more natural-looking. 
From the Signature Naturals collection, 08/0 and 07/12 were applied to the roots; two cool-toned hues that create a smudge of depth for gentler regrowth in the future. Then, the lengths were glazed with 08/0 + 00/00 Clear, before hair was combed from root to tip to lightly blend the root shadow and lengths. Dreamy. 
Find out more: Discover the full Root Shadow on Natural Blonde Hair technique
6. Shadow Lights on Creamy Pearl Blonde Hair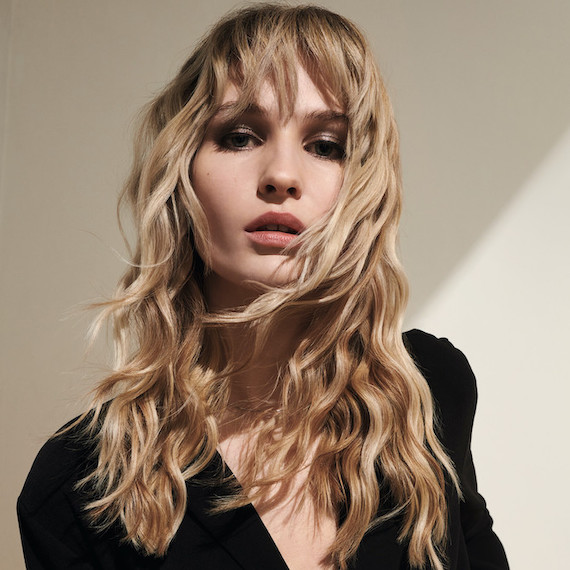 If your client is looking for an upgrade on traditional monochromatic highlights, Shadow Lights is the way to go. It's a Koleston Perfect service that sees natural 'lights teamed with playful accents for added 'pop'. In this creamy pearl blonde, cool cream ribbons are enhanced by strokes of soft amber, giving the finished look an extra dimensional feel. A must for complexion-enhancing colour.
To create the look, BlondorPlex + 4% was applied in medium weaves through the crown and top sections, alongside strokes of Koleston Perfect 10/97 + 9%. Then, while those pieces were wrapped up in foils, three thick slices of the accent hue – 7/36 + 4% – were painted through the side sections and below the crown for depth and definition. After 40 minutes, the three formulas were rinsed out thoroughly, so that hair was ready for a final glaze with Shinefinity 09/81 + 00/00. This took just 20 minutes to develop, revealing the creamiest, dreamiest blonde around. Highlights have never looked more high fashion.
7. Sombre Hair with a Shinefinity Glaze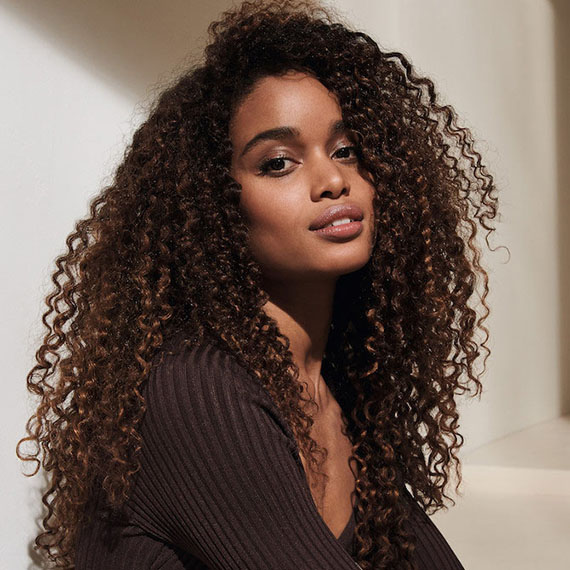 You've heard about ombre hair, but what about sombre hair? This is a subtle take on the graduated colour trend, resulting in a softer transition from darker roots to lighter lengths. Because Shinefinity veils hair in a translucent tint, it's ideal for a soft introduction to the ombre look. Try it on brunette clients wanting to add warmth to their locks, and use this spiced cinnamon creation as your muse.
Not only does it give their brown hair an irresistible glow, but it also neutralizes brassiness. This means you can banish the wrong kind of warmth (orange or yellow) in favor of the right kind (rich and radiant). Try it by first painting horizontal sections of the lengths and ends with Blondor Freelights + 6%. Saturate these sections to ensure even coverage. Once the lightener has developed, apply Shinefinity 04/0 to the roots, 06/0 to the mid-lengths, and 08/0 to the ends. You can even brighten up the face frame by painting 08/0 through these strands, then use your hand to skim the surface of hair for a beautiful blend. Rinse out after 20 minutes for a smooth sombre that positively shines.
8. Transformative Toning to Brighten Dull Hair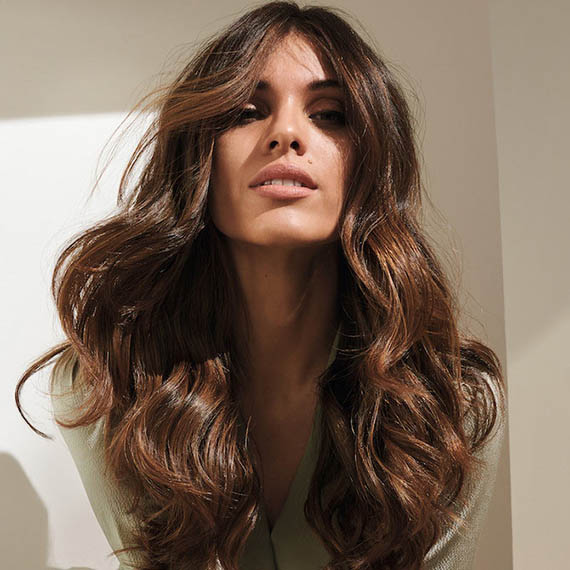 Few things brighten dull hair more than a luminous toning session – and yet the results take less than an hour to achieve with our new natural hair colours. Case in point: this eye-catching cognac hue, which was applied to balance out a formerly brassy brown. By the end of the express transformative toning service, locks were full of cozy, fall-ready richness.
Give it a go on brunette clients by working with our best-loved Color Touch hues. First, apply 5/0 + 6/71 + 1.9% to the root area, and blend down to the mid-lengths of hair. Develop for 15 minutes, rinse, and towel-dry hair. Then create definition with lowlights using 6/71 + 1.9%. This second formula also needs 15 minutes on the hair before rinsing, and then it's time for the final toning step with 8/71 + 1.9%. Allow the light ash brown to develop for up to 10 minutes, remove, and style your client's hair to perfection. A soft curl and EIMI Glam Mist will help the colour appear extra glossy.
9. Smoky Lavender Highlights on Dark Hair Colours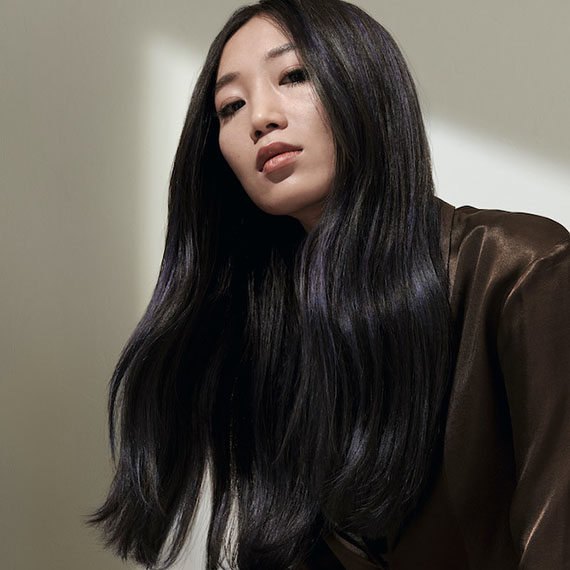 Lavender isn't just for pastel hair looks. Take it deep and smoky through brown or black hair, and it mingles with the dark tones to add a delicate pop of colour. When the light hits these vampy hues, they shimmer and shine with stunning multi-dimensions, while still appearing hyper-natural. Who knew purple could be so versatile?
You can create the look for dark-haired clients by applying BlondorPlex + 9% in horizontal sections, with every other highlight starting a little closer to the root. Wrap these pieces up in foils, and tone the base with Koleston Perfect 5/18 + 2/0 + 6%, which will lend a glossy, balanced finish from roots to ends. After 40 minutes, rinse out both formulas, add WellaPlex No2, and apply 10/8 + 2/0 + 0/66 + 1.9% all over. This smoky lavender toner should be left on for 15 minutes to bring shine to the base and add the softest touch of purple to the highlights. The resulting glow is stunning.
Watch this space as we uncover even more services you can enhance with the Signature Naturals shades. Plus, explore the complete natural hair colour trend over on Instagram by following us @wellahairuki.