3 Ways to Create Rooted Blonde Hair
It's official: dark roots on blonde hair are back. After 12 months of on-off salon closures, what started as a trend out of necessity has turned into a low-maintenance look that Instagram loves. Your clients may be able to get their regrowth touched-up once again, but we're hearing more blondes than ever request a smudge of darkness through the crown.
And it's easy to see why they're hooked. While freshly-coloured roots look flawless, a touch of root shading can add dimension, while making locks look lived-in and effortless. Here, we're breaking down everything you need to know about creating dark roots on blonde hair – including three techniques for easy, dreamy rooted blonde application. 
3 Techniques for Dark Roots On Blonde Hair
1. Balayage or Foilyage
One simple yet statement-making way to create a rooted blonde is with a balayage technique. Simply sweep freehand blonde highlights through the mid-lengths and ends, starting a few inches down from the roots. Blondor Freelights is the perfect product for this look, as it features an adhesive mass for precise application. This prevents the hair lightener from transferring to other strands, ensuring it stays where you want it.
For a bolder contrast between blonde lengths and dark roots, you can also try foilyage. The process is the same as a blonde balayage, but the lightener is developed in foils to give more lift and definition to the lighter pieces. Want to go subtler? Apply your client's balayage with a lightener mixed with lower developer strength. This gives a softer lift, resulting in natural-looking, radiant ribbons.
Another way to work a rooted blonde look is with an ombre or sombre (subtle ombre) technique. This smooth, seamless 'do sees colour blend from dark roots to blonde ends in an even graduation. Start with a root shadow or natural regrowth, and a lightener swept through mid-lengths and tips. Then, mix up two toning formulas: one for the midsection and one for the ends.
For a harmonious blend, the trick is to ensure your toning hues follow the same tonal direction. For example, if you're smoothing a golden blonde through the mid-lengths, apply a lighter golden blonde to the ends. Similarly, if a cool-toned ashy brown is applied as a root shadow, consider an ash blonde ombre through the lengths. This ensures your colours don't clash.
For clients who don't have regrowth or want to alter the shade of their natural roots, a root smudge or root shadow offers the dimension-boosting depth they crave. But what's the difference between a root smudge and a shadow? The truth is, they're two names for identical techniques. Colourists use them interchangeably but they both mean the same thing.
And, for each of them, all you need to do is sweep colour through the root area 1- 1 and 1/2 inches with a tint brush. The trickier part is choosing a colour formula to suit your client. If it's a soft, demi-permanent smudge they want, mix up a glossy blend with Color Touch. But if they want more coverage to camouflage grey roots, try permanent Illumina Color or Koleston Perfect. Both will give you up to 100% grey coverage, but the former offers light-reflective coverage with a sheer result, while the latter gives you more saturation and balanced result.
6 Rooted Blonde Looks We Love
1. Black Roots on Blonde Hair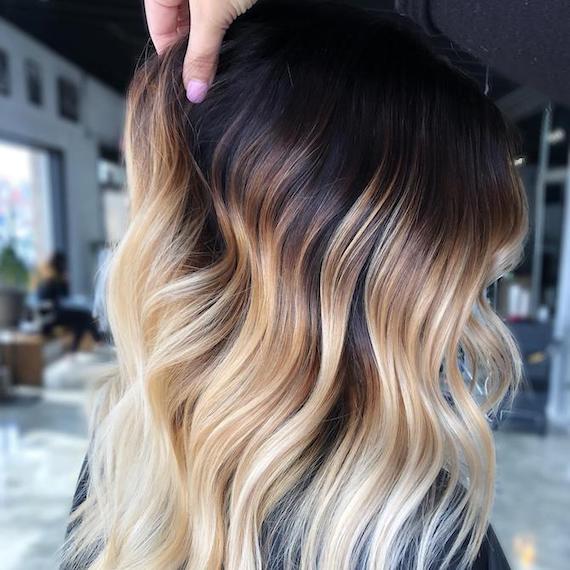 1
1. Black Roots on Blonde Hair
Image Credit: @jordan_kindel_salon
Look at this dark-rooted, melty perfection. High on contrast and low on maintenance, it fea-tures almost-black roots against light, golden blonde balayage. This kind of two-tone effect is best created with foilyage, as the foils enhance the lift your lightener achieves. Try the look with BlondorPlex.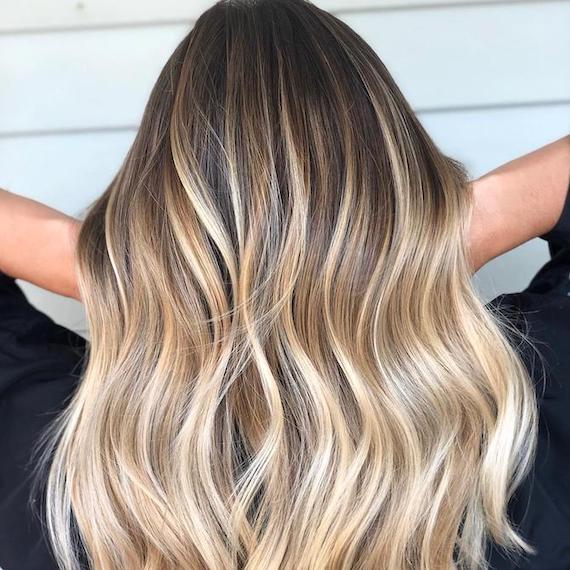 2
2. Beachy Rooted Blonde
Image Credit: @selcastyles
Dark roots go hand in hand with a piecey, beachy blonde balayage. Case in point: this wavy, dirty blonde hue, created using Blondor + 6% and toned with Color Touch. The formula? 9/03 + 9/01 + 10/0. Come summer, everyone will be asking for this Cali-inspired shade.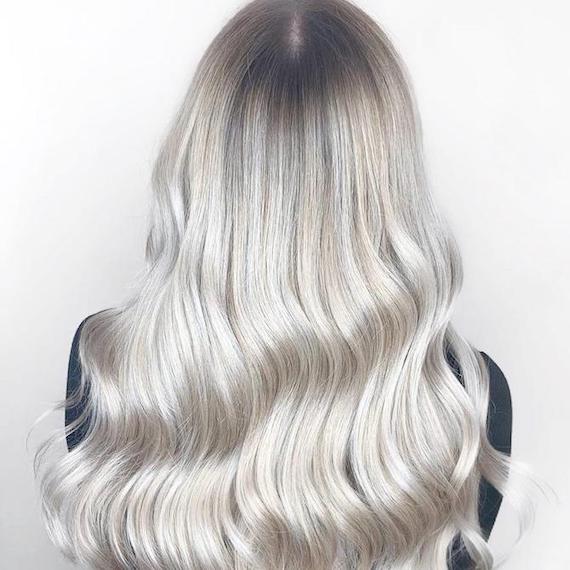 3
3. Icy Blonde with Dark Roots
Image Credit: @njuk_
Icy and platinum blonde hair works surprisingly well with a smudgy root shadow. This look offers just the right level of contrast to soften the brightness of the blonde. Recreate the look with Blondor + 6% in foils, then tone the roots with Illumina Color 6/16, and the lengths with 10/81 + 8/69.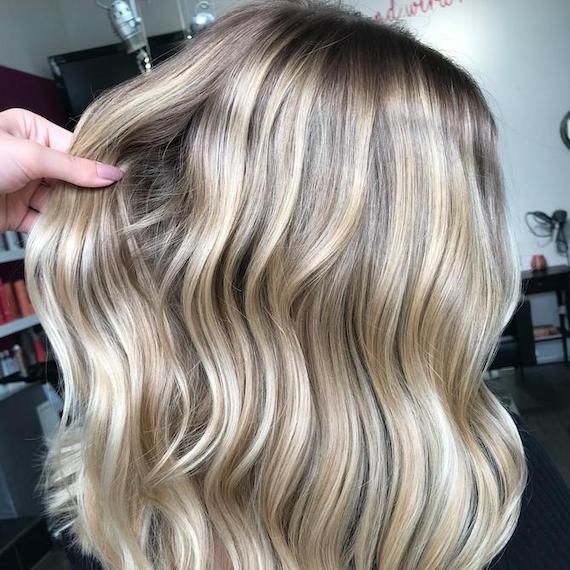 4
4. Ash Blonde with Dark Roots
Image Credit: @hairart.lisa
It's all about the root shadow in this ash blonde look by Lisa Futterer. She shaded already-light locks with Illumina Color to add some depth. Her formula was a radiant blend of 5/81 + 5/ + 6/16. Gently drift the colour down around two inches of root.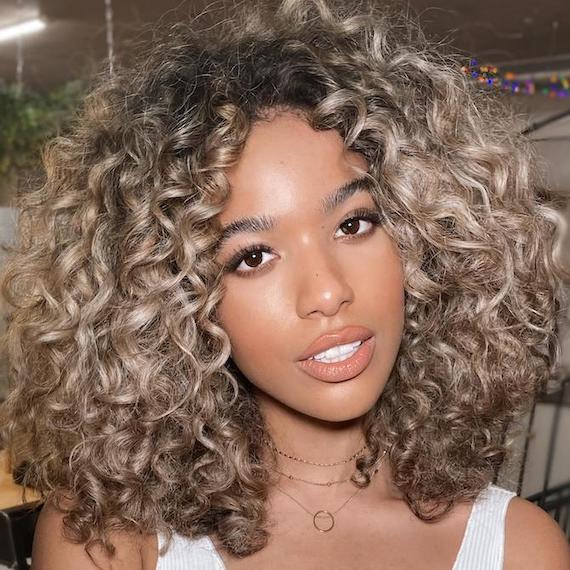 5
5. Beige Rooted Blonde
Image Credit: @jhair_stylist
Timeless beige blonde tones and a soft root smudge appear extra dreamy when swept through curls. Bring this look to life for your clients by painting BlondorPlex + 6% from mid-lengths to tips. Next, apply Color Touch 4/0 + 4/71 + 1.9% as a root shadow, and tone ends with 9/97 + 9/16 + 8/38 + 1.9%.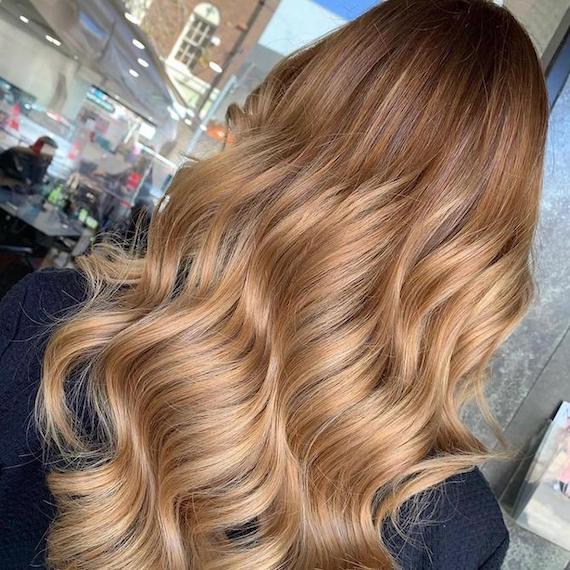 6
6. Bronde with Dark Roots
Image Credit: @portfolio_hair
These roots aren't ultra-dark, but they're certainly deeper than the bronde mid-lengths. Try this look for a subtle shift from dark to light that gives the appearance of added volume. Here, locks were lightened with Blondor + 6%, before roots were shaded with Koleston Per-fect 7/0 + 7/43 + 8/38 + 1.9%. Then, ends were toned using 9/0 + 9/73 + 1.9%.
How to Maintain Dark Roots on Blonde Hair
One of the best things about a rooted blonde is that it almost takes care of itself. If you've applied blonde to a natural base, your client only needs to maintain the light mid-lengths and tips. Recommend they add a colour-kind shampoo to their routine, like the ColorMotion+ Color Protection Shampoo, then suggest they use the nourishing Color Fresh Mask weekly. Offering a hint of a tint, it refreshes salon colour in just 10 minutes. The Pearl Blonde edition is perfect for neutralizing cool-toned blondes, while Golden Gloss enhances warm-toned blondes.
Then the rest of the maintenance comes down to you. Clients should come back every six to eight weeks for a toning appointment, during which you can decide if the baseline needs raising. If so, a new batch of blonde highlights is required.
But when the rooted blonde look is created with a root smudge or shadow, higher maintenance may be in order. Your client might want you to touch up the colour every time they come into the salon. If so, check in and ask whether their smudging shade is still working for them. Altering the contrast from season to season ensures they have a rooted blonde 'do that looks fresh year-round.