5 Expensive Blonde Hair Formulas That Scream 'Chic'
According to this season's trends, there's blonde hair and then there's 'expensive blonde' hair; a nuance that promises seamless, soft and summery tones, all positively brimming with shine. The name has nothing to do with the price tag, but plenty to do with the chic, blended finish. This look is 'rich' in the best possible way, giving clients a gentler transition between their base and highlights. 
But here's the catch: no two expensive blonde hair creations look the same. Some might be golden, some have a caramel glow, and others come with a scattering of honeyed hues. What links the looks together is their warmth, their shine and their focus on soft dimension. No ash, no chunky highlights and no dramatic lift; just delicately defined highs and lows. 
So, how do you create expensive blonde hair in the salon? Follow these tips and formulas to nail the colour, then head to the maintenance section at the end – because care is key with this look. 
3 Top Tips for Expensive Blonde Hair
1. Stay Within Two Shades From the Base
This isn't a one-tone colour; blonde highlights are needed for an expensive-looking finish. However, they shouldn't contrast too much against the base, so make sure they're no more than two levels brighter. Use BlondorPlex to lift, then tone with warm shades that still feel light and bright. You could even mix up a couple of blonde toners and alternate them to boost dimension further. 
2. Try the Babylights and Teasylights Techniques
Let's go back to your lightening technique. Babylights (AKA micro-fine highlights) are perfect for this look, as the high volume of skinny ribbons paves the way for more seamless blending. You can combine them with a teasylights process, which means you would backcomb the root area first, then begin applying the babylights where the teased section ends. This creates a more diffused graduation between the darker root and the brighter mid-lengths. 
3. Consider Adding Shadow Lights Too
To reach a more multi-tonal, expensive-looking blonde, opt for a Koleston Perfect Shadow Lights service; an upgrade on monochromatic highlights that lets you work with multiple lustrous hues. You'll need a base highlighting colour (the blonde) and a stand-out accent shade that pops against those lighter ribbons. For the accent, we recommend going for something deeper, like a rich toffee, earthy beige or toasted taupe. You can also use this accent colour to create a soft root shadow. 
5 Expensive Blonde Hair Formulas to Try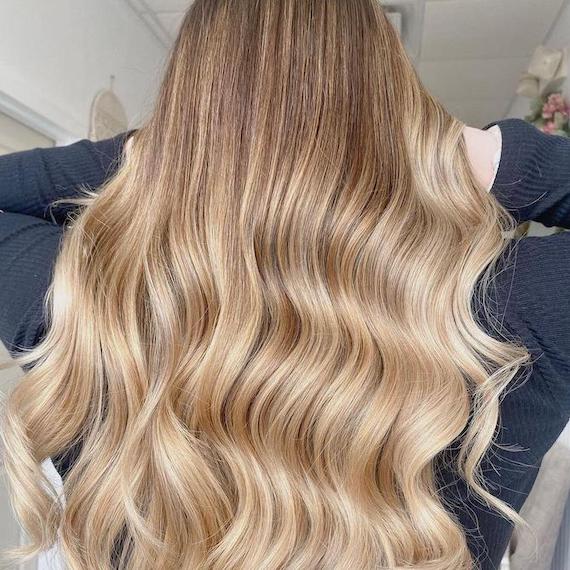 1
Expensive Honey Blonde Hair
Image Credit: @hairdreams.ny
Layering honey hues through dark blonde hair gives you expensive-looking radiance just like this. Keep the ribbons micro-fine to mimic the effect of virgin hair that's been naturally lightened by the sun. To take the shine even further, brighten babylights with a Koleston Perfect Pure Glossing Service, featuring a mix of 9/97 + 9/03 in the formula.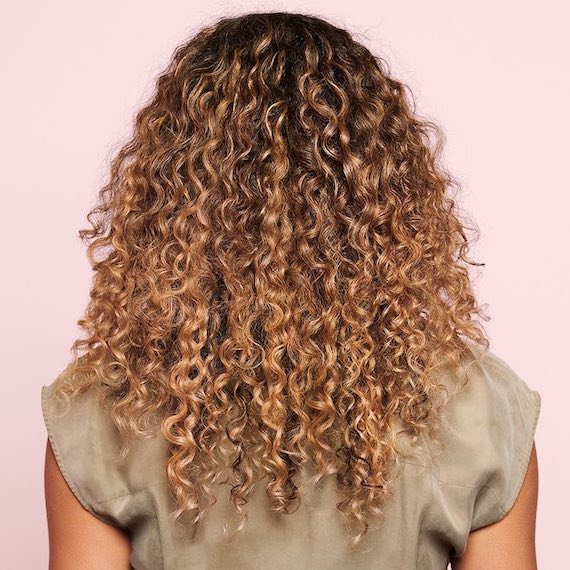 2
Expensive Golden Blonde Hair
Image Credit: @eddie_wella
Golden blonde hair was virtually made for sun-soaked trips to St. Tropez, or basking in the glow of a Portofino sunset with a limoncello spritz in hand. It's a colour that screams 'expensive', thanks to all that root-to-tip shimmer and shine, and with Shinefinity you can glaze your way to the dreamiest shade. Here, 09/73 has been applied to pre-lightened locks to lend a zero lift, zero damage glow through chocolate brown curls.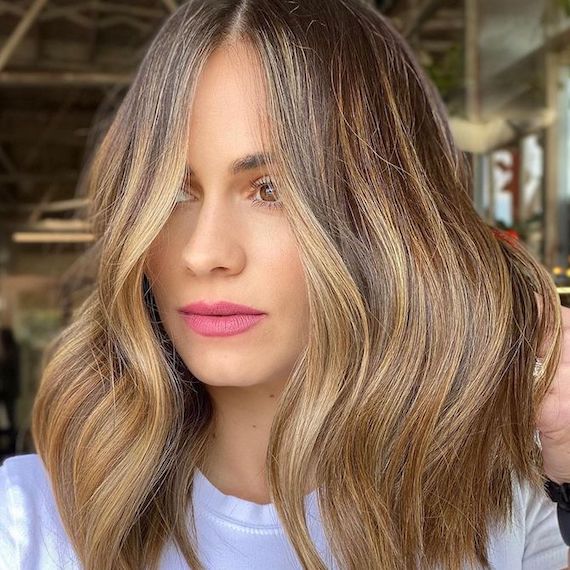 3
Expensive Toffee Blonde Hair
Image Credit: @danielleemilie
The light bronde (brown-blonde) trend is virtually synonymous with expensive-looking hair. It's warm, radiant, and delivers just the right amount of brightness to enhance your client's brunette base. Take it toffee-toned with this look as your inspiration. The formula? Color Touch 9/73 + 9/03 + 9/16, applied over the top of BlondorPlex teasylights.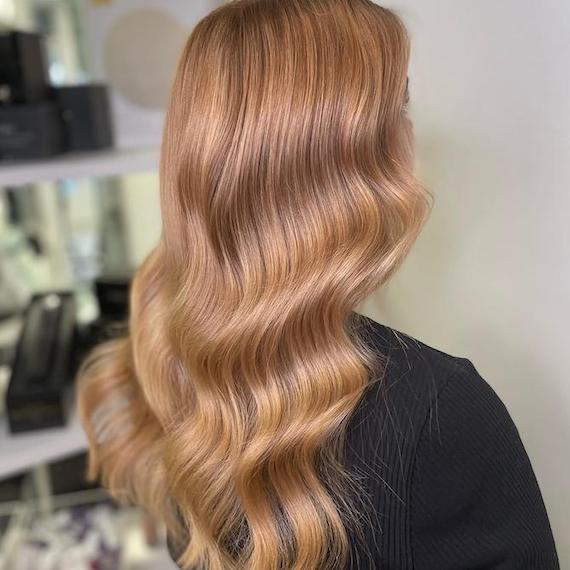 4
Expensive Strawberry Blonde Hair
Image Credit: @hairbycharlottelien
Redheads can embrace expensive blonde hair, too, with a strawberry-tinted shade. This is beautifully subtle and clean, injecting just a touch of rose that pops under the light. To get the look, highlights were toned with Illumina Color 9/43 + 10/38 + 1.9%; a formula that blends luminous copper with a light golden blonde.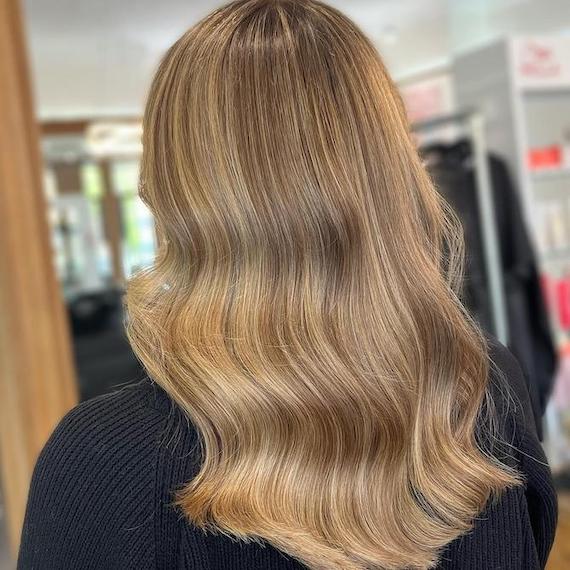 5
Expensive Beige Blonde Hair
Image Credit: @amyajmhair
We're getting Hailey Bieber vibes from this ultra-chic beige blonde colour – a hue that's become her signature ever since she deepened her formerly beach blonde locks. Recreate the look with BlondorPlex + 6% to pre-lighten, followed by Color Touch 9/01 + 1.9% to tone babylights to soft, seamless blonde perfection. 
How to Maintain Expensive Blonde Hair
Expensive blonde hair relies as much on condition as it does on colour, so it's crucial for your clients to embrace a nourishing wash-and-style routine at home. Introduce them to the tips below before they leave the salon, and emphasize the importance of deep hydration for highlights that stay lustrous and luminous between appointments.
1. Embrace a Colour-Kind Shampoo and Conditioner
When they're fresh, warm-toned blondes appear rich, radiant and beautifully sun-kissed. However, they run the risk of turning brassy over time, so a colour protection care routine is needed. Remind your clients to use a specially formulated shampoo and conditioner, like the shade-enhancing ColorMotion+ Color Protection Shampoo and Moisturizing Color Reflection Conditioner. Together, they ward off fading free radicals while bumping up glow-bestowing hydration. 
2. Apply a Deep Treatment Each Week
Clients should care for the mid-lengths and ends of their hair by veiling strands in deep treatments, like the Oil Reflections Luminous Reboost Mask. This creamy moisture magnet mask nourishes and replenishes the hair structure, so frizz and flyaways are smoothed, creating a shinier finish. Tell them to apply to clean, damp hair, ensuring they've squeezed out any excess water first, then allow it to absorb for five minutes before rinsing away with cool water. 
3. Use a Golden Colour-Depositing Mask
To bring balance back to those warmer tones in between salon appointments, recommend your clients use the Color Fresh Mask in Golden Gloss. With a hint of a gilded tint, it refreshes rich blondes in just 10 minutes. All they have to do is comb it through clean, damp hair, allow it to develop, then rinse away thoroughly. Remind them that they won't need to use a conditioner afterwards, as it's packed with nurturing ingredients that smooth and detangle their locks.
4. Fight Frizz and Dryness With Hair Oil
After towel-drying hair, suggest your clients use a hair oil to tame frizz and flyaways. Oils are great for adding a lustrous sheen and smoothing strands, while instantly dialing up hydration. EIMI Oil Spritz is perfect if their hair is fine and they want a lighter product, while Oil Reflections Luminous Smoothing Oil is our go-to for normal and coarse hair types. Tell them to apply their chosen oil to the mid-lengths and ends of their hair only, starting with just a drop at first. They can build it up if needed. 
5. Layer in a Heat Protection Product
The last step in your client's blow-drying and styling routine should be a heat protection spray. Our pick is EIMI Thermal Image, as it shields strands from heat damage while veiling blonde hair in glossy shine. Remind them how important it is to apply it before switching on their hairdryer, and then again before they use straighteners or a curling iron.