What is Sombre Hair? Your Subtle Ombre Guide
Everyone has heard of ombre hair, but what about sombre hair? Lesser-known but just as dreamy, it's up there with babylights as one of our favorite, natural-looking hair colour techniques. And, with summer rolling around, it's the season for brushing up on the latest Insta looks – especially the kind that give mid-lengths and ends a brighter, sun-kissed feel.
That's why we're bringing you our everything guide to sombre hair; a trend you're about to see all over the grid and beyond. Here's the full lowdown…
So, What IS Sombre Hair?
The clue's in the name. It's called 'sombre' because it's a very subtle ombre, taking that gradient look we all know and love, and making it even softer. While, with ombre hair, you might see colour shift three or four shades brighter through the mid-lengths and ends, sombre tends to stay within two levels of the base for an almost undetectable lift.
On bolder colours, like a pink, this might mean having a rose gold shade through the roots, which fades ever so slightly pastel as you reach the very tips. For more natural hair hues, such as browns, blondes and reds, the very best sombre 'dos could be mistaken for the handiwork of a hot day on the beach. That's how subtle we're talking.
Some colourists even like to add a scattering of lowlights through the ends of sombre hair, choosing a shade that's a close match to the root to break up the brightness, which makes the ombre even gentler. Discuss the options with your client to figure out just how subtle they want to go. Having photos to show them can help, so you might want to bookmark this page for later.
Who Suits Sombre Hair?
While a pixie crop or bob tends to be too short to show off sombre or ombre hair, clients with a lob or longer locks will love the gentle gradient effect. Beyond length, it's a versatile technique that can be applied to any base colour, from ash blondes and dark brunettes to bold manes in shades of blue or green. Plus, because it requires only a delicate dip into the colouring pool, it's perfect for anyone who's new to ombre hair and wants to experiment.
What's the Difference Between Balayage and Sombre Hair?
It all comes down to placement. With balayage, you sweep lightener where you want strands to shimmer, tracing it through the face-framing layers, the mid-lengths, the ends… anywhere that suits your client best. By contrast – rather than ribbons of lightener, which can be clearly seen in balayage – for sombre, the lightener is applied through all lengths and ends, blending to a near invisible finish towards the roots. Once lightened, a toner is then applied for a seamless, subtle finish. Just make sure that, when a client asks for one of these techniques, they show you a picture of what they want. Sometimes – even though they're very different – ombre, sombre and balayage can get mixed up.
How to Apply Sombre Hair
1. Start with Lightener
We want sombre to be subtle, but we don't want it to be invisible. That's why darker locks will need to be pre-lightened to ensure the colour you apply on top pops. Try Blondor Freelights, applying it from where you want the gradient to start, right down to the tips. Then wash with a shampoo, neutralise with Blondor Seal & Care and dry the hair, ready for toner.
2. Shade the Roots
Some clients will want to stick with their existing root colour, allowing you to skip this step. However, if they're looking to cover regrowth, touch up greys or transform their hair, you can add a little root shading. Choose a demi-permanent colour, like Color Touch, in their chosen hue, and apply with a tint brush to the full root section, feathering down to where the gradient will begin.
3. Color the Middle
Next, apply the middle shade of your sombre look. This should be a little lighter than the roots, but deeper than you want the tips to be. Apply it across the full width of the mid-section of hair, gently flicking the formula downwards but leaving the ends completely clean of colour.
4. Brighten the Ends
Finally, apply the lightest shade to the full width of the ends of hair. It should be just a little bit brighter than the mid-section and around two shades up from the roots. Remember that the ends of hair tend to be drier – which can make strands more porous and absorbent – so you may want to consider using a lighter shade or adding some 0/00 Special Mix to your formula.
5. Style and Glow
Once the colours have developed, wash the hair and blow-dry to perfection. We love a super-straight style for sombre hair – spritzed with EIMI Thermal Image heat protection spray – to really show off the glowy, gradient effect.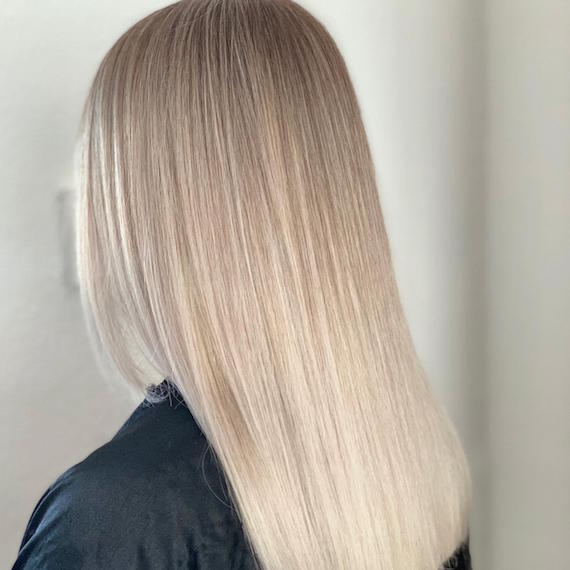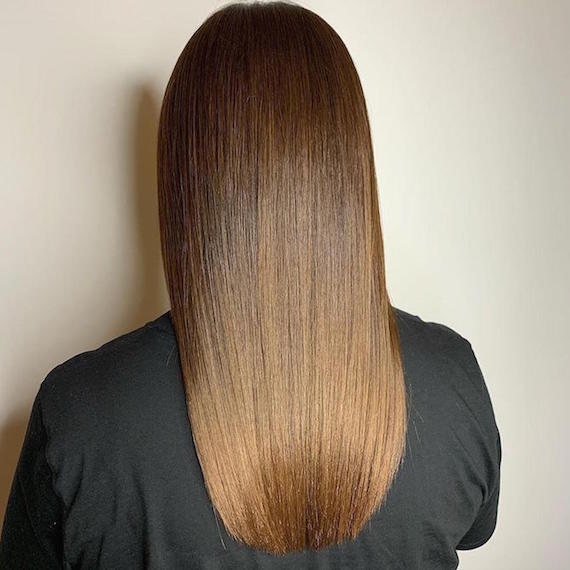 2
2. Brown Sombre Hair
Image Credit: @hairbysiric and @wellanordic
Giving the appearance of a spotlight shining on the mid-lengths and ends of hair, this sombre lends depth and dimension to brunette locks. Siri created the look by brushing Koleston Perfect 5/1 + 7/1 + 4% through the roots. Then, after washing KP out and drying the hair, she melted Color Touch 6/0 + 7/73 + 4% in the mid-lengths and ends.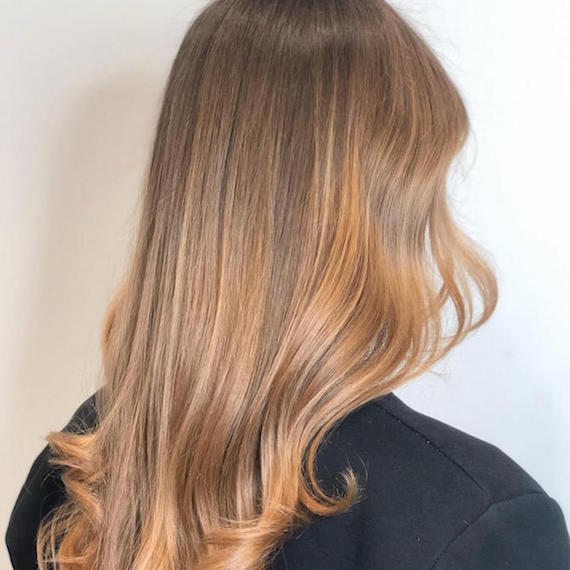 4
4. Bronze Sombre Hair
Image Credit: @salvobinetti
Is it just us or is this colour glowing? It's the definition of a sun-drenched brunette, segueing from warm roots to bronzy ends that glimmer with every flick and curl. We love how Salvo Binetti has added the gentlest wave to the ends, lightly wrapping tips around a tong for movement that ups shine even further.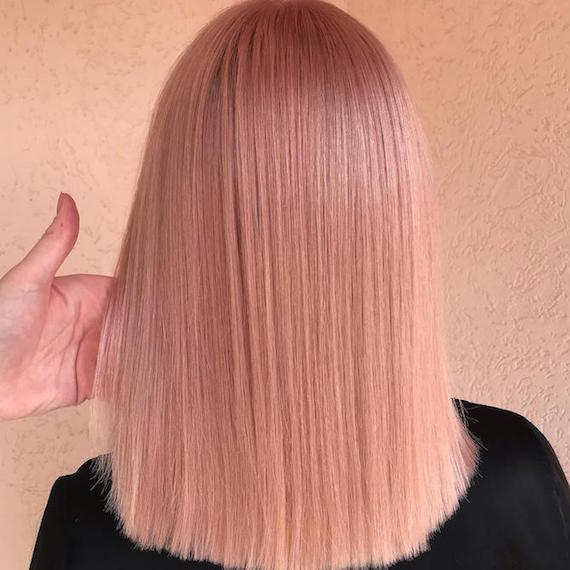 5
5. Pink Sombre Hair
Image Credit: @gromi_haircut
Rose gold hair gets a glossy update with pastel sombre ends, flawlessly blended using permanent Illumina Color. If your clients are looking for a softer, more delicate way to work a touch of pink, this hazy, vintage-inspired look is our new-season go-to.
1. Golden Sombre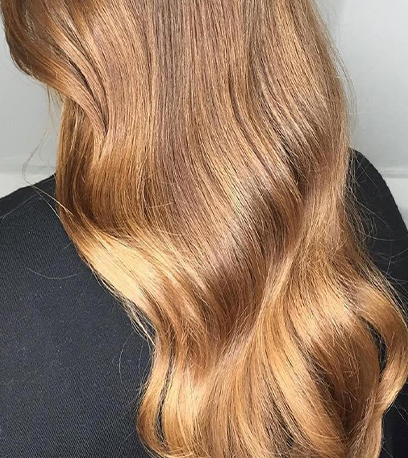 Colour Formulas:  
Blondor Freelights, Freelights Developer,
Color Touch, Color Touch Emulsion
Sections:
Highlights: 30g Freelights + 60g freelights 6%
Lowlights: 20g 8/73 + 40g 1.9%
Gloss: 30g 9/31 + 60g 1.9%
2. Ash Blonde Sombre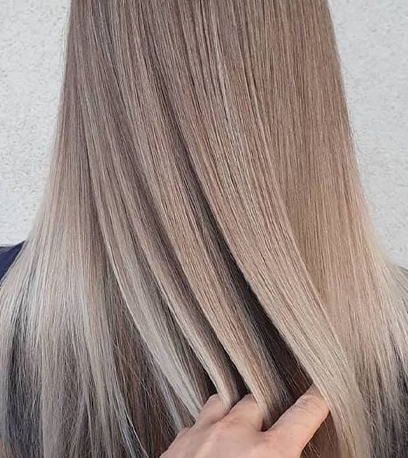 Colour Formulas:  
Color Touch, Color Touch Emulsion
Roots: Natural
Lengths:
A: 10g 9/97 + 10g 8/38 + 40g 1.9%
B: 15g /18 + 30g 1.9%
3. Stone Wear Sombre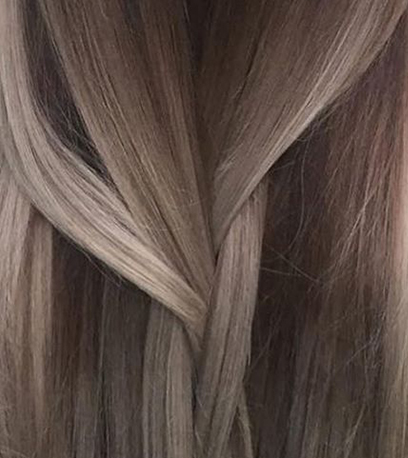 Colour Formulas:  
Blondor, Welloxon Perfect
Painted panels: 30g Multi Blonde Powder + 30g 6%
Koleston Perfect, Welloxon Perfect
Root Smudge: 30g 5/1 + 7g 4/0 + 3g /88 + 80g 1.9%
(Rinse)
Color Touch, color Touch Emulsion
Tone: 15g 8/81 + 15g 9/16 + 60g 1.9%
4. Warm Brown Sombre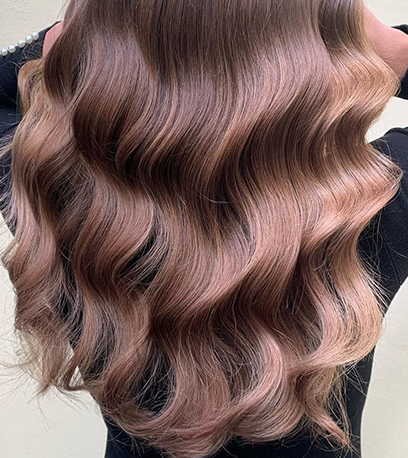 Colour Formulas:  
Koleston Perfect, Welloxon Perfect
Toner A: 30g 10/96 + 30g 9%
Toner B: 20g 9/96 + 20g 8/38 + 40g 6%
5. Serenity Sombre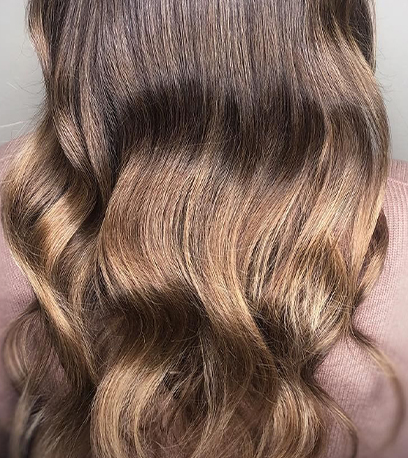 Colour Formulas:  
Blondor Freelights, Freelights Developer,
Color Touch, Color Touch Emulsion
Freehand: 30g Freelights+ 30g freelights 6%
Roots: 20g 6/1 + 40g 1.9%
Ends: 15g 8/71 + 15g 9/0 + 60g 1.9%