5 Lived-In Blonde Hair Color Ideas & Formulas
There are two types of blonde clients: those who want their color light, bright and statement-making, and those who go for natural-looking hues with seamless blends and an effortless edge. That second group – the lived-in blondes – has been growing in recent years, as a minimal beauty movement that has taken off on TikTok and Instagram.
We've seen pared back makeup looks bolstered by demand for softer shades of blonde; a trending style that translates to sandy hues and bronde tones painted through locks in freehand sweeps. But, while lived-in blondes are perfect for clients who crave low-maintenance hair color, they require pro precision to perfect in the salon. A lot of effort goes into these effortless looks. 
So let's explore the lived-in blonde hair coloring services you need to know, plus five formulas to inspire your own creations…
What is Lived-In Blonde Hair?
Lived-in blondes are the antithesis of root-to-tip, salon-fresh highlights. Although they take time and skill to perfect, they give hair a beautifully undone feel that's especially welcome in the warmer months. You'll often see this trend in rich, golden tones, with hints of honey, caramel and bronde hair color (brown blonde), but cool or neutral blondes with a beachy vibe also give locks an effortless glow. That's part of what makes lived-in blondes so popular; they're versatile enough to work with all skin tones. The soft regrowth – courtesy of freehand painting – simply seals the deal for clients who crave easy-to-maintain color.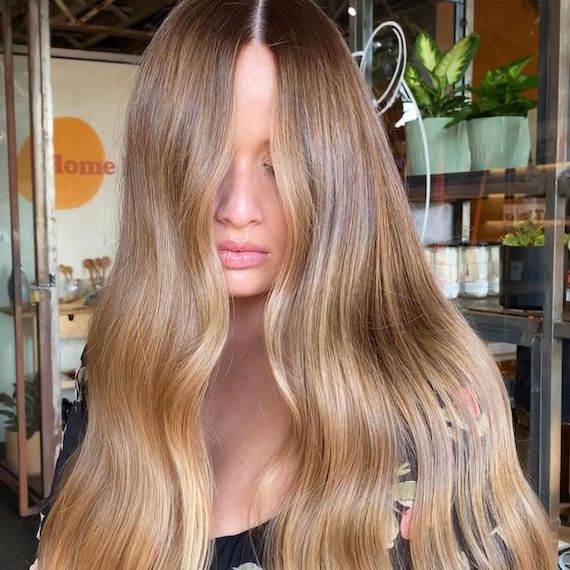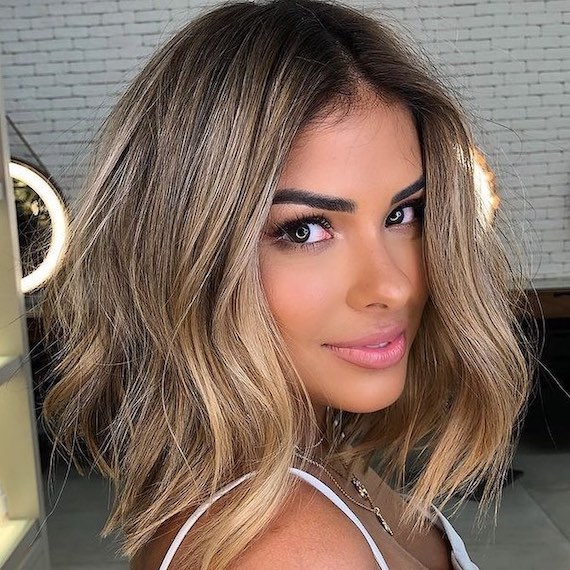 3 Lived-In Blonde Hair Coloring Techniques to Try
For Low-Commitment Color: Balayage
The ultimate lived-in blonde service is balayage. For ultra-dimensional hair color with no harsh root lines, the trick is to set mid-lengths and ends aglow using freehand sweeps of BlondorPlex. By leaving the natural root area untouched and focusing blonde shades through the lengths of hair, you give your client a low-maintenance look that grows out beautifully. Their blonde balayage will look lived-in – in the best way! – the second they leave the salon chair. Think off-duty model hair, which you can amp up by styling locks in tousled waves. 
Watch our balayage tutorial:
For Beach Babe Hair: Illuminage
Discover California-inspired dream hair with Illuminage; one of Wella's Signature Blondes hair coloring services that teams the softest root shadow with sun-kissed ribbons. This technique relies on the light-reflective finish of Illumina Color to give locks a radiant glow. Sweep a darker shade through the root area, then lift and tone the face frame and perimeter to create a halo of brightness. Perfect for clients whose skin and hair goals are all about that glow, this is the new-season service to recommend for anyone asking for beautiful, summer-ready hair. 
Watch our Illuminage tutorial:
For Super Soft & Subtle Blends: Teasy Lights
A softer take on balayage, teasy lights still call for freehand strokes of lightener, but a little teasing ensures the blend from roots to lengths is almost undetectable. Grab your comb and gently backcomb just above where your client's balayage should begin. This is usually a few inches down from the root, but you can take it as high or low as your client wants. The teasing results in a soft-focus fade with no demarcation lines. 
Watch our Teasy Lights tutorial:
The Lived-In Blonde Formulas to Try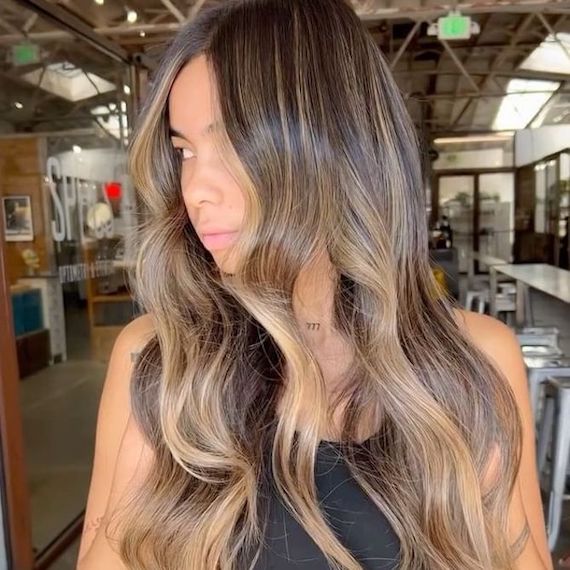 1
Dark Roots With Golden Highlights
Image Credit: @danielleemilie
      When you're crafting a lived-in balayage for your clients, you have two options for the root: you can either leave it natural or, if they prefer, you can add a slightly darker root shadow. The big plus of a root shadow is that it lets you personalize your client's final look even further, and you can camouflage any gray regrowth if they want you to. Here's a great example of a root shadow and balayage combination, which started with Koleston Perfect 5/0 + 1.9% on the root area, followed by BlondorPlex + 6% to lift mid-lengths and ends. A final toning session with Color Touch 9/0 + 9/73 + 1.9% gave the client's blonde shade a golden glow.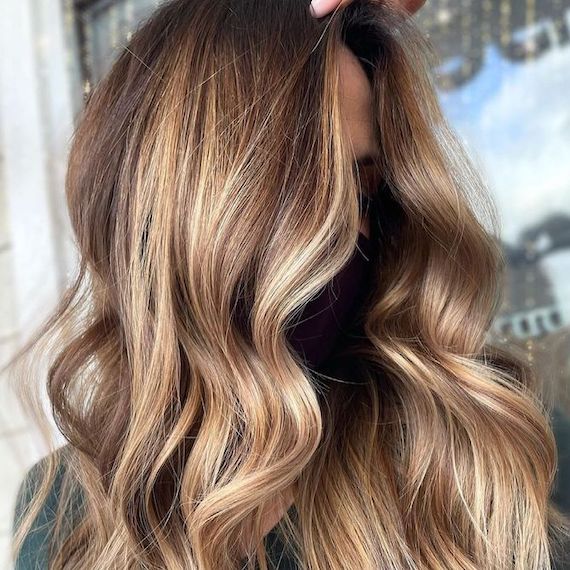 2
Seamless Bronde Balayage Highlights
Image Credit: @summerevansstudio
Bronde (or brown blonde) is the ultimate lived-in blonde. It's rich, radiant and warm, combining toffee and caramel and honey tones for a gourmand-inspired masterpiece. This particular bronde features extra brightness through the face frame and sides of the hair, so you get a vibrant yet seamless segue from light to dark, thanks to a scattering of babylights. Those 'lights were created with Blondor Freelights + 6%, while lowlights were painted with Color Touch 7/03. Then, the whole look was toned with 9/73 + 8/0 to blend the gorgeous hair colors. The result? Multi-dimensional hair that shimmers with every swish.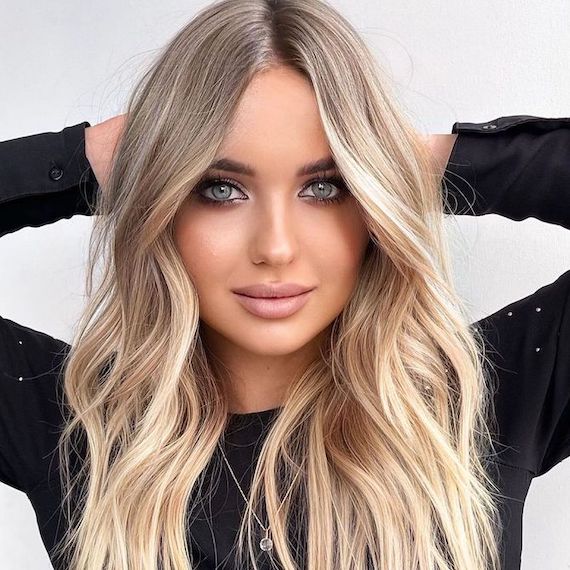 3
Lived-In Stone Blonde Hair
Image Credit: @oladementeva
Lived-in blondes in cool tones give us that off-duty surfer vibe, so if your client wants to keep their color clean and crisp, this is a great option. For this look, locks were lightened with two Blondor Freelights formulas: one with 6% developer for the roots to mid-lengths, and one with 9% developer for the mid-lengths and ends. If you follow this technique, you could then enhance the color with a Shinefinity Color Glaze, using a shade like 09/36 Vanilla Glaze or 08/38 Honey Latte.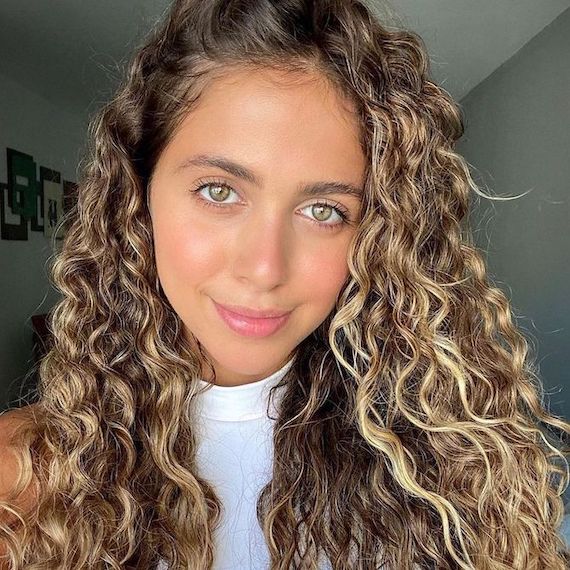 4
Rich Honey Blonde Highlights
Image Credit: @lotufo
Honey blonde highlights on a dark blonde base give your client's tresses major dimension – especially on curly hair. Just look at how the shape of those lifted pieces pops. Try recreating the effect with Color Touch 6/0 on the root (just long enough to break the blonde at the roots), then apply Blondor Freelights + WellaPlex + 12% in chunky highlights through the mid-lengths and ends. Complete the look with 9/03 + 9/01 + 1.9% to tone, and you've got a dirty blonde that feels lived-in and polished all at once.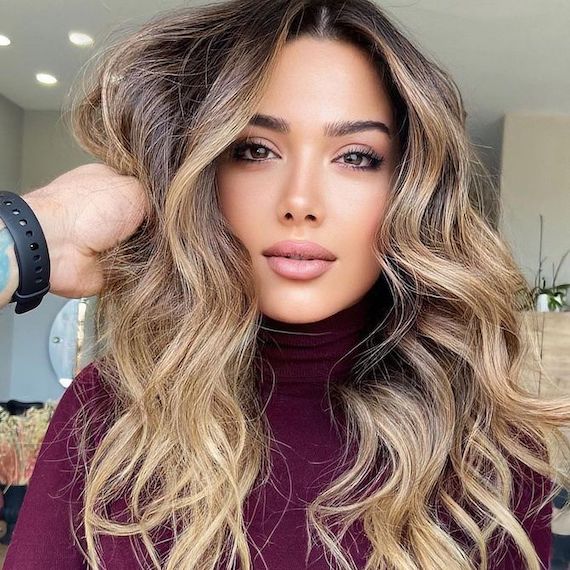 5
Caramel Bronde Balayage
Image Credit: @somehair_ali
The highlights. The face frame. The caramel tone. What's not to love about this lived-in, expensive-looking blonde? With a natural shadow root, BlondorPlex-ed ribbons and a warm toner, it exudes richness. Try creating the look by lightening the mid-lengths, ends and face-framing layers first, then tone with Koleston Perfect 8/07 + 7/73 + 8/7 + 3%. Finish with EIMI Glam Mist for added glow.
How to Maintain Lived-In Blonde Hair
These looks are low-maintenance but not no-maintenance; your client will still need to care for their blonde at home. Share these three tips with them to ensure their 'lived-in' color stays beachy – not brassy – in between hair color appointments...
1. Refresh Blonde Highlights With a Tinted Hair Mask
Warm hair colors, like golden blondes and brondes, can fade too warm if they're not cared for, so show your client how to top up their tone at home with the Color Fresh Mask. This tinted treatment comes in two rich blonde-meets-brown shades, Golden Gloss and Caramel Glaze, which give lackluster locks extra polish until it's time to head back to the salon. All your client has to do is apply it to clean, damp hair at least once per week, leave it on for 10 minutes, and then rinse thoroughly. Their lived-in hue will hold on to that sun-kissed radiance. 
2. Illuminate Subtle Highlights With Hair Oil
Lived-in blondes should glisten and glow. Your client wants their natural-looking highlights to sparkle, and few things elevate luminosity like a drop of hair oil. Introduce them to Oil Reflections Luminous Smoothing Oil, which is light yet lustrous; perfect for smoothing through mid-lengths and ends of locks both before and after blow-drying. But remember: less is more. Your client should start with just a drop (or even half a drop on short hair) then build up as and when needed. 
3. Add Effortless, Undone Waves
Unless your client has natural curls or waves, they may need a quick tousling tutorial. Lived-in blondes and beachy waves are a dream combo, so show them how they can amp up texture at home. One of the best ways is with a salt spray, like EIMI Ocean Spritz, which adds guts and grip to naturally straight hair. Recommend they mist it through damp or dry hair and gently scrunch to unlock some surfer movement. They could also put just-spritzed hair into braids overnight for added waves. The clever formula encourages texture while protecting locks from dehydration. 
Now you have all the tips you need to create the lived-in blondes of summer dreams, get mixing those golden formulas. Don't forget to share your looks with us on Instagram by tagging @WellaHairUSA.