6 Red Brown Hair Ideas & Formulas for Autumn
Like pumpkin spice lattes, leaves on the ground and the switch to your cool-weather wardrobe, few things say 'autumn' better than a sudden influx of red brown hair requests. Shades of auburn, mahogany and merlot signal the start of one of our favorite seasons, when suddenly every other client is craving a deep red transformation.
So, mixing bowls and tint brushes at the ready. Here, we've rounded up everything you need to know about red brown hair, including six formulas for the most covetable hues…
What is Red Brown Hair?
It's not a single shade. Red brown hair covers a full spectrum of hues, from brunettes with a fiery glow to coppers that boast a rich, chocolatey feel. Some clients want a full head of one red-meets-brown color, while others might ask for brown roots and red balayage. As long as there's a balance of the two hues, you've perfected red brown hair.
How to Create Red Brown Hair
No matter what red brown shade you're creating, there are a few rules every colorist needs to know before they start blending the dreamiest autumn-ready color…
1. Dark Hair Needs Pre-Lightening
Say you're working with dark brown hair and you want to add a touch of red; in most cases, you'll need to pre-lighten the sections where you want the red to appear. For all-over lightening, try Blondor Multi-Blonde Powder as a base, which achieves up to seven levels of lift. To create red brown balayage, sweep Blondor Freelights through the mid-lengths and ends. This freehand hair lightener is our go-to for painterly accents that are easy to apply.
2. Pick the Perfect Product
There are a multitude of color products within reach for a red brown hair creation. Choosing one depends on your client's desired finish and commitment level. If they like a fades-flawlessly demi- or semi-permanent hair color, try Color Touch, which has a palette of Vibrant Reds and Pure Naturals that can be mixed together. Semi-permanent Color Fresh is ideal for ammonia-free color enhancing, while permanent Koleston Perfect and Illumina Color offer a longer-lasting, more intense finish.
3. Add Rich Naturals for Gray Coverage
For clients hoping their red brown hair hue will cover silver strays, discuss the level of gray coverage they want before you mix up their perfect shade. If full, opaque coverage is on the agenda, use Koleston Perfect, ensuring you mix the right level of Rich Naturals or Pure Naturals into their target shade. Here's a guideline: add in ⅓ of a Pure Naturals shade on hair that's 30%-50% gray and ½ of a Pure Naturals shade for hair that's 50%-100% gray.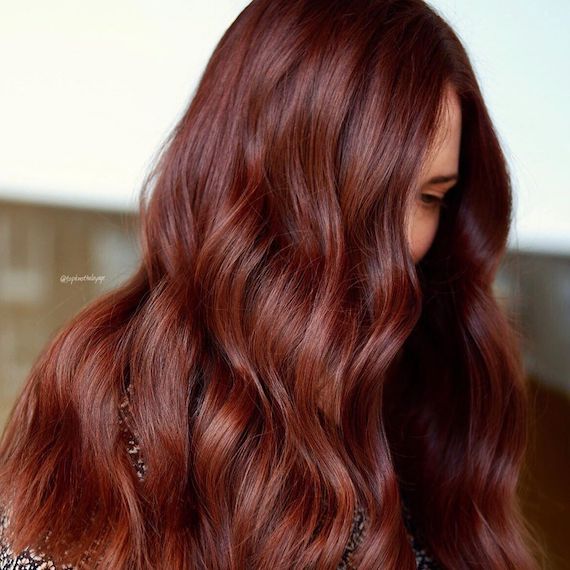 1
Mahogany Hair
Image Credit: @topknotbalayage
This is the mahogany mane of dreams. To recreate this glossy, glowy look, try Color Touch in 7/73 + 7/0 + 7/4. Tonging in a loose wave simply adds to the high-shine finish, with every curve and curl catching the light in the most flattering way.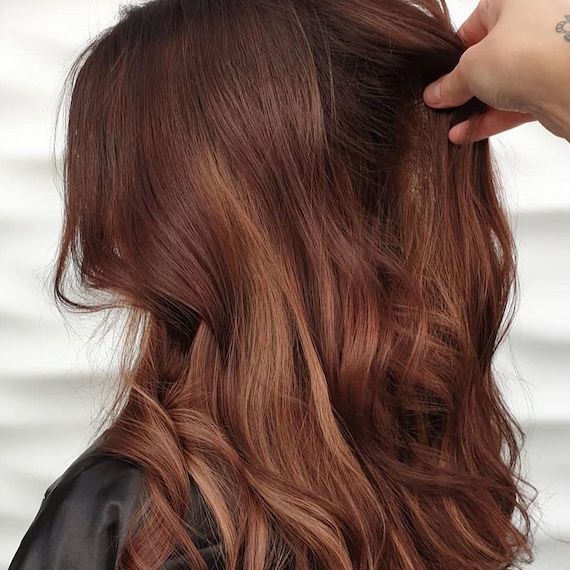 2
Auburn Hair
Image Credit: @saarajohansson, @salonghypehallarna and @wellanordic
Auburn is synonymous with red brown hair. It's the first hue we think of, simply because it strikes the most flawless balance of chocolatey depth and burnished red. For this particular auburn hair hue, Saara Johansson used Color Touch 5/1 + 5/97 + 5/75 + 1,9% (1:2) through the roots, followed by Koleston Perfect 6/7+5/43 + 1,9% Pastel (1:2) in the lengths. To achieve those delicate lighter sections, Color Touch 7/73 + 9/97 + 1,9% (1:2) was applied, adding extra dimension to the overall look.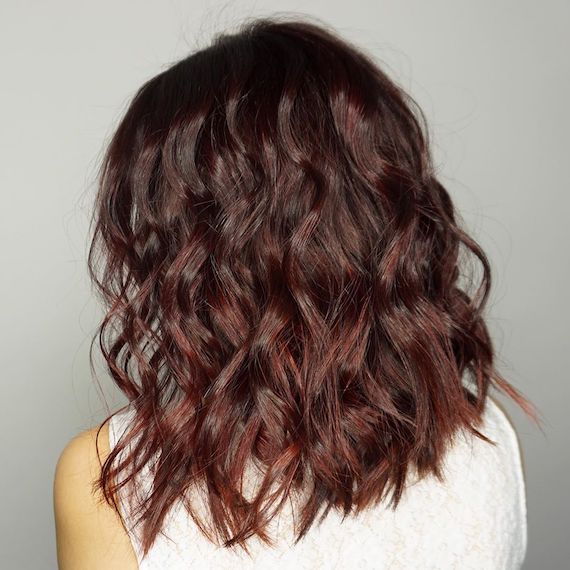 3
Merlot Hair
Image Credit: @kai_sohn
Take inspiration from red, red wine with this merlot creation. Featuring brunette roots and deep red ends, it seems a Color Touch combo of 4/5 +1,9% (1:2) and 77/45+1,9% (1:2) swept through locks. Finally, Color Fresh CREATE in Next Red was applied to up the vibrancy.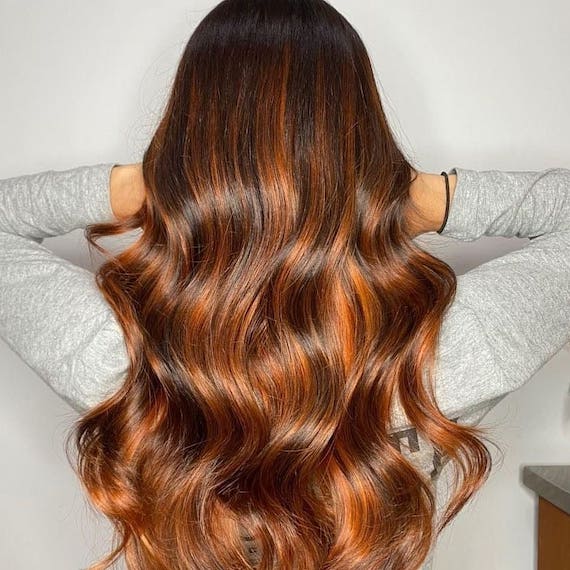 4
Copper Brown Balayage
Image Credit: @hairroommelbourne
Because balayage is forever covetable, we're obsessed with this brown-to-red blend. Millie at The Hair Room Melbourne created the freehand ribbons with Blondor Freelights first, rinsed it out, then applied Color Touch as a toner, using 20g 7/43 + 10g 6/4 + 60g 1,9%. This formula was smoothed all over and left for 15 minutes, resulting in an eye-catching contrast between the rich, brown base and the coppery highlights.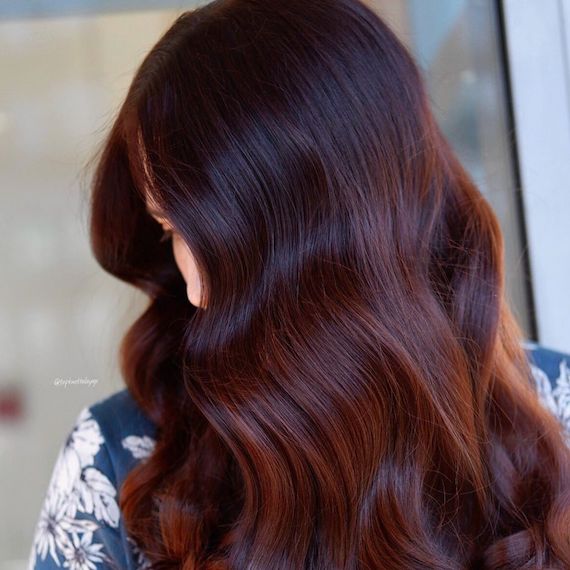 5
Dark Red Brown Hair
Image Credit: @topknotbalayage
Red brown hair goes ultra-dark in these cherrywood waves, created with – you guessed it – demi-permanent Color Touch once again. If you'd like to recreate the look, try 7/73 + 7/4, then leave to develop under gentle heat for a burnished brunette that's beyond radiant.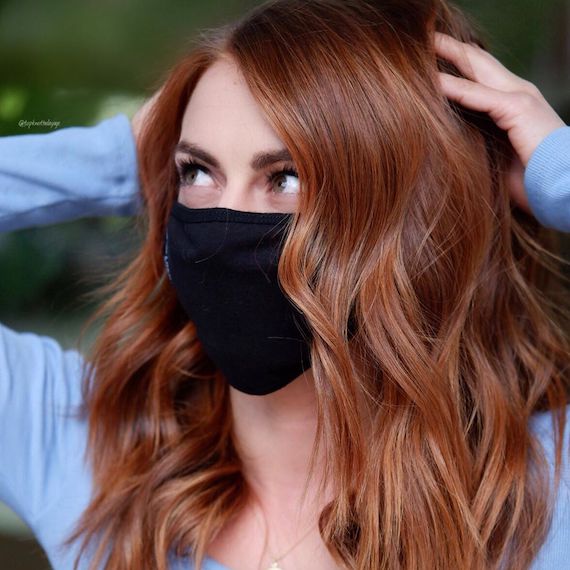 6
Light Red Brown Hair
Image Credit: @topknotbalayage
Dubbed 'sun-kissed sriracha' by Amanda Leaman, this light red brown hair hue features chocolate, spice and all things nice – with a little bit of Color Touch thrown in. She used 7/0 + 7/73 + a line of 7/43 for a scattering of lowlights, then glossed all over with 8/73 + 8/43
How to Maintain Red Brown Hair
Maintaining red brown hair is a tag team effort between you and your client. Give them the tips they need to revive color at home and recommend that they book those touch-up appointments every six to eight weeks. If you're wondering what product to suggest, here's what they need…
INVIGO Color Brilliance Shampoo
pH-optimized and created specifically for colored hair, INVIGO Color Brilliance Shampoo helps red brown locks last longer. Designed to be used for every wash, there are two versions available: one for fine or normal hair and one for strands that are coarser in texture.