5 Salt 'n' Pepper Hair Looks For a Gray Glow-Up
Is your client just making the transition to gray hair? Or do they have silver strands that need a dimension boost? Then salt 'n' pepper hair is the high-low, multi-tonal look they're going to love. Mixing grays and pale blondes with deep, almost-black browns, this look is all about playing with light and shadow, so hair shifts and shimmers with every swish. That's the beauty of salt 'n' pepper locks. 
Here, we reveal how you can create this dimensional look for your client, no matter if they're already gray, or they're looking to embrace a monochromatic palette. This is what you need to know…
How to Create Salt 'n' Pepper Hair
On Hair That's Already Gray
If your client's hair is already gray but lacking depth and dimension, you can add darker pieces – the 'pepper' – with a few precisely placed lowlights in a dark ashy brown. Try this trick with Color Touch in 3/0. Or, to achieve higher color intensity, apply Koleston Perfect in 2/0 or 4/0. Color Touch will lightly stain those grays for a sheerer result, while Koleston Perfect offers up to 100% gray coverage for a deeper finish.
You could also turn to Silver Glow by True Grey; a collection of seven toners that have been specially developed to meet the needs of your gray-haired clients. While the light toners – such as Pearl Mist Light and Graphite Shimmer Light – work to brighten the 'salt' sections in their locks, a deeper shade, like Graphite Shimmer Dark, can be used to add shadows where they need them most. All you have to do is mix their True Grey Toner of choice with the True Grey Activator in a ratio of 1:1, then tactically sweep through sections of hair for a salt 'n' pepper effect. Leave it to develop for up to 30 minutes then rinse, shampoo using Elements Renewing Shampoo, and condition with the True Grey Clear Conditioner Perfector.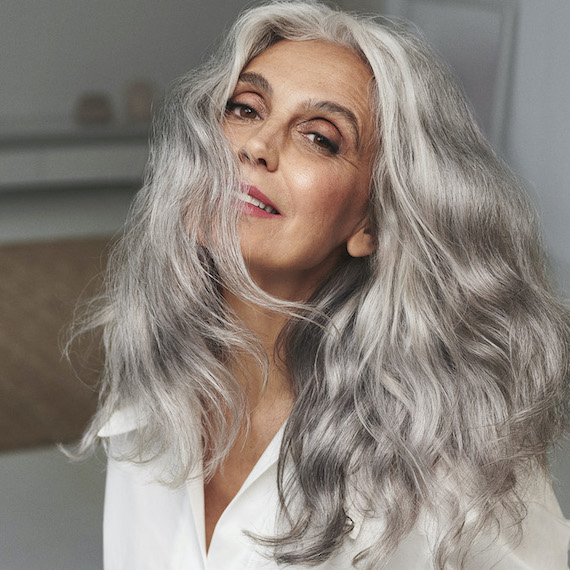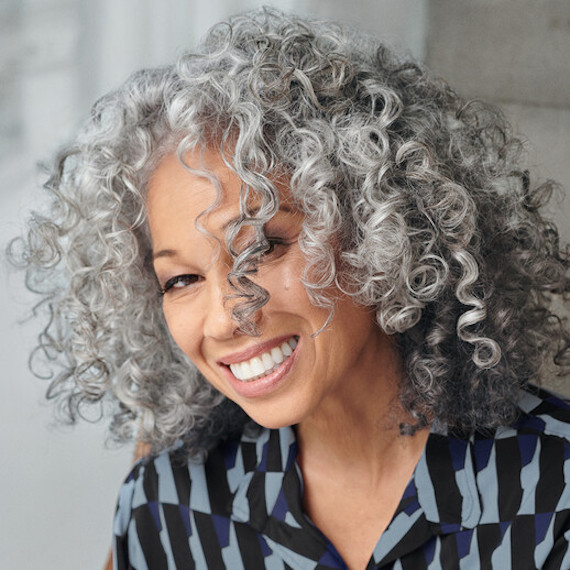 On Hair That's Not Naturally Gray
For clients who only have a scattering of grays or no natural grays at all, creating a salt 'n' pepper look becomes a bigger transformation. In most cases, you'll need to pre-lighten their hair to prepare for the 'salt' sections, while also coloring the rest of the hair a darker gray or a brown-black shade.
For your lightener, use BlondorPlex , which is infused with our bond-strengthening Plex ingredient (which you'll also find in the WellaPlex collection). Apply it with a highlighting, ombre or balayage technique, then wrap sections in foils. Next, try sweeping a shadow shade through the sections where you want the 'salt' to appear. Try Illumina Color 4/ or go darker with Koleston Perfect 2/0.
Once the lightener and color have developed and been removed, you'll need to tone your client's highlights, balayage or ombre. Opt for a cool gray blonde shade, such as Koleston Perfect 9/81 or Illumina Color 10/81. These 'lights are all about contrast, and you need them to be cool in tone for a true salt 'n' pepper look. But if your client wants a softer finish, you can also opt for violet-tinted gray blondes on a level 7 or 8.
5 Ways to Work Salt 'n' Pepper Hair Color
1. Salt 'n' Pepper Highlights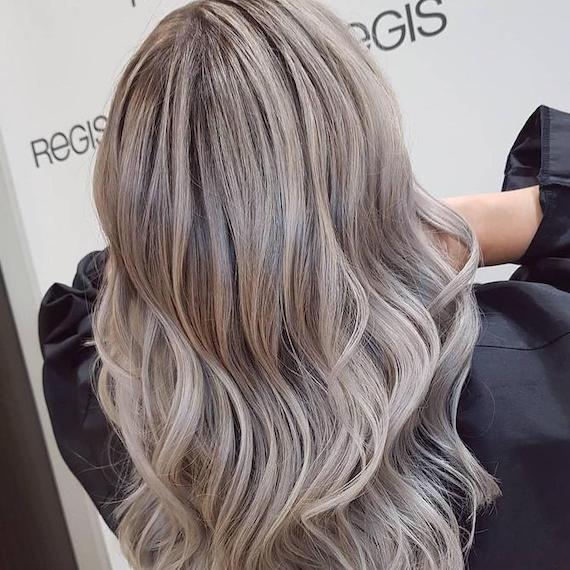 Image Credit: @alicia.mce.hair
There's more salt than pepper in these highlights, but that's what makes them so radiant. If your client is craving a glow, give them full-head highlights with a little dark 'pepper' peeking out between strands. The trick is to use BlondorPlex to lighten from root to tip, then try toning with Color Fresh 10/81 with a dash of 8/81. Finish with a shine spray, like EIMI Glam Mist.
2. Salt 'n' Pepper Money-Piece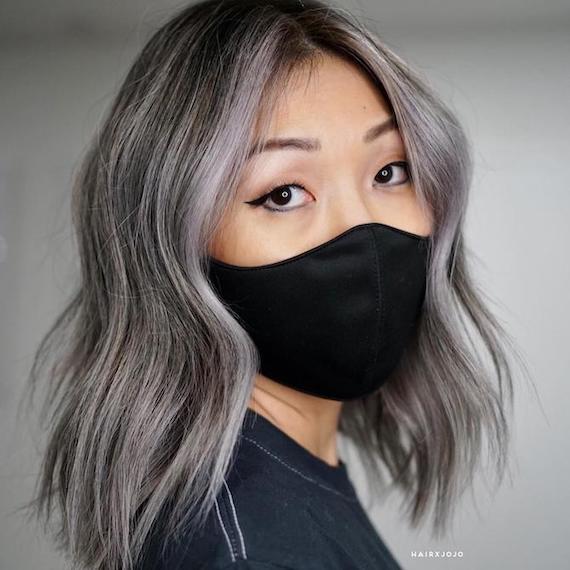 Image Credit: @hairxjojo
A great (and quick) way to boost natural salt and pepper hair is with a money-piece. For clients who already have a high volume of silvery strands, brightening the face frame helps to lend some extra luminosity. Take a chunky slice at the front, and start painting from just off the root right through to the tips, using BlondorPlex to achieve the desired level of lift. Then, once it's developed, tone with a steely gray, such as Silver Glow by True Grey in Graphite Shimmer Light or Illumina Color in 10/69.
3. Salt 'n' Pepper Balayage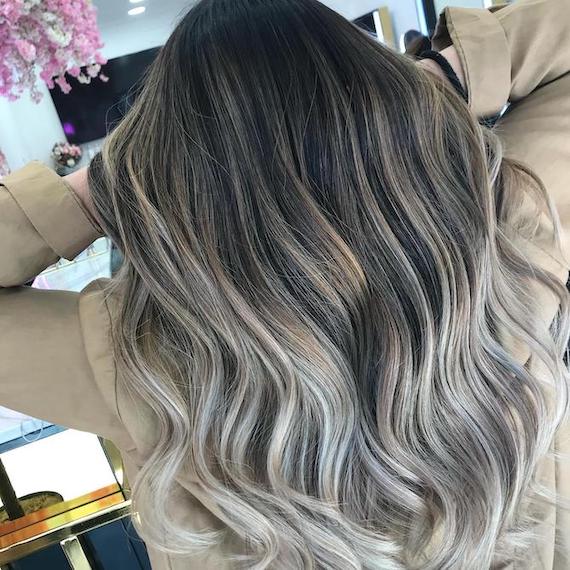 Image Credit: @by.bulentkaratas
A salt 'n' pepper balayage takes silver hair to new heights. Create the look on a dark brunette base (or add a root shadow for depth) by painting BlondorPlex through the mid-lengths and ends. Once it's developed, complete the lightening service with WellaPlex No2.
Then, try applying an Illumina Color formula that features 10/81 + 10/ + Platinum Lily.
4. Short Salt 'n' Pepper Hair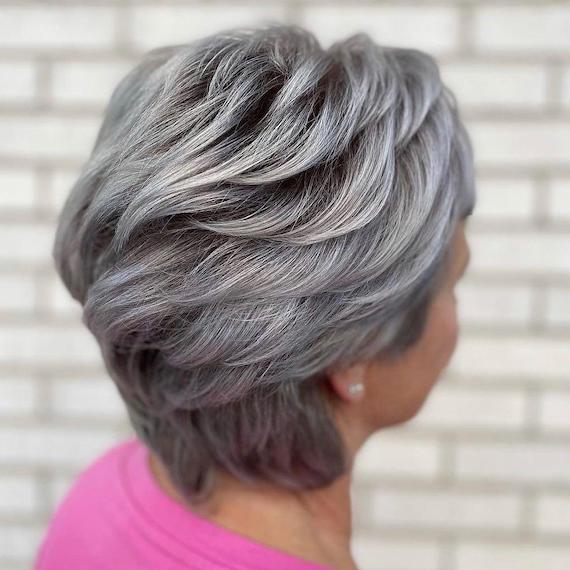 Image Credit: @jaripalin
Natural grays are enhanced with dark graphite and sparkling silver tones in this short salt 'n' pepper look. Recreate the effect with Illumina Color to play up the natural highs and lows in the hair. Then, style locks with the EIMI Velvet Amplifier for a super-smooth blow-dry like this. We love how this gray hairstyle has been softly feathered and flicked out for a polished finish.
5. Chunky Salt 'n' Pepper Highlights and Lowlights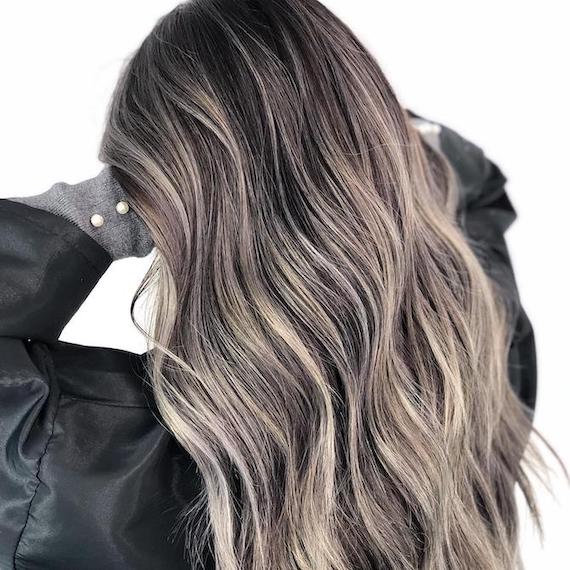 Image Credit: @jeongchen
Don't be afraid to play with chunky highlights and weighty lowlights in a salt 'n' pepper look. These statement ribbons are a clever way to blend in stray grays, while keeping depth, darkness and dimension in place. Try it by using Koleston Perfect 2/0 as the base, and 9/81 to tone the highlights. The contrast of the two tones is beyond captivating.
How to Maintain Salt 'n' Pepper Hair
1. Tailor Their Shampoo Recommendation
If your client's salt 'n' pepper hair comes courtesy of a color product, recommend they use a shampoo that teams hydration with shade protection. ColorMotion+ Color Protection Shampoo is a favorite for nourishing and shielding strands in one, as it's packed with antioxidants to stop the dulling effects of pollutants. For natural gray locks, point them in the direction of INVIGO Nutri Enrich Shampoo; a moisturizing cleanser that will pamper strands, which can turn coarse and wiry over time.
2. Suggest Using a Purple Shampoo
Purple shampoo is one of the best shampoos for gray hair you can use. Because it boasts a violet tone, it can neutralize hints of yellow that are common in salt 'n' pepper locks. Suggest your client adds INVIGO Cool Blonde Color Refreshing Shampoo to their kit for a quick refresh. All they have to do is reach for it when yellow tones appear, lather up, and leave on for 2-5 minutes.
3. Advise On Deep Nourishing Treatments
Colored hair and naturally gray hair both deserve a boost of nourishment, so let your client know how important it is to do a weekly moisture mask. For colored locks, the ColorMotion+ Structure+ Mask is a creamy savior that replenishes hydration, while those with their natural shade in place will enjoy the INVIGO Nutri-Enrich Deep Treatment Mask. Tell them to apply their mask to clean, towel-dried hair through the mid-lengths and ends. Gray locks will glow.