Here's the Coolest Way to Get Gray Blonde Hair
'Going gray' has taken on a whole new meaning in 2020. With salons closed over the summer, many clients chose to embrace silver regrowth and celebrate their natural gray locks. And, now? Gray blonde hair is officially trending, offering not-yet-gray clients the chance to try a cool, 'Gram-worthy' hue, and already-gray clients the option of brightening their natural color.
But, how do you create the look? Here, we offer up all the tips you need for gray blonde creations, including formulas for some of our favorite icy-cool dos...
Achieving Gray Blonde Hair
How you create gray blonde hair comes down to the kind of base you're working with. But typically, the look is so light that even blonde clients may need a pre-lightening session to reach the desired level 9 or 10.
If you're lightening all over, use Blondorplex. It combines our cult-classic hair lightener, Blondor, with the Wellaplex bond-strengthening system to provide less breakage. You can also try gradually introducing gray blonde to your dark-haired clients. Start with strokes of Blondor Freelights in a balayage pattern, then build up the number of highlights from one appointment to the next.
When you lighten locks, the hair will lift to a soft yellow pigment. Don't panic – this is normal, and it neutralizes when you apply your client's chosen gray blonde color. Some of our go-tos include demi-permanent Color Touch in 9/96, light-reflective, permanent Illumina Color in 10/69, and permanent Koleston Perfect in 10/86.
Gray Blonde Hair Ideas and Formulas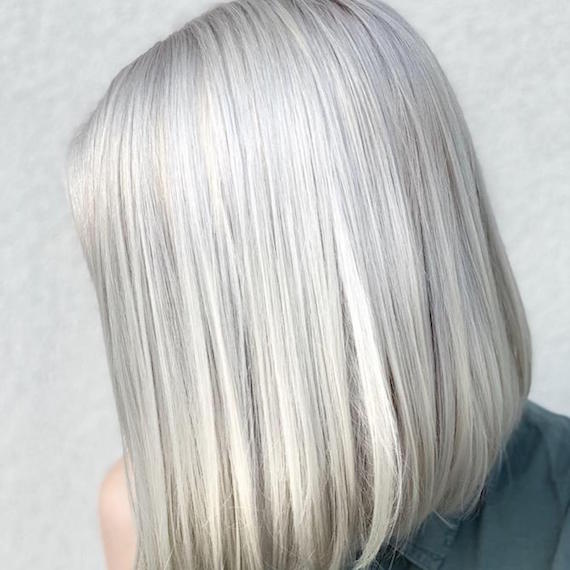 1
Gray Blonde Bob
Image Credit: @hairbyhannahaz
Crisp, clean gray blonde combines with the bob haircut of dreams in this shimmery creation, featuring Blondor Multi Blonde Powder for the base and an icy-cool color to tone. The formula? Hannah used a combination of two pearlescent, violet blonde shades by Illumina Color: 9/60 + 10/69. If you recreate the look, make sure you finish with EIMI Oil Spritz to enhance the shine.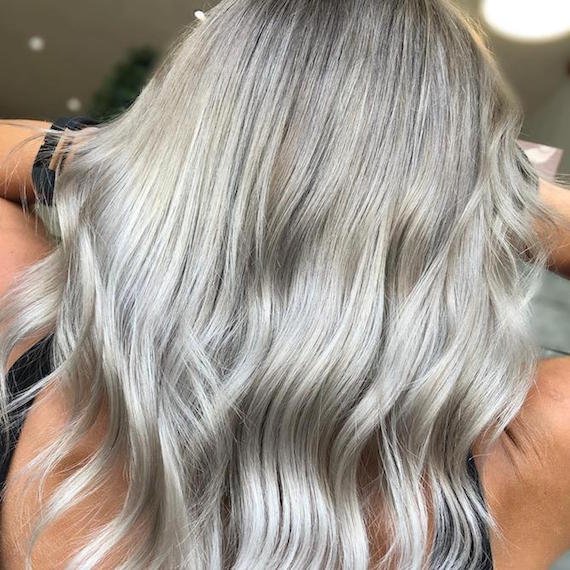 2
Gray Blonde Balayage
Image Credit: @bethoakleyhair
Steering more silver, this gray blonde balayage is brimming with Illumina Color-boosted shine, applied to a canvas of Blondorplex +4%. Once locks were lifted to the correct level, Wella Master Color Expert Beth Oakley used a color melt technique to transition from 7/18 + 6/97 at the crown, into 10/96 through the ends.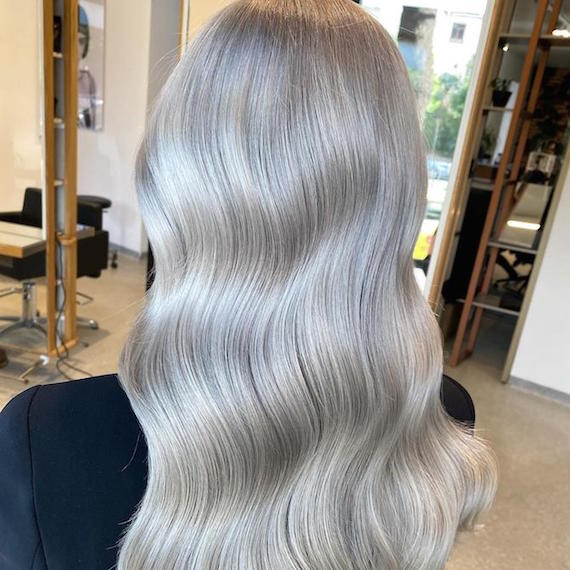 3
Platinum Gray Hair
Image Credit: @lucianbusuioc
If you love platinum hair as much as we do, you'll be obsessed with this platinum gray; a luminous masterpiece by Lucian Busuioc. He kept the natural level 5 roots intact and lifted the rest of the hair with Blondor Multi-Blonde Powder + Welloxon 6%. Then he applied an intricately-curated blend of Illumina Color 8/69 +  Platinum Lily + 9 + 6/16 + 9/60. This hue looks glowy and glossy with all styling, but the addition of loose, polished waves allows the spectrum of gray blonde tones to truly stand out.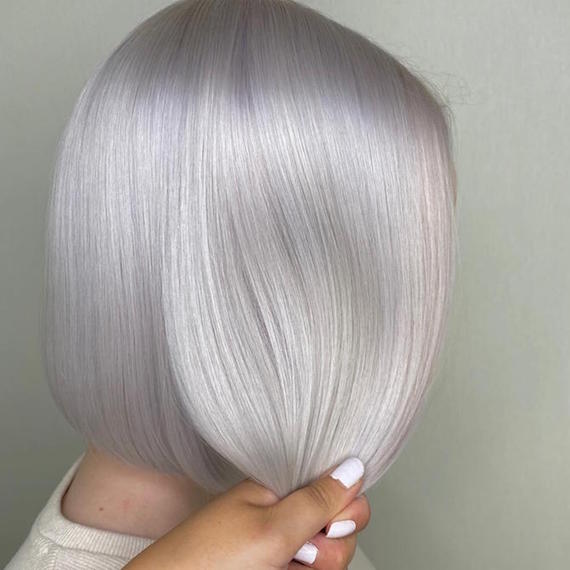 4
Gray Violet Blonde
Image Credit: @hairbyelisajohanna
Gray and blonde and violet? It's a thing, and Wella Color Ambassador Elisa Luomala has nailed it in this beyond-cool Koleston Perfect look. She started with Blondorplex, then toned using KP on dry hair. Her winning formula featured 20g 10/16 + 20g 10/97 + 15g 10/95 + 15g 10/38 + Welloxon Perfect Pastel 1.9% (1:2).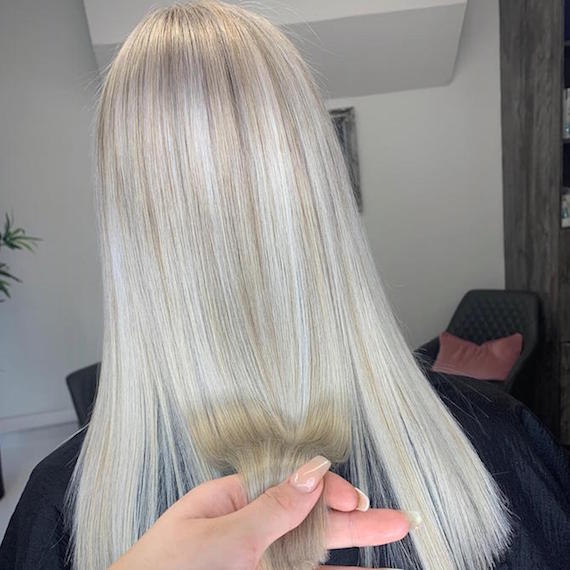 5
Gray Blonde Highlights
Image Credit: @hairbykatetalbot_
Breaking up gray blonde hair with multi-tonal highlights is perfect for clients who want a nearly-natural finish. Kate Talbot applied babylights to keep color seamless, then toned using Color Touch for an icy blonde sheen. Super-straight styling ensures every single hue is out on show, and you can elevate the effect by glossing just-tonged strands with a spritz of EIMI Glam Mist.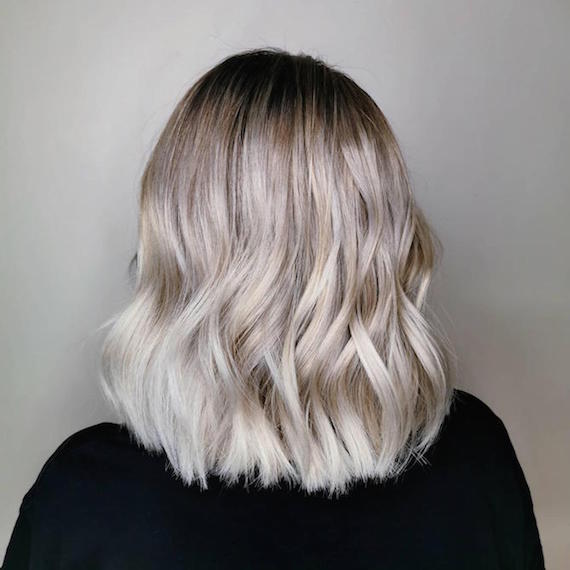 6
Gray Blonde with a Root Shadow
Image Credit: @mathieuchris
A root shadow  pairs easily with gray blonde hair, as the shading creates a volume-boosting contrast against silvery mid-lengths. It's an ultra-flattering team. To create this look, Wella Passionista Mathieu darkened the root area using Illumina Color 7/81 + 5/02 with 1.9% Pastel, then toned Blondor-ed lengths in 10/1 + 10/69 + 9/60 with 1.9%.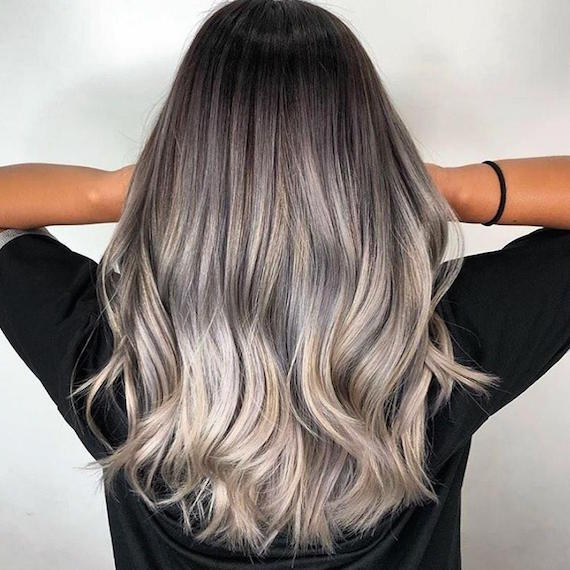 7
Gray Blonde Ombre
Image Credit: @love_in_the_hair
Is there a dreamier way to do ombre hair? This black-to-gray blonde creation sees charcoal roots melt into smokey ends to eye-catching effect. To recreate the look, you need to shade the roots, pre-lighten the mid-lengths and ends, and then apply varying shades of toner to perfect a seamless graduation.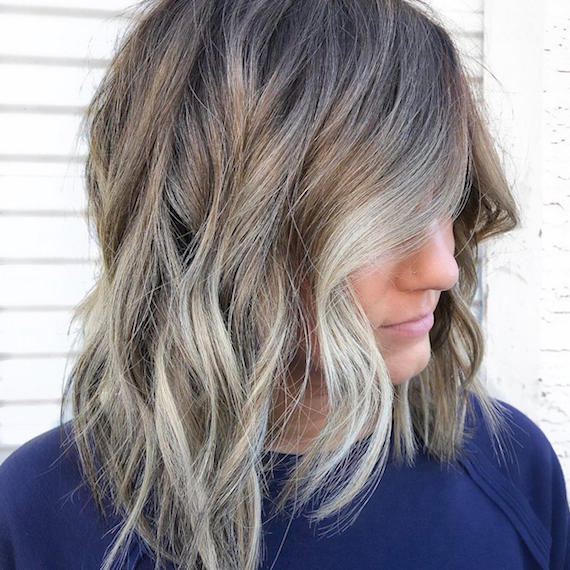 8
Mushroom Gray Blonde
Image Credit: @adriannarachelhair
This gray-toned, mushroom blonde hue was created using reverse balayage, starting with roots painted in Illumina Color 6/ + 1.9% Pastel. Then, ribbons of 6/ and 7/ were hand-painted in alternating sections through the hair, leaving the hair line free to create money piece highlights.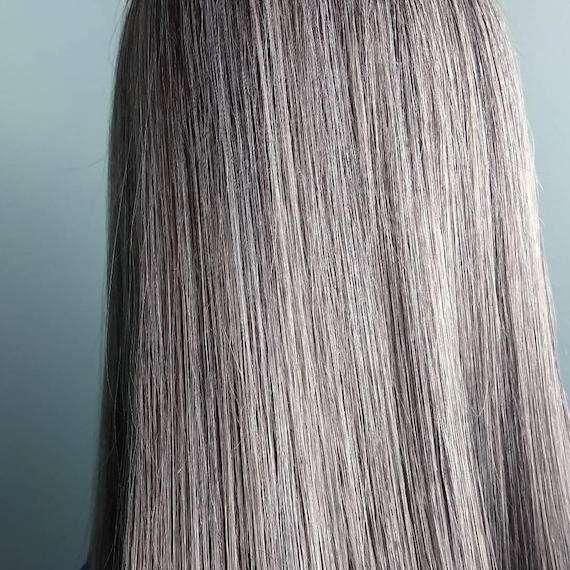 How to Maintain Gray Blonde Hair
Once you've gone through the (often lengthy) process of achieving gray blonde hair for your clients, you'll want to help them keep that shimmery sheen looking cool and fresh for longer. Send them on their way with four key maintenance tips, and they should be coming to their next appointment with a still-covetable gray blonde hue…
1. Choose the Right Shampoo
For blondes, the right shampoo is vital. Not only do clients need a color-protecting product, like ColorMotion+ Color Protection Shampoo, but a purple shampoo is also essential in their kit. Recommend gray blonde clients alternate between ColorMotion+ and INVIGO Blonde Recharge Cool Blonde Shampoo. The latter will neutralize any brassy tones in a single wash.
2. Steer Away From Heat Styling
Heat fades all hair colors – but especially blondes. It speeds up the formation of brassy tones, which is why we recommend gray blonde clients use heated tools as little as possible. However, we know this isn't always so easy, so we created EIMI Thermal Image; a heat protection spray that will safeguard strands through blow-drying, straightening and tonging.
3. Top Up Toner Regularly
Here's the thing: gray blonde hair does require a little extra maintenance, so you may need to remind clients to book in for toner top-up sessions regularly. The timeline will differ depending on the individual, but recommend they come back every six to eight weeks, so you can refresh their lengths and – if needed – retouch regrowth, getting locks back to their best.
Find more hair color inspiration on the Wella Hair Pinterest, and follow @WellaHairUSA on Instagram for the hottest new-season looks. Make sure to tag us in your photos with #MakeChange #WellaFamily to show off your latest creations and be in with the chance of a feature on our social channels.