How to Create Glossy Gray Ombre Hair
They say two trends are better than one. Maybe that's why gray ombre hair is blowing up right now; combining smokey, silvery locks with a soft and seamless gradient. Whether deep and muted or glossy and metallic, this chrome-like look isn't going anywhere. Here, we're breaking down the gray ombre mane, so you can create that flawless fade for your clients…
How to Create Gray Ombre Hair
1. Shade the Root Area
You know the rule with ombre hair: usually, the color starts darker at the roots, then evenly fades to a lighter shade through the mid-lengths and ends. Gray ombre works best when the root area is black or a very dark, cool-toned brown, although you can work with a dark ash blonde when you're creating gray blonde tips.
If your client's existing root color is already a match for their desired final look, skip this step. If not? Apply a root shadow in a hue that will complement the color through the ends. Choose from a semi-permanent product, like Color Fresh, a demi-permanent, such as Color Touch, or a permanent hair color formula, like Koleston Perfect and Illumina Color.
2. Pre-Lighten Mid-Lengths and Ends
In most cases (meaning if the hair is any darker than a light blonde) you'll need to pre-lighten mid-lengths and ends to ensure gray ombre tones show up. Reach for the perfect product first, using Blondorplex on sensitized strands, and Blondor Freelights if you like to apply your lightener in freehand strokes.
Begin sweeping the hair lightener from where you want the fade to begin, then glide down to the tips. Make sure every strand is saturated in the formula for an even lift. It's important that, during this step, you do not let your Blondor lightener and color to mix together. Remember: color and bleach do not like each other.
3. Tone for an Even Fade
Rinse out your root shadow and lightener, neutralize with Blondor Seal & Care, then rough dry hair before applying your ombre hues. You'll need two color formulas: one medium tone for the mid-lengths and one lighter tone for the ends. Try mixing up a smokey gray or silver for the mid-lengths, then blending a blonde to brighten the tips.
Apply your medium shade through the full width of the hair, starting where the root shadow ends. Sweep it down to where you want the lighter shade to begin. Repeat through the lower section of hair, applying the lighter shade from where the medium shade ends, right down to the tips. Once it's developed and rinsed, you'll have the dreamiest gray ombre.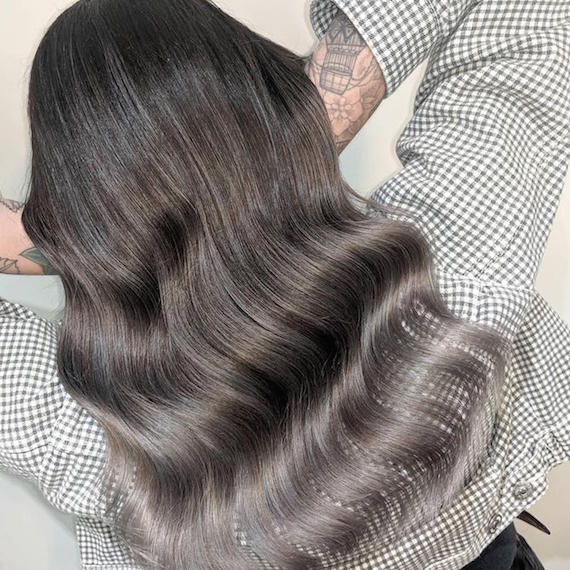 1
Black to Gray Ombre Hair
Image Credit: @thomasfrearhair
Look closely, and you'll spot a hint of amethyst tones in the tips of this gray ombre mane. That blink-and-you'll-miss-it dose of purple comes courtesy of Color Fresh CREATE in Pure Violet. Of course, Wella Passionista Thomas Frear hasn't used it in its purest form.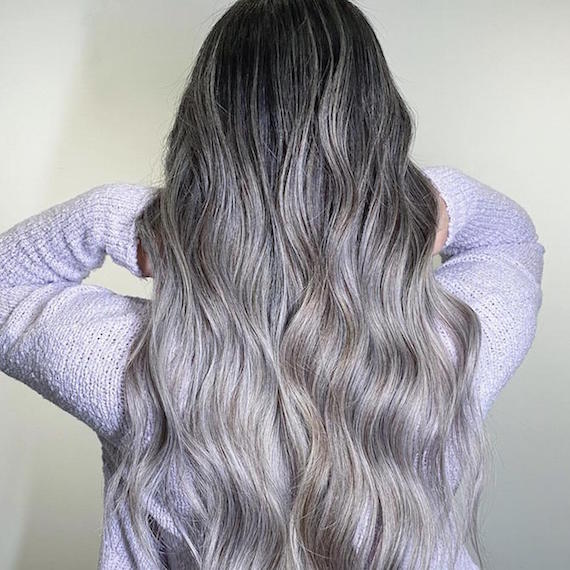 2
Black to Silver Ombre Hair
Image Credit: @ans0403
Created with permanent Koleston Perfect – our go-to for pure, long-lasting pigment – this black to silver ombre is as crisp as cool-toned color gets. When working with silver hair, make sure clients have a purple shampoo at home. Suggest INVIGO Cool Blonde Color Refreshing Shampoo; a must for neutralizing warm tones and keeping gunmetal shades looking salon-fresh.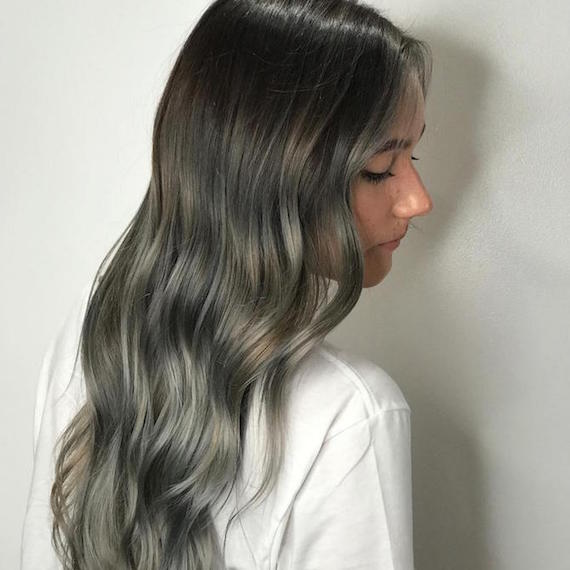 3
Olive Gray Ombre Hair
Image Credit: @daryl.lienhart.hair
Swept in micro-fine strokes, these ombre babylights feature olive-gray tones that segue from smoky at the roots to cool and metallic through the ends. To get the look, mid-lengths were lifted to a level 9 and tips to a level 10, before light-reflective, semi-permanent Illumina Color 9/60 + 10/ was applied over the top.
Make the transition even more subtle with a sombre (subtle ombre) technique to create a softer look for your client.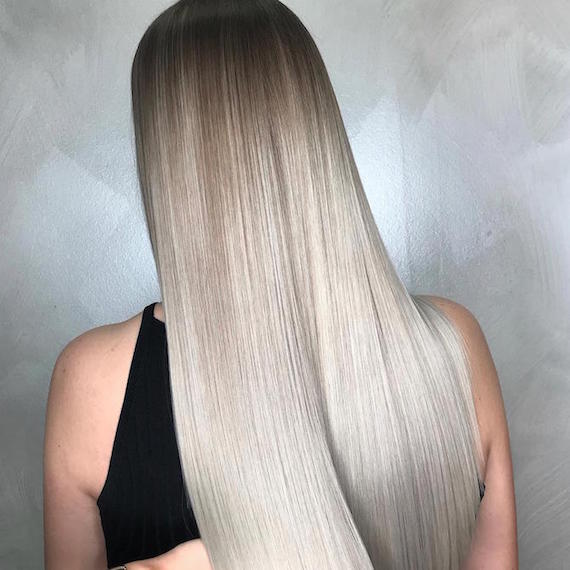 4
Gray Blonde Ombre Hair
Image Credit: @kathapfrang
There are three phases to this platinum silver ombre look by Katharina Pfrang. First, the lift: she used Blondor Freelights + 9% to lighten locks to perfection. Illumina Color 8/ + 7/81 + 8/69 + 1.9% was applied to give hair a cool, fresh glow. Then, once rinsed and neutralized, a final gloss of Koleston Perfect 10/86 mixed with Welloxon Perfect 1.9% and INVIGO Color Post Treatment was smoothed through her client's long, silky mane.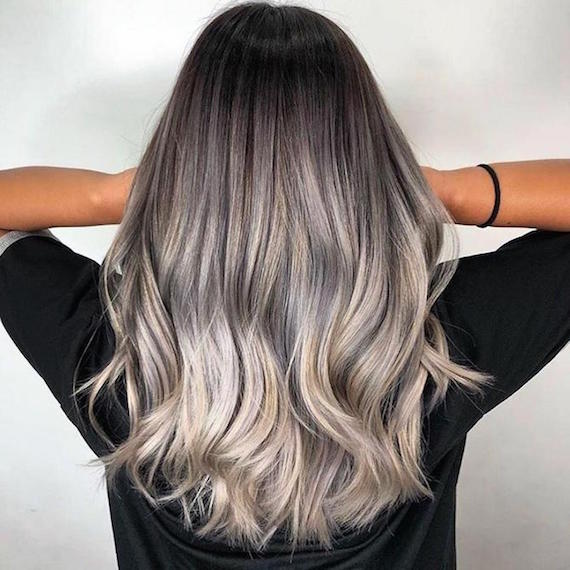 5
Glossy Gray Ombre Hair
Image Credit: @love_in_the_hair
Look at that shine. We're mesmerized by this luminous gray-to-blonde ombre creation – but those lighter ends need plenty of care to stay icy-cool and clean. Recommend clients who work pale, minky hues use ColorMotion+ Color Protection Shampoo to fight shade fade.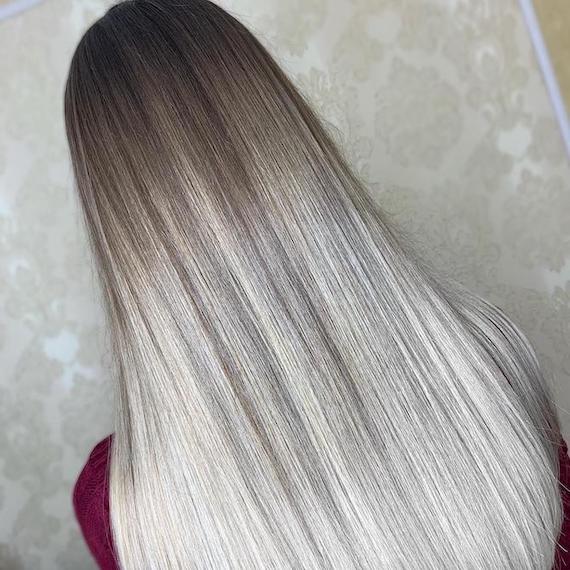 6
Light Gray Ombre Hair
Image Credit: @profinadi2
This light and luminous gray ombre shines and shimmers under the light. Recreate the shade using Color Touch, starting with 6/71+ 7/97 + 0/68 + 1.9% in the root area. For the lengths and ends, mix up 10/03 + 10/6; a blend of bright, beaming blondes that give you a silver-platinum finish.
Want More Gray and Silver Hair Inspiration?
Watch Wella Color Ambassador Ryan Weeden as he takes on a Metallic Silver Color Melt. A head-turning alternative to ombre, it features hints of violet and blue for a gray like no other...
DISCOVER E-EDUCATION
Go to Wella Professionals' online learning platform to discover new tips and master the latest techniques to use on your clients.