8 Gray Hairstyles to Show Off the Shimmer
Enhancing gray hair isn't just about glosses, glazes and hydrating hair care. If you want to make those silver tones dazzle, you'll need to get familiar with the best hairstyles for gray hair too. The color tends to be multi-tonal, so every style shows off a different scattering of gray hues – whether you're wearing locks long and loose, or sweeping them into a chic braid.
Want proof? Here are eight gray hairstyles – both natural and colored – for every hair length and texture. From casual looks to glam creations, we've got all the gray-spiration you need…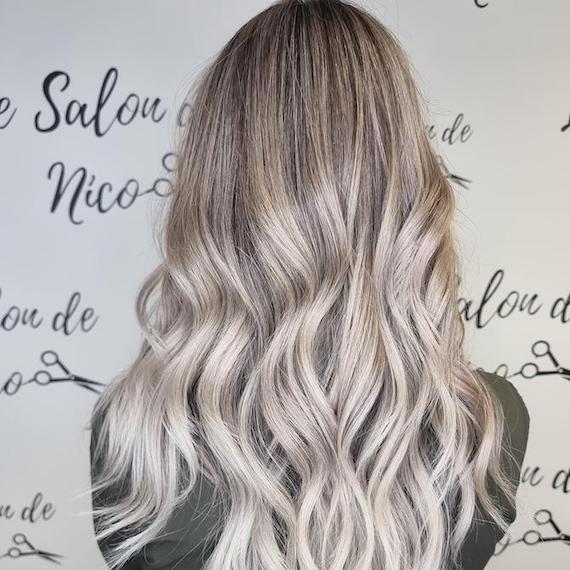 1
Long, Wavy Gray Hair
Image Credit: @lesalondenico
Fact: wavy locks work with any hair color. Nothing beats a mermaid-esque tousle that's brimming with texture, and here's the gray-toned proof in a look by Le Salon de Nico. These beachy curves show off the dimension and depth of the hues flawlessly, and you can recreate the effect on long-haired clients (or your own hair) with a grip-boosting duo. First, when hair is damp, use EIMI Ocean Spritz to give locks guts before you blow-dry. Then, when hair is dry, apply EIMI Sugar Lift, tong with a curling iron, and loosen with fingertips.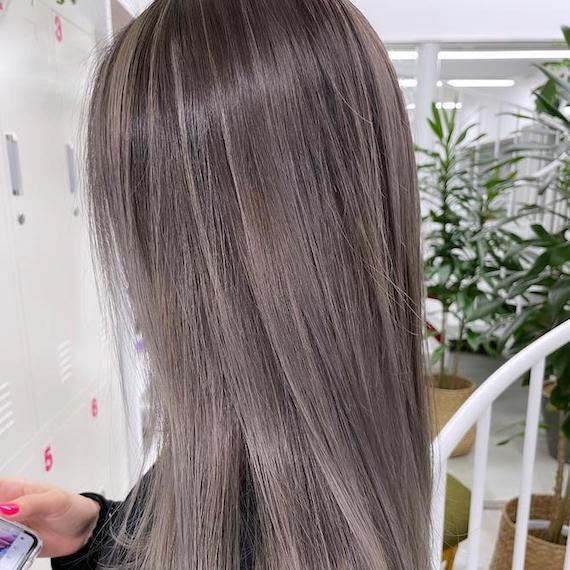 2
Long, Straight Gray Hair
Image Credit: @obihiro_biyoujo
Straightening iron at the ready. Just as waves show off a multi-tonal gray, sleek locks allow light to bounce off the surface of hair, so every hue stands out. Heat protection is a must before you perfect this look, so start by washing with INVIGO Brilliance Color Protection Shampoo, then mist EIMI Thermal Image over towel-dried strands. Blow-dry hair using a paddle brush with the nozzle of the dryer pointing down the hair shaft. This encourages the cuticle to lie flat for a smoother effect. Then, add a little more Thermal Image, run the straightening iron through hair from root to tip, and finish with a lightweight veil of EIMI Oil Spritz.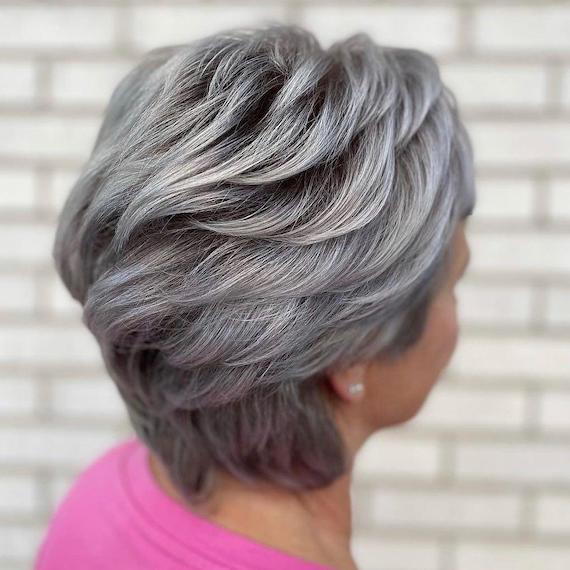 3
Short Silver Hair
Image Credit: @jaripalin
Give short gray hair a body boost with a volumizing blow-dry. Lifted locks start in the shower (or backwash), so begin by washing with INVIGO Volume Boost Volumizing Shampoo. Follow with the Volume Boost Crystal Mask for smoothing hydration without the weight, and towel-dry hair before reaching for a large, round brush. Apply EIMI Velvet Amplifier to mid-lengths and ends, then use the brush (placed underneath each section) and a hairdryer to dry locks up from the root and away from the hairline. It creates a smooth, softly swept effect.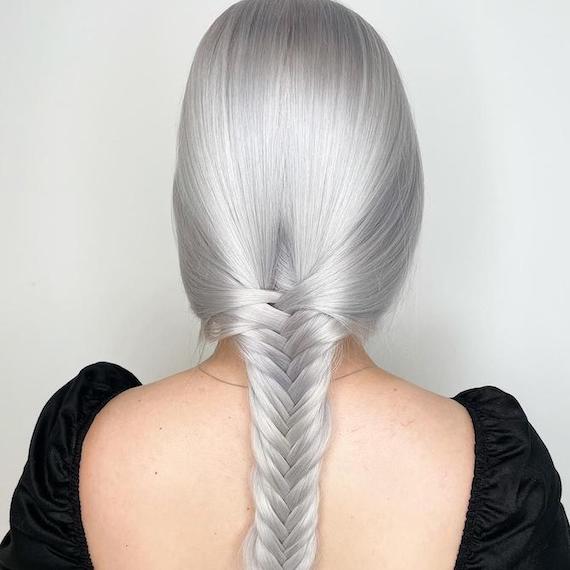 4
Gray Fishtail Plait
Image Credit: @mr.mishwu
Plaiting gray hair is one of the easiest ways to show off its full spectrum of tones. However, when hair is freshly washed, it sometimes needs a little extra grip to keep a fishtail plait in place. While you might be used to misting dry shampoo into roots, we recommend spritzing it through mid-lengths and ends to create a matte texture – essential for boosting the longevity of a braid. Try EIMI Dry Me, sprayed into clean, dry hair before you start plaiting. You'll notice it's easy to make – and maintain – the twists and turns needed to perfect this style.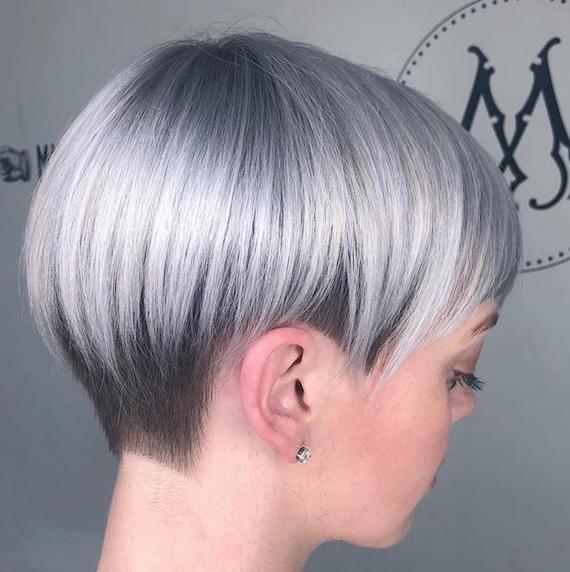 5
Gray Pixie Cut
Image Credit: @hairbymane
Gray hair has never looked chicer. This perfect pixie, crafted in the Hair By Mane Salon, teams flawless cutting with eye-catching color for a short gray hairstyle that turns heads. If you're a colorist, keep this formula in mind: first apply demi-permanent Color Touch 8/81 + 2/0, then melt it into 10/81 to nail the half and half hair color trend.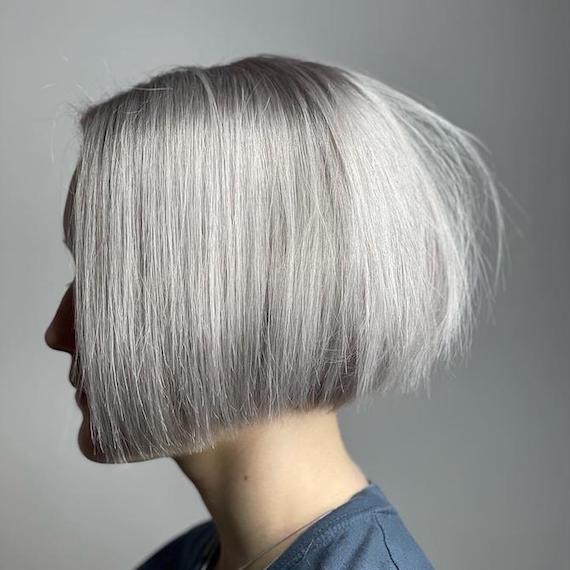 6
Choppy Gray Bob Haircut
Image Credit: @timurbegichevstudio
Blunt bobs are underrated. While lobs (long bobs) have received much of the glory in recent years, this chin-skimming style, with straight-across cutting, shows just how fresh a short gray bob can be. To highlight the shape, use a little wax or pomade (a very small amount) to smooth flyaways and create definition. One of our favorites is EIMI Just Brilliant shine pomade, which teams gloss with long-lasting hold.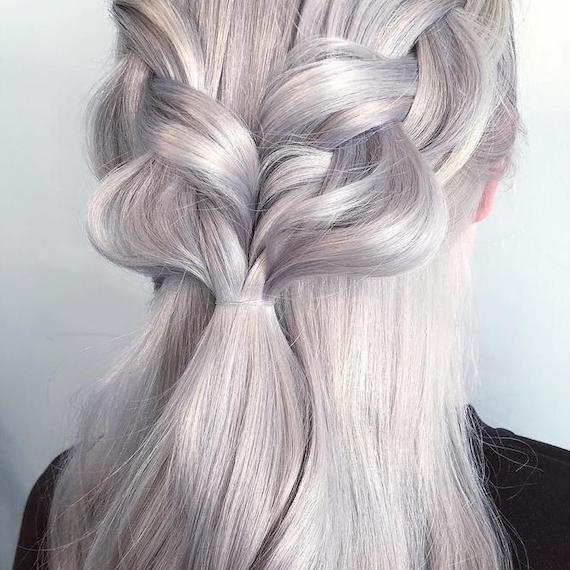 7
Twisted Gray Hair
Image Credit: @tpla_hairart
As with a fishtail plait, these intricate twists require plenty of grip to perfect the look, so mist mid-lengths and ends with EIMI Dry Me. However, there's a looseness to them that means you'll need to take a somewhat different styling approach – but this doesn't mean you should braid hair loose from the beginning. In fact, to start, you should pull the twists tight as you're plaiting, and secure them with a band. Then, gently tug the sides after creating the twists to lend an 'undone' effect that lasts.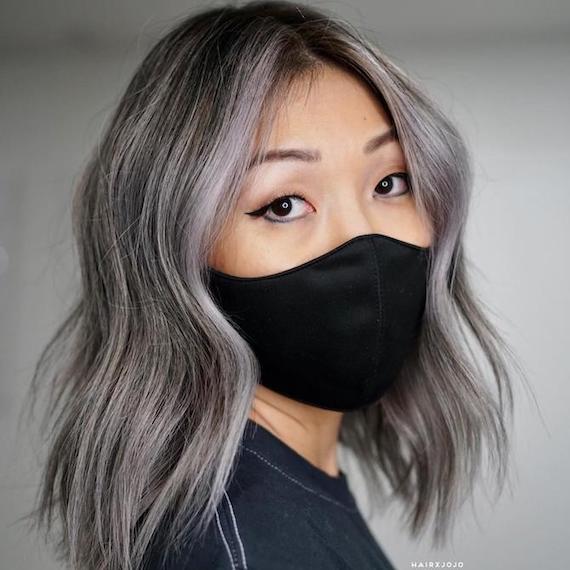 8
Wavy, Mid-Length Gray Hair
Image Credit: @hairxjojo
We love these 'off duty' waves. With a natural look and feel, they boast an easy, breezy, beachy vibe that puts the spotlight on that silver money-piece. Prep for the style by applying EIMI Shape Me gel to just-washed, towel-dried hair, which features a 'memorizing polymer complex' to help hold a blow-dry for up to 48 hours. Dry the hair while using a brush to lift locks up and away for volume, before loosely wrapping wide sections around a curling iron for just a few seconds. Only focus on the mid-lengths – not the roots or ends – and brush waves loose after you've coiffed each section. Finish with a delicate veil of EIMI Mistify Me Light hairspray.
Give Natural Gray Hair a Glow
Natural gray hairstyles get an added glow-up with a hint of an enhancing tint. Enter the Express Silver Glow by True Grey service, which offers zero-damage toning to nix unwanted yellow hues in just 15 minutes. Designed to be carried out in the salon, it sees a shimmer-boosting shade of the True Grey Cream Toner applied to grays, which can dial up brightness, add definition – or achieve a flattering mix of the two.
If you're a colorist, talk to your client about the effect they desire, then choose their shade and application technique accordingly. If you're booking in the service for yourself, have photos ready to show what kind of look you're hoping for. Your tint can be applied root to tip, in highlights or as a root shadow. Then, all you need is that perfect style.