5 Ultra-Flattering Neutral Blonde Balayage Formulas
Blonde is one of the most universally flattering hair colors out there, but even more so when you opt for a neutral tone that's neither just warm nor just cool – it's a balance of the two. And because these cool and warm tones are combined in one look, neutral blondes have the benefit of working with all base colors, all skin tones and all eye colors.No wonder they're so popular.
Now you can give the shades an extra versatile twist by working them into a neutral blonde balayage, so not only will they be easy to wear, but they'll be ultra low maintenance too.
But First, What is a Neutral Blonde Balayage?
If you're wondering what a neutral blonde looks like, there are two answers. Either it can be a shade that doesn't shift warm or cool – like a beige – or a color creation that features both warm and cool tones. For example, creamy blonde hair often boasts a spectrum of golden and frosted hues, so you can't pinpoint exactly where it falls, but you know it's going to suit everyone.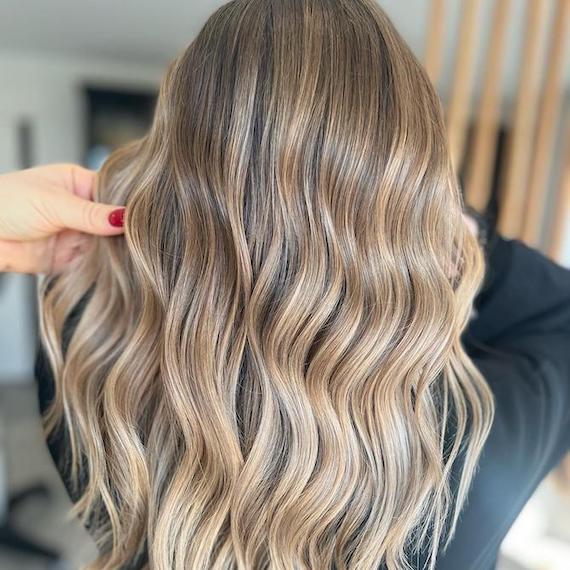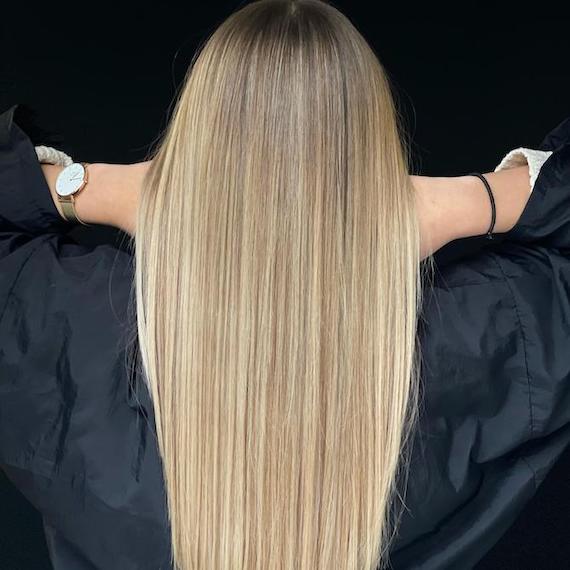 Image Credit: @cardon_adeline | @_evi_hairapartment_
With a balayage technique, you can give these neutral colors a painterly effect by sweeping them through the mid-lengths and ends of a warm, cool or neutral base color. If your client has a warm skin tone, you could add a cool-toned root smudge to create a glow-boosting contrast, and if they have a cool skin tone, a warm-toned root shadow will help to dial up radiance. You can also keep it balanced with a neutral dark blonde or brown root stretch, depending on their desired look.
5 Neutral Blonde Balayage Formulas to Try
Now you know what a neutral blonde balayage looks like, let's get to the formulas. Shades of beige, nude or cream will keep your client's hair on trend from one season to the next.
1. Beige Neutral Blonde Balayage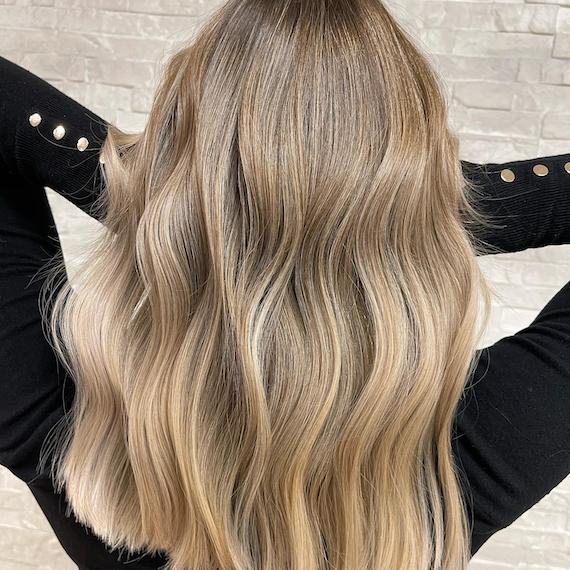 Image Credit: @loickdambrine_hair
Who said beige (blonde) was boring? As flattering and timeless as your favorite trench, this neutral shade has all the makings of a forever classic. With just a little root on show and a full-head balayage technique, it features BlondorPlex for lightening, followed by a glaze using Shinefinity 08/98 + 09/13. No wonder it's so shiny. In some lights it looks cool, in others it appears warm, but in all settings it's gloriously glossy. Your clients will love it.
2. Creamy Neutral Blonde Balayage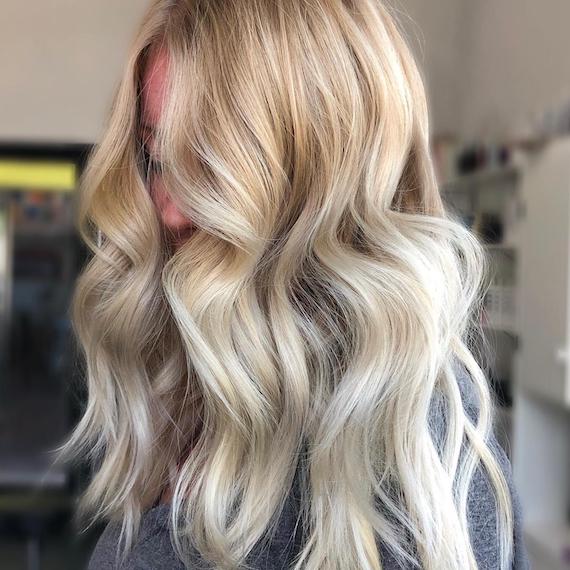 Image Credit: @_jt_hair_
Look closely and you'll spot a seamless segue from warm to cool in this blonde balayage. On the roots, the hair is subtly honeyed, and through the lengths it takes on an icy sheen. It's so subtle that you almost can't tell there's any balayage at play here, but that's what makes this warm-meets-cool, neutral blonde so beautiful – it's all in the detail. Try the look with the Blondor Permanent Liquid Blonde Toner, using /01 Medium Beige for that soft base break, and /16 Lightest Pearl for the brighter mid-lengths and ends.
3. Nude Neutral Blonde Balayage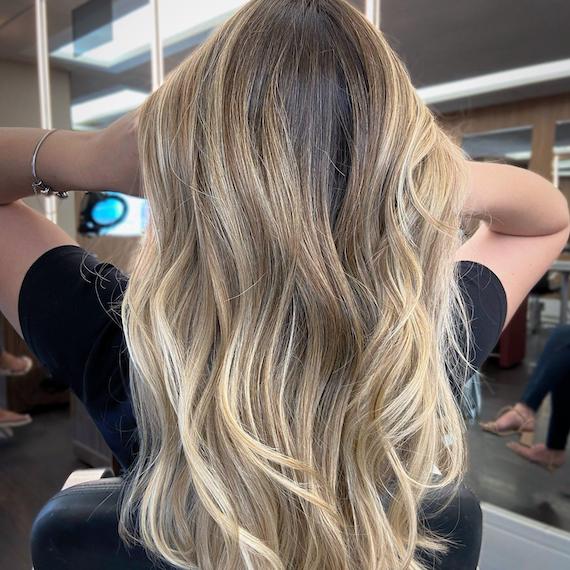 Image Credit: @fredyhair
The most natural-looking of all neutral blondes is nude. It's got a touch of Cara Delevingne to it, and it is to hair color what a swipe of nude lipstick is to the makeup world. You might notice it's similar to a beige, but this particular hue steers a little lighter, making it a great pick for clients who hope to gently tone down a pale, near-platinum blonde. To recreate the look, try applying Color Touch 9/03 + 9/0 over pre-lightened strands. For added sparkle, you could also opt for foilyage (balayage in foils) as part of the lightening process. Doing so means you'll get a higher lift through certain sections, and trust us – the finished effect is dreamy.
4. Dark Neutral Blonde Balayage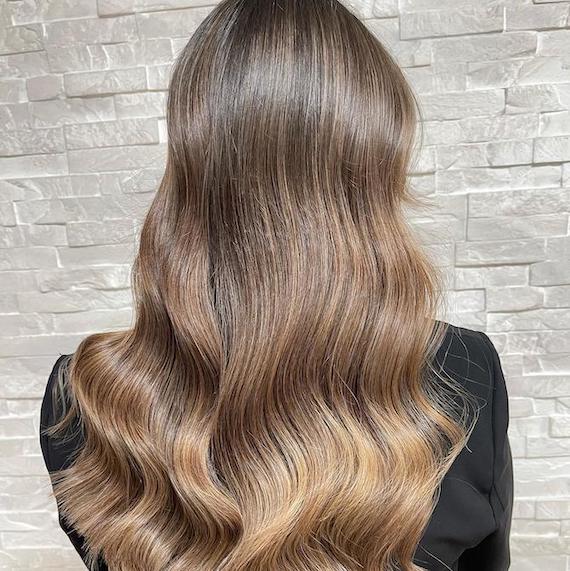 Image Credit: @loickdambrine_hair
A dark blonde or a dirty blonde is often warm in tone, but you can also give it a neutral edge – and here's all the proof you need that it totally works. Perfect for sweeping through a brunette base, this shade of neutral blonde will delicately brighten the mid-lengths and ends, without making the hair too light for clients who crave a touch of depth. This flawless bronde (brown blonde) was created with BlondorPlex to pre-lighten, followed by Color Touch 9/97 + 9/16 + 8/3 over balayaged pieces.
5. Neutral Blonde Balayage with Babylights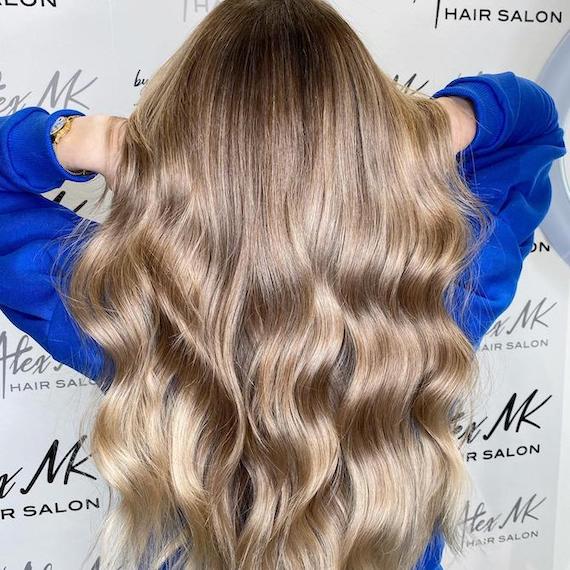 Image Credit: @byalexmk
To make a neutral blonde look even more natural, why not try a babylights technique? It involves lifting a high volume of micro-fine weaves to mimic the way your hair would lighten in the sun as a child. By combining this trick with balayage, you'll achieve a luminous finish through the mid-lengths and ends – especially when mixing golden blonde and ash blondes into one formula. Recreate this look by applying babylights with BlondorPlex, then tone using Illumina Color 8/1 + 10/36 + 6/16.
How to Maintain a Neutral Blonde Balayage
1. Use Two Types of Shampoo
In order for your client to maintain their shade of neutral blonde, they first need a color-caring shampoo that will shield their strands from everyday, fading aggressors. The ColorMotion+ Color Protection Shampoo does just that, with a blend of antioxidants, as well as nurturing ingredients for added moisture. Recommend they use it as their regular shampoo, then add a purple shampoo, like INVIGO Blonde Recharge Color Refreshing Shampoo, Cool Blonde, to their kit for those days when their neutral hues start to turn warm.
2. Keep Neutral Blonde Hair Conditioned
Blonde hair is at its best when it's healthy and hydrated, so your client should condition their hair after every wash to maintain optimal moisture levels. Suggest they follow the ColorMotion+ Shampoo with the ColorMotion+ Moisturizing Color Reflection Conditioner to nourish strands and enhance shine in one. Then, for a weekly treat, they can apply the ColorMotion+ Structure+ Mask; a creamy at-home treatment that's designed to strengthen breakage-prone locks. Apply to towel-dried hair for maximum absorption.
3. Apply a Heat Protection Spray
Remind your clients of the importance of a heat protection spray. Too much heat styling can fade your shade and make it turn brassy over time. While reducing their use of hairdryers, tongs and straighteners will help, so too will EIMI Thermal Image. All they have to do is shake it, mist from root to tip, then style their hair as desired.