How to Create Beach Blonde Hair Sans Sun
If, over the past year, you (and your clients) have been missing sun-drenched days by the sea, it will come as no surprise that beach blonde hair is making waves once more. Back and beachier than ever, you can count on this hue to transport you to a coastal Cali road trip. Top down, surfboard in the back, and salty, sandy locks blowing in the breeze.
But how do you create a sun-kissed look sans… well, sun? It's all about layering blonde on blonde hues, bumping up the brightness, and adopting techniques that help to play up texture. Add a tousled wave, and your clients will be working surfer hair in style. Who needs the beach when you've got the Blondor portfolio and these glow-boosting tricks?
7 Tips for Beach Blonde Hair
1. Tailor the Tone
Cool or warm? Beach blonde can be both, so tailor your client's shade to their features. As a general rule, tones which are in contrast to a client's skin tone and eye color tend to stand out more than those which are in harmony. That means working with warm, golden blondes if their skin is cool and reaching for ashy hues if their skin is warm. If skin is neutral you can mix up any shade.
2. Sweep On Foilyage
The painterly strokes of balayage mean it's a go-to technique for beach blonde hair. After all, the trick is to make locks look like they've been caressed by the sun – not lightened in the salon. To dial up the lift, try combining with a few pieces of foilyage, AKA balayage in foils. You can do this with Blondor Freelights (great for open-air and foil lightening) or BlondorPlex (which features the benefits of our WellaPlex No1 Bond Maker).
3. Try Babylights Too
To really enhance dimension, consider adding a few babylights, too. These are micro-fine highlights that mimic the shade hair would naturally go during childhood summers. You can balayage your babylights, fusing the two for soft, subtle, seamless freehand strokes. Better yet, you can place them alongside foilyage for a multi-dimensional feel.
4. Then Go Chunky
Placing chunky highlights next to babylights takes hair's texture and dimension to the next level. So, why not foil a few weighty ribbons? You can paint them root to tip or with a balayage technique. Less is more with this trick, so choose your chunky pieces tactically. The front, the sides and a couple through the back will catch the light in the dreamiest way.
5. Start At the Front
When applying beach blonde highlights, place them through the face-framing layers first. Then, work your way backwards, before leaving the lightener to lift hair to the correct underlying tone. Why the front first? Because these sections will end up having Blondor on them for the longest, resulting in a light, bright and beachy money-piece that – bonus – makes your client's complexion glow. Just keep in mind that hair around the hairline tends to be more fragile, so you'll want to add plenty of WellaPlex and check on the lightener regularly as it develops.
6. Maintain the Mane
Whether your client's beach blonde shade is cool-toned or warm-toned, they'll want to keep hair from turning brassy with a color-kind routine. Recommend they use a purple shampoo when hair veers too warm, like INVIGO Cool Blonde Color Refreshing Shampoo. 
7. Smooth Beachy Strands
Lightened ends may need a little extra TLC, so suggest your clients treat their hair to a trifecta of nourishing formulas. First, there's the ColorMotion+ Color Protection Shampoo, which is packed with antioxidants. Then, there's the ColorMotion+ Color Reflection Conditioner, designed to level up shine. And, finally, the ColorMotion+ Structure+ Mask will support each strand's strength and enhance smoothness, so hair remains soft and manageable – perfect for blow-dries and beachy waves.
5 Beach Blonde Hair Formulas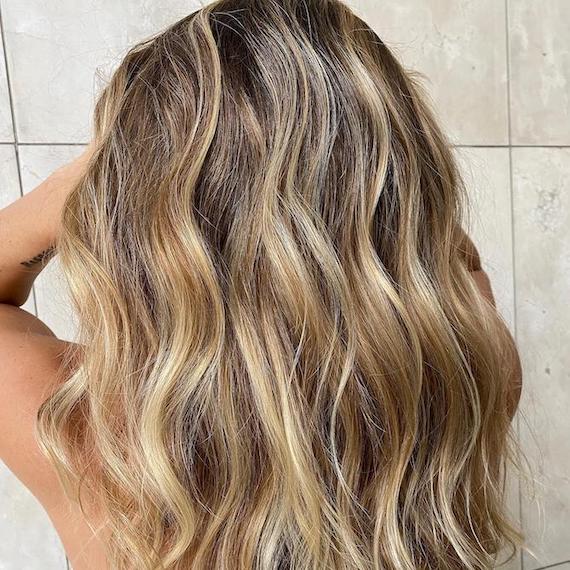 1
Warm Beach Blonde Hair
Image Credit: @annie4cruz
We know what you're thinking: 'Are you sure this hair wasn't lightened by the sun?' But we can confirm this is the handiwork of Blondor Freelights and Illumina Color 7/81 + 4%. Swept in chunky slices, the lightener creates a bold contrast against the dirty blonde roots. To create that scattering of brighter pieces, add a little glowy foilyage through the back.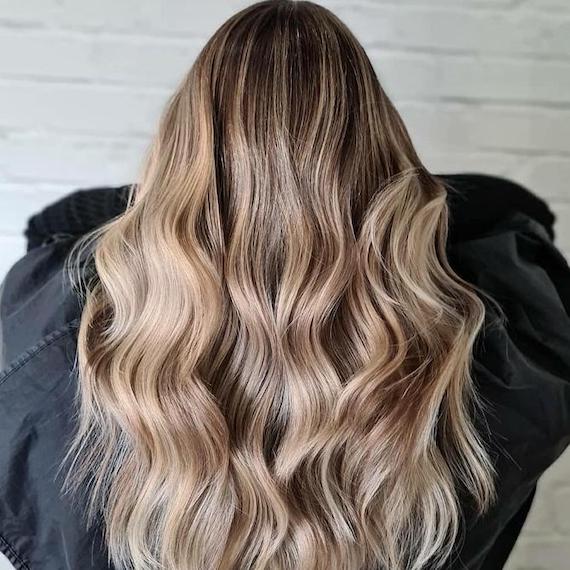 2
Cool Beach Blonde Hair
Image Credit: @salonghypehallarna
As cool as a blast of ocean breeze; this crisp, clean, beachy blonde sees Blondor Freelights wrapped in foils to take the mid-lengths and ends to a level 10. Then, Color Touch was applied over the top, using a summer-fresh blend of 8/81 + 9/96 + 10/6.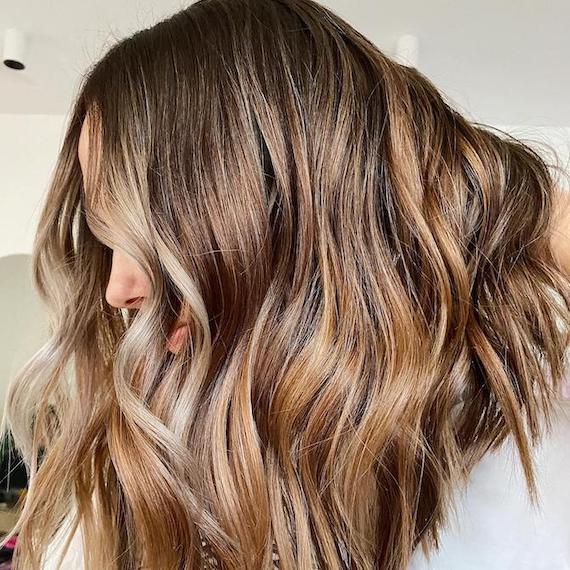 3
Beach Bronde Hair
Image Credit: @hairbynicolereyns
Beach bronde, anyone? By sweeping sandy tones through a brunette base, you get a brown-meets-blonde hue that screams 'surfer hair' – especially when you add tousled waves. Create the look with Blondor Freelights highlights, followed by Color Touch 4/71 + 6/71 + 5/0 through the roots, and 7/73 + 7/89 + 5/73 on the mid-lengths.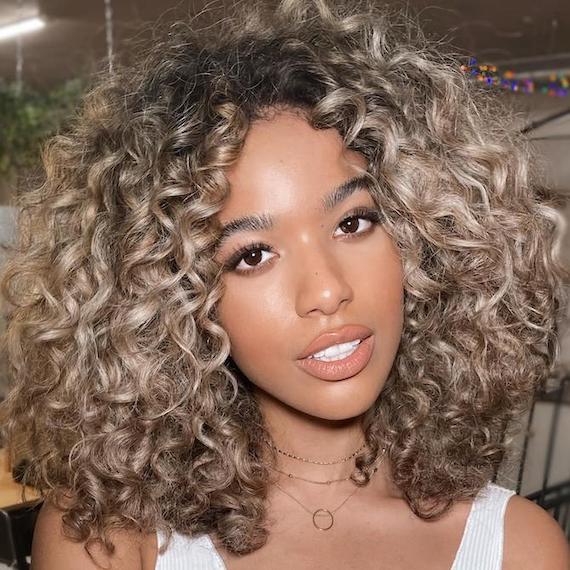 4
Beige Beach Blonde Hair
Image Credit: @jhair_stylist
These chunky 'lights, with a few inches of root shadow, are throwing us back to sun-scorched beach days; cocktail in hand and summer beats pumping through the nearest speaker. Recreate the look by lifting sections of hair with BlondorPlex + 6%. Then add a Color Touch 4/0 + 4/71 root smudge, followed by 9/97 + 9/16 + 8/3 on the ends.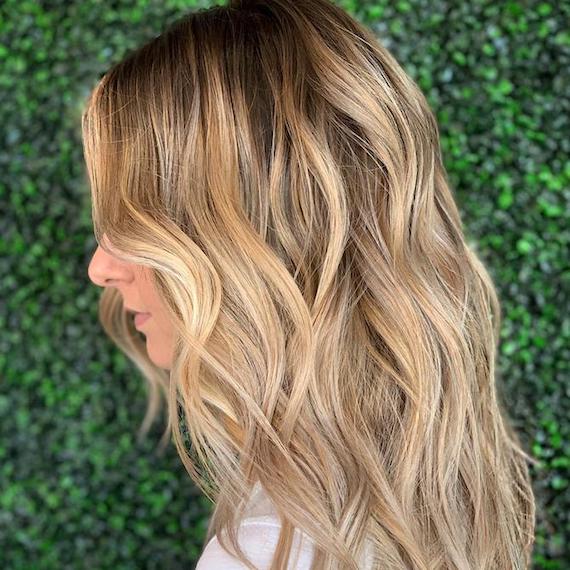 5
Honey Beach Blonde Hair
Image Credit: @littleladyblues
Honey blonde gets a beachy upgrade, courtesy of this warm, melted 'do. Perfect the look by sweeping Blondor in balayaged babylights. Then, after rinsing and neutralizing, sweep Illumina Color 6/16 through the root and 8/69 + 9/60 on the mid-lengths and ends.