How to Add Highlights to Dark Brown Hair
Whether blonde, brunette or redhead, everyone suits a fresh scattering of glow-boosting color. That's why, today, we're giving you the lowdown on perfecting dark brown hair with highlights. If a multi-tonal mane is your goal and you're working on a client with deep, chocolatey locks, grab a tint brush and get ready for your glow-to guide to getting the most luminous 'lights…
Which Highlights are Best for Dark Brown Hair?
When choosing highlights for dark brown hair, there's a full spectrum of finishes you can go for, from soft, subtle and natural to bold, dramatic and contrasting. If natural is the vibe, aim for a lift no more than three levels lighter than the base, then tone with a golden or ash brown color to create shimmering ribbons. Try permanent Illumina Color for these subtle highlights, which reveals unseen light reflections in the hair; perfect for a glossy glow that glitters as hair moves.
For lighter, brighter blonde highlights, opt for a warm blonde or ash blonde balayage, starting with a few sweeps of Blondor Freelights pre-lightener through the face-framing layers, mid-lengths and ends. These 'lights will contrast with the dark brown base, but the freehand technique will ensure a seamless blend, so you won't get any heavy lines or harsh re-growth. The dream.
And, if you want to turn up the drama even more, why not look into blue or red highlights? Think, bands of bold cobalt or hints of mahogany that bring new dimension to your client's mane.
Can You Highlight Black Hair?
Any hair color can be highlighted with our Blondor portfolio of pre-lighteners, including very dark brown or black hair. However, the darker the hair, the longer the lightening process will be, meaning your clients may need to come back for two or three appointments if they want to achieve a significant lift. Start them subtle at first and build the lightness up over a number of sessions, ensuring you add our bond-strengthening system, WellaPlex, to the pre-lightener for optimal lifting.
7 Dreamy Ideas for Brown Hair with Highlights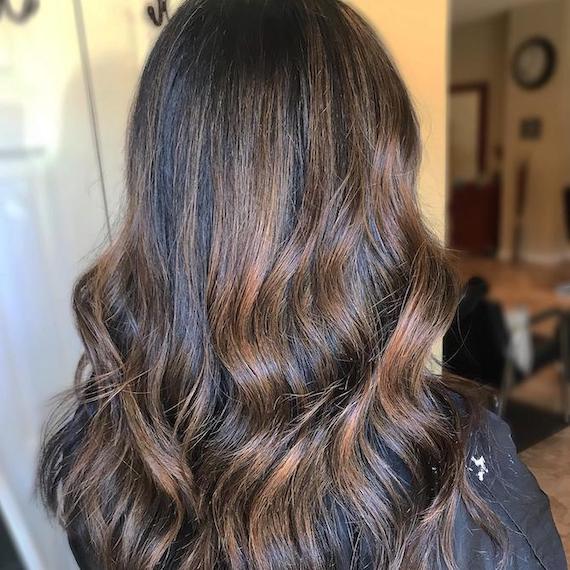 1
1. Dark Brown Hair with Subtle Highlights
Image Credit: @xobeautybynicole
Brown on brown highlights are far more striking than you might think, as flawlessly demonstrated by Wella Passionista, Nicole. Using Blondor Freelights 40 vol., she lifted sections of her client's brunette locks, then toned using Color Touch 8/71 + 6/71 6 vol. Bonus: this demi-permanent formula fades beautifully, blending in more and more with the base over time, so hair always boasts a soft-focus finish.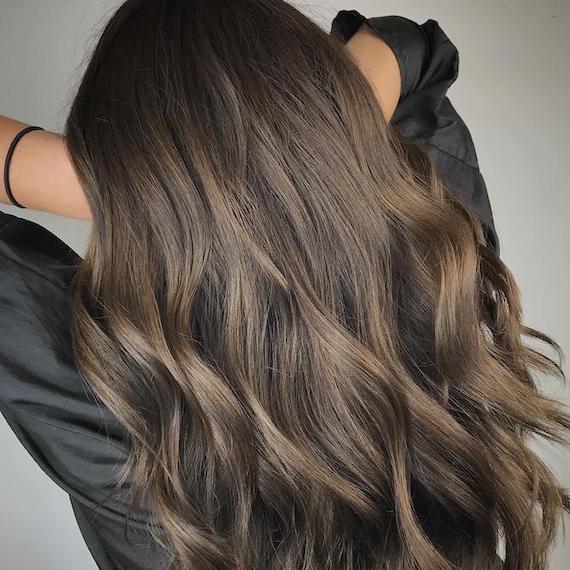 2
2. Dark Brown Hair with Ash Brown Highlights
Image Credit: @leothehairalchemist
It's not just blondes who can work ashy hues. If your client is cool-toned, adorn their hair in ash brown highlights that lend delicate dimension to dark brown hair. These radiant ribbons were created using Color Touch, featuring a smoky blend of 9/97 + 9/16 + 7/73. It's cool on every level.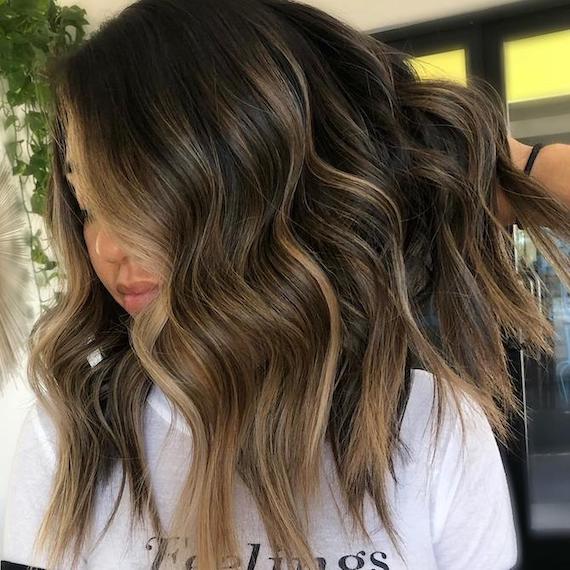 3
3. Dark Brown Hair with Blonde Highlights
Image Credit: @jt_hairandmakeup
There's a difference between wanting to go from brown to blonde hair and craving just a touch of blonde in your locks. If your client is looking for the latter, this is the perfect level of brightness. Jessica Tyransky has swept just enough blonde balayage through her client's locks, while maintaining the depth and delicious richness of her dark brown base.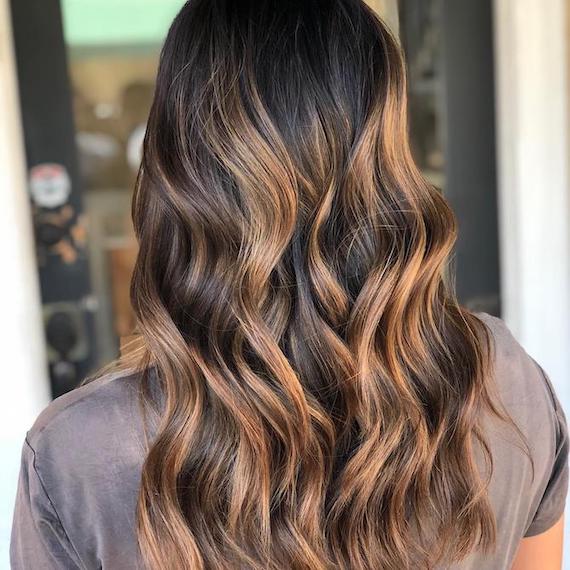 4
4. Dark Brown Hair with Caramel Highlights
Image Credit: @tst_with_refined
There's nothing sweeter than caramel hair, and we're obsessed with these creamy, sumptuous 'lights, adding piece-y lightness and brightness to a dark brown hair color. Applied with a balayage technique, a high volume of lifted sections gives this client's hair an overall light brown feel, with just a few inches of deep root peeking through.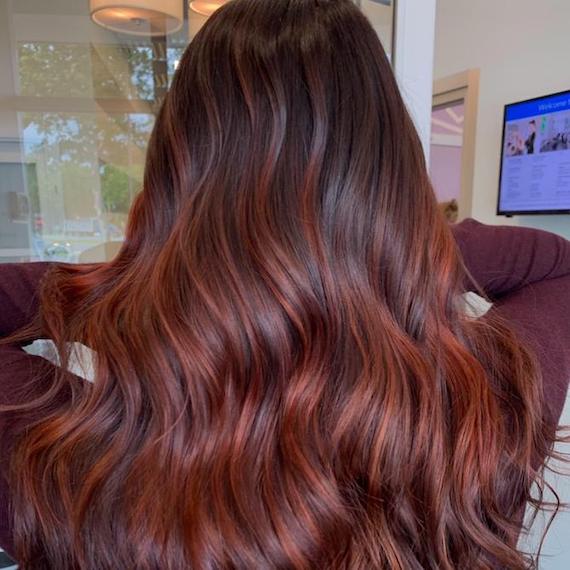 5
5. Dark Brown Hair with Red Highlights
Image Credit: @hairbyangelaalberici
Add radiance to dark brown hair with red hues, a la Angela Alberici in this multi-tonal creation. If your client wants low-commitment mahogany hair, try applying bands from the mid-lengths down, resulting in the softest re-growth and zero harsh lines. Then, recommend they keep color fresh with INVIGO Color Recharge Red Conditioner, which deposits a small amount of pigment to make locks look freshly-colored in between appointments.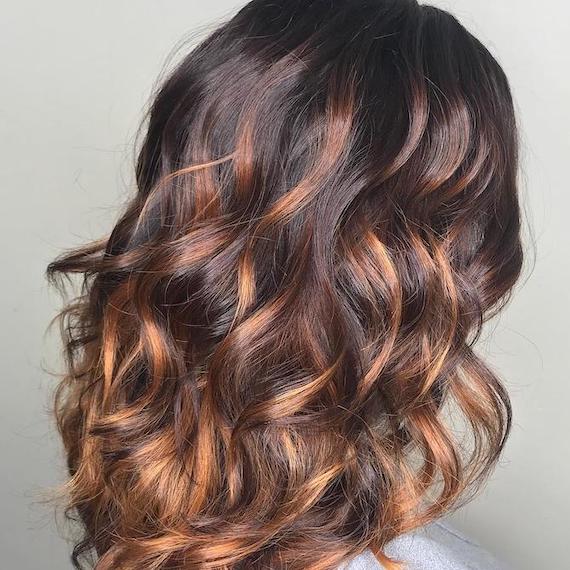 6
6. Dark Brown Hair with Copper Highlights
Image Credit: @twisted_by_ashley
Nothing says 'eye-catching' like contrasting copper highlights through a dark brown base. Just look at these wider ribbons, laced through shoulder-length, loosely curled locks. Metallic shades like copper look their best when they're subtly shimmering, so finish with EIMI Oil Spritz misted into the palms of hands and pressed onto the surface of hair.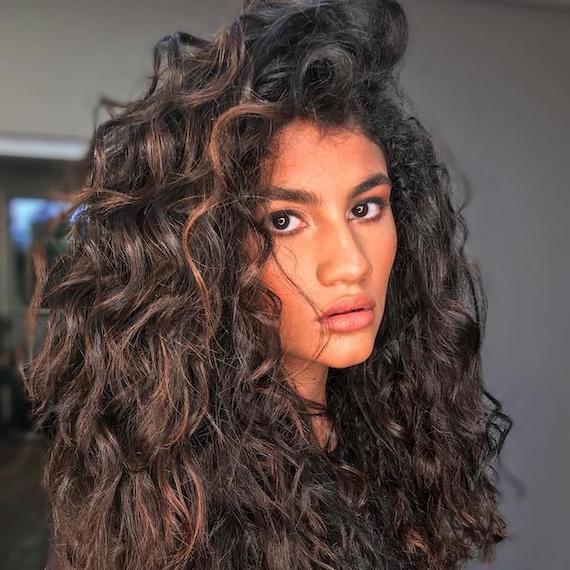 7
7. Black Hair with Highlights
Image Credit: @jhonyveiga
How dreamy are these delicate highlights scattered through black hair? In a rich, chocolate brown hue, they enhance the shape and texture of Jhony Veiga's client's curly hair. If you want to recreate this look, aim for a lift no more than two shades lighter than the base, and opt for a toner that stays true to the depth. The effect is so striking.
How to Care for Dark Brown Hair with Highlights
Now you've achieved the highlights of dreams for your dark-haired clients, the last thing you want is for all your hard work to turn brassy or yellow. That's why it's important you recommend a nourishing haircare regimen; one that maintains the color, while keeping colored strands in tip-top condition.
For brown hair, our top pick is INVIGO Color Brilliance Color Protection Shampoo, which enables better color retention and instantly ups the gloss in locks. Follow with INVIGO Color Brilliance Vibrant Color Conditioner, then apply the Vibrant Color Mask as a weekly treat. Our final tip for fighting shade fade? Mist hair from root to tip with EIMI Thermal Image heat protectant spray to safeguard strands during heat styling.