8 of the Best Highlight Colors For Black Hair
Black hair is beautiful. It makes a statement of its very own, as one of the boldest and most light-reflective natural hair colors around. But if your client wants to turn up the dimension in dark tresses, or embrace a scattering of sun-kissed ribbons, choosing the right highlight colors for black hair will take their existing shade to new levels. From strokes of electric blue to sweeps of caramel balayage, there are so many color combinations that work with a black base shade.
So, how do you choose the best highlight colors for black hair? Here are eight ideas with formulas to inspire your next salon masterpiece…
Highlight Colors for Black Hair – 8 Formulas to Try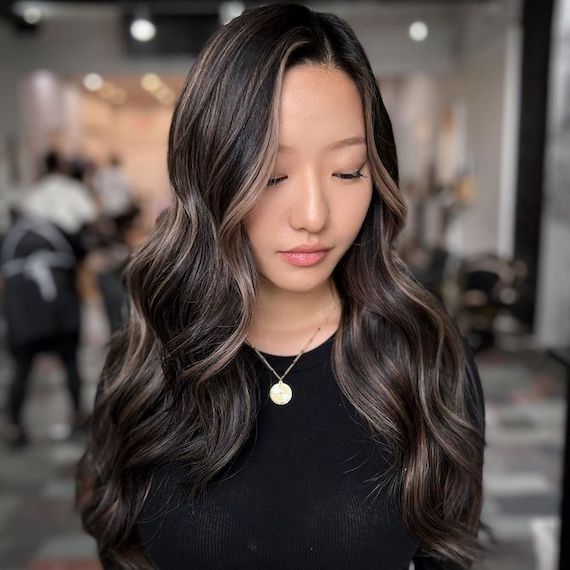 1
Ash Blonde Highlights On Black Hair
Image Credit: @mgray153
If your client wants a bright blonde shade for their highlights, suggest cool-toned sweeps of ash or platinum blonde. When it comes to contrast, these are the perfect shades to make an impact through black locks. Then, you have the option to apply in a balayage style or in root-to-tip blonde highlights. If it's this particular look you want, paint on those lighter shades from the roots to the very ends in chunky ribbons. Try BlondorPlex as your pre-lightener, which is perfect for dark black or brown hair, as it gives you up to nine levels of lift. It also strengthens the hair bonds throughout the lifting process for up to 97% less breakage*. Then tone with an ashy blonde hue, such as Illumina Color 8/1, Color Touch 9/16 or Shinefinity 09/13.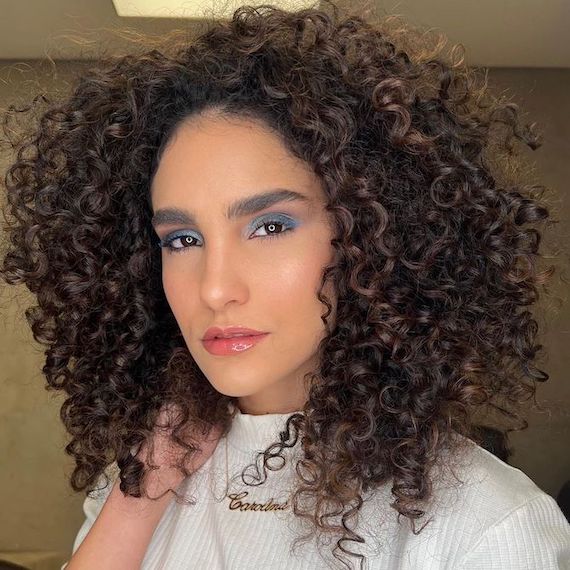 2
Chocolate Brown Subtle Highlights On Black Hair
Image Credit: @jhonyviega
Highlights don't have to contrast to make a huge difference to the overall look of darker hair. By adding tonal chocolate brown highlights, you can subtly enhance black locks in a way that looks entirely natural. These subtle sweeps come courtesy of Koleston Perfect Special Blonde 12/0 + 9%, a high lift blonde color that lifts and tones in a single step. Apply in chunky highlights to curly hair for a soft transition between the black and brown shades. Then, finish the colored, dried and styled look with EIMI Glam Mist for a boost of lustrous shine.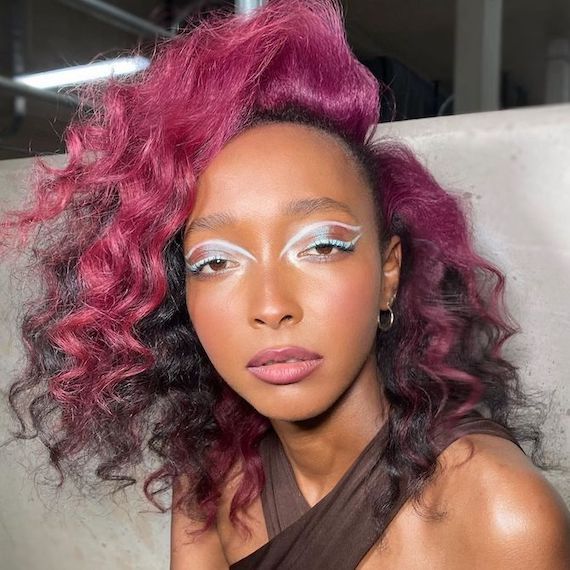 3
Purple-Pink Highlights for Black Hair
Image Credit: @jhair_stylist
Ready to try the color block trend? Black hair is the perfect canvas for the look, as it contrasts beautifully against bold shades, like vivid violet or ash green highlights. For this look, magenta is the accent, delivering a pop of color that's bound to turn heads. But how do you create these chunky, pinky-purple highlights with maximum impact? First up, pre-lighten wide sections of hair – including the face frame – with BlondorPlex, making sure you saturate hair strands for a bright, even lift. Then, when you've got your lighter canvas, tone the blonde sections with Koleston Perfect 0/65 – an unstoppably bold fuschia pink we can't get enough of.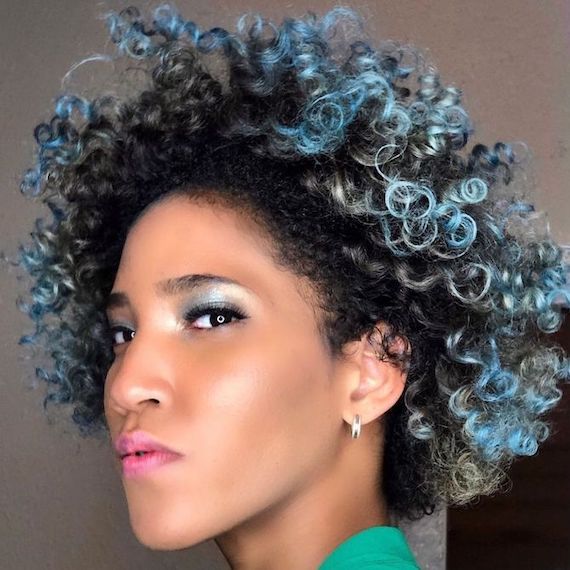 4
Blue Highlights for Black Hair
Image Credit: @miguel_estelrich
Blue and black are a dream combo, so if your client likes to wear bolder shades, suggest they enhance their dark hair with a bolt of vibrant cobalt. These electric blue highlights are packed with shine that make the shape of curly locks stand out. Meanwhile, the use of a balayage technique is a great choice if you want pops of color with a softer regrowth. For this particular mane, the base shade was kept natural, while mid-lengths and ends were lightened with BlondorPlex + 9%, followed by a toning session with Color Fresh CREATE in New Blue + Tomorrow Clear.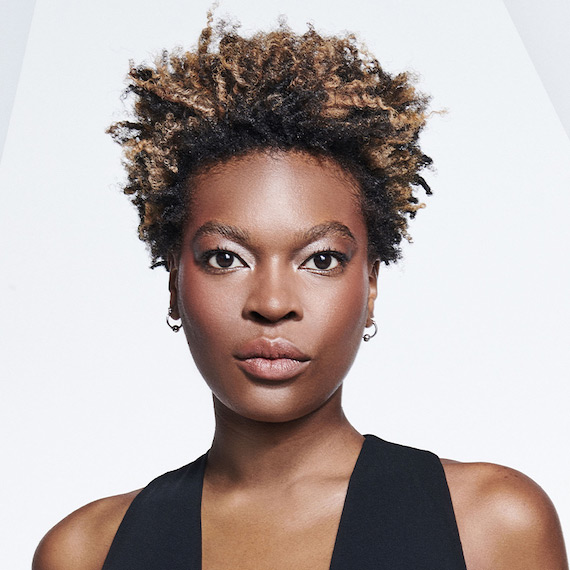 5
Golden Highlights On Black Hair
Credit: @lindsey.wella
Make dark locks glisten with a sun-kissed look that stands out against black roots. For this style, you're dip-dyeing the ends of tresses for a two-tone effect that enhances the shape of textured hairstyles. First up, add the highlights to the mid-lengths and ends of a black base color, focusing BlondorPlex + 4% through the front section of hair. Follow with BlondorPlex + 6% applied with a balayage technique through the rest of the hair, then allow to develop for 50 minutes (or until strands have reached the desired undertone). Rinse with WellaPlex No2 Bond Stabilizer, then glaze with Shinefinity 09/36 + 09/61 for a caramel color that stands out against dark roots. You can watch the full look in action here.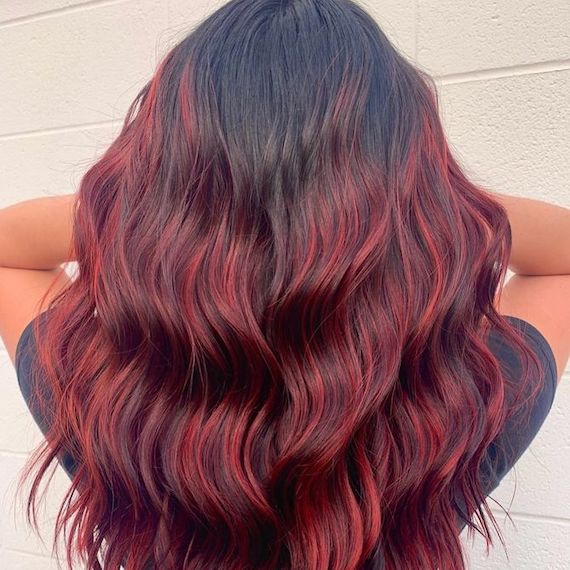 6
Red Highlights On Black Hair
Image Credit: @glosshairbylaur
Copper highlights pair beautifully with a dark natural base color, but if your client wants more 'pop', suggest cherry red tones swept on with a balayage technique. We love this Koleston Perfect creation, which features 3/0 + 5/1 on already-dark roots, and 66/46 with a touch of 0/65 on pre-lightened mid-lengths and ends. Balayage is the perfect solution for clients who want to work bold hues through their natural color, but don't want the higher commitment of root-to-tip, traditional highlights. As these radiant red ribbons grow out, the roots will only need a touch of toner at follow-up appointments. Then you can carry out pre-lightening sessions every six months, or simply whenever your client wants to bring their balayage line higher.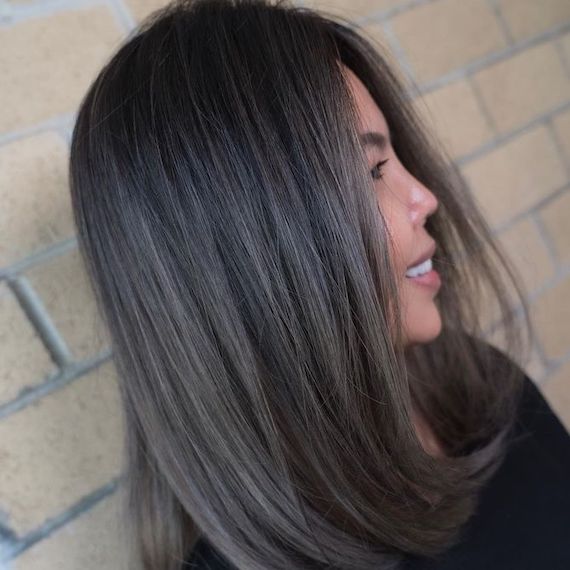 7
Silver Gray Balayage On Black Hair
Image Credit: @jeongchen
Smoky silver gray highlights lend gorgeous shine to dark strands, so if your client is seeking a look with cool undertones, recommend this glossy style. The trick is to keep the roots dark, then focus the silver highlights through the mid-lengths and ends of hair. We love this melted ombre hair take, which was crafted using demi-permanent Color Touch. Recreate the look by lifting the mid-lengths and ends with BlondorPlex first, then tone with 9/97 + 8/71 + 0/68 for a silver gray with edgy appeal.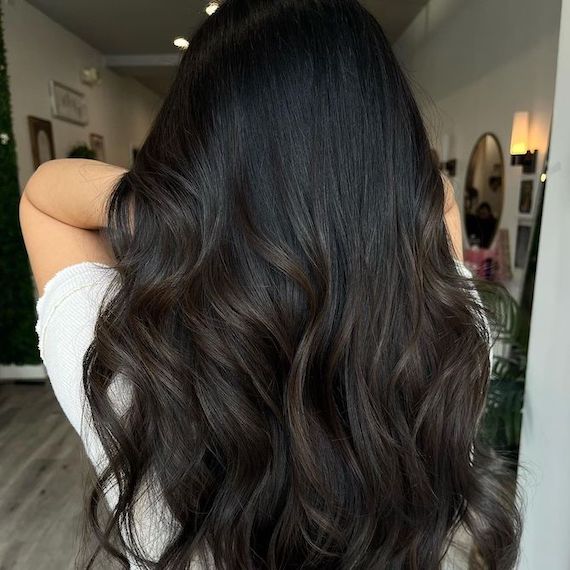 8
Subtle Espresso Highlights On Black Hair
Image Credit: @hairbyangelaalberici
Layer dark colors on dark colors for the subtlest highlights of all. Here, you're seeing espresso brown tones melted through black tresses for a sheer and shimmering effect. The roots of deep brunette hair have been enhanced first with Koleston Perfect 33/0 + 6%. Then, for the burnished brown color, mid-lengths and ends have been pre-lightened with BlondorPlex, and toned with Koleston Perfect 7/36 + 5/1 + 1.9%. Flawless.
How to Care For Highlights On Black Hair
1. Maintain Blonde and Ashy Tones With a Purple Shampoo
If you've highlighted your client's dark base with a lighter color, such as a platinum or golden blonde tone, point them in the direction of a purple shampoo to keep their bright shade looking fresh. INVIGO Blonde Recharge Cool Blonde Shampoo keeps brassiness at bay with a purple tint that neutralizes excess warmth, so they can lather up whenever highlights start to look yellow or orange. Remind them to leave it on for two to five minutes, so the violet tones can get to work. Then rinse thoroughly, condition locks and style as usual.
2. Refresh Highlights With a Color-Depositing Mask
Whether your client's working a natural tone or a more vibrant color, like a minty green, they can refresh their highlights at home with the Color Fresh Mask. This color-depositing treatment comes in 13 sheer hues that touch up the tone in just 10 minutes. All they have to do is apply their chosen mask to the entire head of hair (or just to highlights) while locks are clean and damp. Allow it to develop for 10 minutes, then rinse thoroughly. No follow-up conditioner is needed; the Color Fresh Mask leaves locks soft and nourished.
3. Prevent and Repair Hair Damage in 90 Seconds
No hair care routine is complete without Ultimate Repair Miracle Hair Rescue; an intensive leave-in treatment that prevents and repairs hair damage in just 90 seconds**. Infused with AHA and Omega-9 – two replenishing ingredients typically found in premium skincare – the lightweight mist also offers 12x smoother hair*** with up to 99% less breakage****. Show it to your client and suggest they take it home to nourish their freshly highlighted hair. It couldn't be easier to use; they simply mist it through clean, towel-dried strands, allow it to absorb for 90 seconds, then finish perfecting their look.
* When using WellaPlex No2 with BlondorPlex versus BlondorPlex alone.
** When using ULTIMATE REPAIR Miracle Hair Rescue.
*** When using ULTIMATE REPAIR Miracle Hair Rescue. Instrumental test versus non-conditioning shampoo.**** Vs. non-conditioning shampoo.