How to Create the Freshest Ash Green Hair
Every ash blonde or ash brown hair color has a little olive in there. It's what keeps the shades so crisp and cool – and why we use these tones to correct hair when it steers too warm. But what happens when you take those hints of matte to the next level? Lean deeper into the olive, and you've got ash green hair; this season's most eye-catching hue.
Only for the brave and the bold, it's a color that defies all convention, whether you take it deep, dark and almost-emerald, or opt for a brighter, more electrifying take. This season, we're seeing brunettes embrace greens with the same fervor as the blue hair trend. And, honestly: it's easy to see why when you take a look at the 'Gram-ready creations below.
Here, we reveal everything you need to know about perfecting your own ash green masterpieces, featuring inspiration and formulas you'll want to save for later…
How to Create an Ash Green Hair Color
1. Create a Canvas for Green Tones to Pop
Ash green shades work particularly well on a dark brown, almost-black base color, as the mix of greens and charcoals complement each other flawlessly. However, for those green tones to stand out, you may need to lift the dark color first, applying it in highlights, ombre or balayage strokes as a canvas for your color.
Lighten the hair with BlondorPlex, which is infused with our bond-strengthening WellaPlex system, or use Blondor Freelights for freehand techniques, such as balayage. Paint on with your client's desired technique, then allow the hair lightener to lift locks to the correct underlying level before you shampoo out.
2. Pick the Perfect Ash Green Color
Next, color the lightened pieces with your client's perfect shade of ashy green. From a vivid marine to a muted olive, there are so many ways they can work the trend. The Wella color portfolio features a range of greens to help you unlock the look in the salon, and here are just some of our favorites for your next ashy creation:
 Koleston Perfect 0/28, a Special Mix emerald you can mix with ashy blondes or 0/00 Clear to soften.
 Color Fresh CREATE in bright Neverseen Green and electric Super Petrol.
5 Ash Green Hair Ideas & Formulas to Try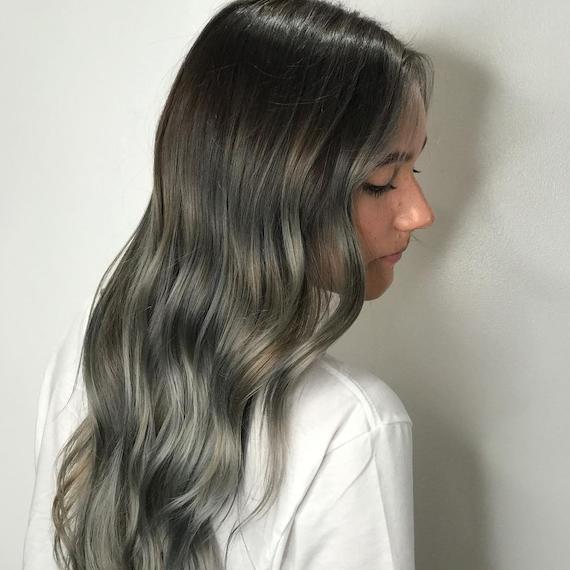 1
Subtle Ash Green Hair
Image Credit: @daryl.lienhart.hair
There's just a whisper of green in this balayage by Daryl Lienhart, which sees charcoal roots melt into an olive gray through the mid-lengths and ends. To create the look, paint a hair lightener in freehand strokes, before pre-toning the hair to balance out any warmth. Daryl used Illumina Color 9/60 + 10/0. Then, complete the look with a final dose of Opal-Essence by Illumina Color in Olive Chrome. Mix with Koleston Perfect Special Mix's 0/28 + 0/30 to keep it super-soft.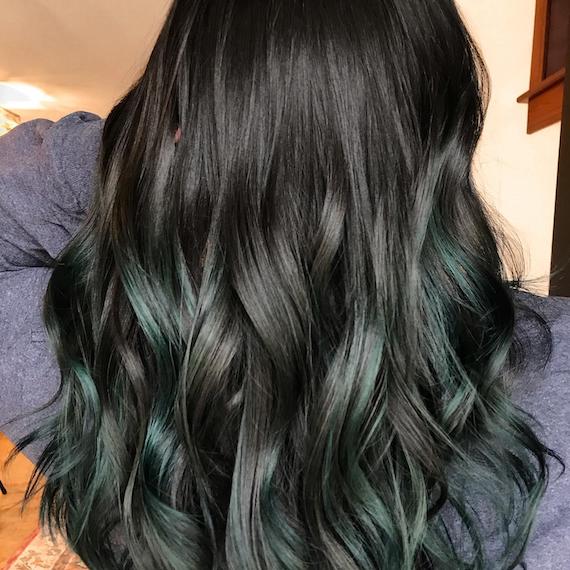 2
Ash Green Balayage
Image Credit: @solaciesalon
Use a partial balayage technique to focus ash green strokes in a scattering through the top layers. A lower volume of highlights lends a shimmery effect that's bold yet contemporary. Your go-to color for a high-shine finish like this is Color Fresh CREATE in Super Petrol; a midnight emerald that blends beautifully with a near-black base color.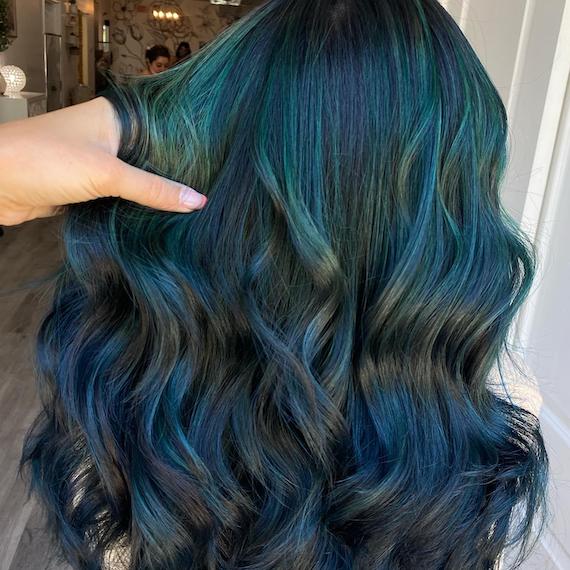 3
Electric Ash Green Hair
Image Credit: @hairbyangelaalberici
With the coolness of an ash and the vibrancy turned (way) up, this all-over green appears in root-to-tip highlights that electrify a long, wavy, brunette mane. Color Fresh CREATE in Neverseen Green is your color of choice for this truer green hue.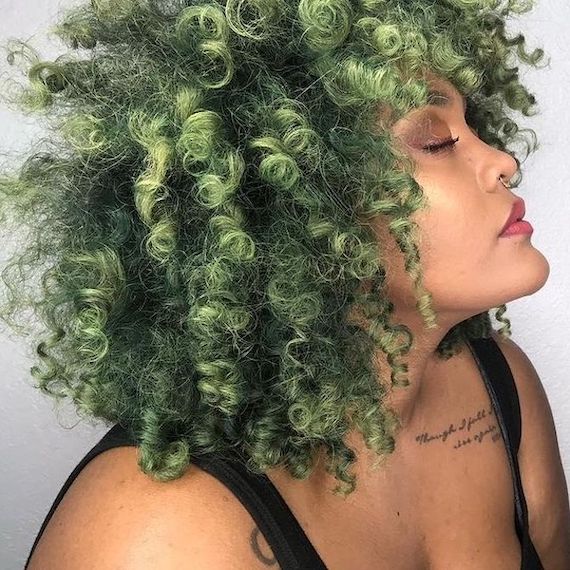 4
Bright Ash Green Hair
Image Credit: @colormecurls
Consider us obsessed with these curls. Ash green near the roots and lime fresh on the ends, they're brimming with multi-tonal depth and dimension that shade-shifts under the light. For those clients who want their ash green to shine brighter, add a few chunky highlights with a higher lift, then tone all over and admire those acid highs and ashy lows. Koleston Perfect 0/30 is a great color for this type of creation. You can dilute it with 0/00 Clear to mix up different levels of green.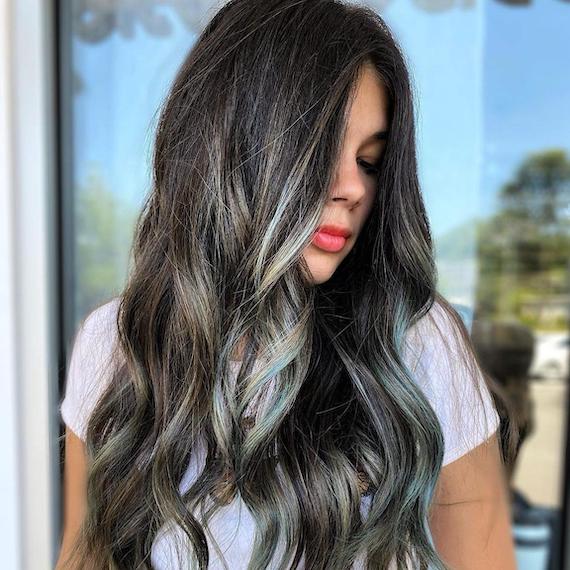 5
Ash Green Highlights
Image Credit: @summerevansstudio via @wellahairusa
Ash green with an icy twist – that's how we'd describe these cool, crisp highlights, which are scattered through the mid-lengths and ends for just a hint of a color hit through a brunette base. You can reach this kind of green by pastelizing Color Fresh CREATE in Super Petrol with Tomorrow Clear for an almost-aqua shade. Apply to pre-lightened pieces, then tong hair to put the highlights on show.
How to Maintain Ash Green Hair
We'll be honest: ash green isn't the easiest color for your clients to maintain. It needs to stay cool to look fresh, but these hues have a tendency to fade brassy in between color appointments. To prevent this from happening, recommend they leave the salon with INVIGO Color Brilliance Color Protection Shampoo, which safeguards strands while elevating shine. They should follow with the INVIGO Color Brilliance Vibrant Color Conditioner, which comes in two formulas – one for fine or normal hair and one for thick hair – so they can tailor their routine. Lighter shades can also be sent home with Color Fresh Masks In Mint.
Then, book your ash green clients in for a Koleston Perfect Pure Glossing Service. While it means returning to the salon in between 'bigger' color appointments, they'll be in and out in under one hour. The service allows you to top up their green shade with a sheer gloss of 0/28, mixed 1:1:1 with Welloxon Perfect 1.9% and the Post Color Treatment. The result? A soft boost of color that revives their green mane.