Black and Red Hair: How to Create the Look
Shoutout to bright hair color lovers: this is a trend you don't want to miss. Black and red hair is so bold and so contrasting, it might be one of the most statement-making combos of 2023. Sure, rainbow hair has a spectrum of tones and blue hair is brimming with vibrancy, but when it comes to two-tone hair, black and red is an unmatched duo for an eye-catching finish. 
So, let's explore how you can create red and black hair for your clients, featuring tips, formulas and maintenance tricks that make the trend surprisingly simple...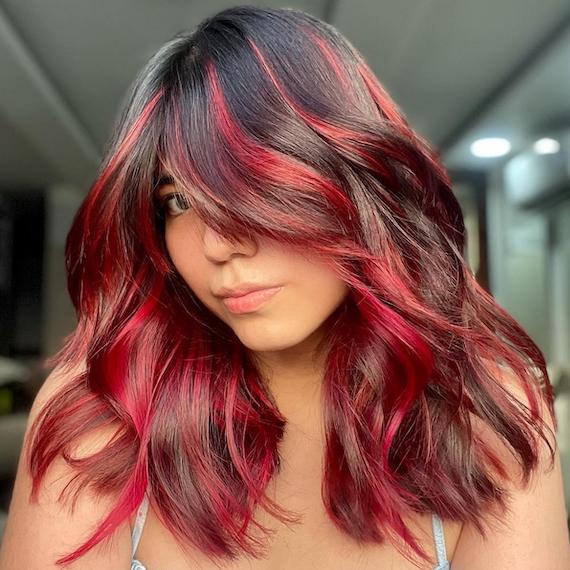 3 Top Tips for Red and Black Hair
1. Know Your Client's Hair Background
Before you start mixing up your client's black and red hues, make sure you know their hair background. What's their natural hair color? Has their hair been previously lifted? Have any other hair dyes been used that could change the outcome of their shades? Creating balanced, vibrant reds requires getting the full lowdown on your client's hair history, so carry out a consultation to get all the details from your client. This will help you pick the right products and shades for their hair goals. 
2. Opt for High-Shine Black Tones
An abundance of melanin in hair lengths results in a naturally dark color, which gives you the perfect base for a red and black hair creation. However, if your client doesn't already have dark hair, you can mix up a deep shade for them from the Wella portfolio. Just make sure you use a color product that promotes shine, so their hue doesn't appear flat. Glossy is the goal. For this we recommend a permanent hair color like Koleston Perfect 2/0, demi-permanent Color Touch 2/0 or semi-permanent Color Fresh 2/0. As their hairdresser, you'll be able to identify the perfect product not just for your client's needs, but also to match their commitment to the finished look.
3. Make Those Red Tones Pop
Get creative with your red color placement. On darker hair, opt for chunky highlights, a contrasting ombre or painterly balayage to craft two-tone locks that can't help but turn heads. The Vibrant Reds edit of hues in the Koleston Perfect and Color Touch collections have you covered.
Meanwhile, Color Fresh CREATE in Next Red offers an unstoppably bold scarlet that suits all skin tones. For clients who want a boost of warmth and an injection of shine, you could also use the Shinefinity Color Glaze in 05/43 Hot Chilli, 06/43 Copper Sunset or 07/59 Strawberry Wine shades. 
6 Red and Black Hair Color Ideas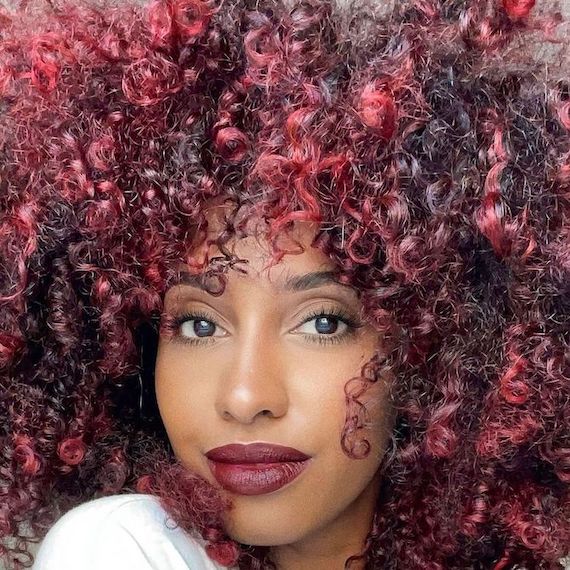 1
Rich Black Hair with Ruby Red Highlights
Image Credit: @mayssas_beauty_mark
This crown of curly hair puts the emphasis on ruby red tones, with a few black tendrils peeking through. It's a Magma by Blondor creation, which features alternating strokes of /65 and /44 for added dimension. The clever color lifts and tones in one so you get a vibrant shade in a single process, but Mayssa kicked things up another notch by toning once more with Color Touch 66/45 + 77/45 for 15 minutes. A genius move.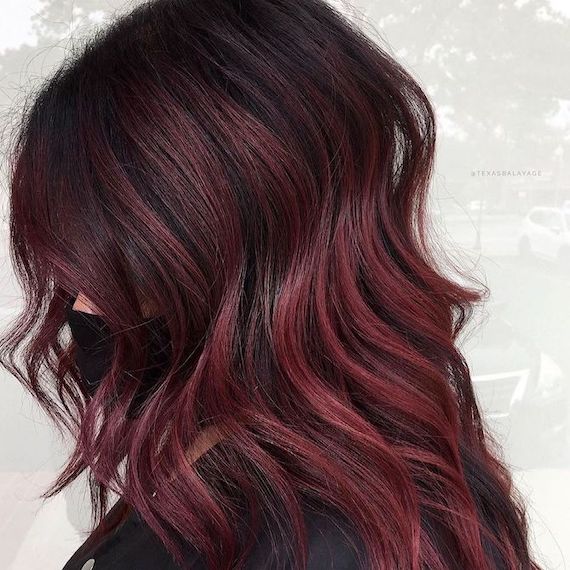 2
Dark Hair with Purple Red Balayage
Image Credit: @texasbalayage
Black roots and red tones make for the most impactful balayage, as seen in this purple burgundy hair look by Brittany. If your client has naturally dark locks, this is a great way to introduce low-commitment pops of color, as the regrowth will be soft and seamless. Try it by pre-lightening mid-lengths and ends with Blondor Freelights for a light canvas, then toning with Color Touch 5/66, 44/65 and 0/68 to create the dreamiest plum-tinted mane.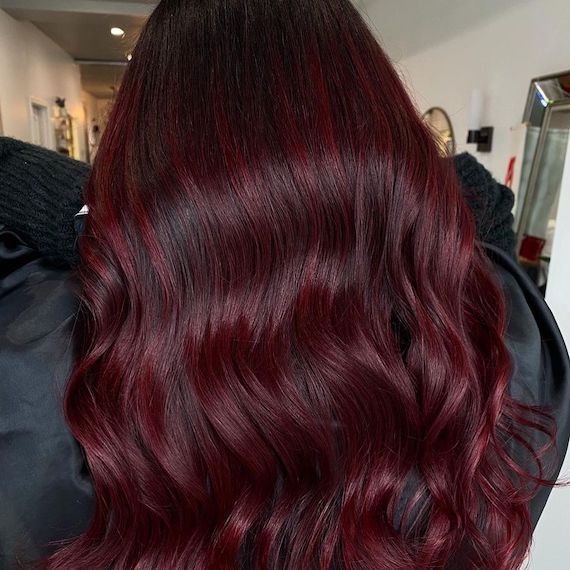 3
Burgundy and Black Hair Highlights
Image Credit: @effortlysshair
This is a gorgeous hair idea for clients who crave vibrant tones that boast eye-catching depth. The red is a Color Touch masterpiece, which was applied to an already-dark base for cascading ribbons. Recreate the look with 66/45 + 0/56 + a little bit of 5/66 through strands in chunky highlights. You could also make like Alyssa and finish the look with a pump of Oil Reflections Luminous Smoothing Oil for shine.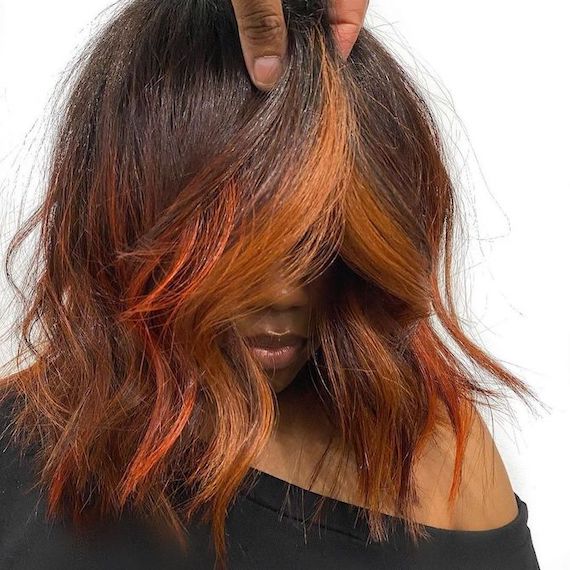 4
Black and Orange Red Balayage Hair
Image Credit: @dereqc
A red with rich undertones – like this sunset orange or even a copper blonde hair color – is perfectly suited to warm skin tones, as it works in perfect harmony to lend added radiance. To recreate the look, paint already-black or deep brown hair with BlondorPlex through the mid-lengths and ends, before toning with Koleston Perfect 7/34. Then, once the color has been thoroughly rinsed out, finish with ribbons of Color Fresh CREATE in Infinite Orange. It will amp up that fiery glow, especially when focused through the front for face-framing highlights.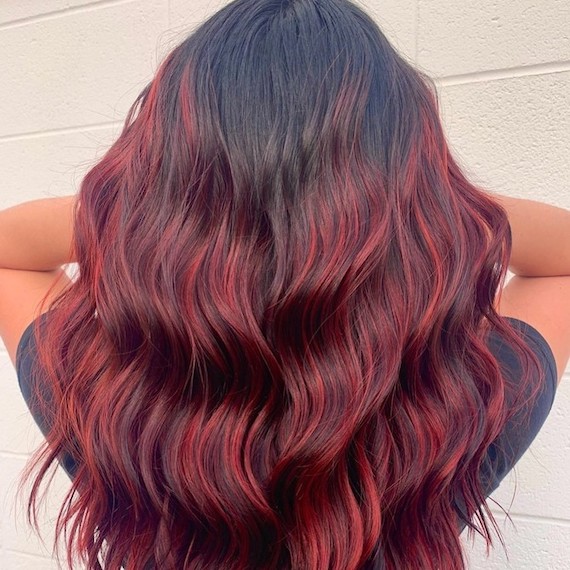 5
Juicy Black Cherry Hair
Image Credit: @beautyby.laur
Work with cherry tones for a red and black hair combo like no other. Case in point: this eye-catching mane, crafted with strokes of Koleston Perfect. Through the root section, you're seeing 30g 3/0 + 10g 5/1 + 1.9%. Then, on the lengths, this black hair melt turns radiant red with BlondorPlex + 6% and two toning formulas. First, you've got 33/55 + 55/66 as a pre-toner, followed by 66/46 + 0/65 + 1.9% for the finished look.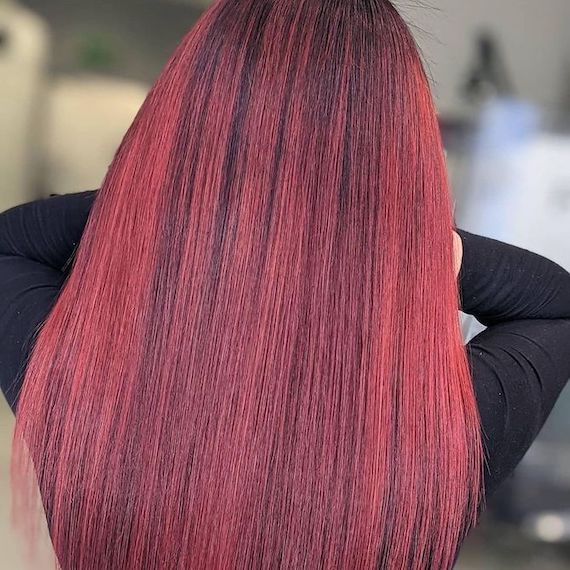 6
Chili Red Highlights on Black Hair
Image Credit: @paolosilveri
This is one spicy red hair color. Swathed through a base of Koleston Perfect 55/46 + 44/65 + 6%, these chili highlights are packed in close together for maximum impact. Recreate the look by lightening chunky sections with BlondorPlex first, then toning with Color Touch 77/45 + 1.9%; a true red with a cool (but burning hot) undertone. 
Hair Care Tips to Maintain Red and Black Hair Color
Color-treated hair deserves care products that enhance its mileage and up its shine. Before your client leaves the salon, make sure they have these maintenance tips at the ready…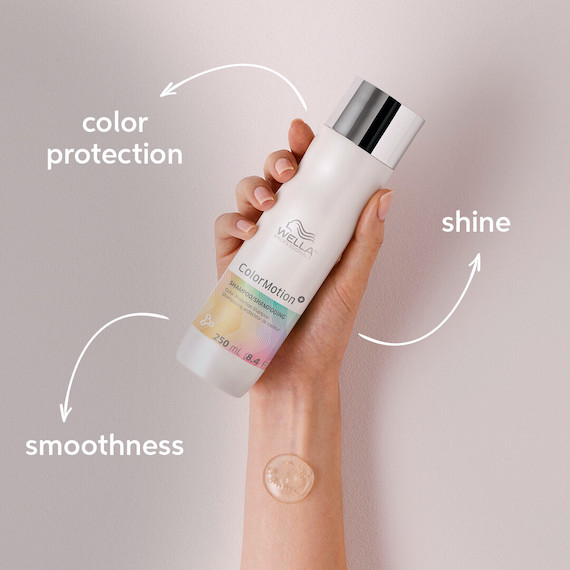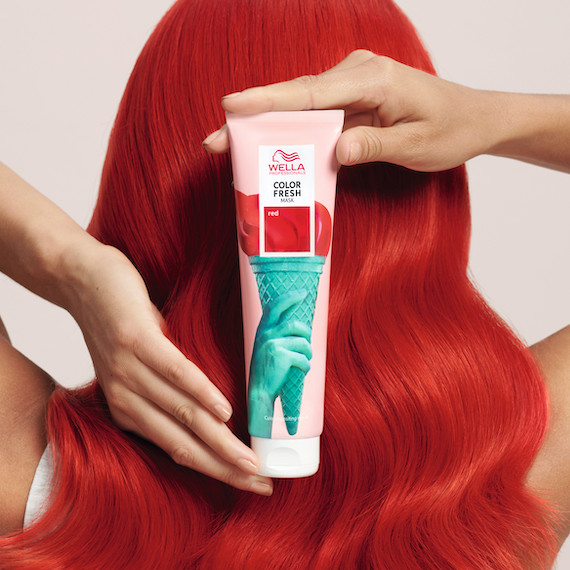 1. Banish Brassy Tones With Shampoo for Colored Hair
Red hair colors have a tendency to fade brassy, so make sure your client uses a specially formulated shampoo to maintain that must-have vibrancy for longer. ColorMotion+ Color Protection Shampoo is our go-to pick, as it's packed with antioxidants to eliminate pollutants and metals in hair; two key culprits behind dull locks. Team it with the ColorMotion+ Moisturizing Color Reflection Conditioner, which nourishes and strengthens tresses with our signature WellaPlex ingredient. 
2. Use a Color-Depositing Mask to Make Reds More Radiant
From red and black ombre hair to a cherry balayage; vibrant reds can be topped up at home with the Color Fresh Mask in Red. This color-depositing conditioner is designed to revive salon color in between appointments, so tell your client to use it whenever their locks are looking a little dull. All they have to do is apply the mask to the red sections of clean, damp hair, comb through to evenly distribute, then rinse out after the 10-minute development time. This a really easy and quick way of revving up a red on color-treated hair. 
3. Top Up Nourishment and Shine With Lustrous Hair Oils
Whether your client styles their hair sleek and straight or curly with body, they should finish their look with shine. Red and black tones can start to look flat without some added luster. Recommend they treat locks to the Oil Reflections Luminous Reboost Mask once per week to lend a glossy glow, then apply the Oil Reflections Luminous Smoothing Oil to clean damp hair lengths before styling. The oil is light enough that it can also be topped up through dry hair in between washes. A little goes a long way, so remind clients to start with just one pump, then add another if needed. 
With these tips, your red and black hair creations will stand out for all the right reasons. Don't forget to share those masterpieces with us on Instagram by tagging us @WellaHairUSA.