8 Delicious Ways to Create Caramel Balayage
Does it get more indulgent than caramel balayage? Teaming bronde tones with a freehand, glow-giving technique, it enhances every swish and sway of light brown and dark brunette hair. This sun-kissed look features high-contrast highlights that double down on dimension, while lending the sweetest, softest warmth to flatter all complexions.
But how do you create caramel balayage for your clients? Keep scrolling to reveal the pro-cess, plus eight formulas for the richest, most radiant caramel blonde ribbons around...
How to Create Caramel Balayage
1. Consider the Base
Caramel balayage is at its best on a light brown or dark brunette canvas. The freehand high-lights should then be two to three shades brighter, so they glimmer and glow through the darker mid-lengths. Assess your client's base to see if they're happy with their color or want to switch it up. If they're going for an all-new hue, carry out the color process first. Then, rinse and use INVIGO Color Service Post Hair Color Treatment for the perfect canvas, before rough-drying locks.
If it's root coverage your client wants, you can apply this in tandem with the balayage. Per-manent Koleston Perfect is your go-to for camouflaging grays, while Color Touch is the dream for a soft, demi-permanent tint. Just make sure that, when you're working with root color and hair lightener, the two formulas never touch. You can backcomb just below the root touch-up to create a 'barrier' between your blends.
2. Apply the Balayage
In French, balayage means 'to sweep' and that's exactly what you need to do. For this tech-nique, you're gliding and stroking hair lightener through the mid-lengths and ends to add a candlelit glow. It's easy to see why it's so popular; not only is this grown-out look ultra low-maintenance, but it's also entirely bespoke. No two balayage techniques will ever be the same.
For easy, breezy balayage, try applying Blondor Freelights, which is uniquely designed to help freehand highlights stay exactly where you sweep them on. For a foilyage – meaning a balayage in foils – you could also try BlondorPlex, which is infused with the hair-strengthening WellaPlex No1 Bond Maker.
3. Create the Caramel
Finally, tone your client's hair a velvety caramel shade. Some of our favorite caramels in-clude Illumina Color 8/37, Koleston Perfect 8/03 and Color Touch 8/73. You can also create their goal shade with a shine-boosting Pure Glossing Service with Koleston Perfect. Simply combine the desired hue with Welloxon Perfect 1.9% and INVIGO Color Service Post Hair Color Treatment in a 1:1:1 ratio.
8 Caramel Balayage Formulas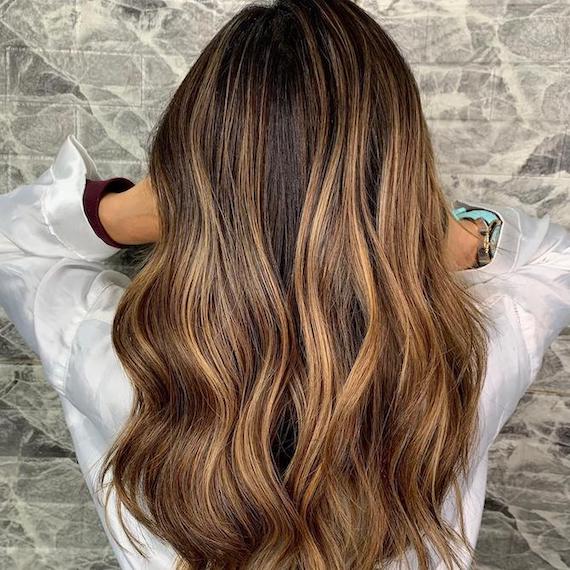 1
1. Caramel Highlight Balayage
Image Credit: @lorenzo.huanambal
This combination of caramel balayage and root-to-tip highlights has us hooked. To create the look, Wella Passionista Lorenzo Huanambal shaded the roots with Color Touch 5/97 + 6/0 while locks were lightened. Then, after developing, rinsing and using INVIGO Color Service Post Hair Color Treatment, he toned blonde ribbons with Illumina Color 8/05 + 9/7.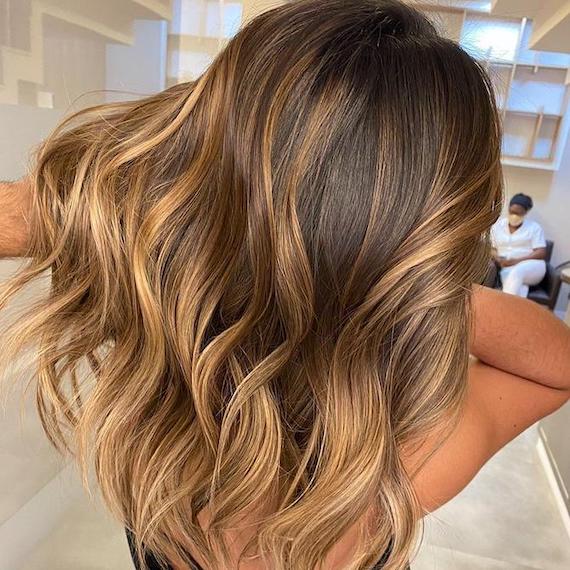 2
2. Caramel Blonde Balayage
Image Credit: @fredyhair
Can we take a moment for these caramel blonde ribbons? Swathed through a medium brown base, they add golden, sun-kissed warmth that screams 'living on the beach all sum-mer long'. The chunky highlights add dimension and texture, while the finer pieces create a natural-looking finish. Replicate this 'do by toning balayaged lengths with Illumina Color 7/43 + 8/37.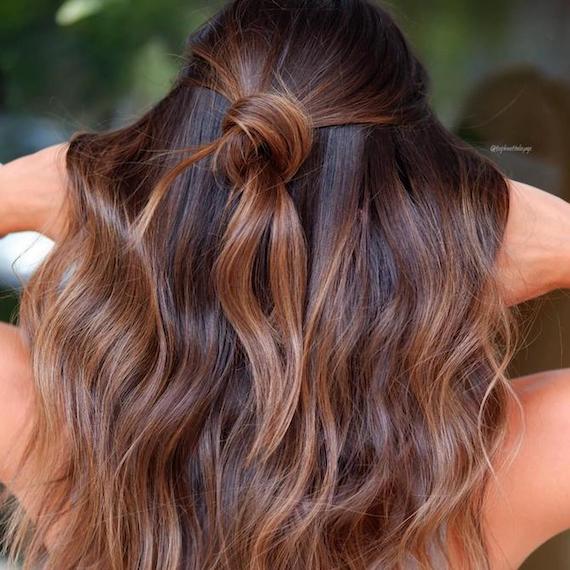 3
3. Caramel Brunette Balayage
Image Credit: @topknotbalayage
Brunette balayage looks all the sweeter with a drop of caramel. Swept through this topknot, the rich tone makes locks appear thicker by elevating the dimension. As for the formula, it's a demi-permanent blend of Color Touch 7/97 + 8/0. The cool cendre tone of the 7/97 balances the golden 8/0 for a cleaner, crisper caramel.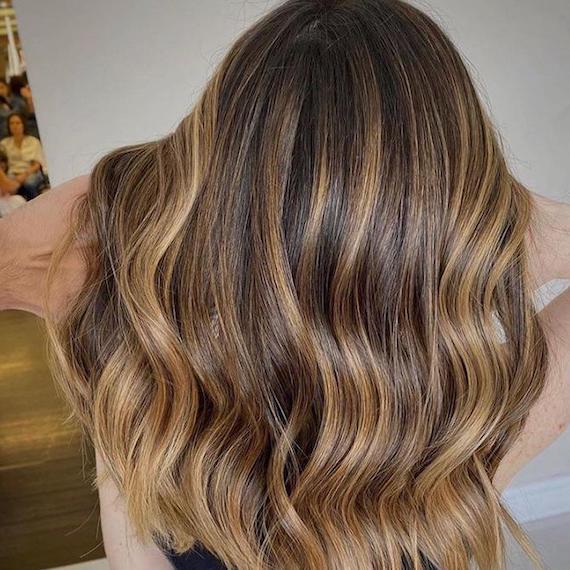 4
4. Caramel Honey Blonde Balayage
Image Credit: @fredyhair
What do you get when you mix honey blonde with a caramel brown base? This mesmerizing balayage, which is made all the glossier with the light-reflective finish of Illumina Color. Here, brown lengths have been brightened by Blondor Freelights + 6%, followed by a blend of 8/69 + 7/43 + 8/37. Flawless.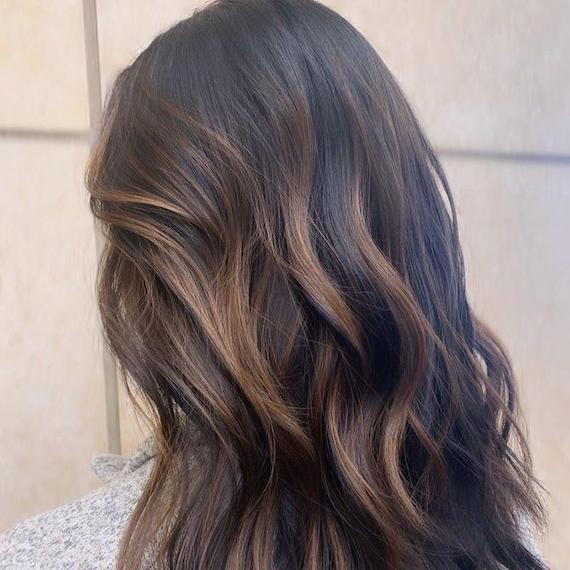 5
5. Dark Caramel Balayage
Image Credit: @beautyby_laura
On a dark brunette base, caramel balayage adds a sheer yet statement-making lift, eschew-ing blocky, one-tone color in favor of a dreamy dimension boost. This partial balayage sets just the top layer of dark brown hair aglow. Get the look with Color Touch 4/0 + 4/71 on the roots, Blondor Freelights for the highlights, and 7/97 + 6/73 to tone.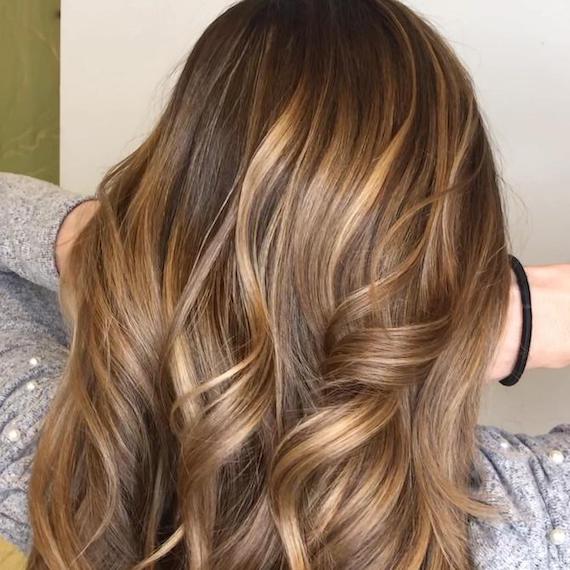 6
6. Light Caramel Balayage
Image Credit: @jmc.hair
Keeping caramel balayage light and bright means bumping up the volume of micro-fine high-lights. Case in point: this full-head balayage, which packs in side-by-side babylights for an all-over lift. The lightness was achieved with Blondor, before ribbons were toned using Color Touch 8/73; a golden blonde that's perfect for creating summer's lust-have bronde looks.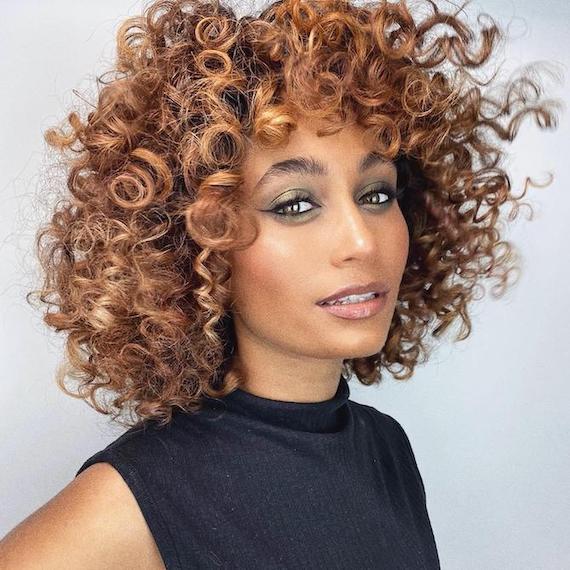 7
7. Curly Caramel Balayage
Image Credit: @jhair_stylist
If there's one thing we love more than balayage, it's balayage on curly hair. The technique helps to define every curve, so you get glossy, golden coils that gleam under the light. To recreate this caramel hue, try lifting mid-lengths and ends with Blondor Freelights + 9% first. Then, apply Koleston Perfect 8/96 + 8/38 as a gloss with 1.9% developer and INVIGO Color Service Post Hair Color Treatment.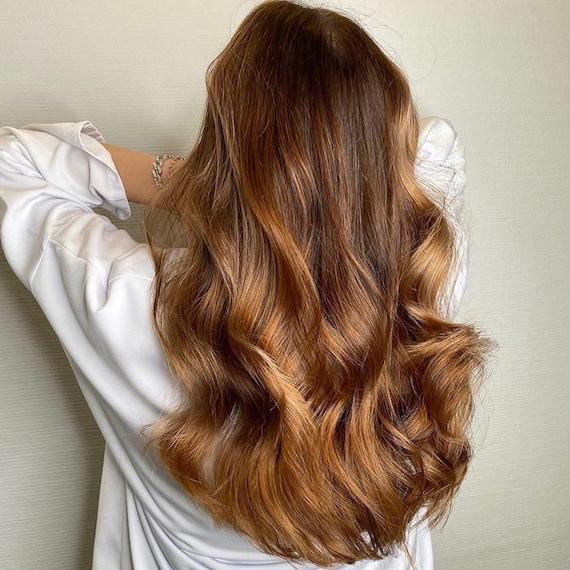 8
8. Caramel Chocolate Balayage
Image Credit: @kai_sohn
Who can resist caramel chocolate balayage? This milky, medium brown features glistening, golden tips that tumble into the prettiest of waves. To get the look, mid-lengths were lifted using Blondorplex + 9%, while a moneypiece was added with Blondor Freelights + 9%. Then, once lightener had been rinsed and neutralized, an Illumina Color gloss was applied, featuring 7/7 + 9/59 + 1.9% and INVIGO Color Service Post Hair Color Treatment.
How to Maintain Caramel Balayage
Once you've created your client's caramel balayage, it's down to them to maintain the hue. However, you can give them some pointers on keeping the color bright between salon visits. First on the agenda is a safeguarding shampoo. Recommend ColorMotion+ Color Protection Shampoo, which shields strands from shade fade with a caring blend of antioxidants. Then, suggest they stock up on two conditioning treatments: the ColorMotion+ Color Reflection Conditioner for regular use, and the Color Fresh Mask for when they want to refresh their salon color. The latter combines deep nourishment with an oh-so-subtle tint. The Caramel Glaze edition will prevent warm-toned locks from turning brassy, while adding a radiance boost.