6 Cherry Red Hair Ideas Ripe for Picking
Because the best hair hues are food-inspired, you're going to love this latest color trend. Introducing cherry red hair; the boldest, brightest way to work red locks this season. While sun-kissed coppers are perfect for anyone who wants to wear a beachier shade for summer, cherry red is made for the brave, whether they choose a cherry cola tint or a black cherry mane.
Which cherry will you pick? Follow these tips to work the trend while it's ripe...
How to Get Cherry Red Hair
The Wella Professionals color portfolio offers endless ways to go cherry red. You have the intermixable, semi-permanent Color Fresh CREATE hair collection, the shine-boosting Koleston Perfect permanent hair color range, and a whole host of low-commitment reds with demi-permanent hair color, Color Touch. 
So, how do you choose the right formula? Here's your need-to-know guide, whether you're a colorist creating the look or you're looking to try the trend yourself…
Color Fresh CREATE: There's one true red – Next Red – in the Color Fresh CREATE collection of shades, but endless ways to wear it, thanks to the broad spectrum of bold, mixable hues. Mix with Hyper Coral or Infinite Orange to make it fiery or add a small amount of Ultra Purple to deepen the cherry vibe. No shade is off-limits. Choose this formula if you want your color to look pretty through the fading phase, as its fades true-to-tone, ensuring that cherry red never looks dull or washed-out. 
Koleston Perfect: This is your permanent pick. Koleston Perfect is Wella's purest color ever, harnessing Pure Balance Technology for an even color from roots to ends. Look to the Vibrant Reds palette to get that cherry color flawless, with cool tones like 66/46 and 77/46 offering the juiciest tints. 
Color Touch: Consider this your low-commitment color. If you or your client like to switch shades regularly, Color Touch lets you dip a toe into the cherry red pool. It's a demi-permanent that delivers on multi-dimensional color, giving you the pick of poppy, punchy reds and deep, delicious hues.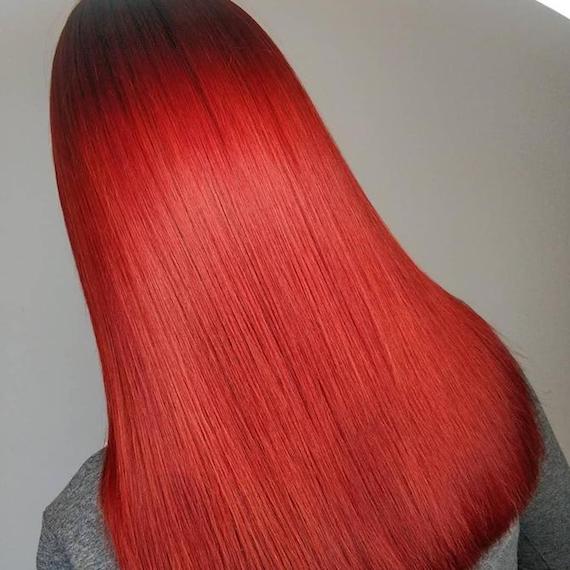 1
True Cherry Red
Image Credit: @darlingsalon
Keep it cool-toned for the truest cherry red shades, à la the Darling Salon, where locks were toned using Color Touch to reach the most radiant shade. For an ultra-reflective finish, pair your cherry palette with the glass hair trend, getting strands super-straight and silky using EIMI Perfect Me to prep.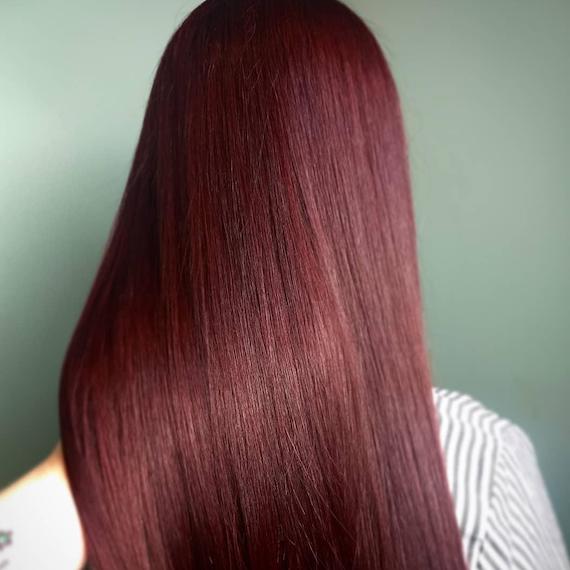 2
Black Cherry Hair
Image Credit: @cassandra_foehr
If deep, dark and dramatic is your vibe, try a black cherry hair color. It's the dream for brunettes who want to play with red, while still maintaining the tone of their chocolatey locks. Cassandra Foehr mixed up this shade using our Koleston Perfect, working with 55/46 4% and 3% to achieve an intense almost-burgundy.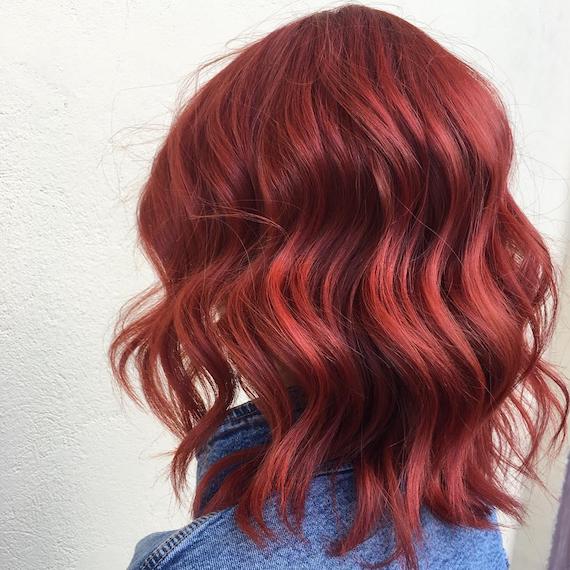 3
Dark Cherry Hair
Image Credit: @deppyhatz
Deep and bold at once, Wella Master Colorist Despoina's dark cherry look sees true red hues intertwine with lowlights for a multi-tonal finish. She created the shade by pre-lightening the hair with Blondor Freelights, then added the red using Koleston Perfect, plus our bond-strengthening system, WellaPlex. No wonder it looks so glossy.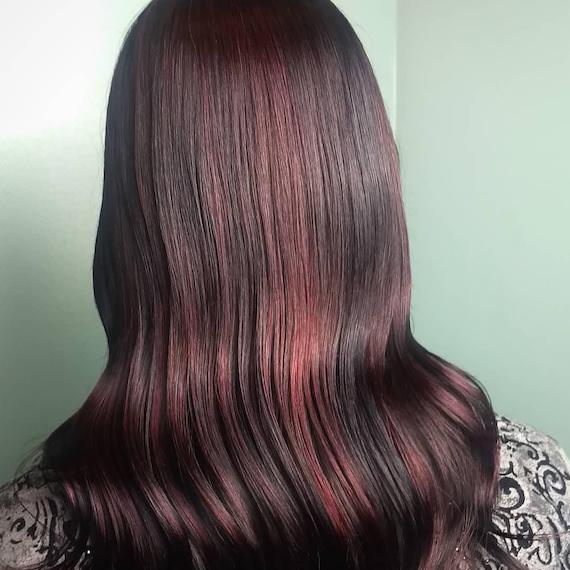 4
Cherry Cola Hair
Image Credit: @cassandra_foehr
Also known as cherry brown hair, cherry cola locks are deep with a subtle red twist, as if they've been laced in cherry syrup. Wella Passionista Cassandra Foehr's dreamy look is giving us those sweet soda vibes, with hints of scarlet fizzing through a dark brown base and catching the light in the prettiest way. Want to add extra shimmer to a cherry cola 'do? Pop open a can of EIMI Glam Mist and lightly spritz over the surface of hair to achieve instant, luminous shine.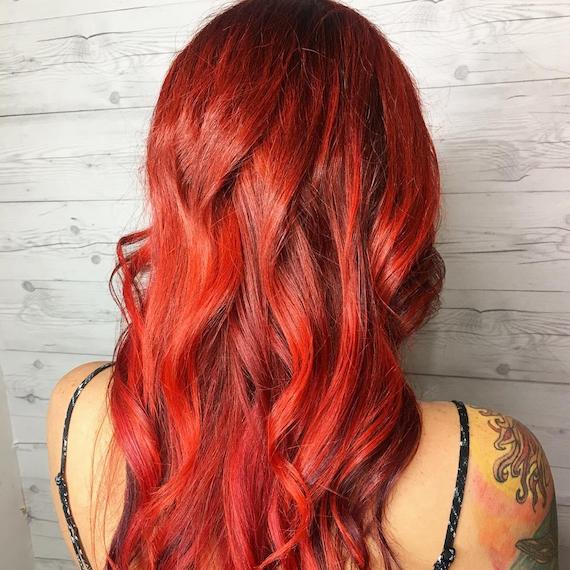 5
Glacé Cherry Hair
Image Credit: @badwolfstudio
Go for glacé cherry locks if only the punchiest pigments will do. This shade is as vivid as red hair gets and packed with plenty of crystal-like shine. Team with loose waves to give the gloss a little extra boost, made easy using a curling iron and the lightest misting of EIMI Oil Spritz.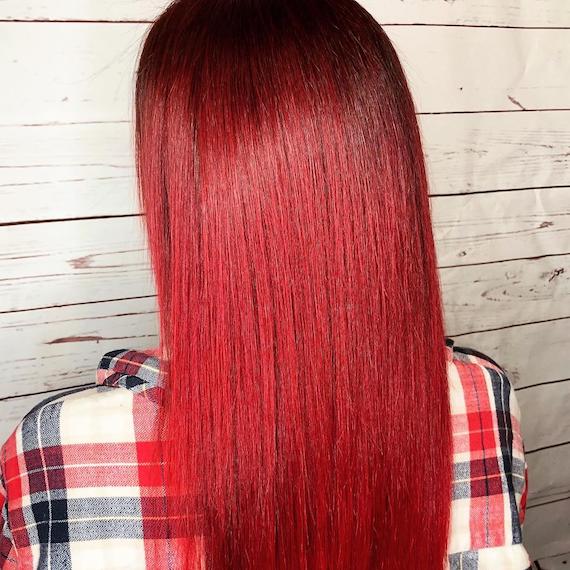 6
Cherry Red Ombre
Image Credit: @badwolfstudio
If you're looking to give cherry red the ombré effect, you need the perfect root color. Blondes or copper roots won't give you a seamless fade, but black or dark brunette hues work perfectly. Do it the Bad Wolf Studio way by keeping a few inches of root ultra-deep, then creating contrast through the mid-lengths to ends using Color Fresh CREATE in Next Red.  
The Best Makeup for Cherry Red Hair
While we believe there are zero rules when it comes to makeup – wear what you love – there are certain shades of eyeshadow or lipstick that enhance cherry red hair effortlessly. 
On Eyes: The classics - like winged eyeliner, long lashes and smokey tones – are always a hit, so if you've long been a fan of a feline flick, keep gliding that liner on. Cherry red hair also pairs perfectly with oceanic shades, like blues and greens. Apply a blue eyeshadow in a sheer veil over eyelids or line lashes in a jewel-toned jade pigment. 
On Lips: Let's tackle the big question; can you wear red lipstick if you have cherry red hair? The answer is yes, providing you get the balance of undertones just right. As cherry is a cool-toned red, opt for red lipsticks with a bluish undertone, which come with the added bonus of making teeth appear whiter. Keep nude lipsticks cool-toned, too, and match the finish to your mood. Gloss, matte, satin – anything goes. 
Looking for more red hair inspiration? Discover leather red hair and pumpkin spice hair, or check out the red velvet hair board on the WellaEd.